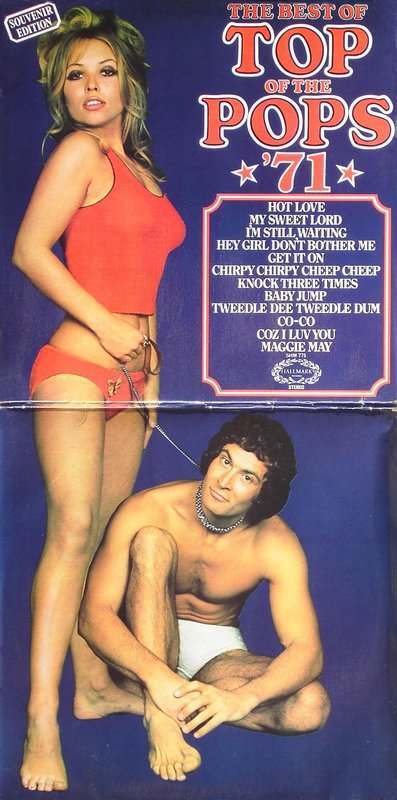 BRING back Top of The Pops. And bring back those Tops of The Pops albums, the discs that featured all the top sounds dressed in a sexually provocative woman.
The Top of The Pops albums began life in 1968. Alan Crawford approached Pickwick Records with his idea for an album of 12 hot songs played by session musicians and people who sounded like the stars. The idea was to pump out a disc every 6 to eight weeks. If listening to the hottest sounds priced at a discount on your home stereo was not enough, consumers were further seduced by the cover art, which always featured a studio portrait of an up-and-coming model. The "Best Of" the year albums featured a model on a poster and calendar.
Pickwick's MD Monty Lewis told the art team to create a cover that "could be seen from the other side of Victoria Station". It was simple and effective marketing, aided by the fact that the BBC had not protected its brand – Pickwick could legally call its albums Top of The Pops.
But there was a problem. It was only in 1971 that Top of The Pops and the other budget series – the likes of Pye Chartbusters, Pick of the Pops, World Top 12 and Hot Hits – were allowed into the official charts. They did well, with at least one Top of The Pops recording in the Top 10. For two weeks in Aguust 1971, Tops of The Pops albums were at numbers one and two in the hit parade. The big cheeses in the recording industry were upset. These pastiche albums were cheaper to produce than their 'authentic' records. The charts were unfair, they cried. And to the albums were banned. They would never be allowed to chart again.
In 1979, Hallmark Records, a subsidiary of Pickwick, stopped making their own music. The things limped with bought-in recordings until 1982, when Volume 91 hit the shelves. In 1984 and in 1985, the makers did attempt to kickstart the enterprise, using Sam Fox and her rival toplss stunna Linda Lusardi to work the covers. But the game was up.
Spotters: RetroTrash, Weebly and here.