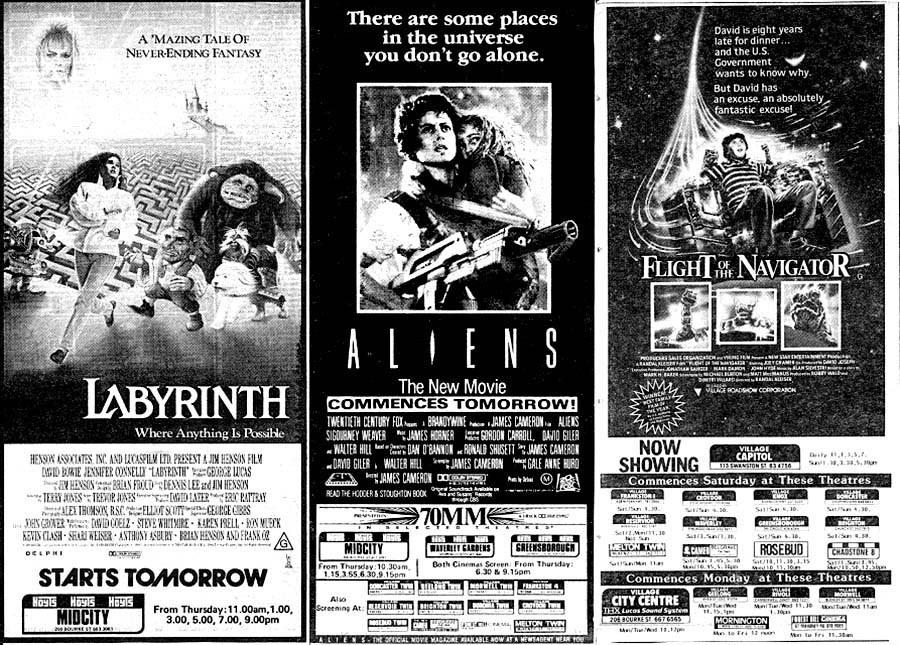 If you want to demonstrate how times have changed for movies, just show them this post.  Here are a bunch of movie theater ads from the 1980s, and it's impossible not to notice how different things are today in terms of what's playing at the local cinema.
Today, we have a half-dozen big-budget productions that play at each and every movie theater, with almost zero variation.  Each Friday, these six flicks are incrementally changed, with a couple new big-budget movies replacing a couple big-budget movies which have grown tired.
Now take a look at what's playing in theaters in the 1980s.  It's a motherload of variety, from low budget to medium budget, from horror movie to teen comedy.  Sure, many of the films were awful, but it was a lot cheaper to see a movie back then, so we didn't need to see a three hour long CGI extravaganza to feel we got our money's worth.
So, let's have a look at what was playing at the local cineplex, and not only take note of how times have changed, but also stroll down memory lane, remembering some great and not-so-great flicks from yesteryear…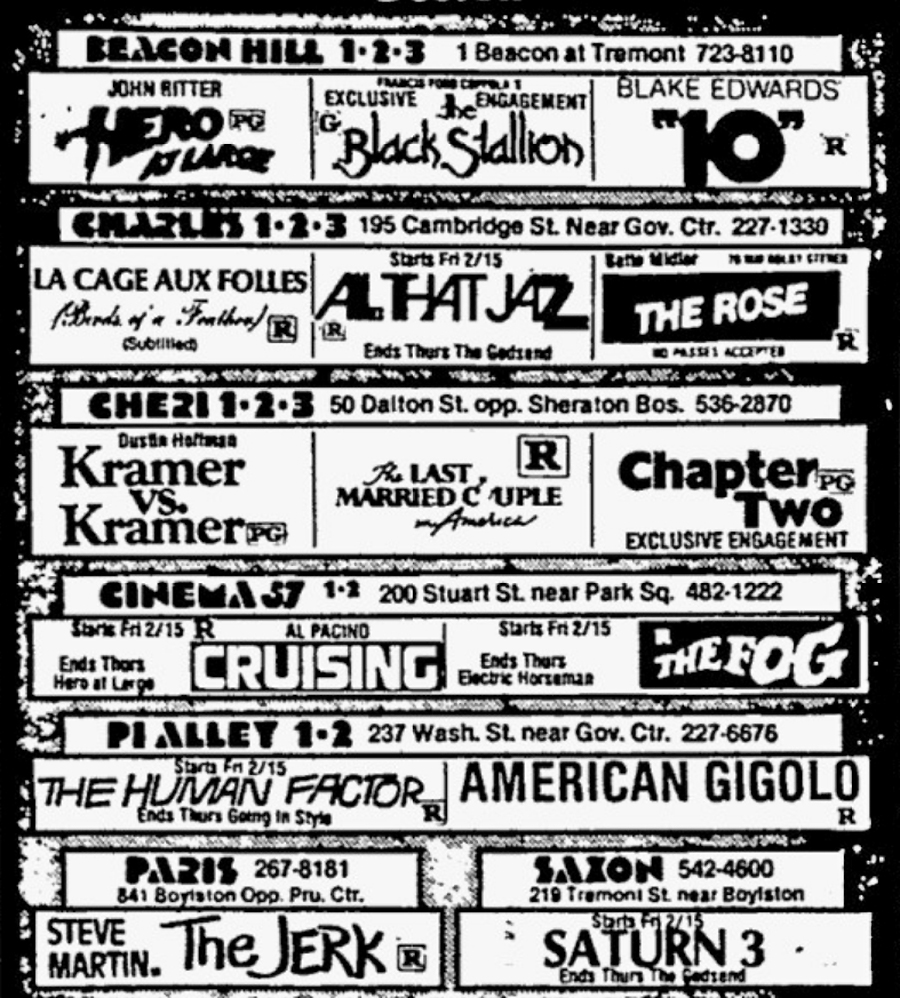 [February 15, 1980 (Boston)]  It was an embarrassment of riches.  Look at our choices: we can see Farrah Fawcett naked in Saturn 3, or one of the greatest comedies of all time, The Jerk, or the John Carpenter horror classic, The Fog…. and that's just the beginning – look at the low-key dramas: Chapter Two, Kramer vs. Kramer, as well as the Bo Derek/Dudley Moore/Blake Edwards comedy masterpiece, "10".   I wonder what was playing at your local movie house this past February.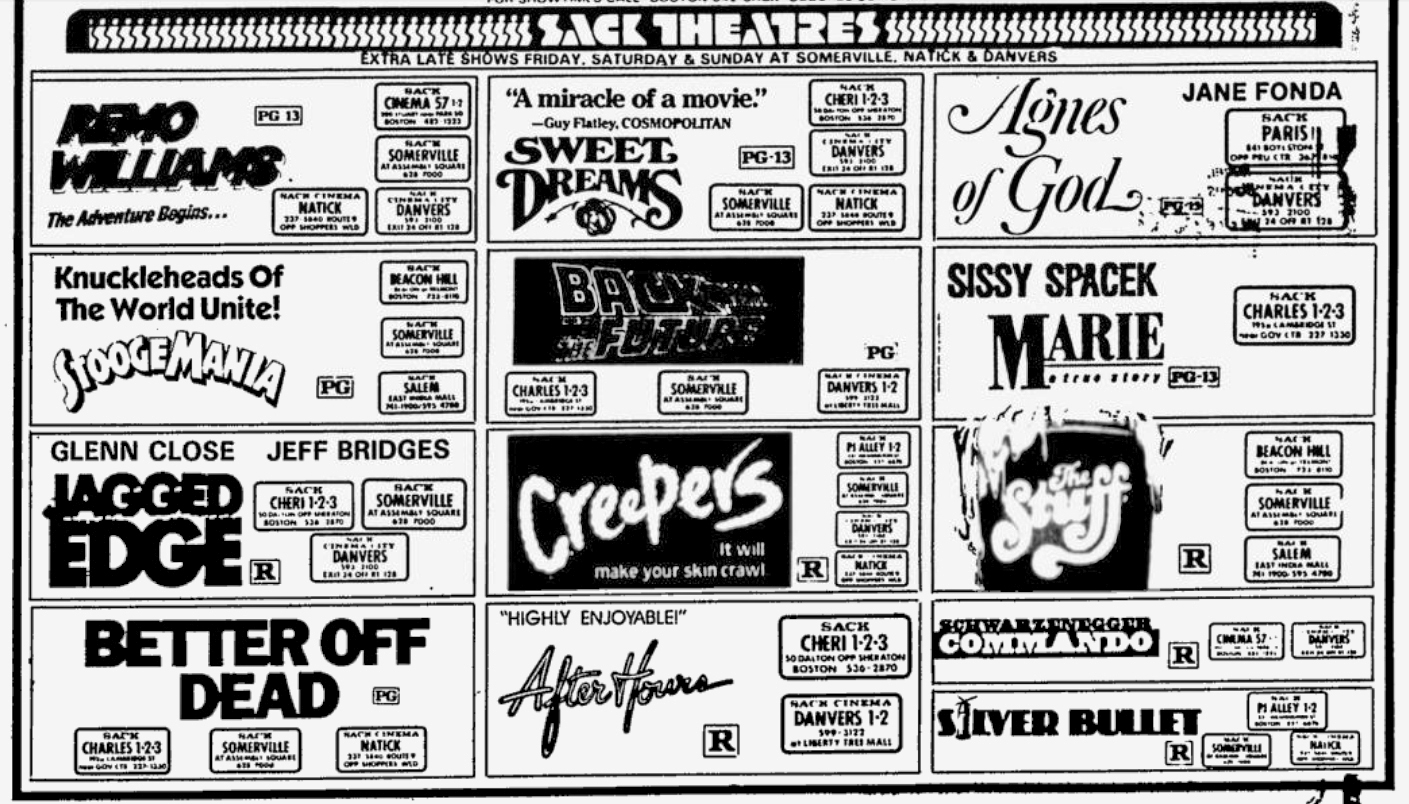 [October 29, 1985 (Boston)] Better of Dead is possibly the greatest teen comedy to come out of the eighties.  Also take note of Back to the Future, the horror comedy The Stuff, and let's not overlook Schwarzenegger's Commando and Stephen King's Silver Bullet (Corey Haim, R.I.P.)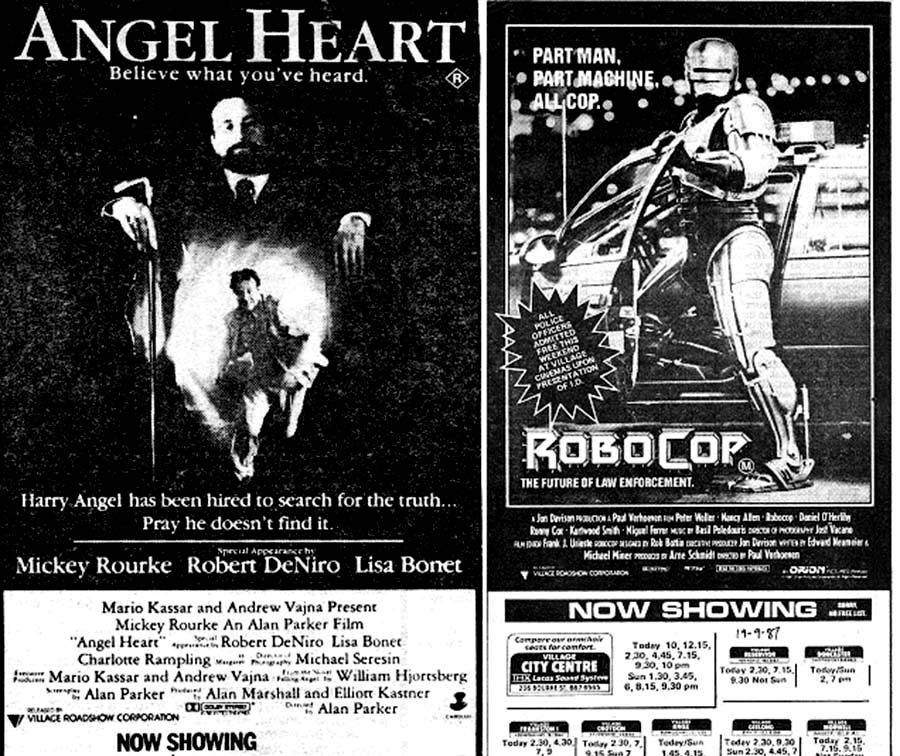 [May 1987] RoboCop or a movie where Robert DeNiro is the devil and Lisa Bonet (The Cosby Show) has a graphic sex scene? What can I say? Life was good.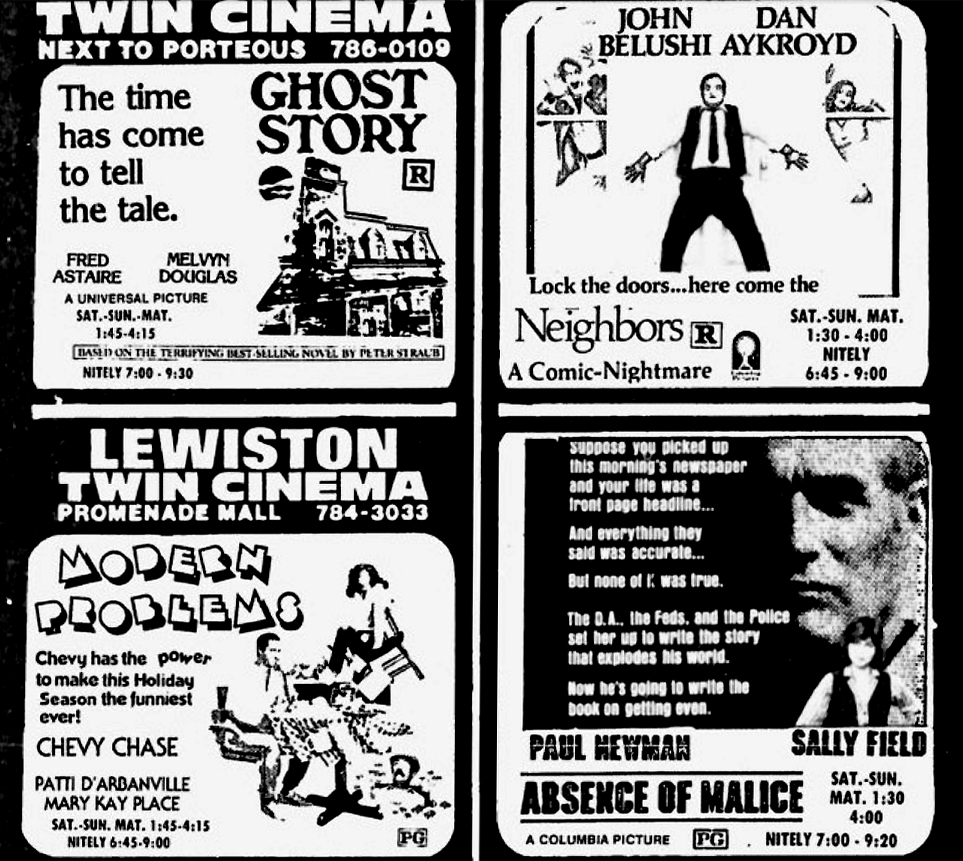 [January 2, 1982 (Maine)]  Modern Problems was a godawful mess – with Chevy Chase getting infected with toxic waste and somehow becoming possessed.  The finale where his "demon" is exorcised is one of the cringiest, hard-to-watch moments in eighties cinema.  Ghost Story, on the other hand, is a sinfully underrated horror classic.  It's a bit slow, so I'm guessing teen audiences expecting the fun of a slasher movie were disappointed.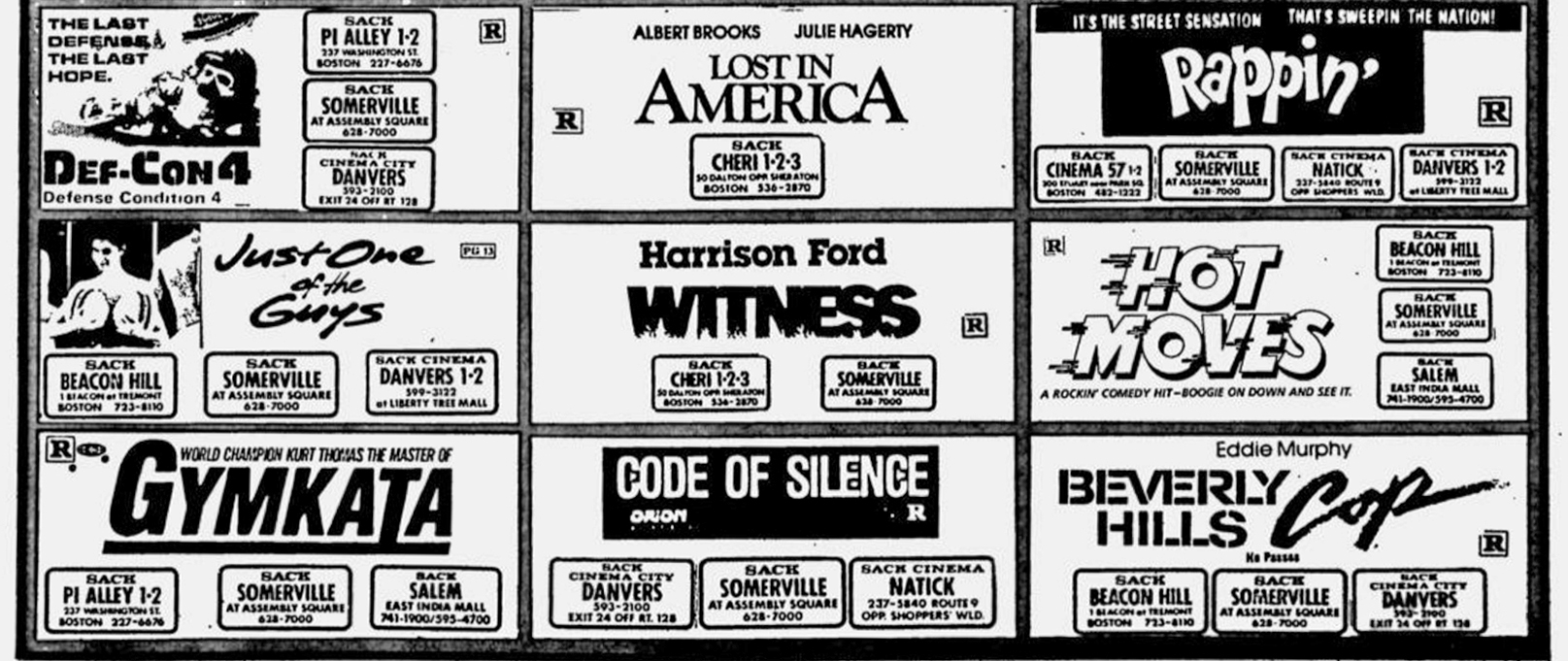 [May 14, 1985, (Boston)] We were flooded with breakdancing movies in the mid-eighties; today we have Rappin', "The Street Sensation that's Sweepin' the Nation!".  Also playing: Just One of the Guys, featuring the most surprising bit of gratuitous nudity in cinema history, courtesy Joyce Hyser.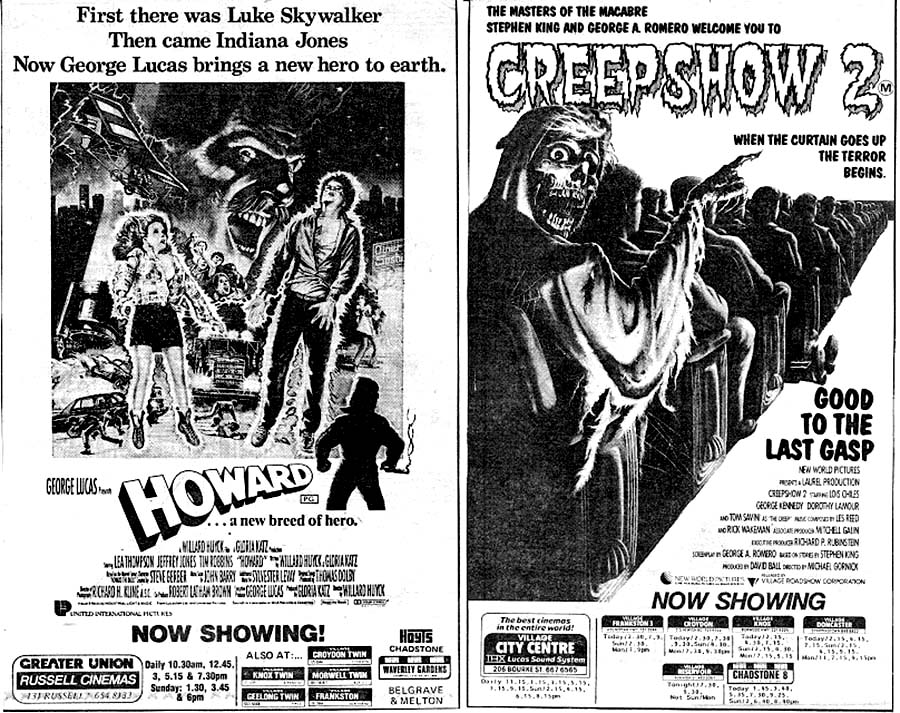 [December 1986] Howard the Duck, a perfect example of why we shouldn't over-hype the eighties movie selection.  An epic fail for George Lucas.  Creepshow 2, on the other hand, is amazing. "Thanks for the ride, lady!"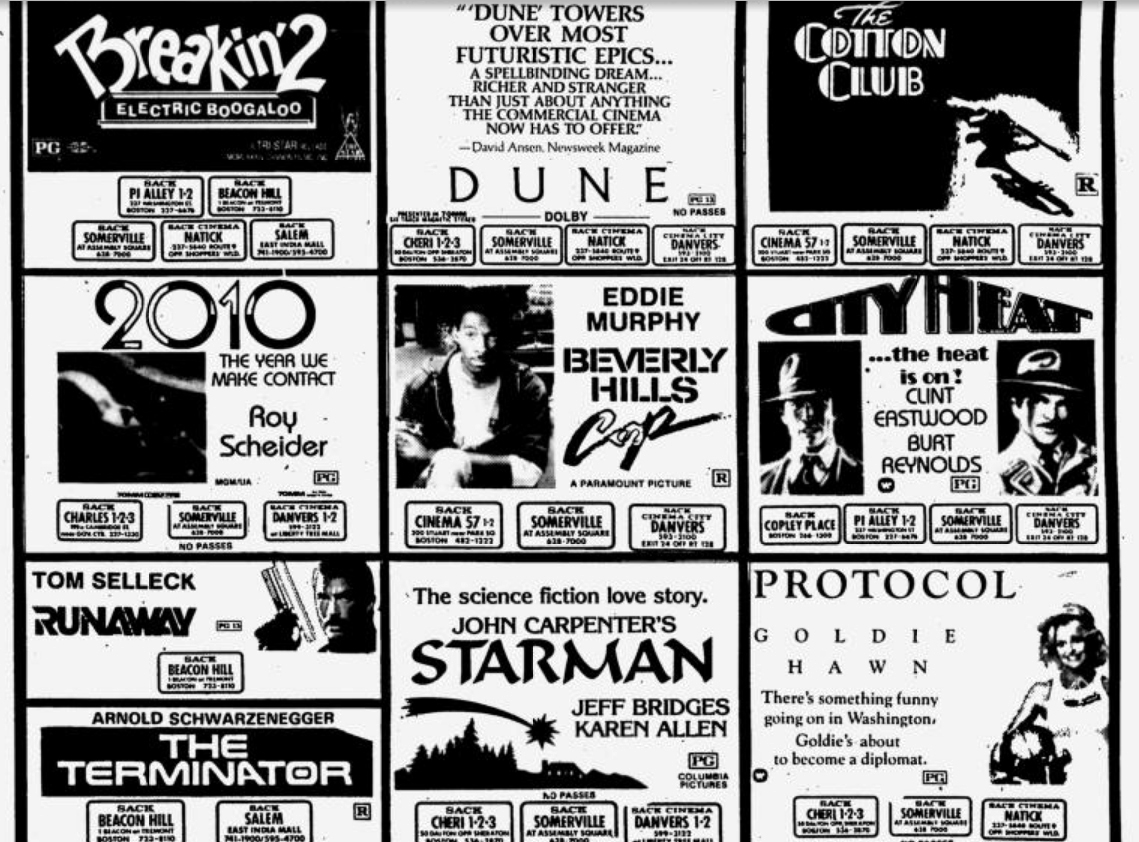 [January 1, 1985 (Boston)] Let's start the New Year off with Kiss' Gene Simmons vs. Magnum PI's Tom Selleck in Runaway.  Also playing: an woefully underrated sci-fi film, 2010, and the David Lynch clusterf**k that was Dune.   Imagine, going to the local movie theater and having to choose between The Terminator and Breakin' 2: Electric Boogaloo.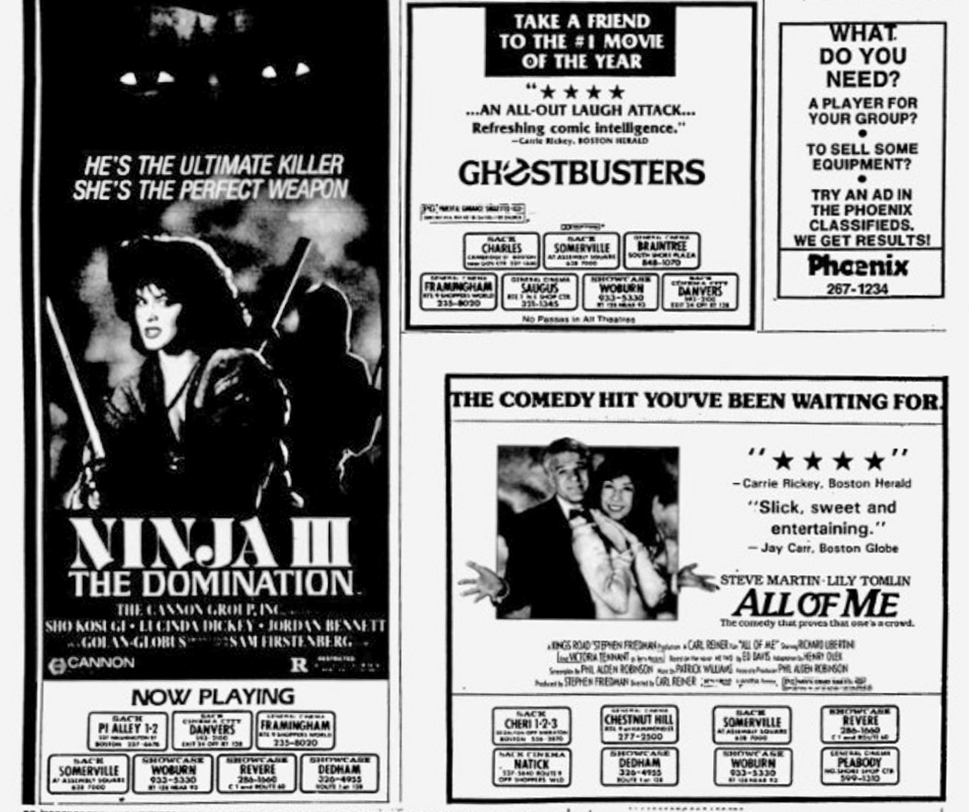 [October 23, 1984 (Boston)] I bring this one to your attention because of Ninja III: The Domination. This gets a bigger ad than Ghostbusters and gets widespread release… this would simply not happen today.  If you've seen Ninja III, you know this is a low budget flick which rode the popular ninja gravy train.  There is no way a movie of this caliber gets put in your theater these days… and what a shame.  I saw this film in the theater in Indiana, and lapped it up and begged for more.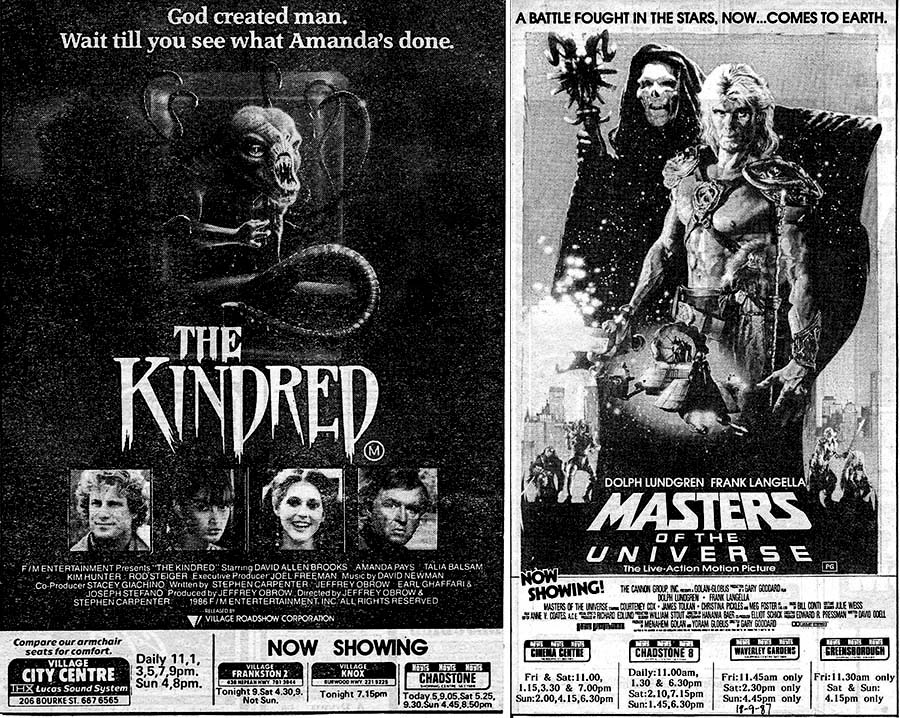 [(L) July 1987, (R) September 1987]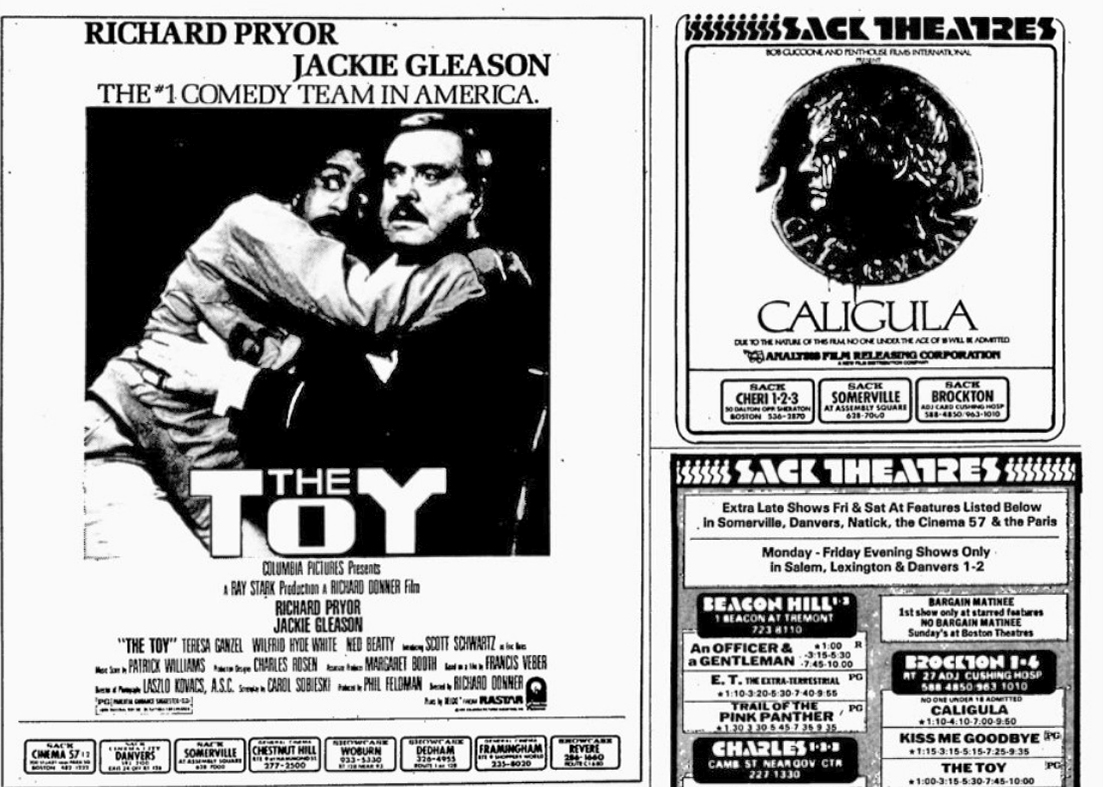 [January 4, 1983 (Boston)] When else but the eighties can you have, in major release across the country, both a big budget porno produced by Penthouse (Caligula), and The Toy, a story about a rich white man who rents a black guy to be his son's playmate.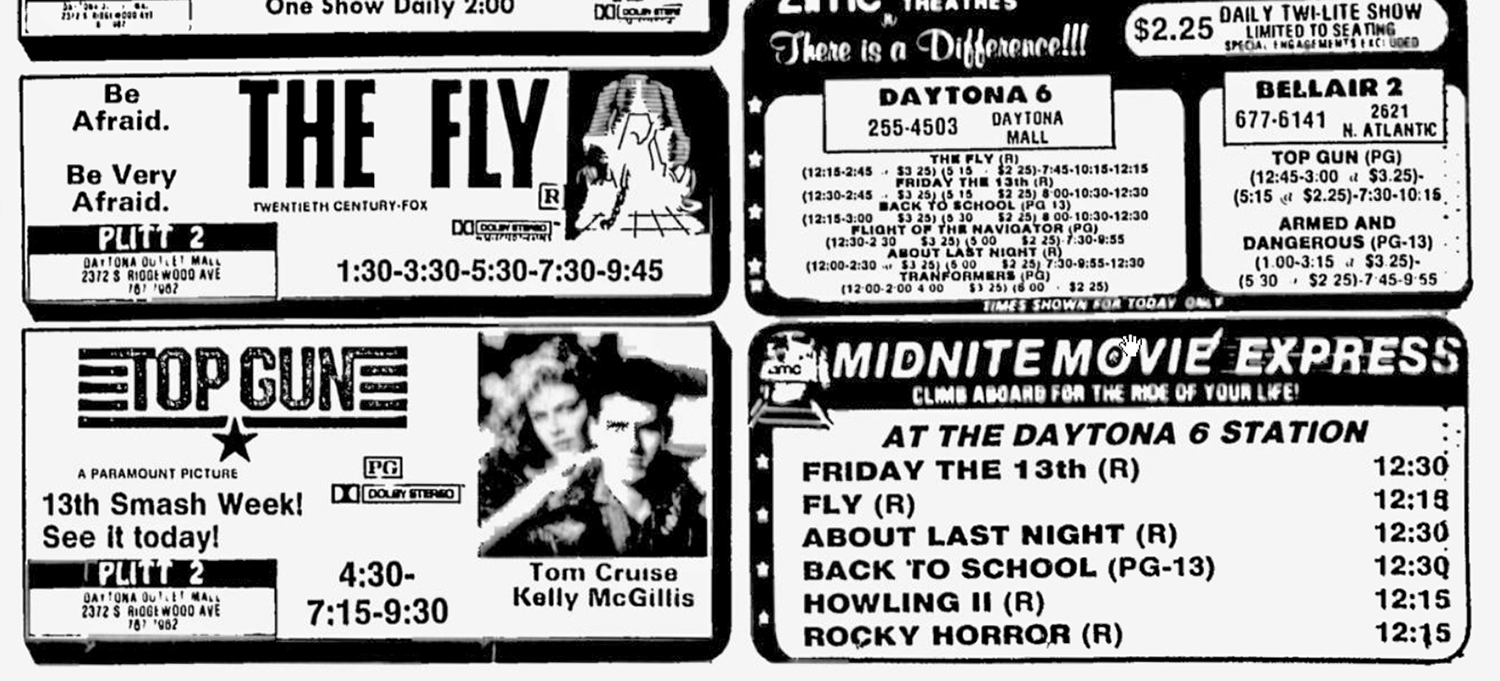 [August 16, 1986 (Daytona, FL)]  I love how local theaters almost always had the the midnight movie.  These were films that generally were not new releases, but definitely had the fun flavor of a midnight show. Tonight, we have the choice of the horror flicks Friday the 13th (I wonder if this Part VI… but then, does it really matter?), The Fly, Howling II, and The Rocky Horror Picture Show.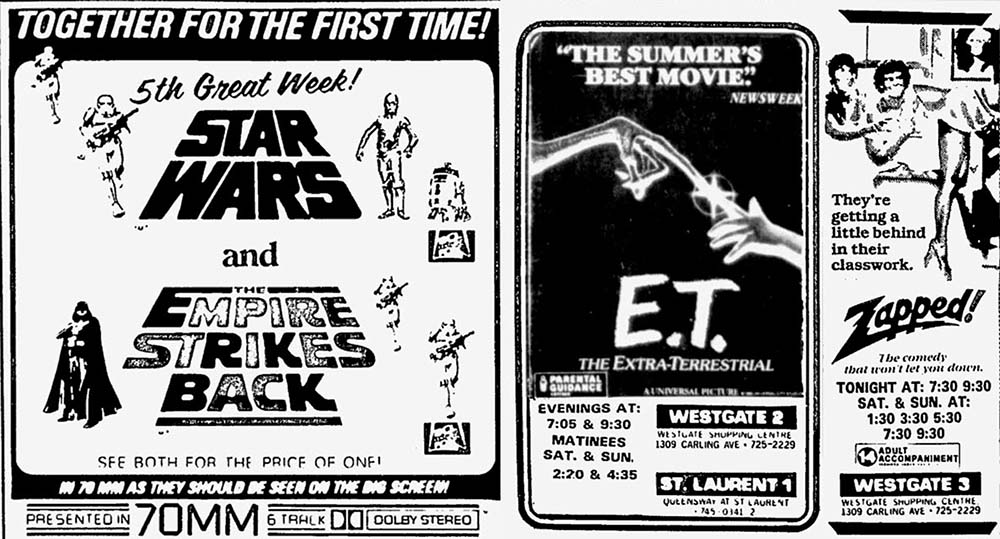 [October 29, 1982 (Ottawa, Ontario)] A Star Wars double feature on 70 MM, plus Zapped!, where Scott Baio has the power to undress women with his mind – now, that's my kind of super hero movie!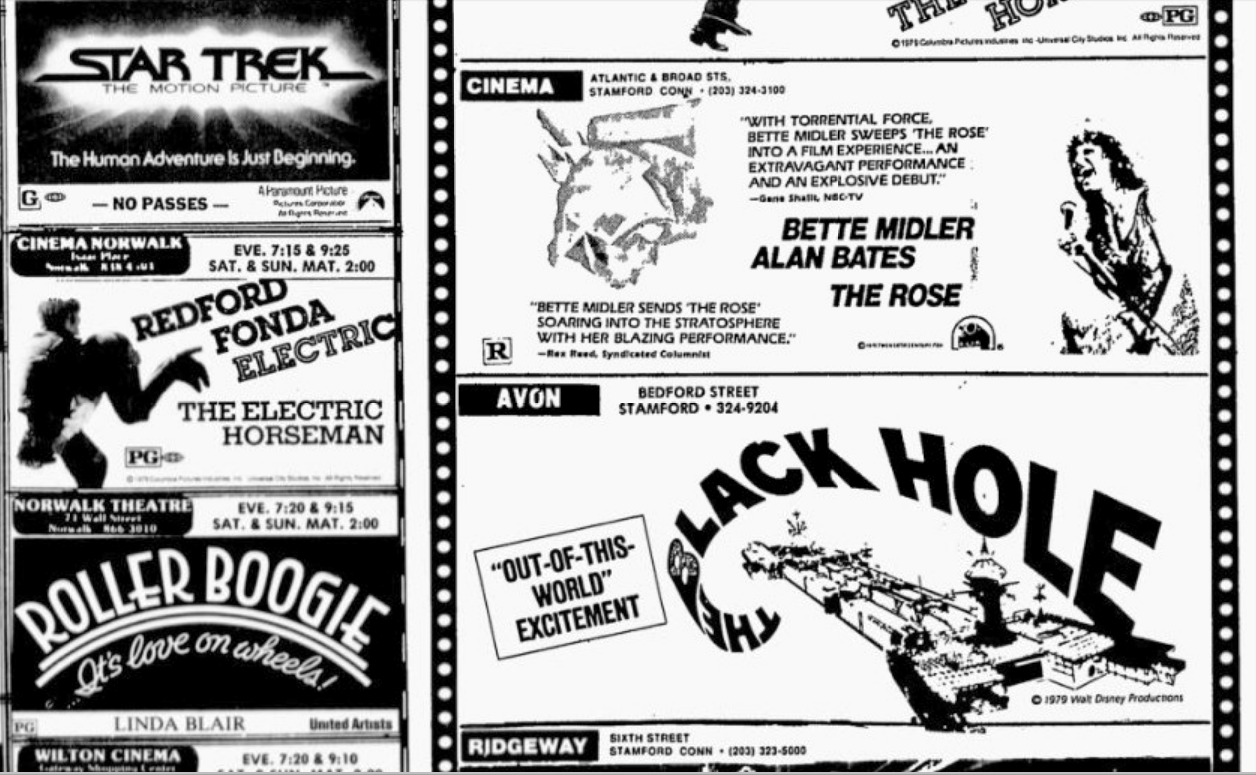 [January 4, 1980 (Connecticut)] – Coming out of the seventies, there was a bunch of roller skating movies, including Linda Blair's Roller Boogie and Skatetown USA (starring Marcia Brady) and Xanadu, with Olivia Newton-John.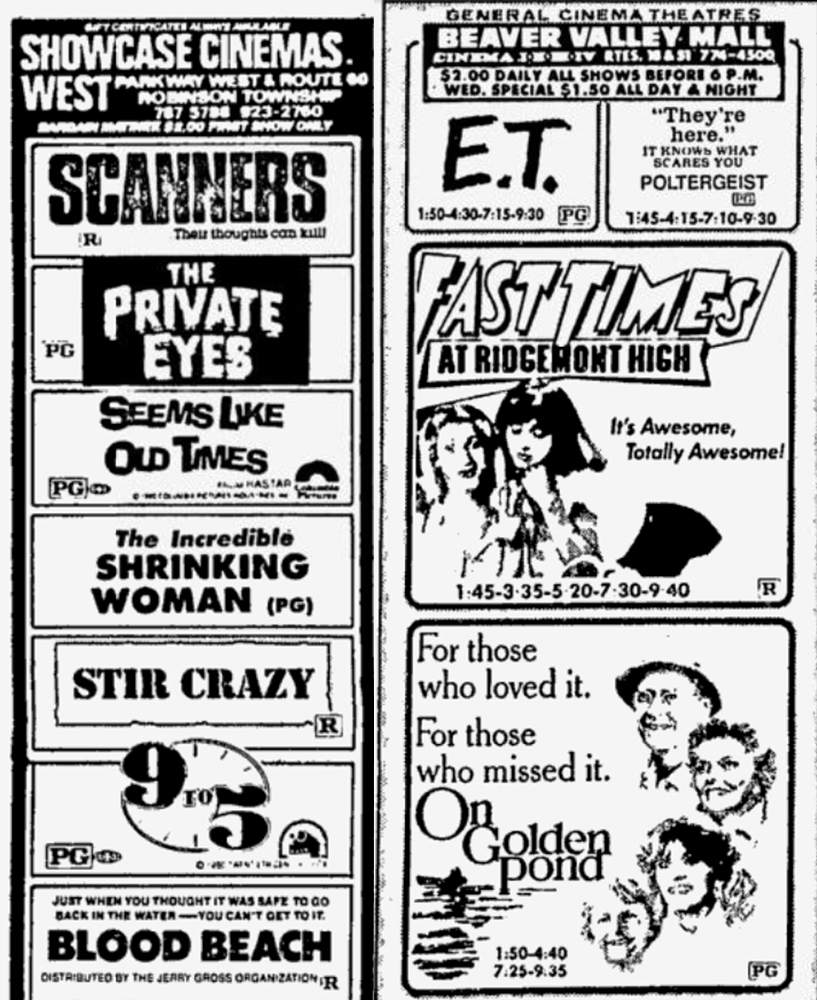 [(L) October 3, 1982, (R) February 1, 1981 (Pennsylvania)] At 7:30, mom and dad can go see the sappiest Oscar-grabbing drama since Yentl, On Golden Pond, while you and I can check out Fast Times at Ridgemont High.  Take note that E.T. and Poltergeist are also options.  Did I mention there was an embarrassment of riches in movie options in 1980s theaters?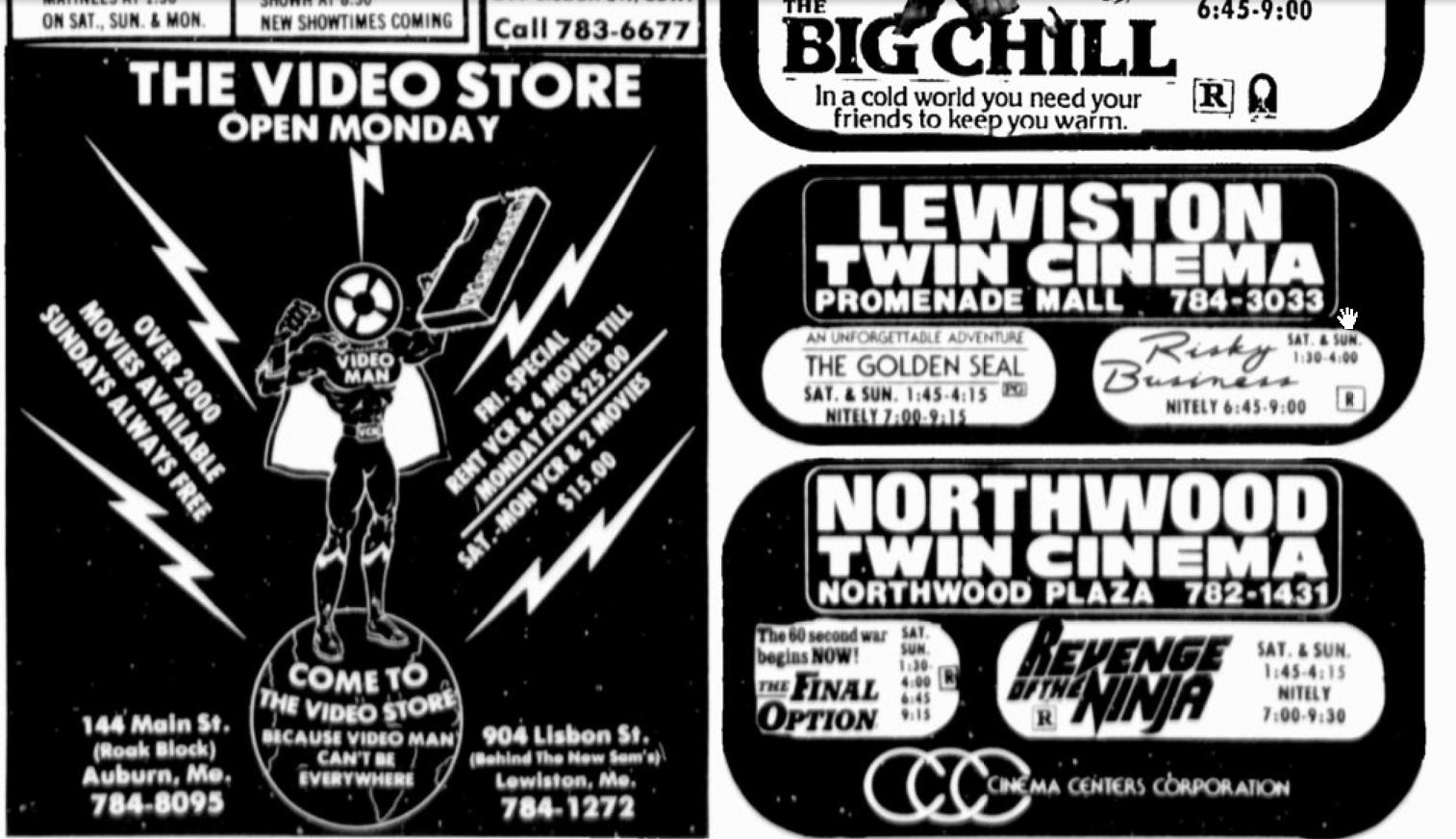 [October 7, 1983 (Maine)] We have some good options with Risky Business and Revenge of the Ninja… but look at the advertisement on the left.  Yes, video stores were starting to hit Main Street America, and the nature of movie-going would never be the same.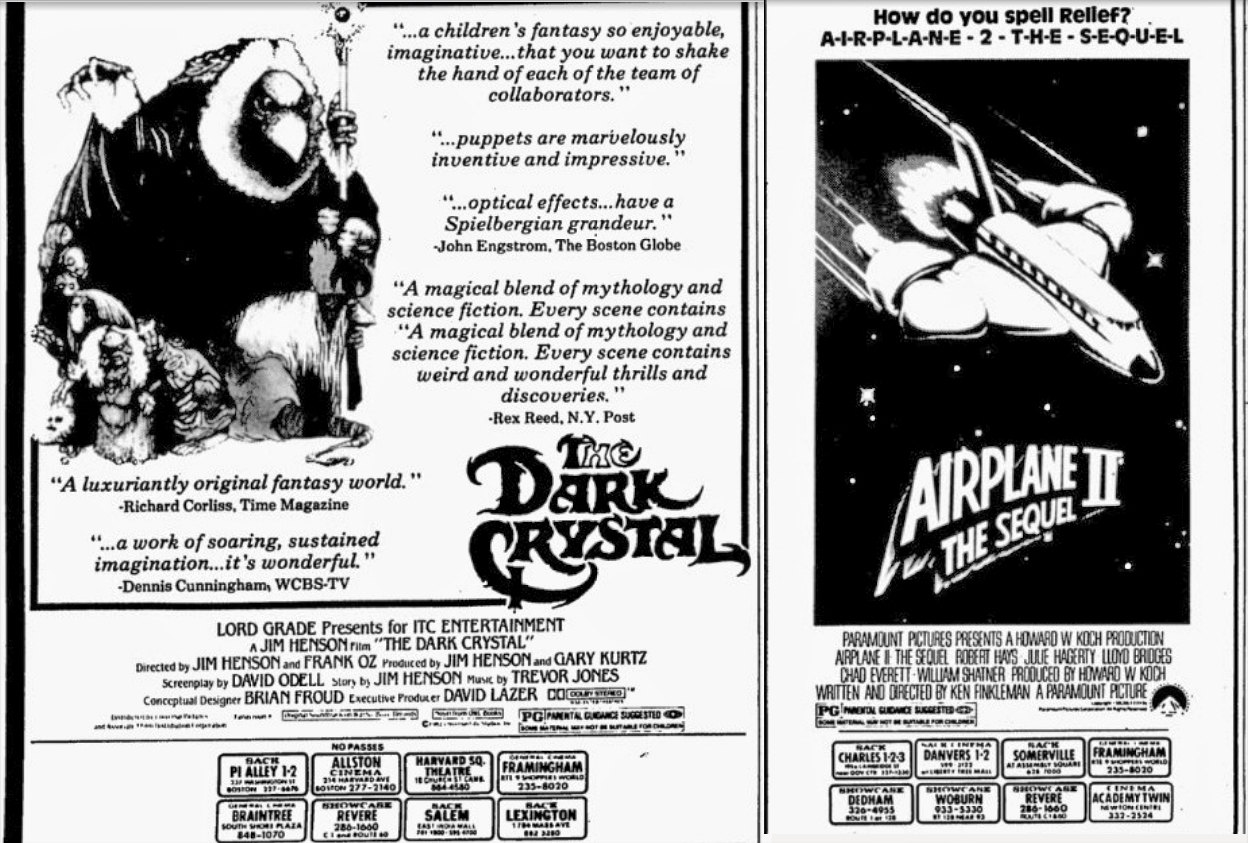 [January 4, 1983 (Boston)]  Jim Henson's epic, The Dark Crystal, or Airplane II… for a kid in middle school, this is an impossible choice.  We simply had to see both.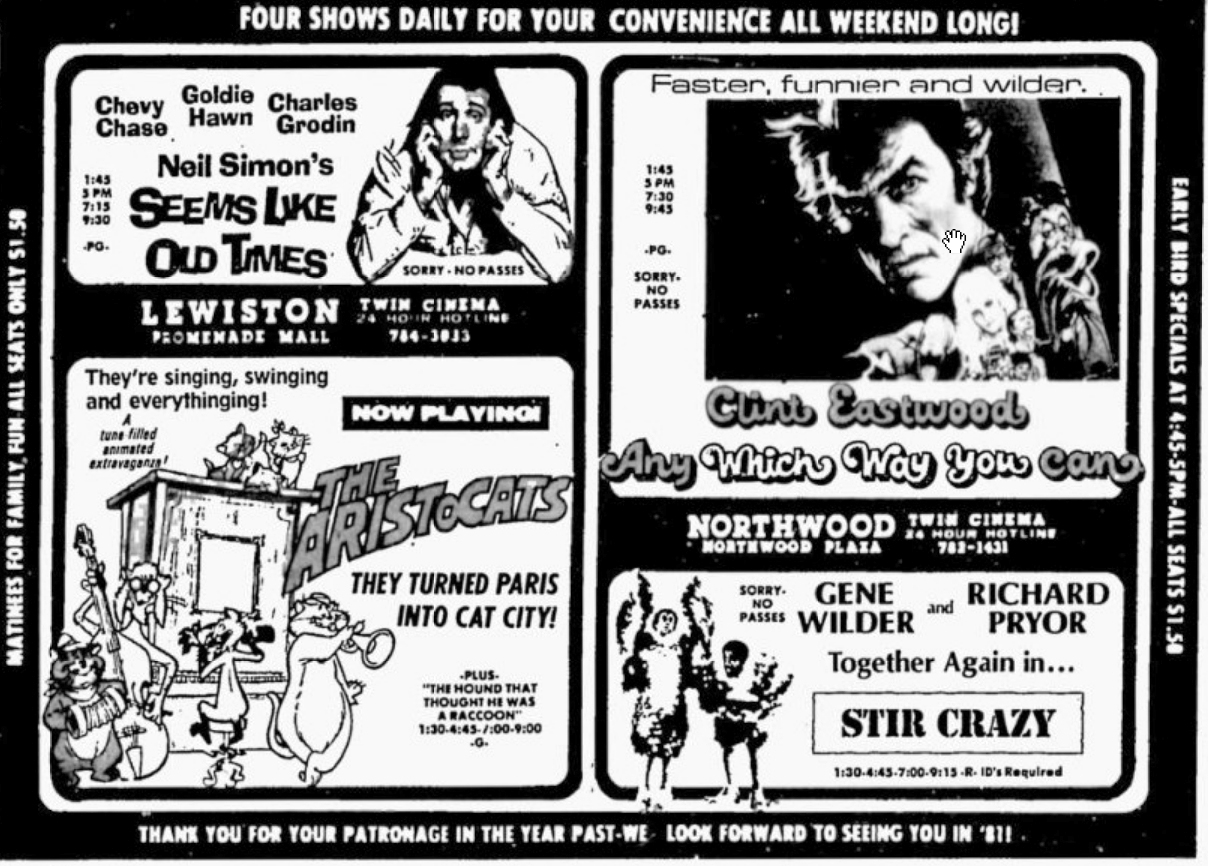 [January 2, 1981 (Maine)] Unlike today, where it seems like more movies are for kids than adults, the opposite was true in the 1970s and 80s.  We had to settle for Disney re-releases and shit like The Apple Dumpling Gang.  Movies like Escape from Witch Mountain were a treasured rarity.  It's no surprise that Star Wars was an instant success – a generation was craving something of quality.  It would be a few decades before this gameplan went into hyperdrive, resulting in theaters full of Marvel, Transformers, Pixar, etc.  with precious little room for adults-only options.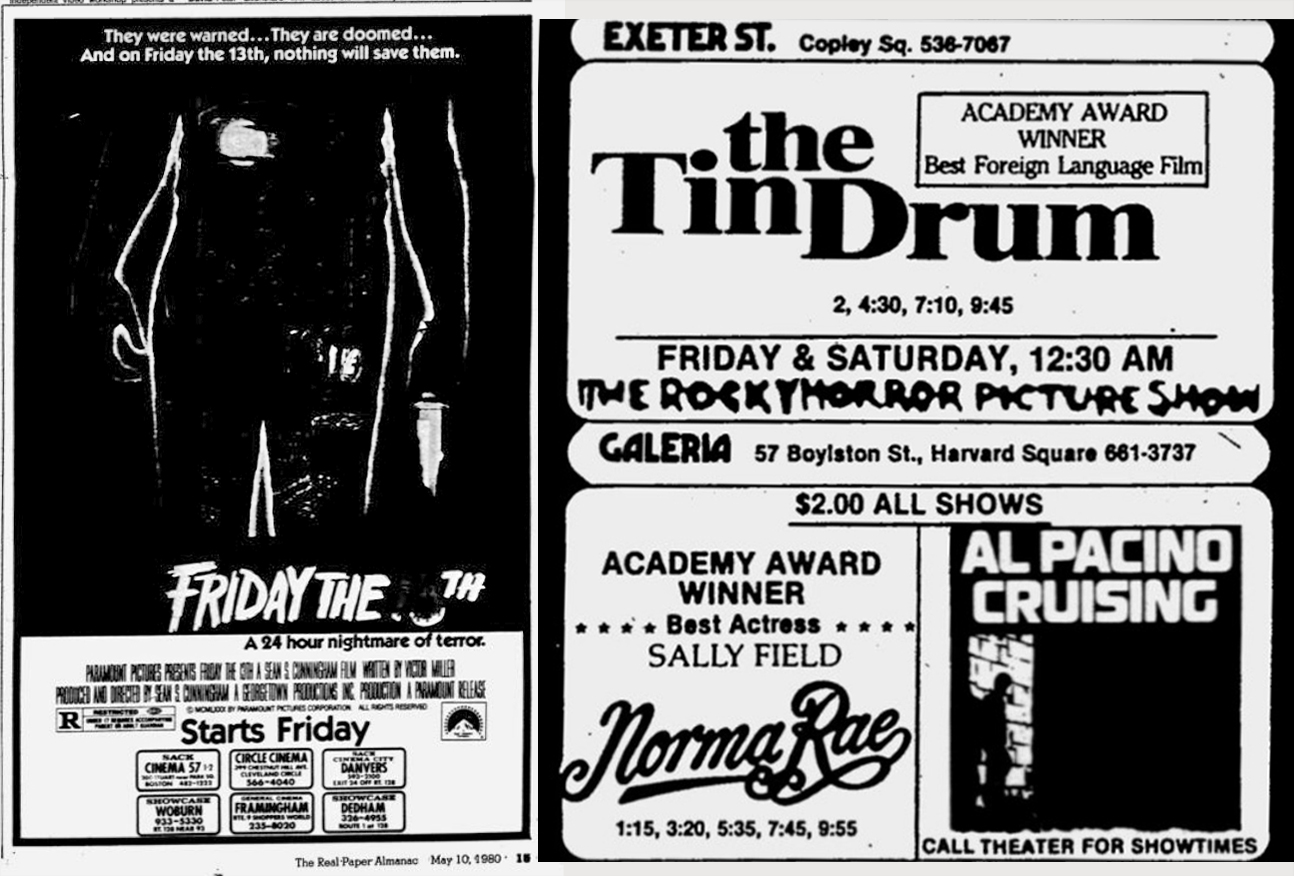 [May 10, 1980 (Boston)] After Halloween, a tidal wave of slasher films were released, among them was Friday the 13th.  Also playing, a midnight favorite, The Rocky Horror Picture Show, and The Tin Drum, a film that was later banned from video stores once it was discovered that an actress who appeared nude in the film was a minor.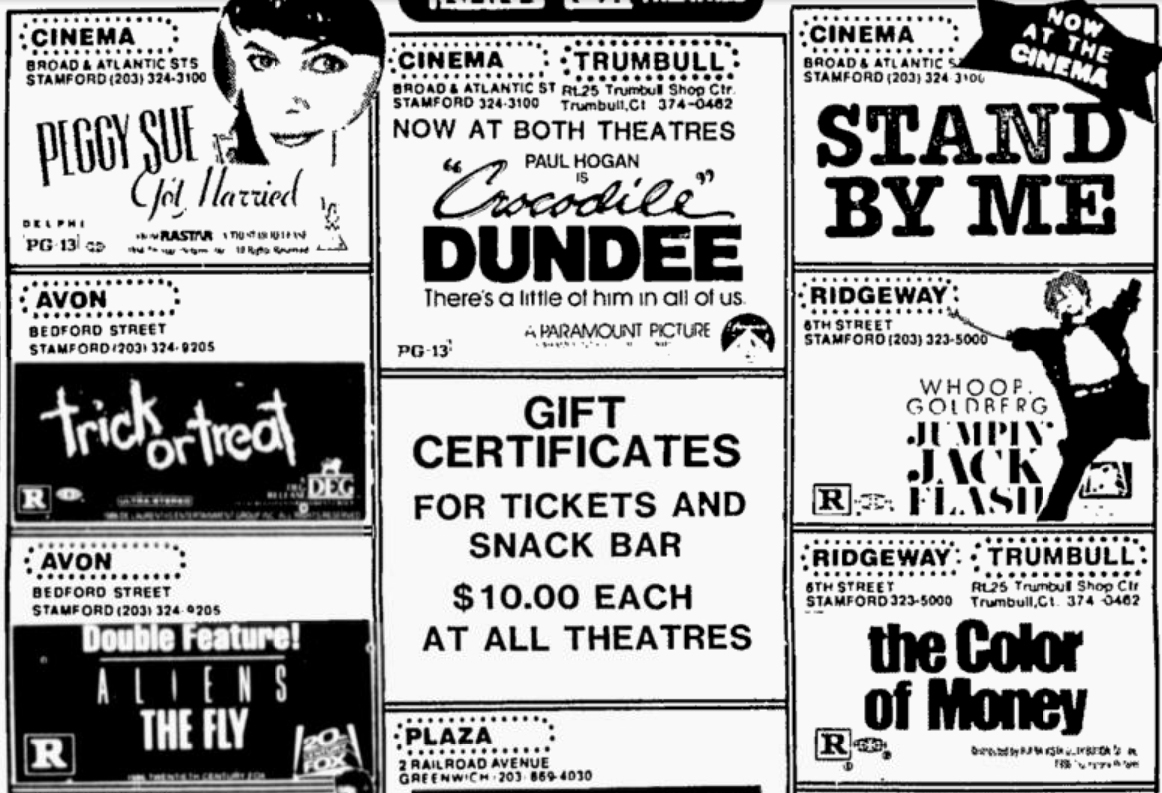 [November 11, 1986 (Connecticut)]
This has been a blast looking at 1980s movie ads, but what about the 70s?  You could argue that it was even more varied and colorful.  Indeed, it deserves a look – so stay tuned for the 1970s edition coming soon!