IS there anything better than a mid-century men's action magazine?  They were chock full of lurid stories and provocative artwork depicting female biker gangs, nympho pirates, Gestapo dominatrices, etc.  If it fulfilled a macho fantasy, it was fair game, and the headlines beckoned men to go along for the ride.  Here are ten worthy examples.
THE MAN WHO TOUCHED OFF PHILADELPHIA'S GREAT BOSOM RIOT
Male, Sept. 1959
I'm a mild mannered, peaceful kind of guy – not much into protests and insurrection.  That being said, a "bosom riot" is something I could get behind.
THE NUDES WHO DECOYED AN ARMY
For Men Only Dec.1957
The headline is nice, but it's the subtitle that earns its place on this list.
"In that steaming jungle, the last thing we expected to find was five naked dames playing footsie with a corpse"
Pure genius.
ISLAND OF UNSATISFIED WOMEN
True Adventures Feb. 1967
In these old action magazines, men were always stumbling into tribes of nymphomaniacs.  I can't help but think this wasn't as common as the magazines proclaimed it to be.  It's been at least a year or two since the last time I've inadvertently wandered into a jungle paradise inhabited by nymphos.
JAIL BAIT HAREMS OF THE FRENCH RIVIERA
Target, Oct. 1961
The picture is tantalizing fun, but the text is a downer.  The titular jail bait are apparently "now frail school-girls" indentured to creepy old masters. No thanks.  I prefer my mid-century French harem wenches to be of voting age. I do have standards.
MY LOVE LIFE WITH THE HOCKEY BUMS
Stag, Feb. 1971
"They call them 'hockey girls' – girls who fill in for the players' wives when the team is on the road.  'Filling in,' of course, means sexually"
I love how they had to explain what "filling in" meant.  Were they afraid we might think it meant "ironing trousers"? Or, perhaps "picking up groceries"?
THE DAMNED FOOL WHO SAVED TOLEDO
Male, Aug. 1958
I have to admit, they had me at "damned fool".  I'm sufficiently intrigued.  Don't forget to catch the follow up story: "The F***ing Idiot Who Saved Reykjavik".
238,857 MILES OF SEX
Stag, Dec. 1964
This, of course, being the distance to the moon…. Which, don't get me wrong, is impressive.  However, is nowhere near Wilt Chamberlain's  90,968,000 miles (distance to the sun) or Rolling Stone Bill Wyman's mileage which has to be measured in Parsecs.
CROSS-COUNTRY SEX RALLY OF THE CYCLE GANG MAMAS
Male Annual, 1972
I'm so glad the Male Annual magazine was thoughtful enough to include a photographic insert of a woman's ass on a motorcycle.  Without that bit of illustration, I might not have understood the premise.  That cleared things right up.
THE WILLING WITCHES OF STUD ISLAND
Man's Action, April 1972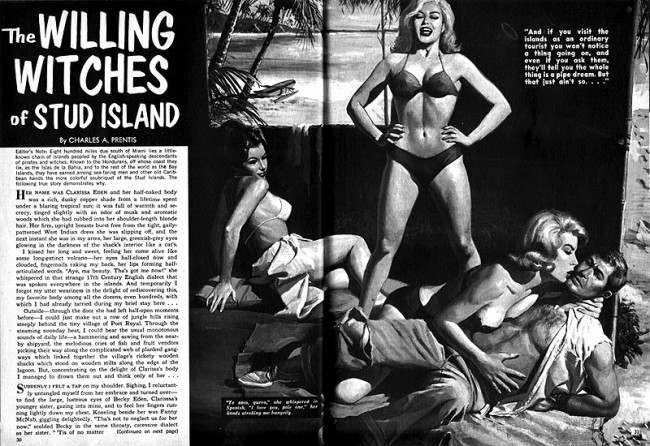 Yet another lucky male falling back-assward into a tribe of jungle nymphos.
Mental note: Need to get lost in jungles more often…. Preferably in places with names like "Stud Island".
THE BLOOD-BATH OF THE LOVE-CRAZY COUNTESS!
Man's Daring, Nov. 1961
The bald prisoner in the middle is obviously wondering what the problem is. Imprisoned by a hot nympho countess? There are worse things that could happen to you.