"He'd show up drunk for many jumps – and ride like a champion"  – Jerry Garrett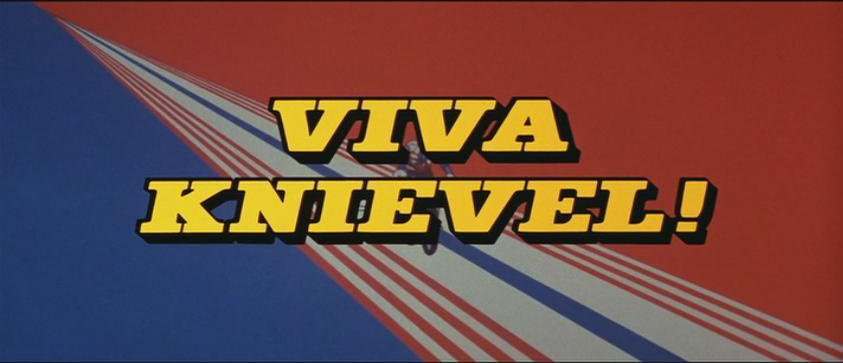 When I was kid, Evel Knievel was about as cool as it got. In retrospect, I'm not quite sure why this daredevil became such a phenomenon, but that's the way it was – they just didn't make 'em any cooler than Knievel.
The 1977 film Viva Knievel! perfectly captures the awesomeness of Knievel in all his glory.
In Viva Knievel the line between stunt man and superhero is blurred. All within this one film, Knievel helps an orphanage, unites an estranged father (Gene Kelly) with his son, defeats a drug lord (Leslie Nielson), bags a beautiful babe (Lauren Hutton), and of course performs a ton of kick ass stunts.
The trailer is mesmerising.
However, Knievel's shining moment in the film is his anti-drug speech. It has to be seen to be believed.
"Before I make the jump, there's something I'd like to say to you, that's been bothering me for a long time. I go to Indianapolis every year to see the Indy 500. I go there with friends to drive and race. Every year when they go there to qualify, they usually have to go as fast as they possibly can to get a front row position. They put nitro in their cars sometimes, instead of the fuel that is intended to be in the cars so that the cars will go faster…and they do, for five or ten laps. And then they blow all to hell. And you people, you kids, if you put nitro in your bodies in the form of narcotics, so that you can do better, or so that maybe you think that you can do better, you will for about five or ten years,…. and then you'll blow all to hell."
As my gift to you, I present the theme song from the film. Not since Handel's Messiah has there been a piece of music that heralds the glory of the composition's subject with such triumphant jubilation.
"One fine day, a man came to town,  
A king of the road, with a helmet for a crown
A motorcycle bird who is never comin' down."
As if that weren't enough, there's the cast: Gene Kelley as a drunken deadbeat dad and the beautiful Lauren Hutton as the cocky, hard-to-get journalist. Plus we get Leslie Nielsen as a ruthless drug lord (!) and Cameron Mitchell as his goon. Check out the photo below: Nielsen, Knievel and Dabney Coleman. If that doesn't qualify as a "When Legends Gather" image, then I don't know what does!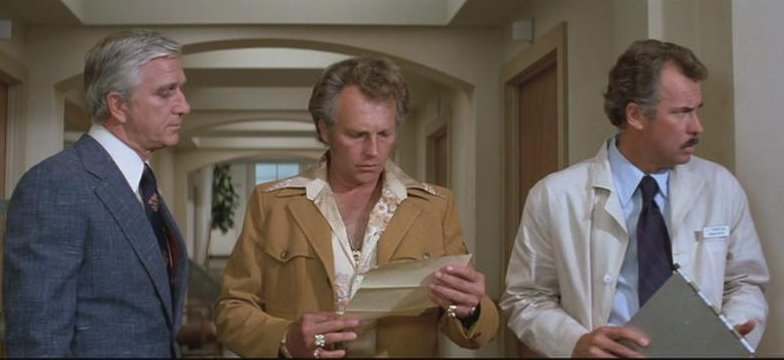 Let's not forget Frank Gifford, whose only purpose in this film seems to be to wear orange and yellow polyester and remark over and over again how "deadly" and "dangerous" Knievel's stunts are going to be.
One of my favorite moments in the film comes when Tommy (a combination of Adam Rich and Damien Thorne) is invited to Knievel's van. My jaded 2009 mind couldn't help but find this amusing.
I've read several reviews of the film, and, not suprisingly, they're extremely critical. I guess I was just appreciative of real stunts, not CGI fake looking crap. When Knievel jumped his bike off a bridge onto a moving semi, I knew it was the real deal.
Plus, I think it's considered pretty corny these days to portray movie heroes as flawless. In this film, Knievel is a daredevil, spiritual healer, sexual dynamo, role model, and total badass all rolled into one…. and that's not always such a bad thing.