With hundreds of thousands of records released over the years, you're bound to wind up with a lot of similar looking covers.  Some intentionally – Beatles covers, for instance, have been mimicked countless times.  The Saturday Night Fever cover also has had its share of copycats…
However, this concept only works for iconic covers.  Let's look at some lesser known examples where similarity is purely coincidental.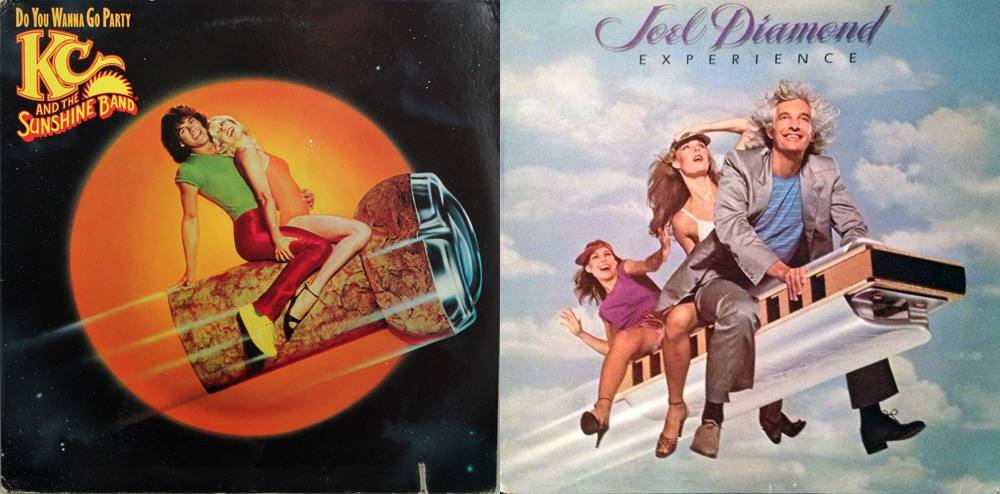 Casey (of KC & the Sunshine Band) rides atop a giant champagne cork travelling across the sky.  Joel Diamond, not to be outdone, rides with TWO lovely ladies atop a giant harmonica traveling across the sky.  (Or, perhaps their transports aren't giant at all, and the musicians and their lady friends have shrunk… it's a question I've wrestled with for decades, and am no closer to the truth.)
The Ike & Tina album came out in 1968; the Junior Parker in '71.  Both existed during an explosion of racial unrest in the US.  From the Junior Parker LP liner notes: "Chinese kids like watermelon, Irish like bagels, black people like Jewish rye, and today everybody loves the Blues."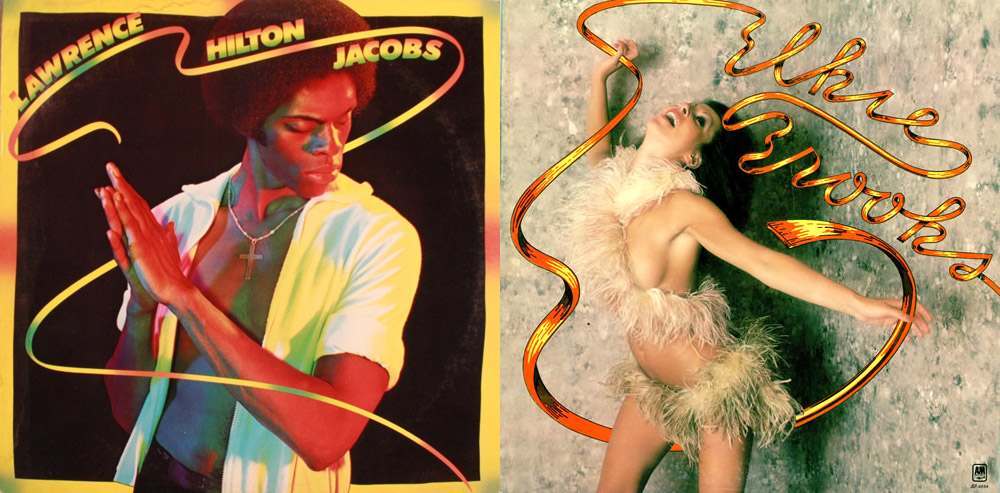 Both Lawrence Hilton Jacobs (Freddie "Boom Boom" Washington from Welcome Back, Kotter) and Elkie Brooks utilize the long squiggle from the title.  While Boom Boom maintains an aura of introspective cool, Elkie goes apeshit, letting her left boob fall out.  Her cover has come under derision for a long, long time.  It's no different than a lot of other crazy disco-era covers – I suppose the finger wagging stemmed from the fact that it just seemed so uncharacteristic of her.
Black women in chains…. a sensitive subject matter to say the least.  The Ohio Players turn it into bizarre erotica; meanwhile, poor Rafael is about to get slapped upside his head.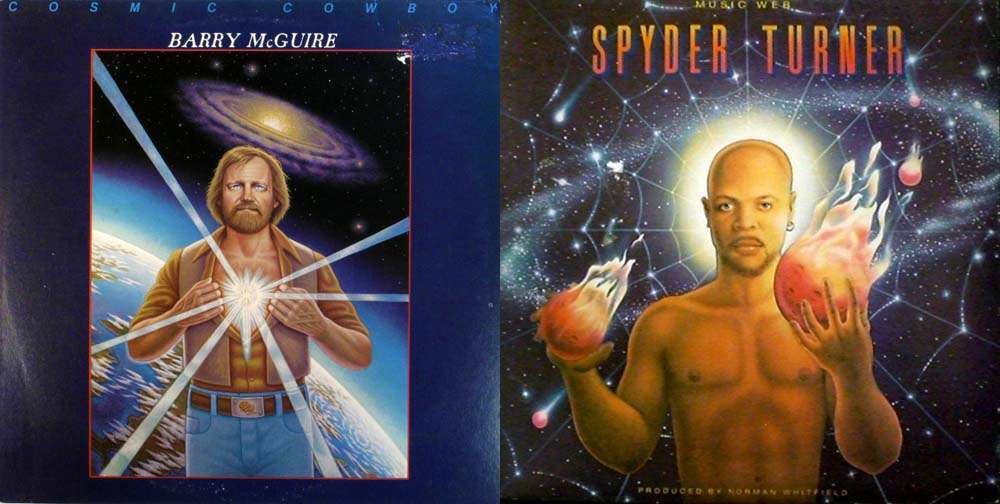 The Cosmic Cowboy and the Spyder couldn't be more different, and yet they both possess the power of the universe.
What is it with gals named Patti/Pattie who like to pose with chewed apples on their album covers?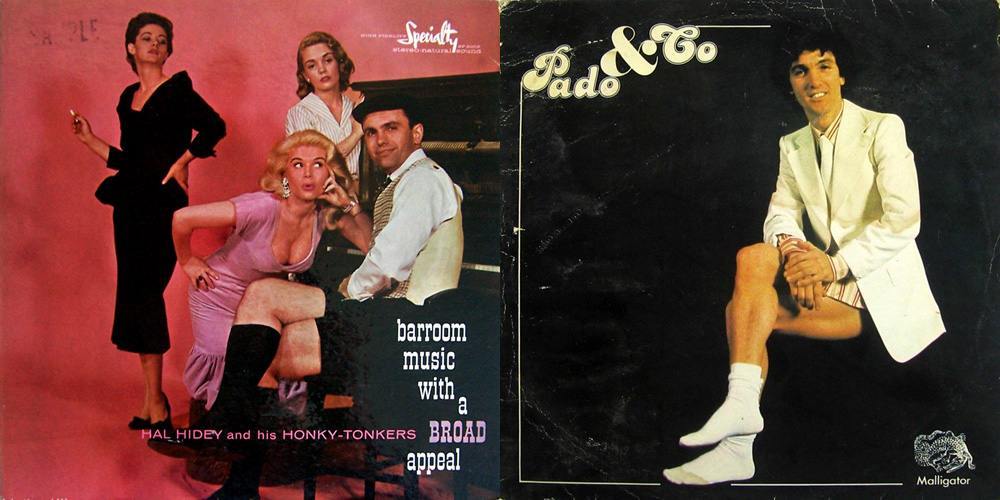 Both of these gentlemen felt the need to go pantless for their album cover.  To say that was a mistake would be an understatement.  At least Hal Hidey has a throng of females to console him… poor Pado sits alone in his shame.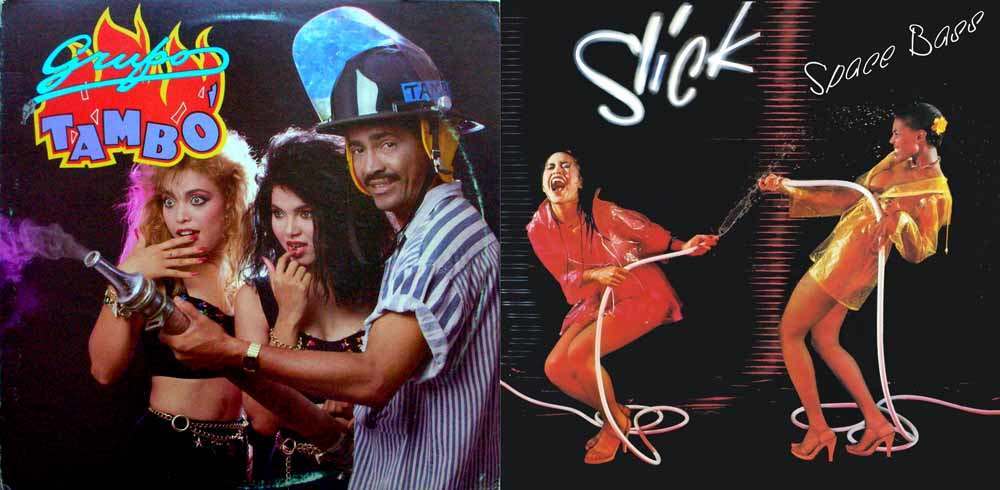 Granted, sexing up a water hose for your album cover won't get you listed with Sgt. Pepper as one of the greats; however, something tells me sexual hoses suits these albums perfectly.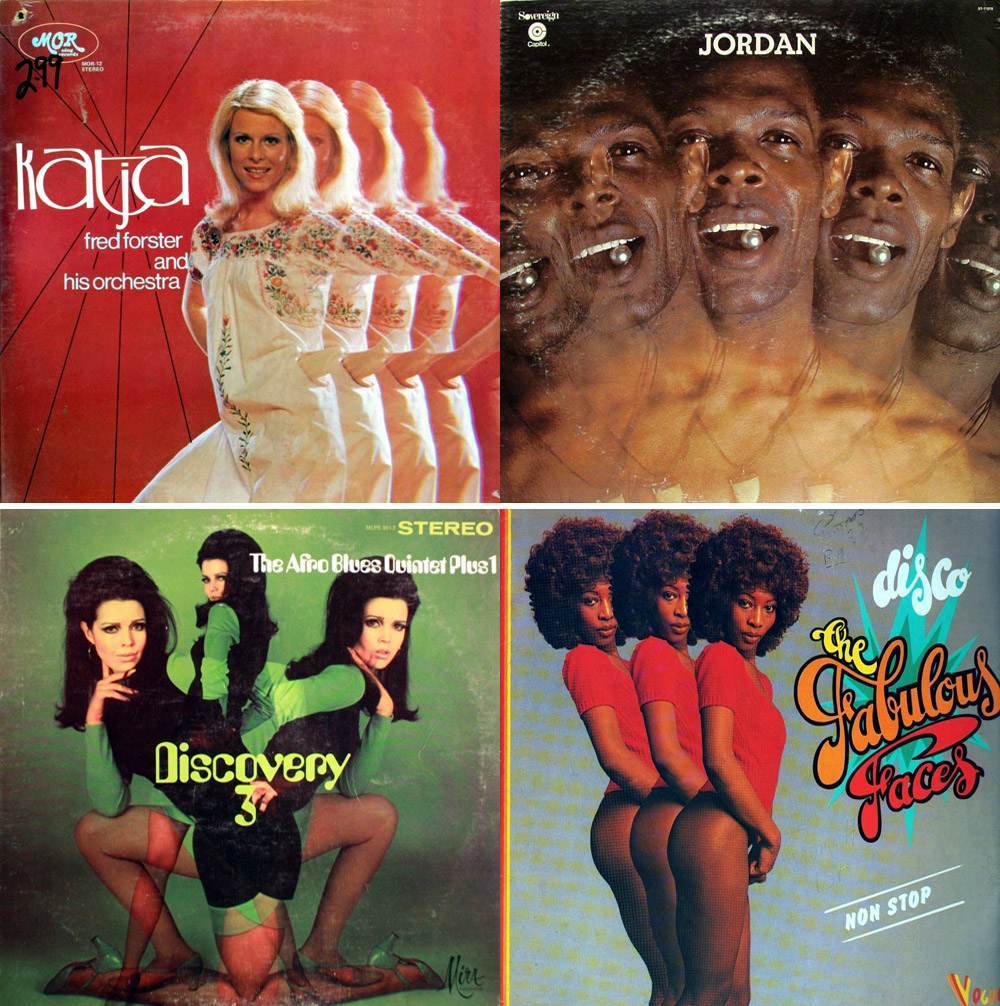 The multiple exposure effect was a pretty popular shtick back in the day.  Before the days of Photoshop we used to be wowed by cheesy effects.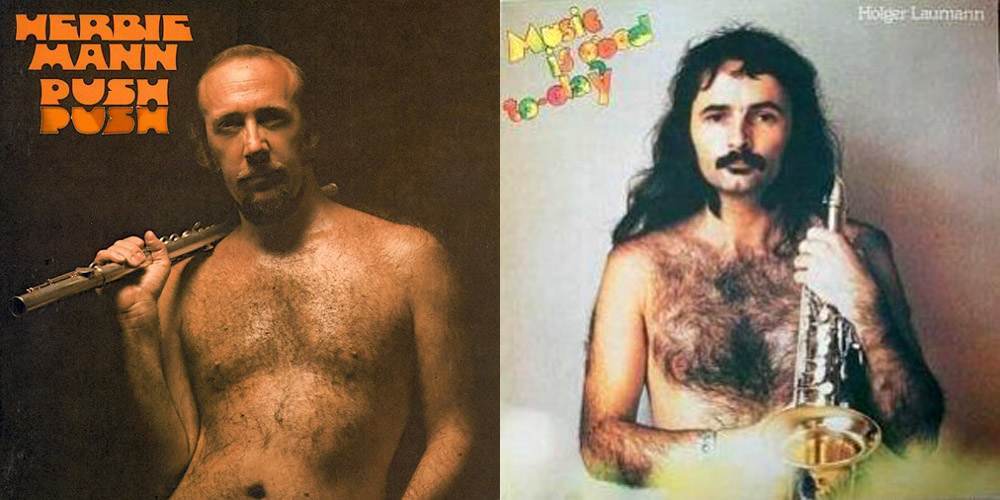 Egad!  Both are terrifying, but Holger seems like a cheaper bargain-basement version of Herbie. But what he lacks in confidence and swagger, he makes up for in the hair department.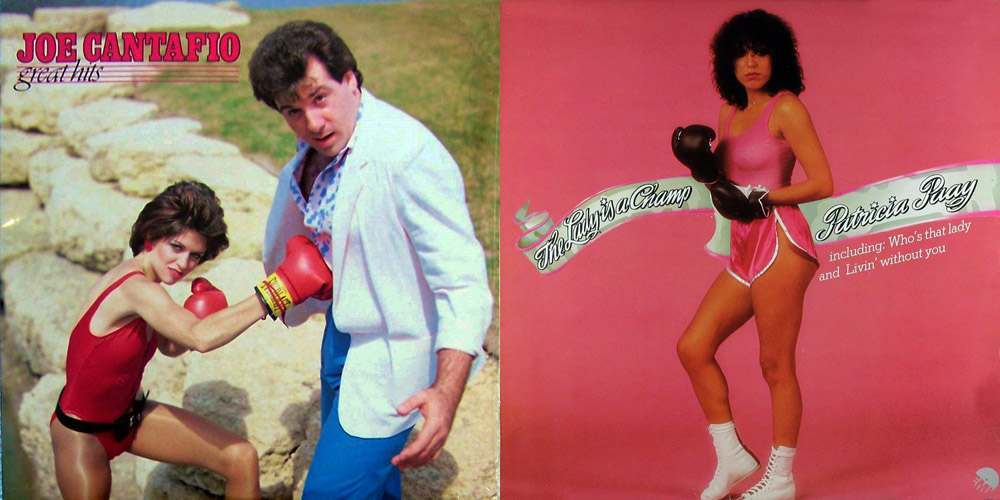 Both have smoking hot female boxers (a good thing) and both use boxing puns (a very bad thing).  "Greatest Hits" and "The Lady is a Champ"… get it?  (groan)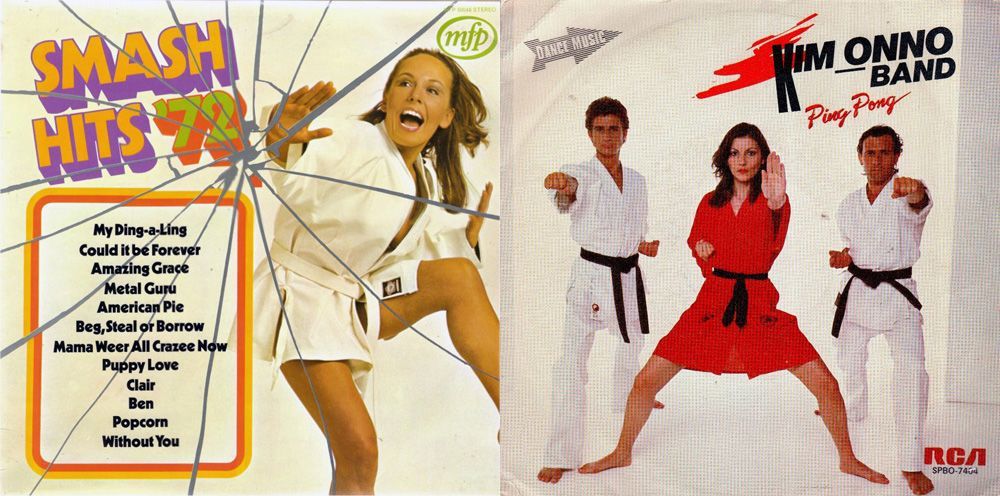 Karate chicks – always a sensible choice for an album cover.  "Ping Pong" as a title, not so much.  Also, take note that the Smash Hits compilation album has both "Amazing Grace" and "My Ding-a-Ling".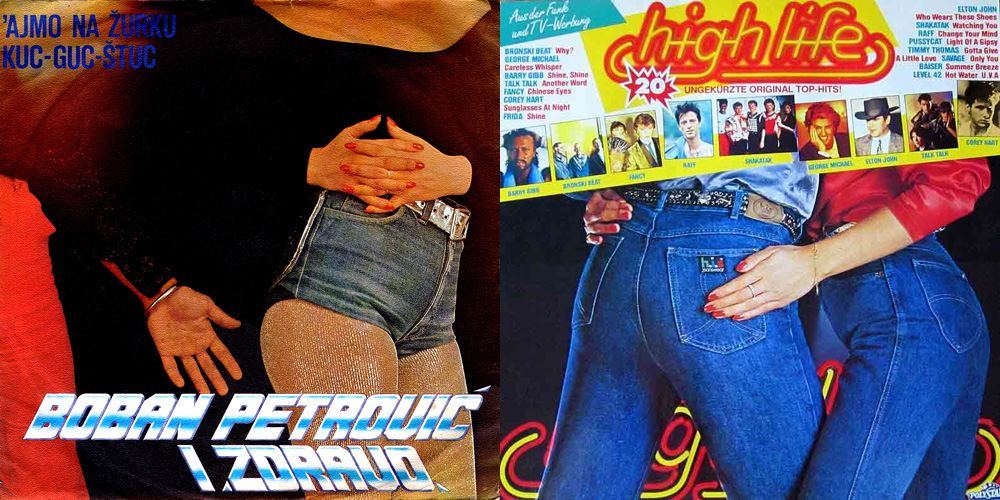 Usually, album covers take the time to remove any name brand tags from clothing…. not so with the free advertisement for H.I.S. jeans on the High Life record.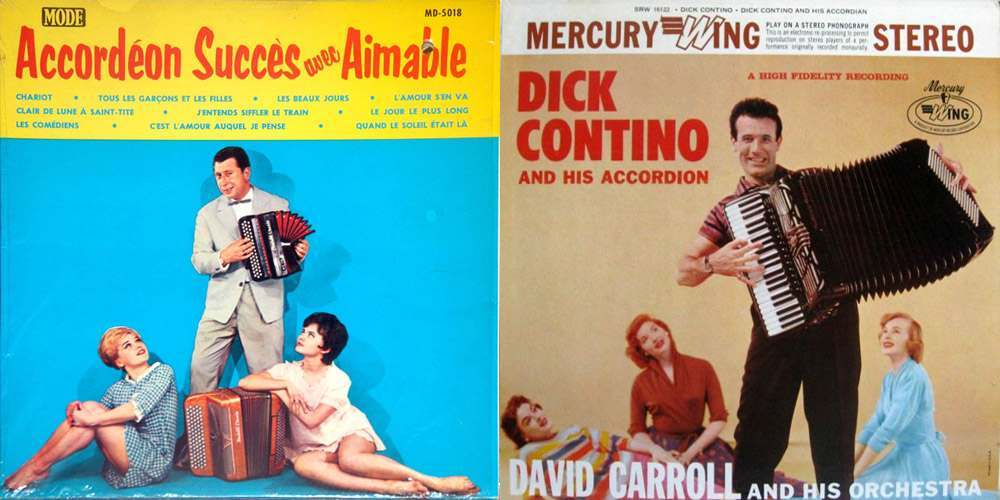 More on accordions and the women that love them here.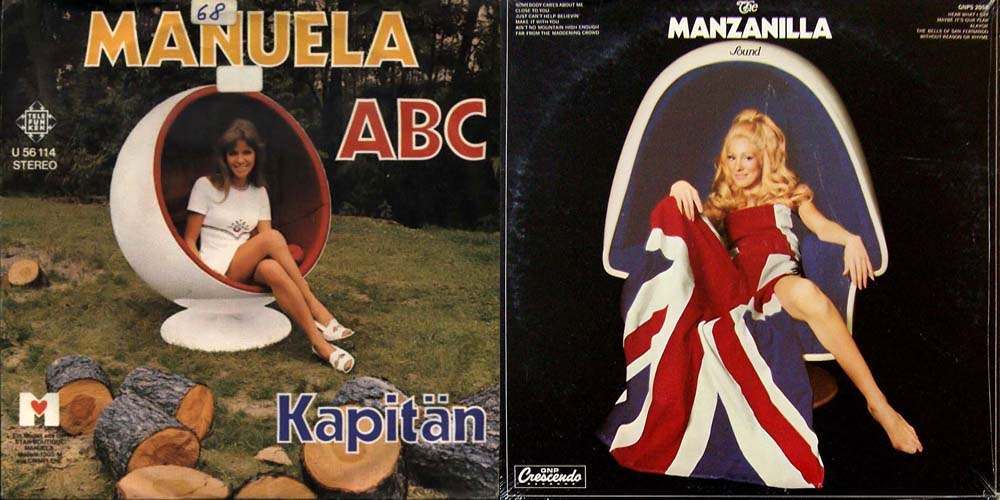 I can think of no better way to end than with two chicks in egg chairs.  I've enjoyed this round of vinyl look-alikes, and I hope you have as well.  More to come!