Sure, it looks like a giant loaf of bread, but the Volkswagen Bus, almost seventy years since it was first introduced, still remains one of the most beloved and recognizable vehicles ever to hit the road.
Like the VW Beetle, the engine is in the back.  So, the driver had an awesome view and plentiful room to store surfboards and camping equipment for the adventure ahead.  From 1950 until the late 1960s, the Volkswagen Bus acted as the original minivan – a roomier alternative to the station wagon.  Then, the counter-culture embraced it, and the microbus became forever linked with pot-smoking hippies, and beach bums.  When the 1980s rolled around, anything associated with the 70s was verboten, and the bus fell out of favor.
But let's take a moment to truly appreciate this beautiful box.  It must have been quite a sight when it appeared in the 1950s – different in every way from the other vehicles it shared a road with.  It was cheap, had a tremendous amount of space, and was wonderfully sparse and simple.  You could make your orange rectangle be anything you wanted it to be – a family camper, a shag carpeted love machine, a business shuttle, a surfmobile… the possibilities were endless.
Unlike the Beetle, the VW bus was constantly being revised, remodeled and evolved into a variety of interesting styles.  There was the Samba-bus, with a ton of windows and a sky-roof, the "Westy" – a camping van with a pop up top for extra space, and the Caravelle which had deluxe comfy interiors.
So, let's have a look at people and their VW buses, taken from old brochure and other promotional items.  Specifically, we're looking at the second generation Type 2 VW – these are the "Breadwagons" built from 1967-1979.  Enjoy!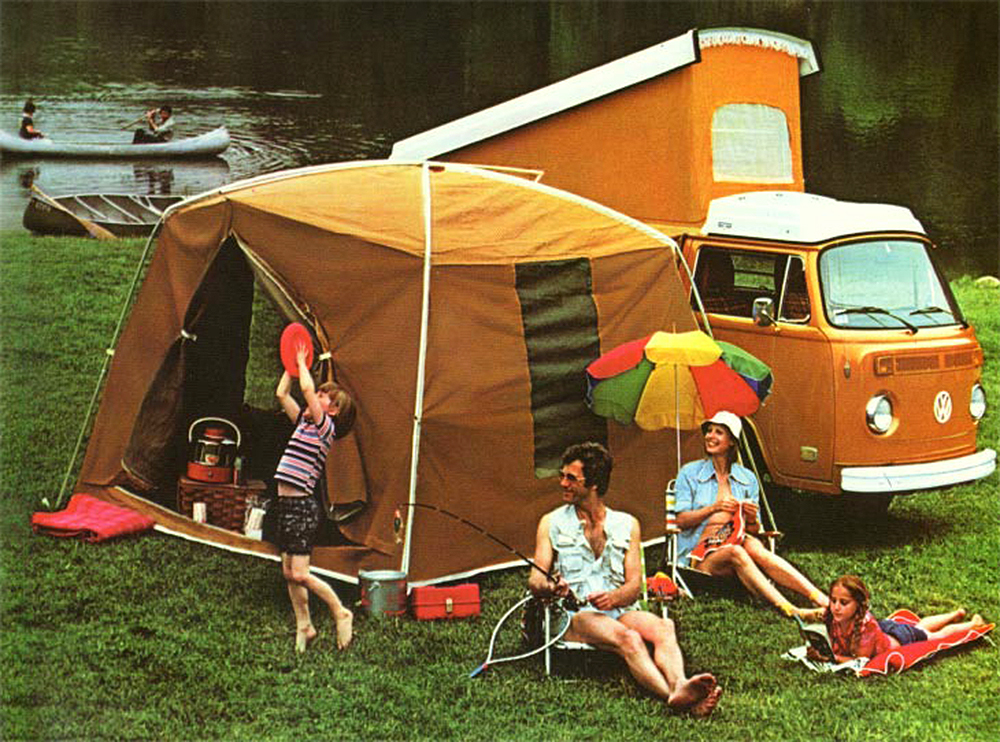 From a 1976 brochure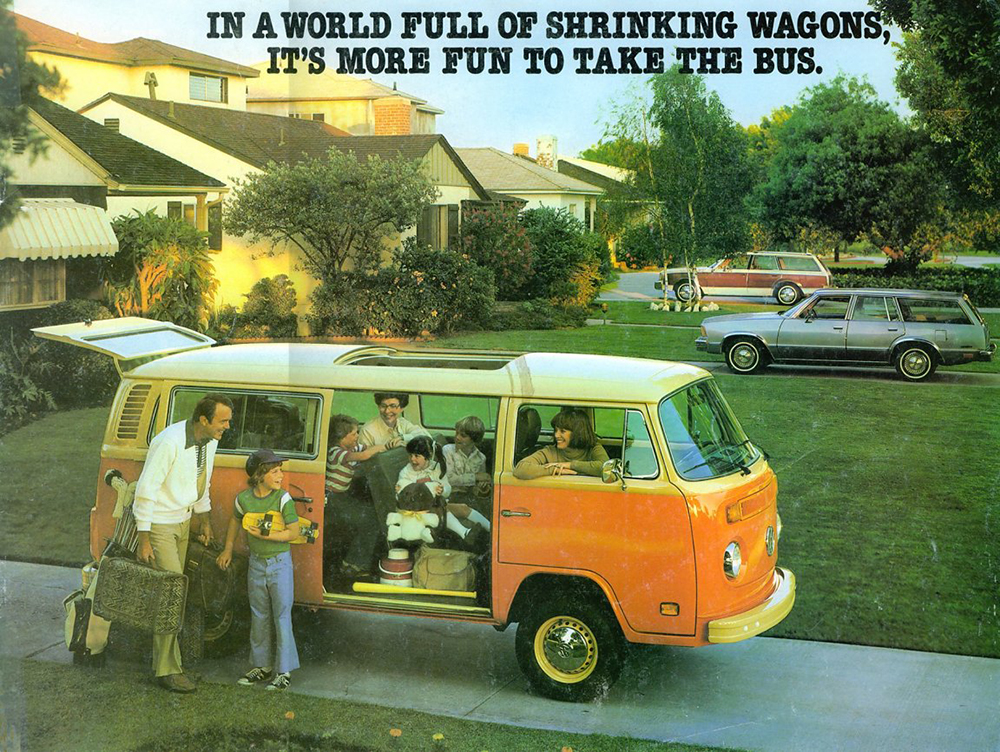 1979 – Let the neighbors have their shrinking station wagons – we've got a brilliant orange microbus!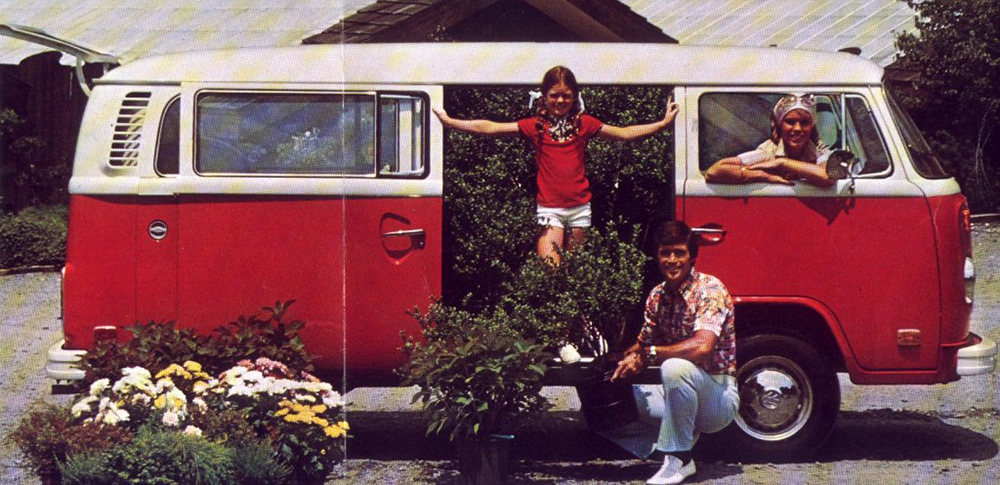 This 1976 brochure picture illustrates that you can literally grow a forest in your VW bus.  This poor girl will need to leave a trail of breadcrumbs just to find her way to the back seat.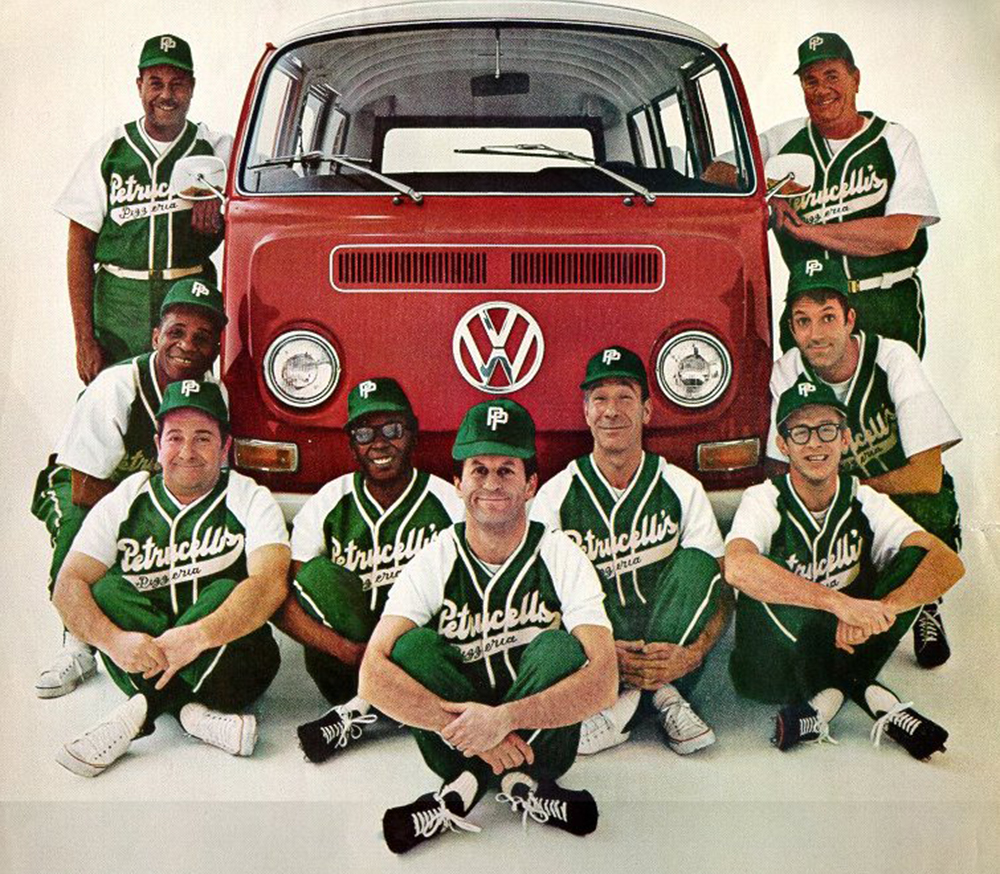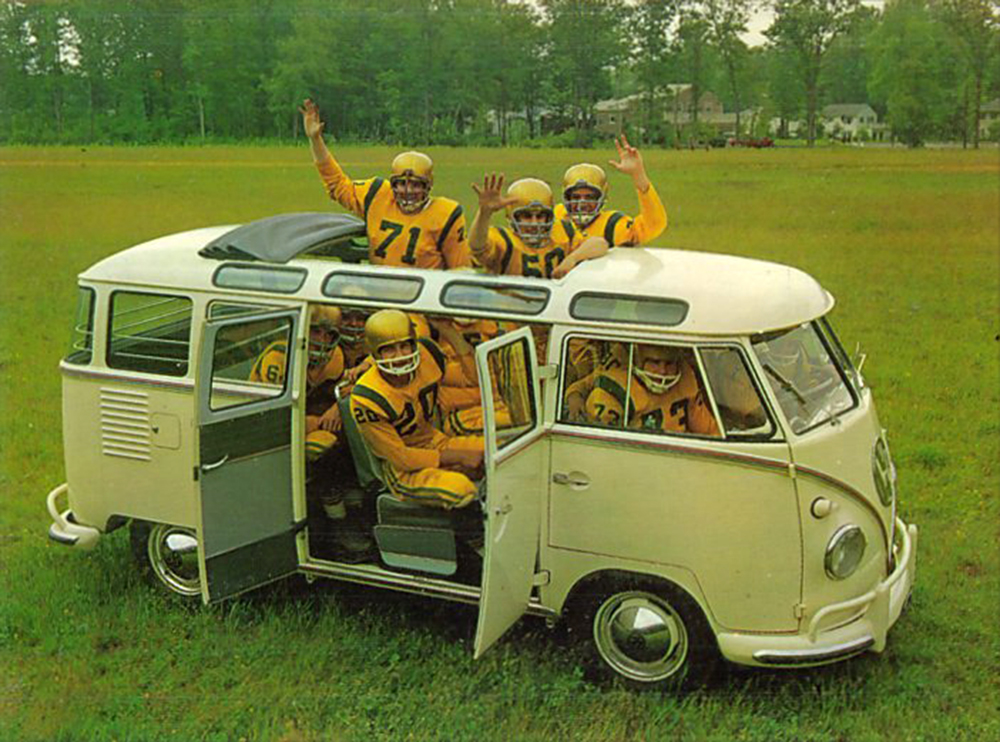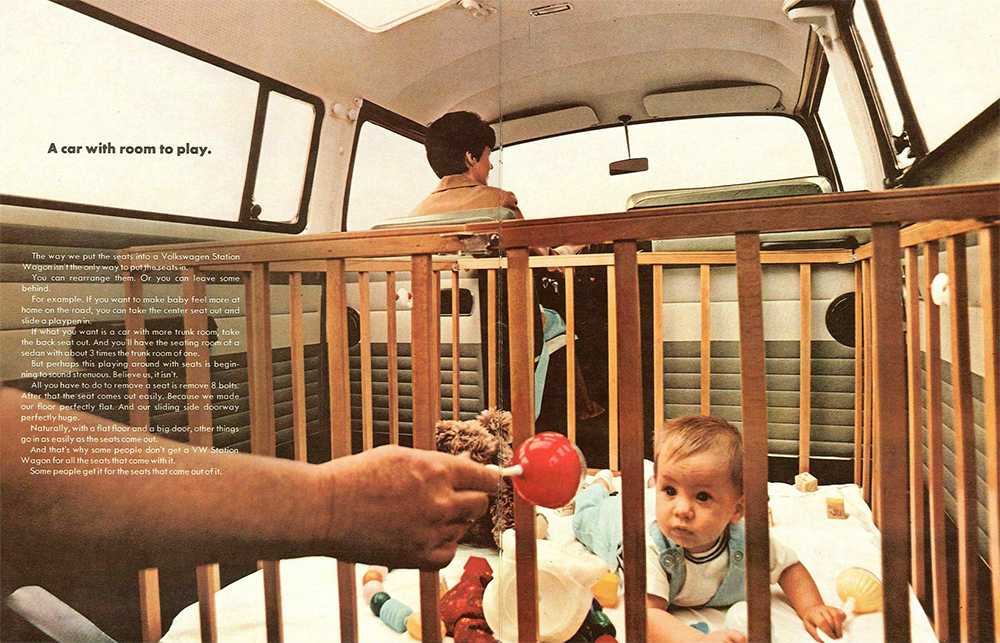 This picture from a 1968 sales brochure blew my mind.  I remember not worrying too much about seatbelts back then…. but I still can't believe they are driving with a baby in a crib!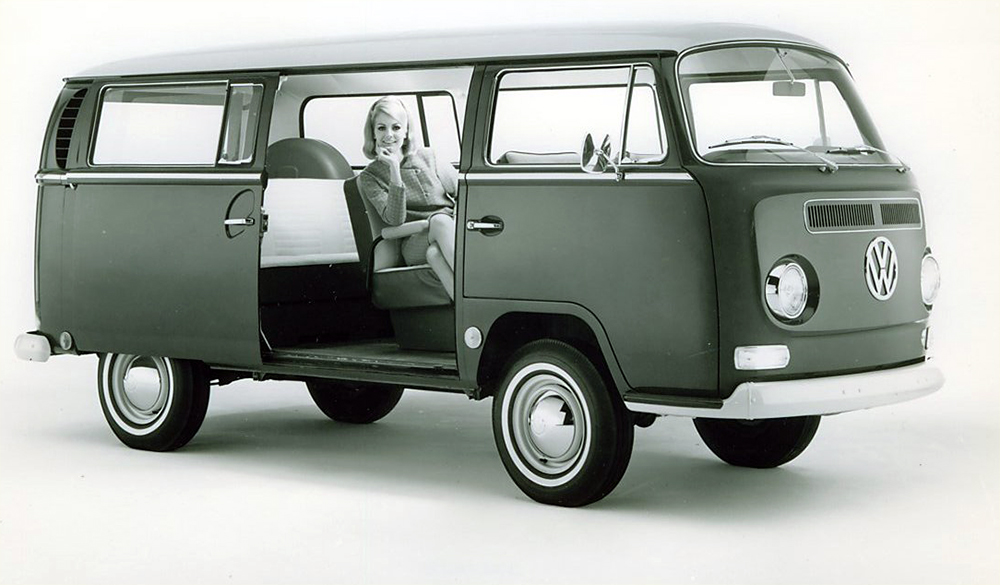 The standard 1968 Breadwagon.  Not exactly a chick magnet.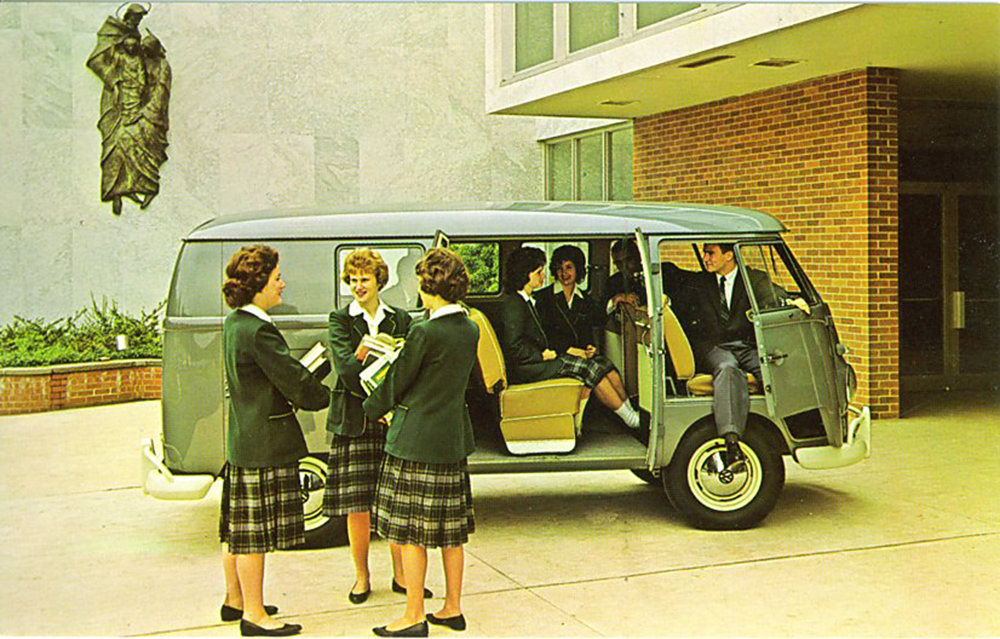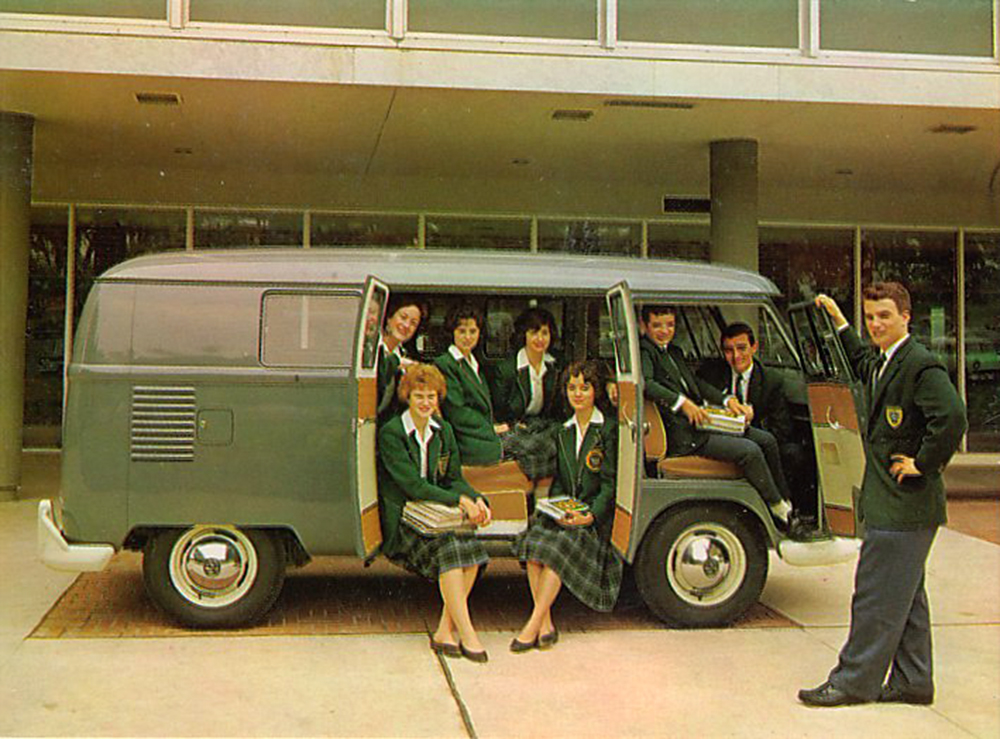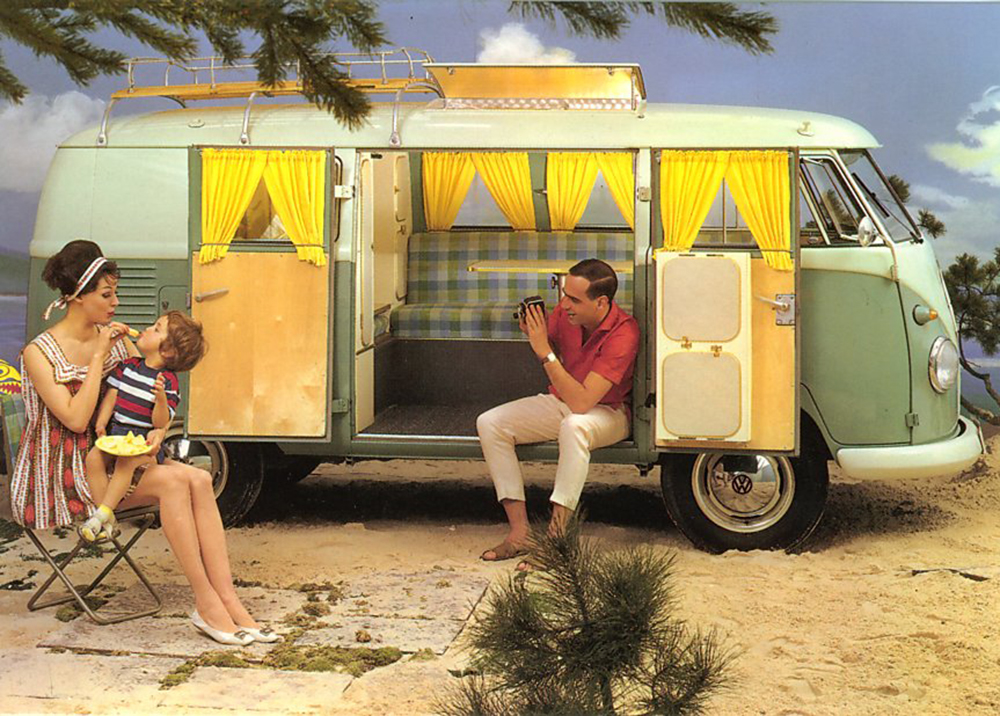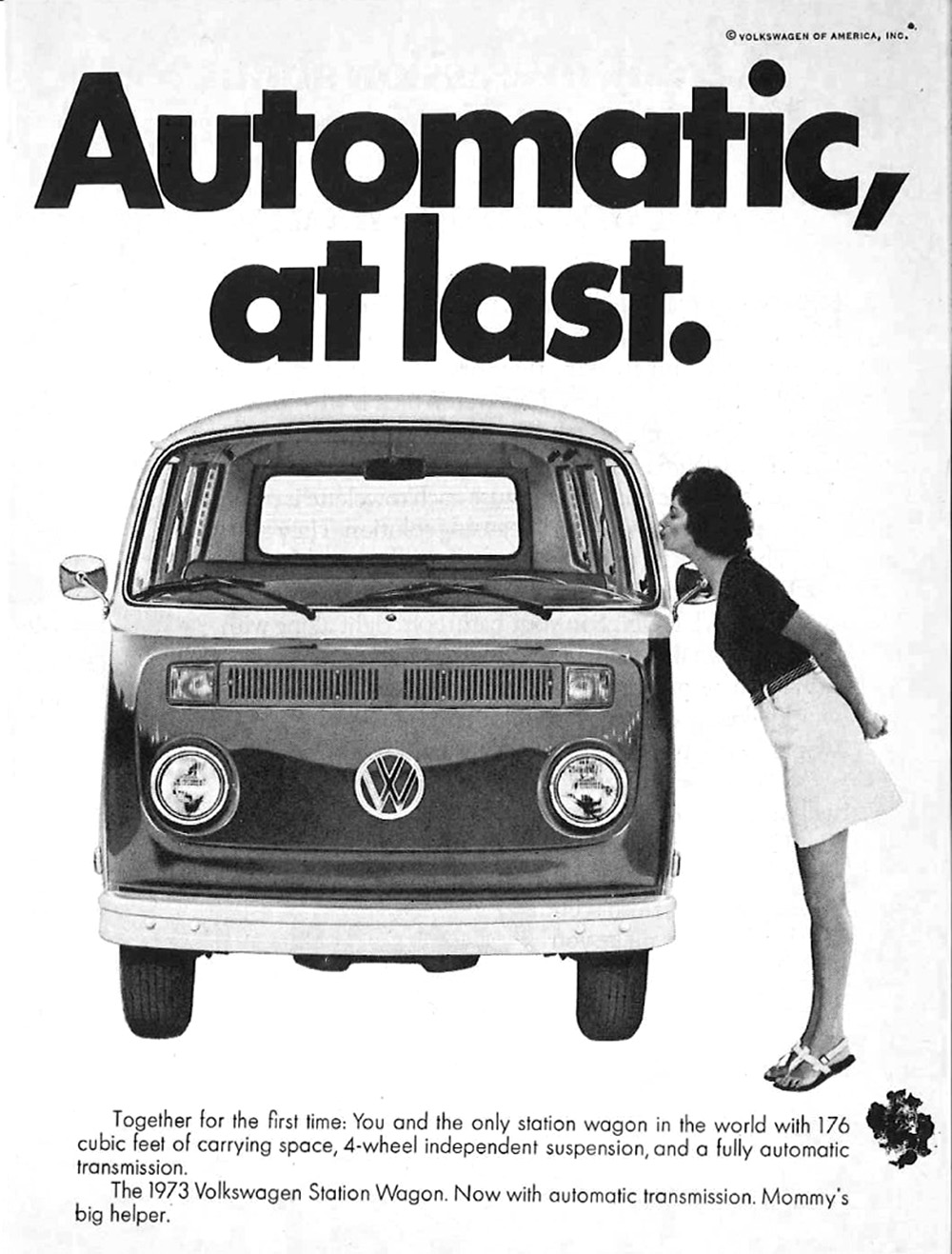 It's 1973 and finally women can drive it, now that it has automatic transmission.
The Campmobile and Adventurewagon really did an excellent job of making this modest bus appear to be a ticket for adventure and living the dream.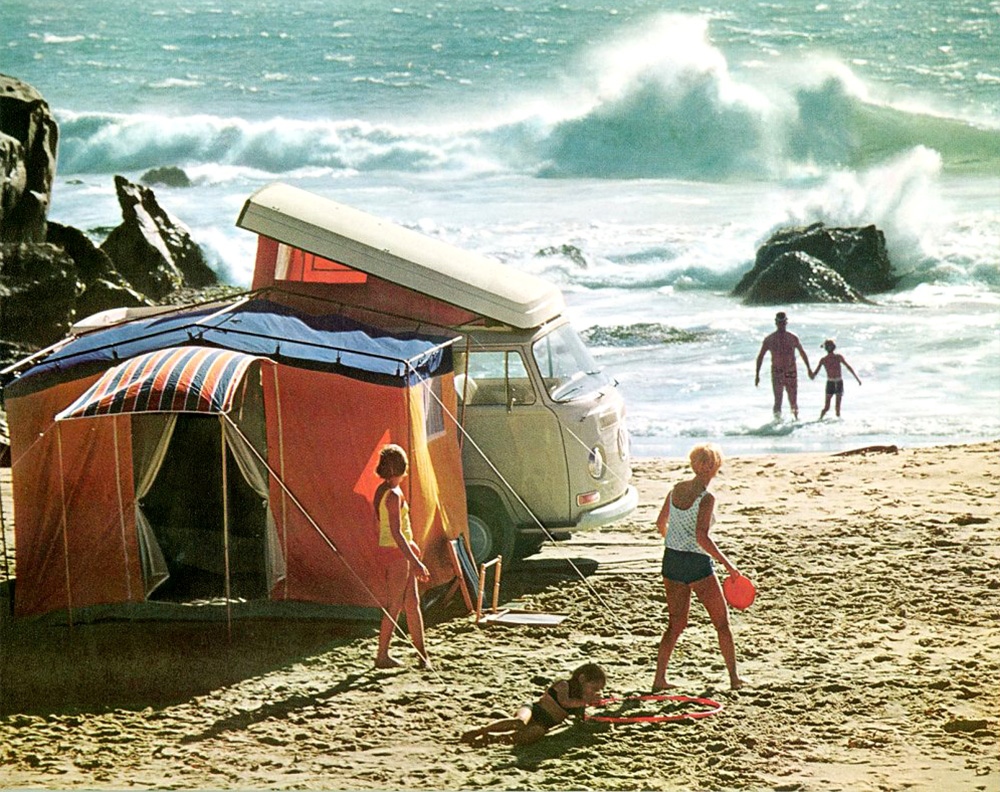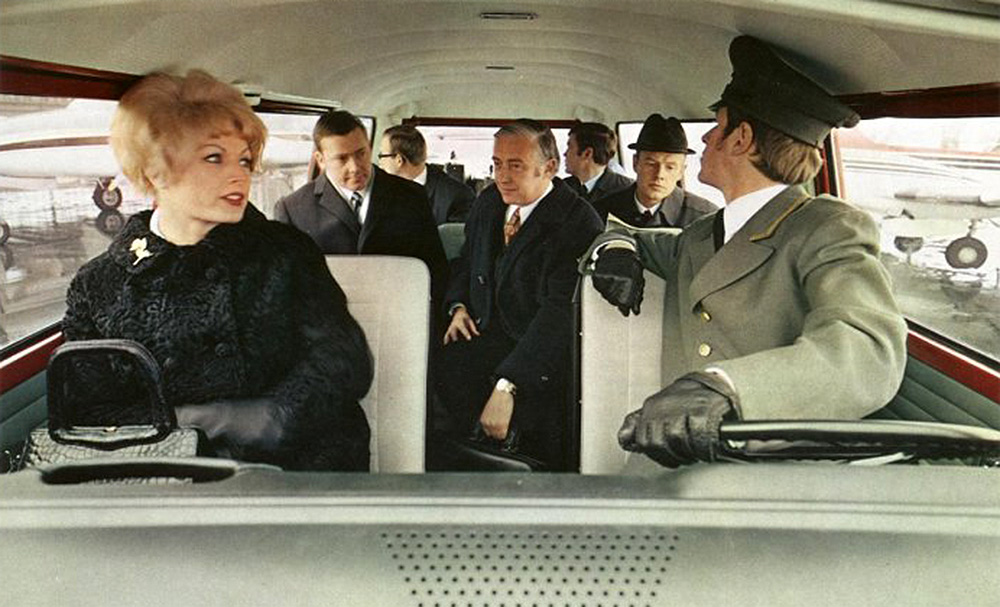 1970 sales promotion demonstrating the insane versatility of the simple bus; it can be anything from a hippie adventure-wagon to a posh business shuttle.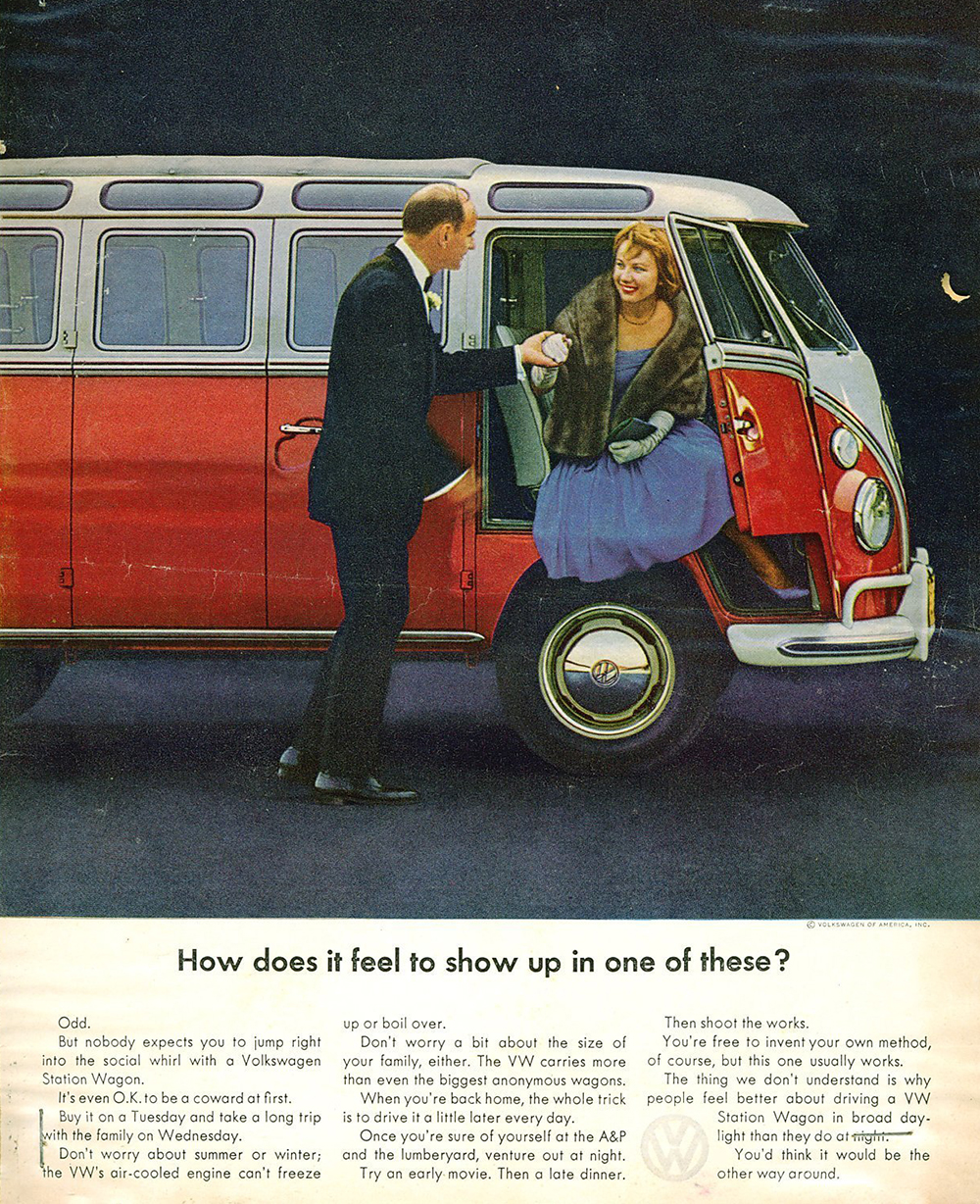 VW Bus and Beetle advertisements were great at being both self-deprecating and simultaneously hooking you onto their product.  This one is a great example:
"How does it feel to show up in one of these?  Odd. But nobody expects you to jump right into the social whirl with a Volkswagen Station Wagon.  It's even OK to be a coward at first.  Buy it on a Tuesday and take a long trip with the family on Wednesday.  Don't worry about summer or winter; the VW's air-cooled engine can't freeze up or boil over.  Don't worry a bit about the size of your family, either.  The VW carries more than even the biggest anonymous wagons.  When you're back home, the whole trick is to drive it a little later every day.  Once you're sure of yourself at the A&P and the lumberyard, venture out at night.  Try an early movie.  Then a late dinner. Then shoot the works.  You're free to invent your own method, of course, but this one usually works. The thing we don't understand is why people feel better about driving a VW in broad daylight than they do at night.  You'd think it would be the other way around."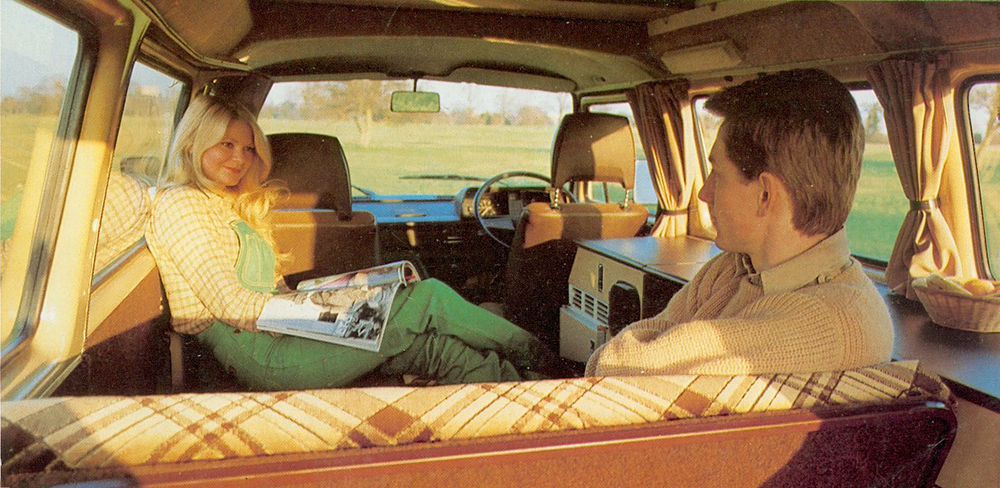 This 1980 brochure illustrating the VW Devon interior looks like it's going to erupt into a porno any second.
As I said, seat-belts were rarely used in the 1970s.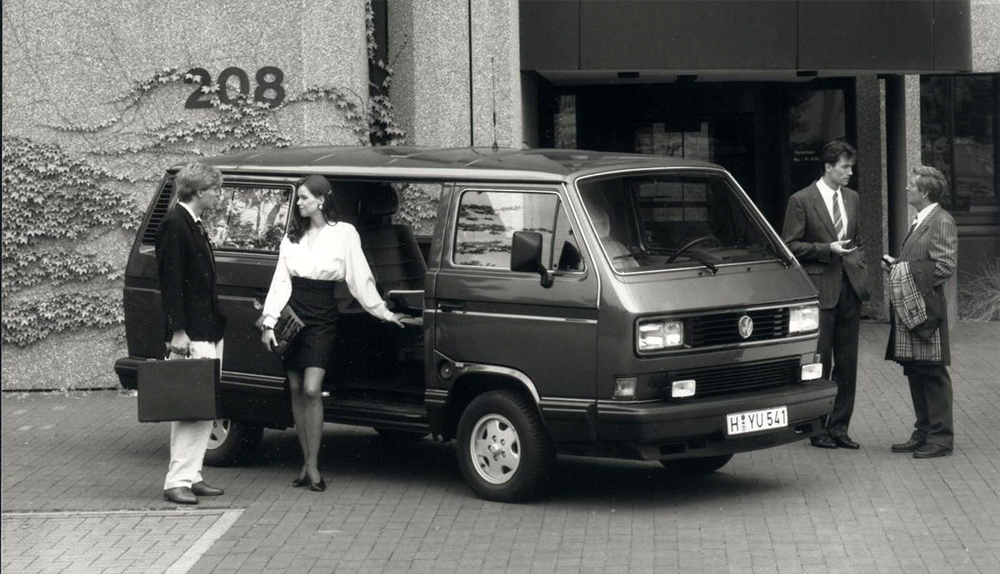 The 1980s have officially arrived.  The VW bus gets a face-lift and things are downhill from here.  But we'll always have the memories.