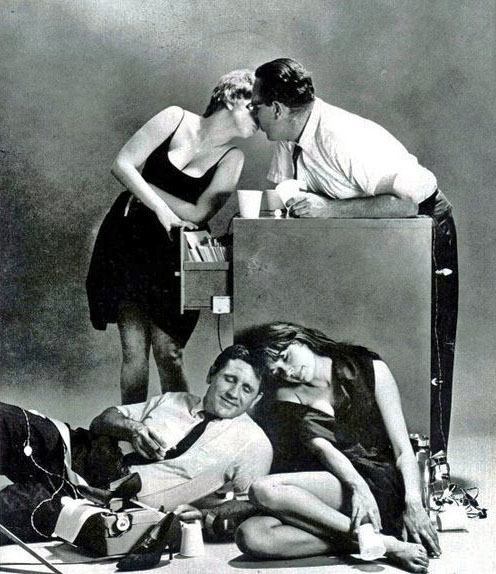 "What I don't like about office Christmas parties is looking for a job the next day."
– Phyllis Diller
With New Year's upon us, I thought it was time to jump in the wayback machine and have a look at parties from yesteryear – specifically, the 1960s-70s. So, here's a festive dose of vintage merriment – starting with the office….
The office Christmas Party has long been a source of embarrassment, hedonism, bonding and, according to a Harvard study, thousands of pregnancies. Company Christmas parties go waaaay back – there's even records from the days of King Richard II of office parties to celebrate the holidays…. given the amount of ale on the menus, holiday party drunkenness is a centuries old tradition!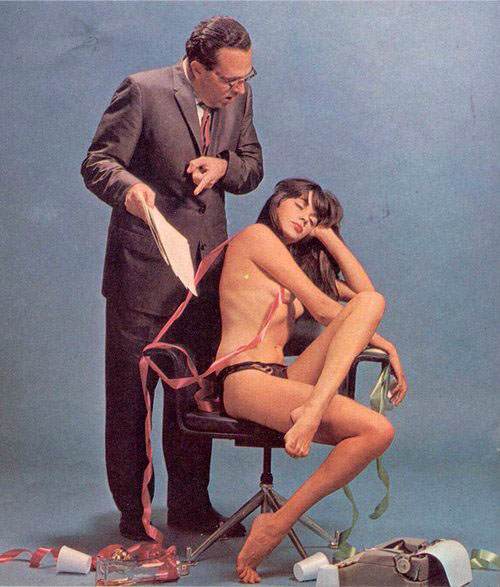 "We note that the office Christmas party is declining in popularity. This trend may be related to the replacement of secretarial personnel by electronic equipment."
– Kiplingers Personal Finance, January 1960
Indeed, the holiday office party of the 1960s sounds like a beautiful place to be, with lots of secretaries in states of disrobement and lots of Scotch imbibing businessmen who've never heard the term "sexual harassment in the workplace" in their entire life.  This from a January 1960 issue of Topper magazine
 "For the afternoon of the office Christmas party is a timeless limbo of complete abandon. Aloof secretaries shed their Kelley Girl demeanor, and starch collared junior executives unwind their springs. The whole atmosphere takes on the faintest touch of a Roman orgy – and if you've ever been touched by a Roman orgy… it's really the shivers."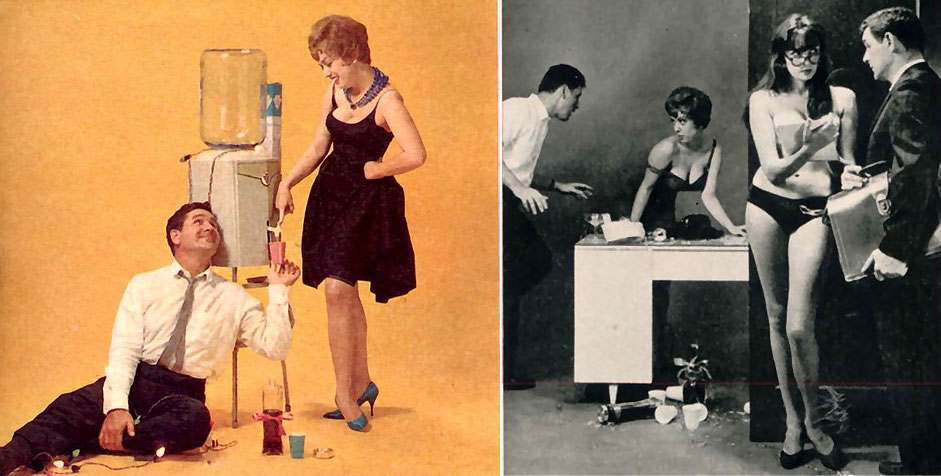 Worst Christmas Party Ever – The CIA annual Christmas Party of 1957
MKULTRA, was the code name for a covert CIA mind-control and chemical interrogation research program, run by the Office of Scientific Intelligence. This official U.S. government program began in the early 1950s, continuing at least through the late 1960s, and it used United States citizens as its test subjects. In one instance the CIA tested it on unwitting individuals within its own agency, the Technical Services Staff (TSS). The punch at the annual Christmas party was spiked with LSD! One partygoer, Frank Olsen, experienced horrific hallucinations and threw himself from his tenth story room.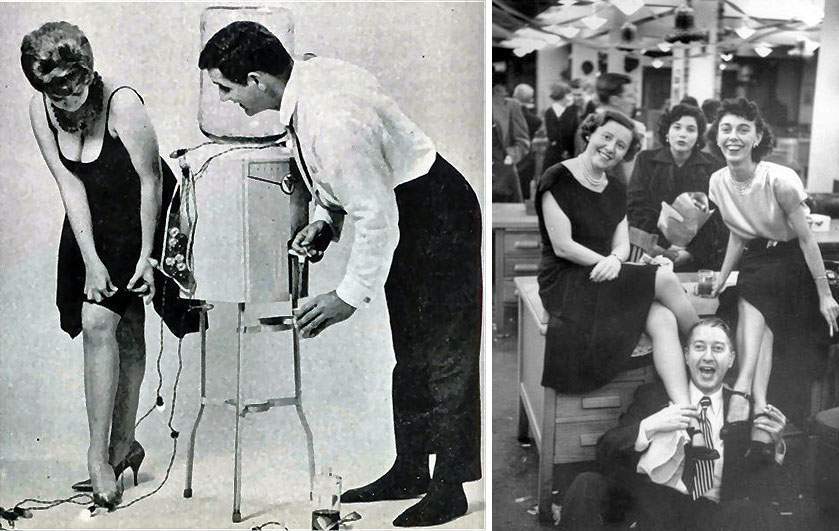 Runner-Up for Worst Holiday Party: The 1968 Beatles Apple Boutique Party
In 1968, The Beatles held an ill fated Christmas Party for the new Apple boutique. and, incredibly, George Harrison invited members of Hell's Angels to the shindig! He was quoted as saying, "They may look as though they are going to do you in, but are very straight and do good things, so don't fear them or uptight them."
John and Yoko showed up dressed like Father and Mother Christmas, and acted very scrooge-like. "Complete with false white beard, John seemed altogether lacking in seasonal spirit, and made the most miserable-looking Santa I had ever seen in my life," said a fellow partygoer. (John was doing heroine at the time.)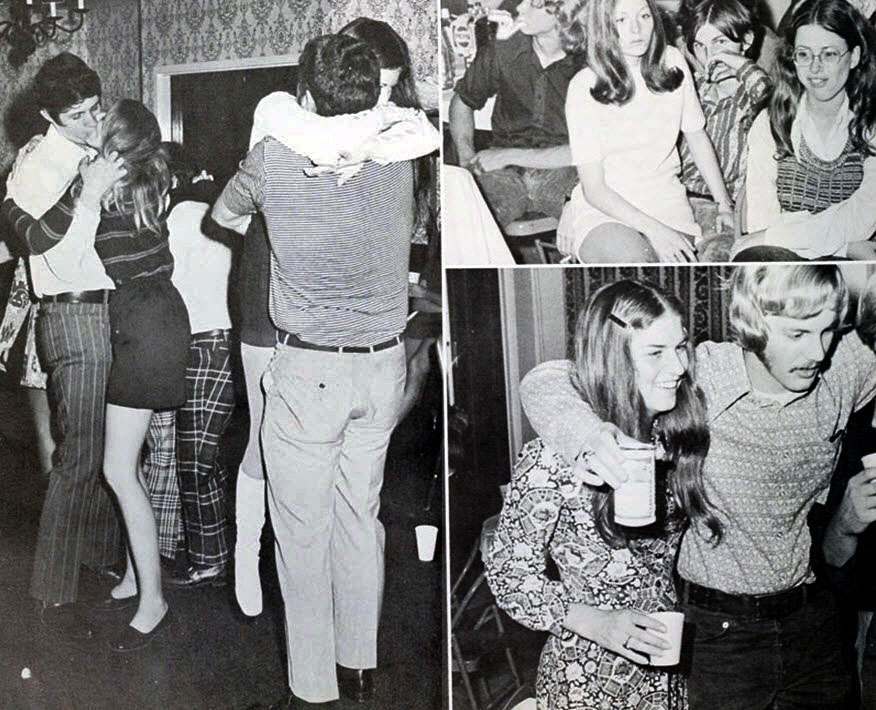 Of course, the best way to get a look at the vintage party is to pore over some old photographs   So, let's have a look at some "found photographs" – old polaroids and such with no context or backstory….just revelers frozen in time.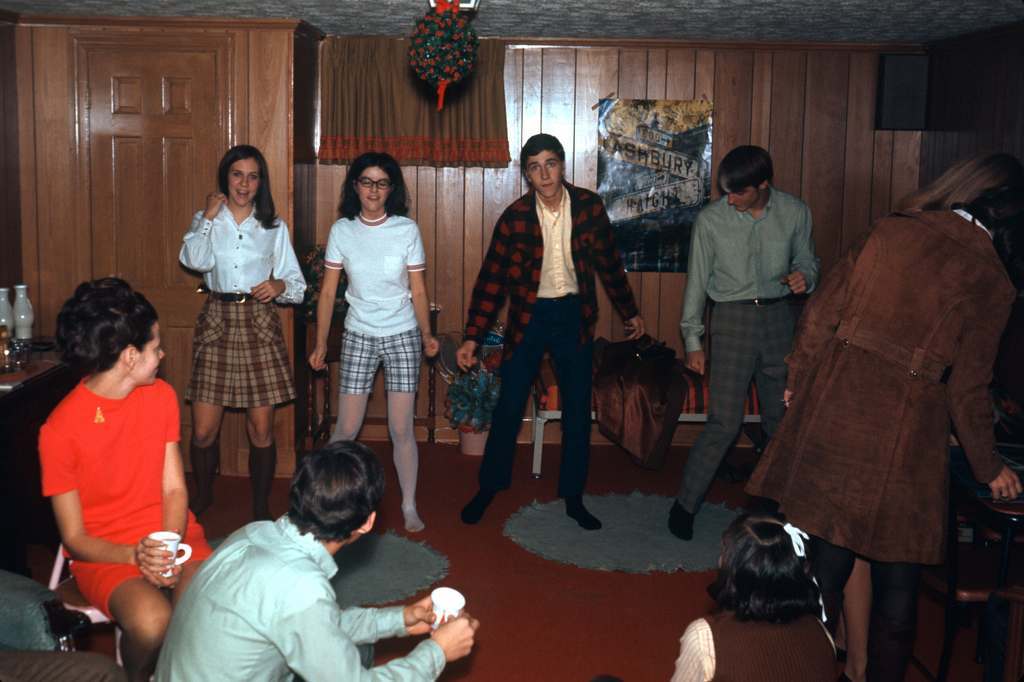 The guy in the center looks absolutely mortified, and the chick to his right is wearing tights and Bermudas! I'd say it was some church youth group but there's a Haight-Ashbury poster in the background, so that makes it somewhat doubtful.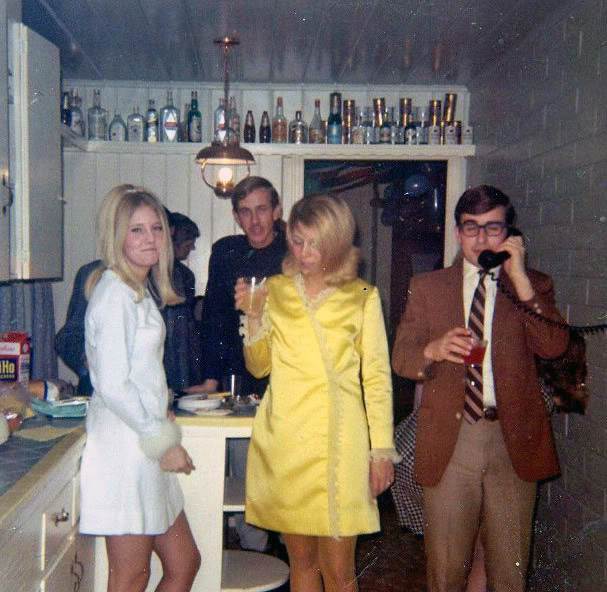 Guy on phone: "Ma, I'm gonna be late at the library…. No, everything's okay. Please don't worry….. No, I didn't wear my sweater, but I've got a jacket on…. Talk you later, ma….. What's that noise? That's just the microfiche, ma…. I said it's called a MICROFICHE…."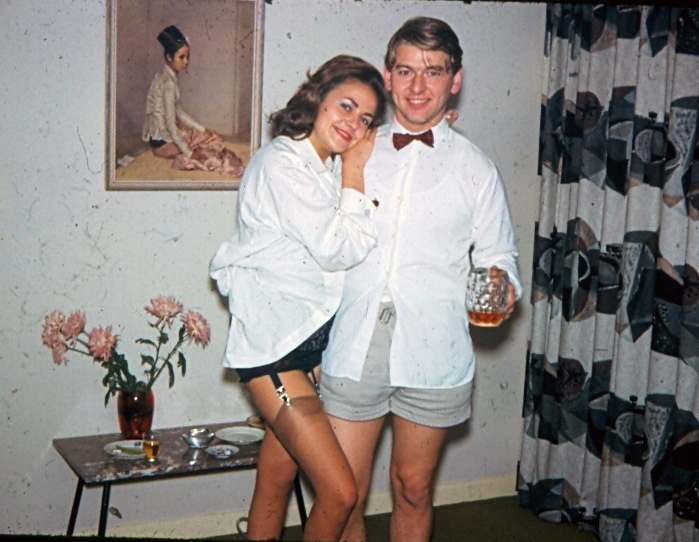 Why can't I get invited to parties where chicks walk around dressed like this? Instead, I get office parties which consist of awkward conversations followed by still more awkward conversations.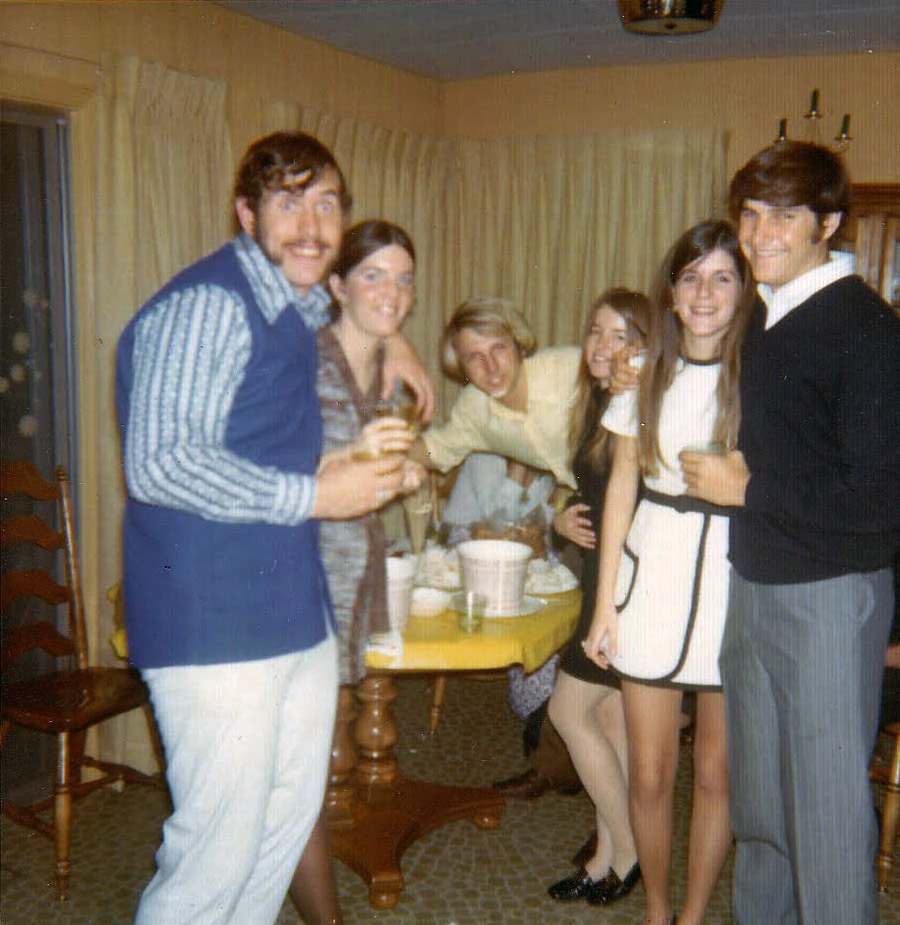 Yes, he's way too old to be at this party… but he's way too drunk to care.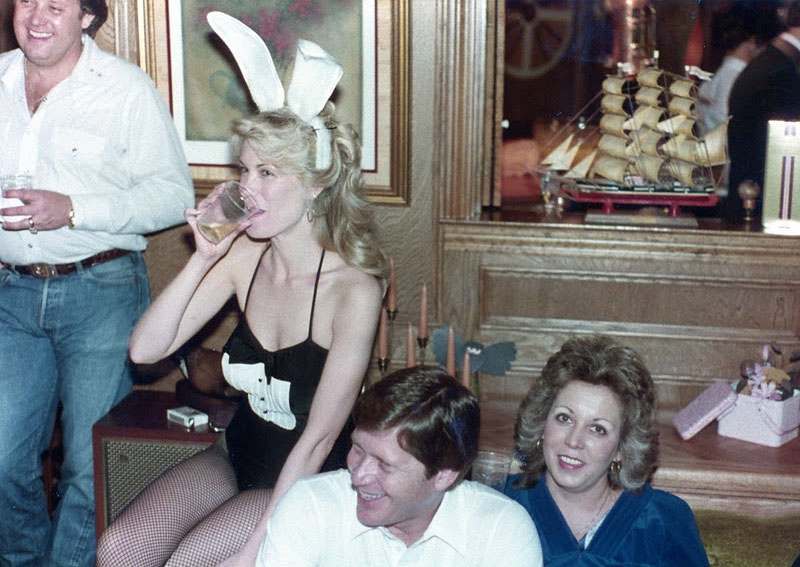 Get a load of the rig on that clipper.  (Yes, it's a desperate pun in reference to that model ship, but it had to be made nonetheless. My apologies.)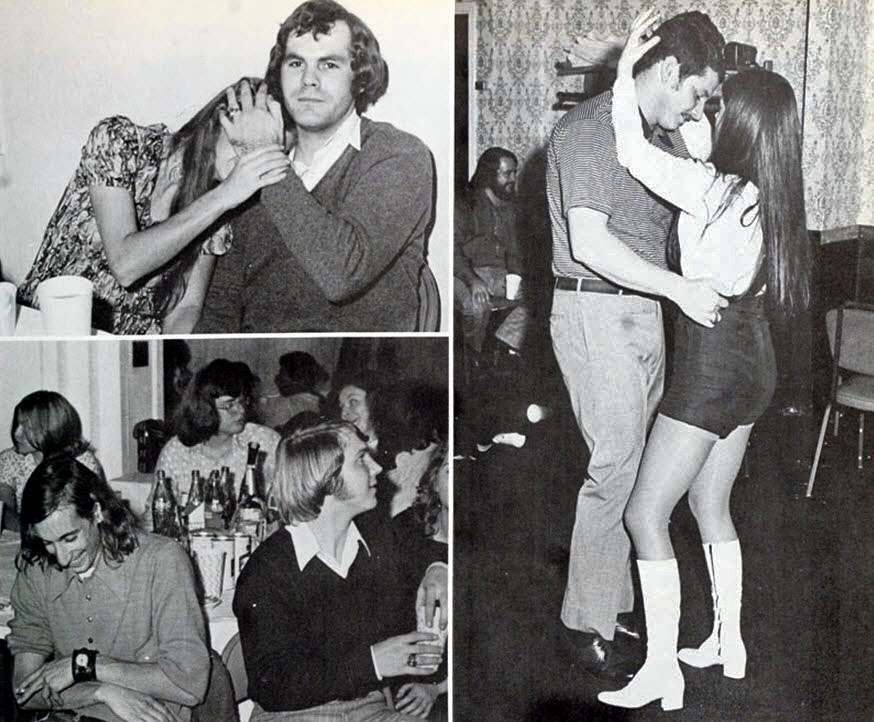 Tens of millions of Baby Boomers reaching their sexual prime all at once… parties in the late Sixties and Seventies were something to behold.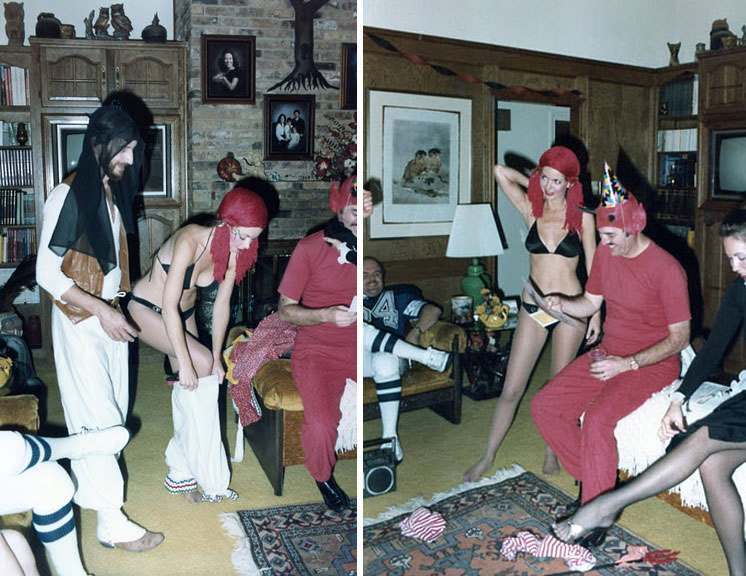 These are the best kind of found photos – where I haven't a clue as to what's going on… yet, my interest is definitely piqued.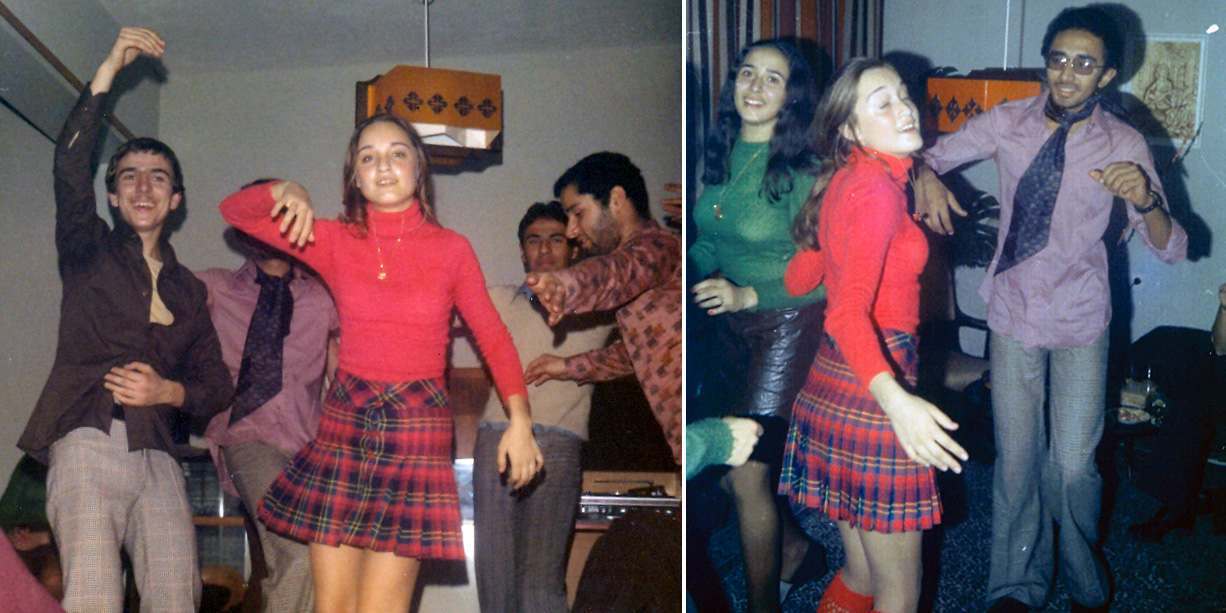 Miss Miniskirt was doing fine until she decided to dance with Mr. Ascot.  Looks as though she got smacked in the face by his furious dance moves.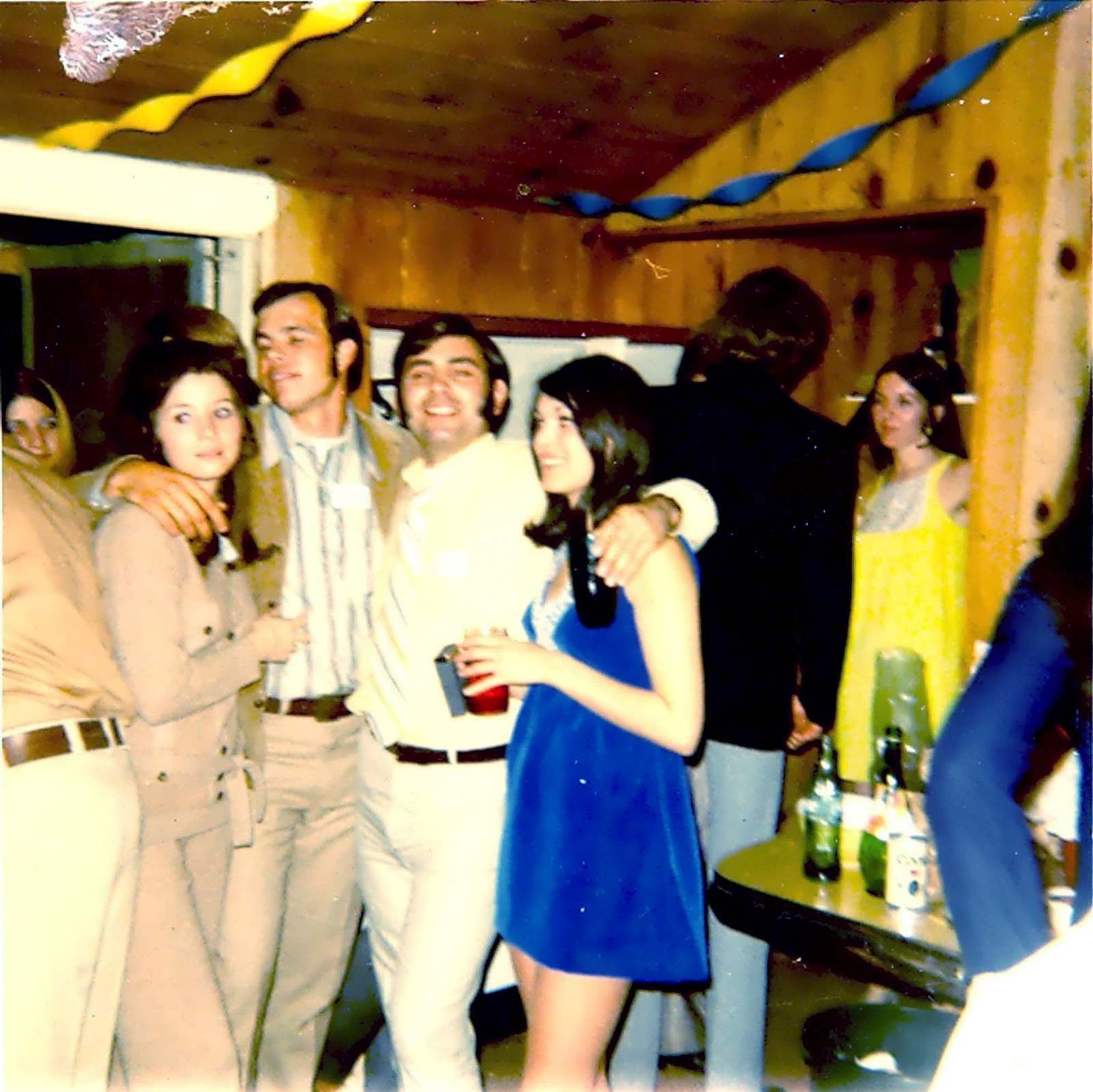 This is from New Year's Eve 1970; I don't know anything else about it, other than 'life was good'.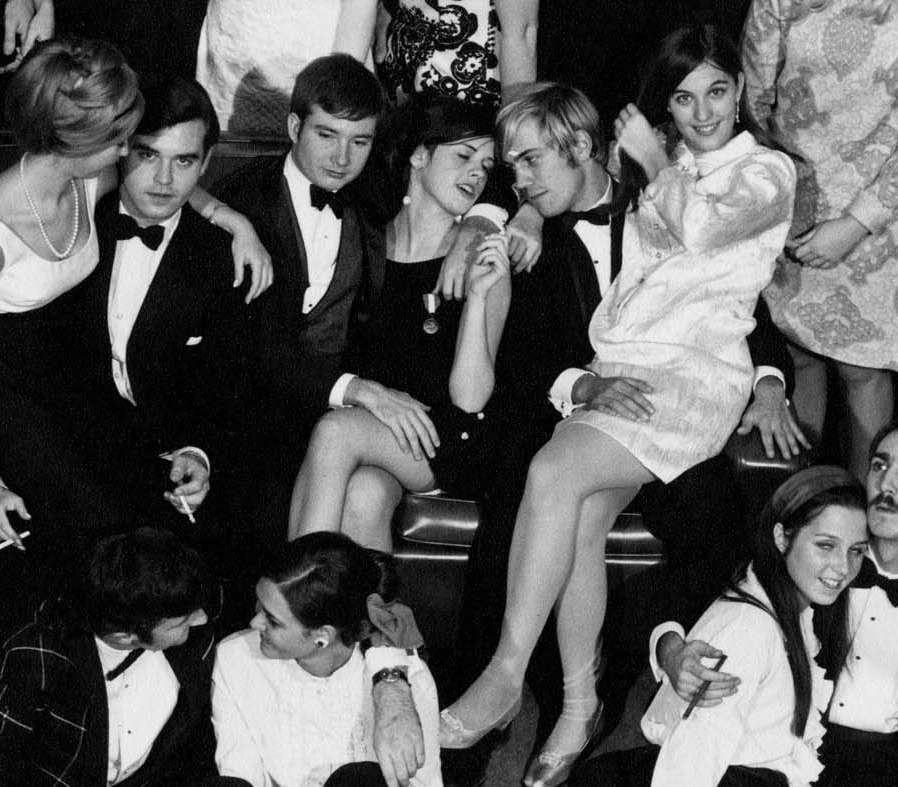 Mr. Blonde has a girl in his lap, and is making progress with the drunken brunette to his right.    Like I said, 'life was good.'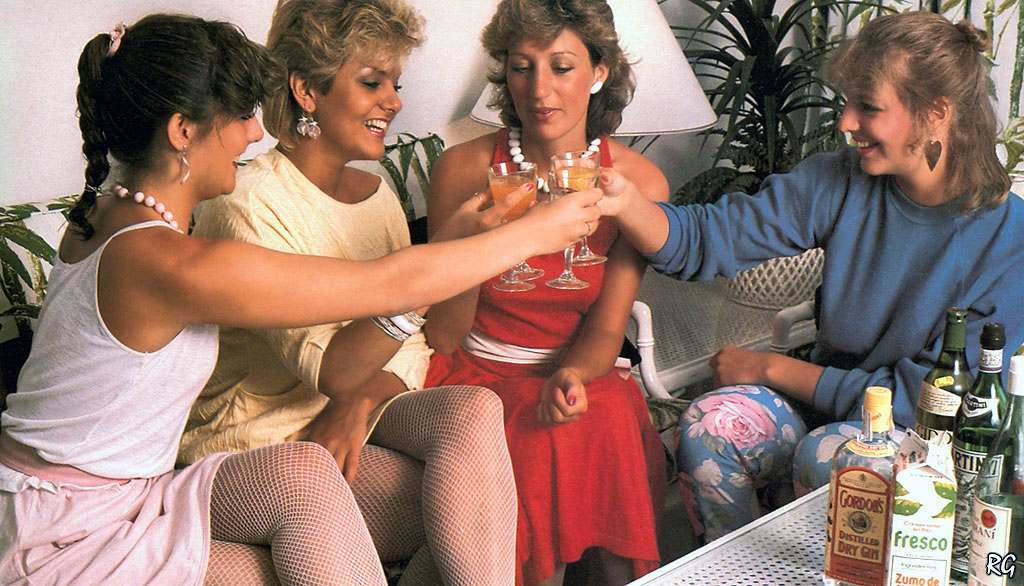 'Let us eat and drink; for tomorrow we shall die.' (Isaiah 22:13)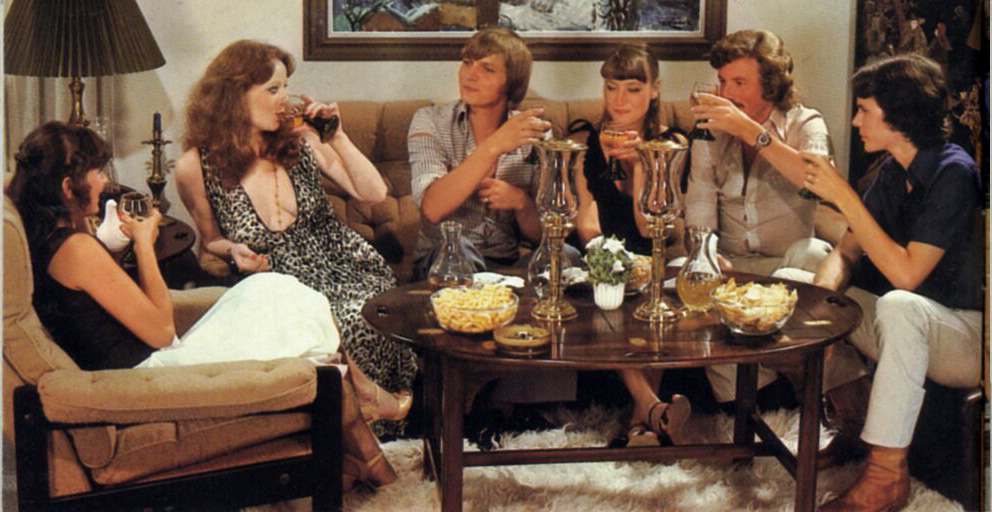 What's the difference between a 1970s dinner party and a porno?  About 15 minutes.  (insert laugh track)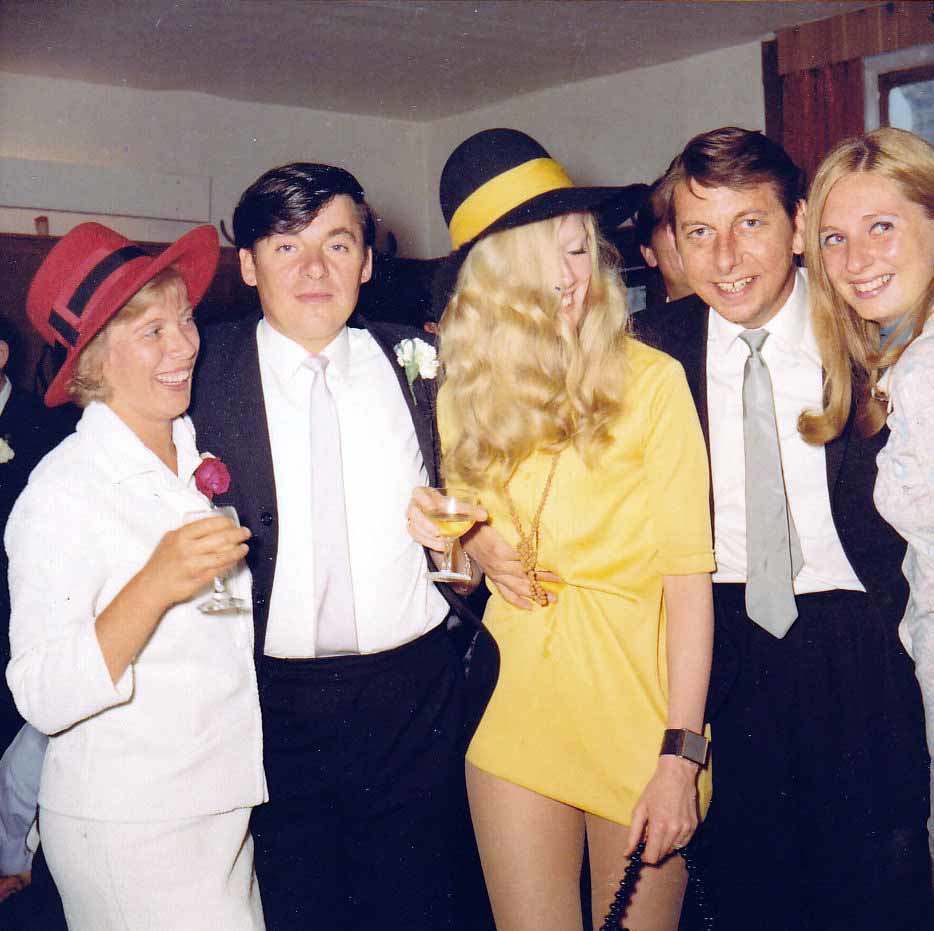 Here's another found photo I know nothing about… other than the fact that whichever man ends up with Miss Yellow Dress is going to have fine evening.  My wager is on the fellow with tie tucked in – he has an air of confident victory.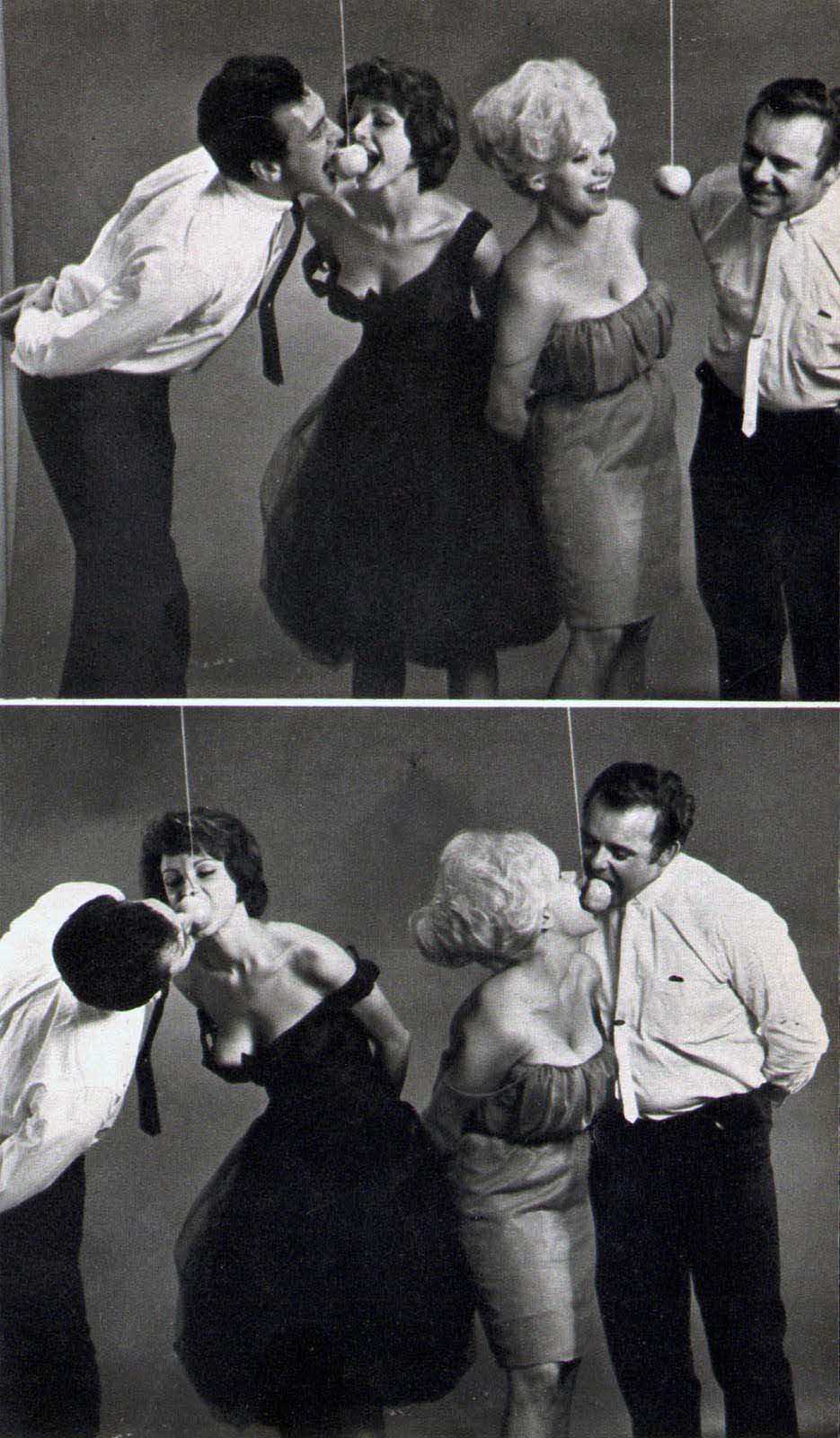 This photograph comes to us from 1963.  Looks like loads of fun, but seems woefully antiquated and out-of-place compared to today's parties.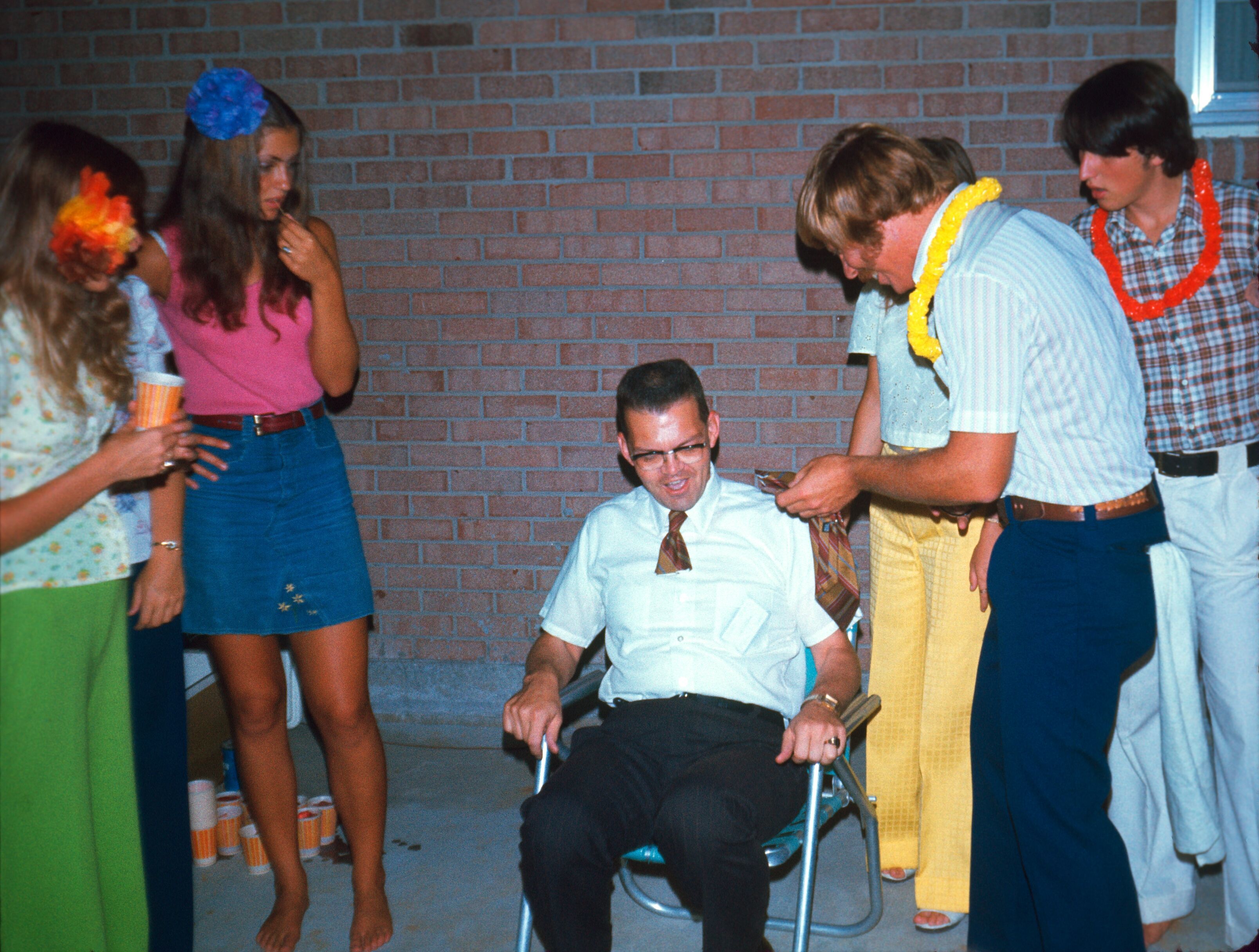 The 'square' with the crewcut gets his tie cut in two – it's just not a luau without the public humiliation.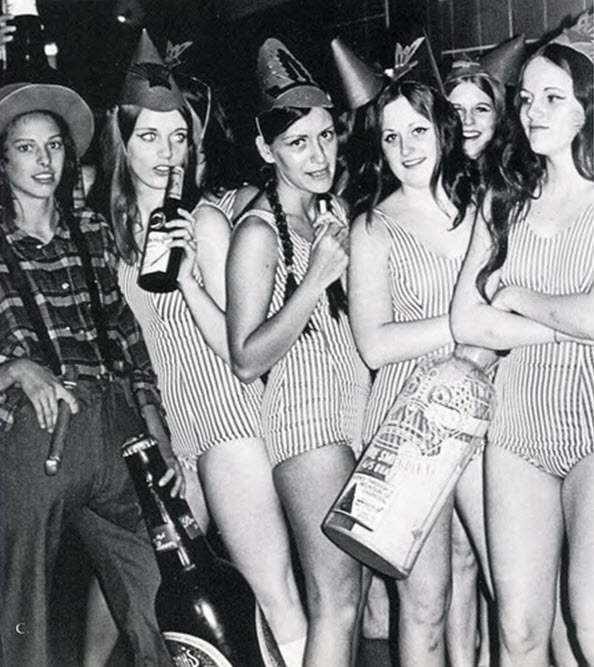 Again, I don't know the context to this New Year's photograph, I just know I wish I'd been there.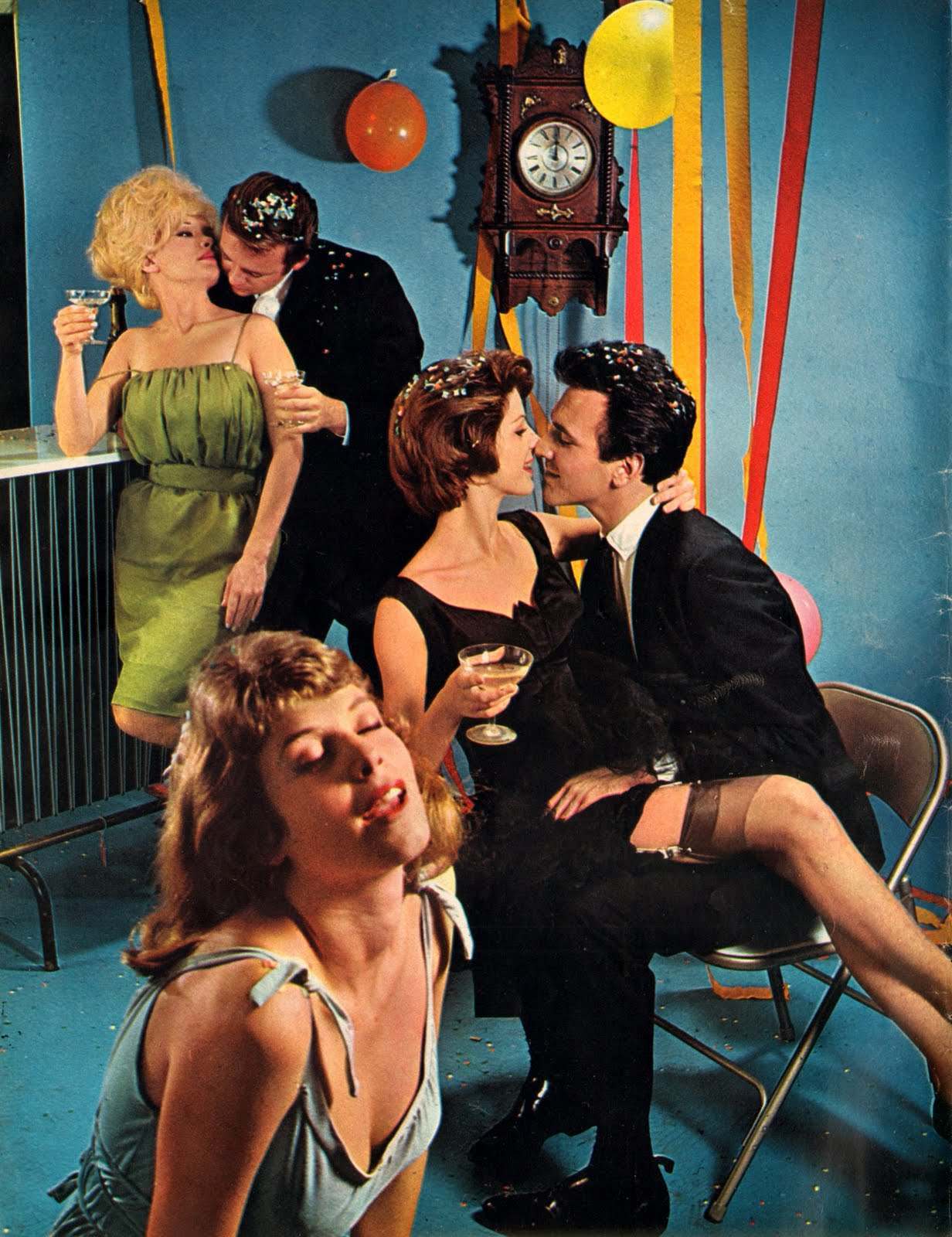 So, I guess we've explored the retro-party landscape enough for now.  So, enjoy your New Year's party and maybe take some photographs for retro-enthusiasts to enjoy a few decades from now.
The End – Cheers!