TODAY marks the anniversary of Joe Meek's death. The first British independent record label, genius producer and thorough crackpot departed this Earth on 3rd February after committing suicide after murdering his landlady at his home studio on Holloway Road.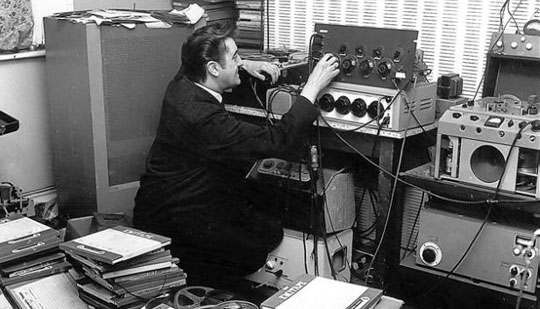 And ever a fan of the occult, it only seems right to contact Meek on the date of his death, rather than birth. Meek, who 'contacted' Buddy Holly beyond the grave and got a hit out of it, was a studio wizard, as avant garde with his approach to pop music as Aphex Twin was in the '90s.
The fact is, Joe Meek turned recording upside down and planted a seed of studio experimentation that would later give birth to the psychedelic boom which so favoured bands like The Beatles and more. Meek had a gigantic hit with The Tornaoes 'Telstar' and many more.
So with that, for fans or newbies, here are some of the most wonderful and most crazy Joe Meek productions, ever!
The Syndicats – Crawdaddy Simone
Producers, before Meek, were there to capture the live sound of a band. However, Joe decided it'd be more fun to make records more interesting than some blokes playing the same as everyone else. The opening seconds of this Syndicats record shows just how playful Meek was at the controls. Heavy compression and distortion features heavily too. British pop music owes huge amounts to this kind of inventive Meek sound.
I Hear A New World
Meek was obsessed with space and create a concept album about life on the moon, years before man had landed on it. With weird tape effects, reverb and god-knows-what, Meek captured the eerie stillness and weirdness of sci-fi space. This record still sounds like nothing else, so image what it sounded like to listeners in the early 60s!
Moontrekkers – Night of the Vampire
Night of the Vampire has to be one of the most chilling pop records ever released. The BBC agreed, banning the record in 1961, saying that it was "unsuitable for people of a nervous disposition".
Cryin' Shames – Please Stay
As perfect as record as it is strange. Phil Spector would approach pop music in a similar way across the pond, pushing hugely atmospheric production to the fore, almost at the expense of the music itself. As such, a dream for fans of pop melodrama.
Humphrey Littleton – Bad Penny Blues
Humph, a trad jazz purist, HATED the production on Bad Penny Blues. Joe Meek didn't care and the record went to number one! With drums mixed high and the bass end of the piano pushed out of shape, this didn't sound like a band captured as they played it. Clearly, Paul McCartney was fan enough to ape the song in 'Lady Madonna'.
John Leyton – Johnny Remember Me
Again, Meek's love for rock 'n' roll and teen-melodrama shines through on this wondrous slice of British beat.
Screaming Lord Sutch – Til The Following Night
Take one eccentric singer who drives around in a hearse and get him produced by a man going crazy, driven mad by the occult and death and what do you get?
The Bublight
Another cut from his 'I Hear A New World' LP, Meek conjures up the mysteries of outer space.
The Tornadoes – Ice Cream Man
While The Tornadoes biggest hit was 'Telstar', a song about a satellite, here we include another of their songs, the playful synth pop of 'Ice Cream Man'. No record sounded like it and not many do now.
Honeycombs – Have I The Right
Another production masterpiece from Meek who got reasonably plain pop music and shunted it all out of joint with his unusual production methods and ear for a song.