Mr Freedom was as much an event as a boutique, described by the London Evening News in 1970 as a "spectacle like no other show on earth, taking place down the King's Road non-stop, six days a week".

Here Tommy Roberts (6 February 1942 – 10 December 2012) reflects on some of the extraordinary in-store displays commissioned from young artists and designers.
My philosophy was, and still is, this: if you run a shop you put on a show.

To me, shop-keeping is atmosphere, merchandise and personality plus staff and decor, in that order. In 1970, Mr Freedom was a glamorous, non-stop retailing spectacular. When we opened the doors for business, we went on stage. It was showtime.

It was important to feature an outlandish object at the front of the shop. Whatever I dreamed up the talented team would manufacture.

A beautiful seven-foot high Daz washing powder box was made by Jeffrey Pine from Electric Colour Company. Justin photographed Twiggy leaning against it in a scarlet Minnie Mouse t-shirt and Yogi Bear bib'n'brace dungarees for a glossy magazine.

I liked to have a fresh item on display every two or three weeks. My pals Sue and Simon Haynes came up with a six-foot wide plate of sausage, egg + chips in polystyrene. What a lovely background it made for smart fashion shoots.

In one, Jean Shrimpton wore a lightning bolt, clingy, lipstick-red skinny vest dress. During another, Lorraine Chase – togged out in a Goofy t-shirt, tiny satin hot-pants, star 'n' moon boots and a baker boy cap for The Sun – slipped and toppled over the 'fried egg' which slid to the floor and broke. That was the end of our "fry up".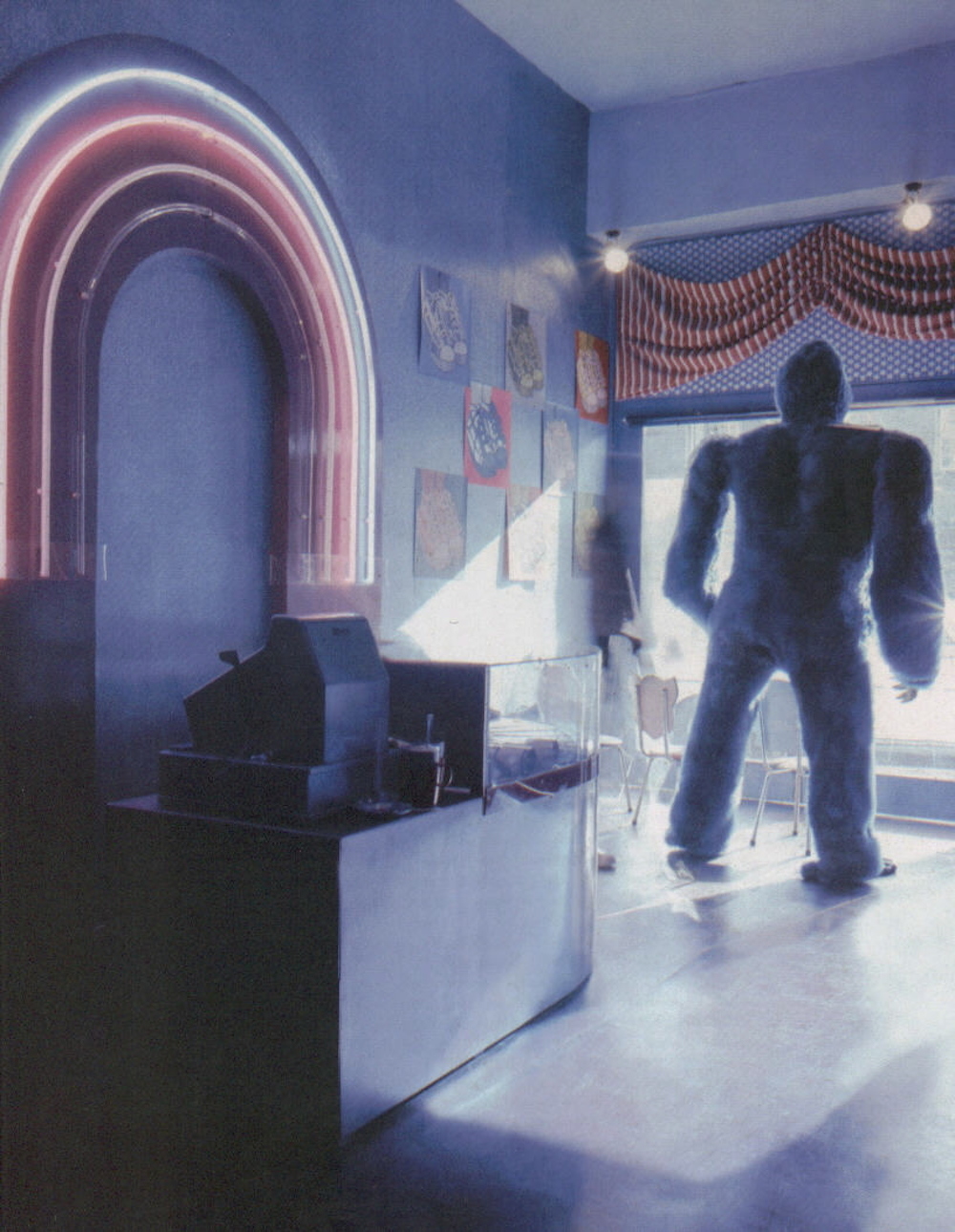 Next came Simon + Sue's piece de resistance: a huge, Kapok-filled, electric blue fun fur-covered gorilla reared up on its hind legs. With a pair of beef arms, he was on hand for any Dolly Bird model who needed a jolly good cuddle.

Now I'm going to tell you what happened to our Godzilla. That year Chelsea FC won the FA Cup and the celebrating team made slow triumphal progress around the borough in an open-topped double decker bus.

As it gradually inched past the shop, Gerald the shop manager and I carried Godzilla out and put him on the bus platform. Hands soon grabbed at him and he was soon up front among the winning team members, being cheered the length of the King's Road to Sloane Square.

I never saw him again.

Tommy Roberts, Dover, 24-1-11.
Read on: Mr Freedom – Tommy Roberts: British Design Hero by Paul Gorman.