In 1937 Fred Harris had a small shop in Sussex Street, Sydney. Sailors provided most of the canvases for Fred's skin paintings but he also tattooed horses on jockeys, flowers on legs and women with beauty spots. Among the more popular tattoos were Australian flags and Kangaroos for sailors of the visiting American Fleet.
The first issue of the Australian PIX magazine covered the story with photographs by Ray Olsen. The State Library of New South Wales describes Pix magazine:
Pix played an important role in the post-war aspirations which shaped Australians and their sense of national identity, albeit in a playful, light-hearted manner. At the price of sixpence, the heavily illustrated magazine featured a uniquely Australian mix of scandal, sensationalism, human-interest stories, fashion, politics, culture and entertainment. Its boldly designed covers included a black and white photo, showcasing a Hollywood starlet, fresh-faced Aussie girl (often in a swimsuit) or quirky animal, shot along with attention-grabbing text .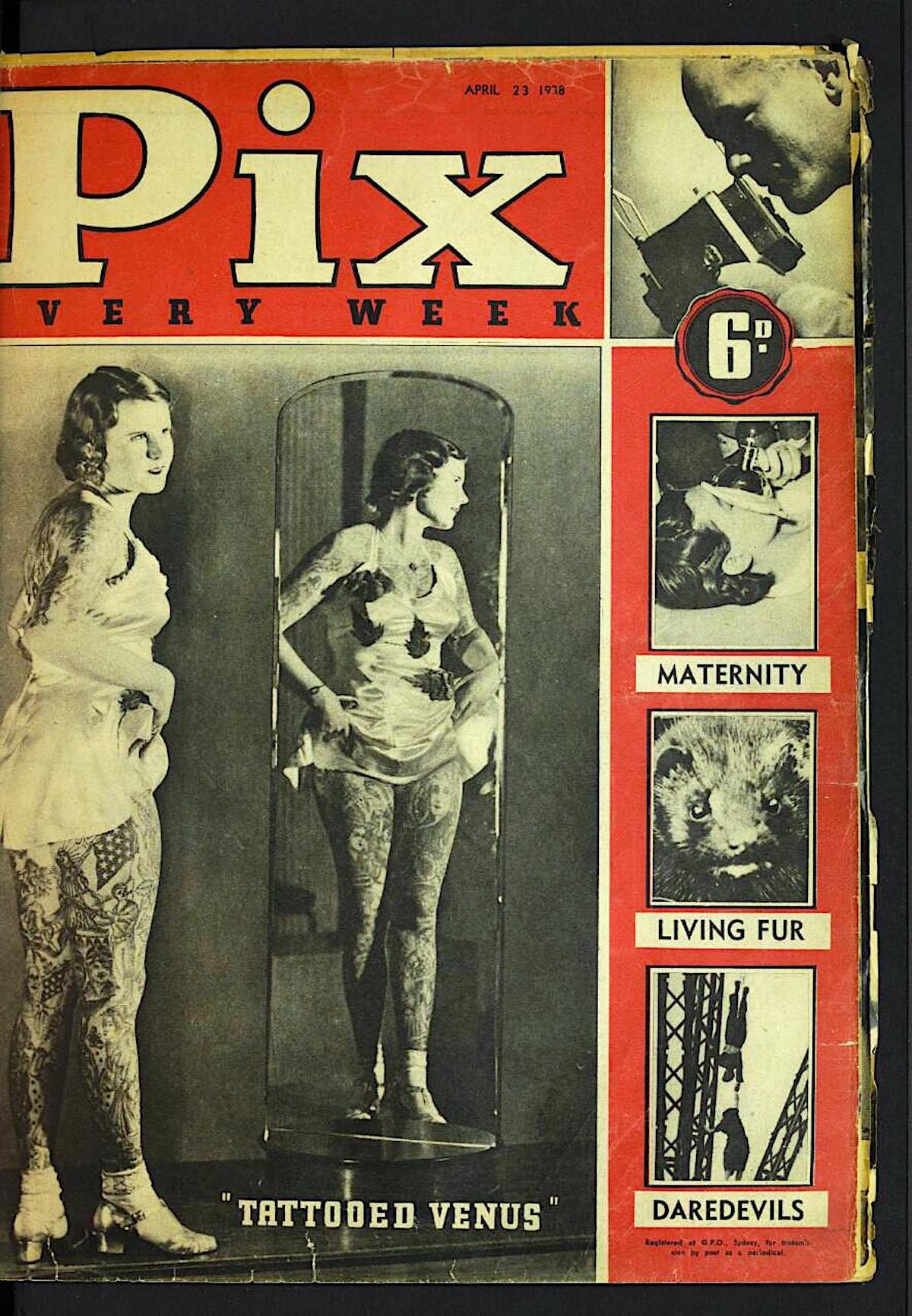 Broadbent was said to have had 465 tattoos, including the largest known at that time, a madonna and child on her back. She was also decorated with images of pilot Charles Lindbergh, patriotic flags and emblems including the American eagle. Visiting Australia in early 1938 for the Royal Agricultural Show, Broadbent – also called the 'Tattooed Venus' –  told <em>The Daily Telegraph</em> that she didn't realise at first that tattooing was permanent. A circus performer, she turned to tattooing to make a living in the winter "when I finished as a rodeo rider in the circus season".
Betty Broadbent, the 'Tattooed Venus', Sydney, 4 April, 1938, photographer Ray Olsen