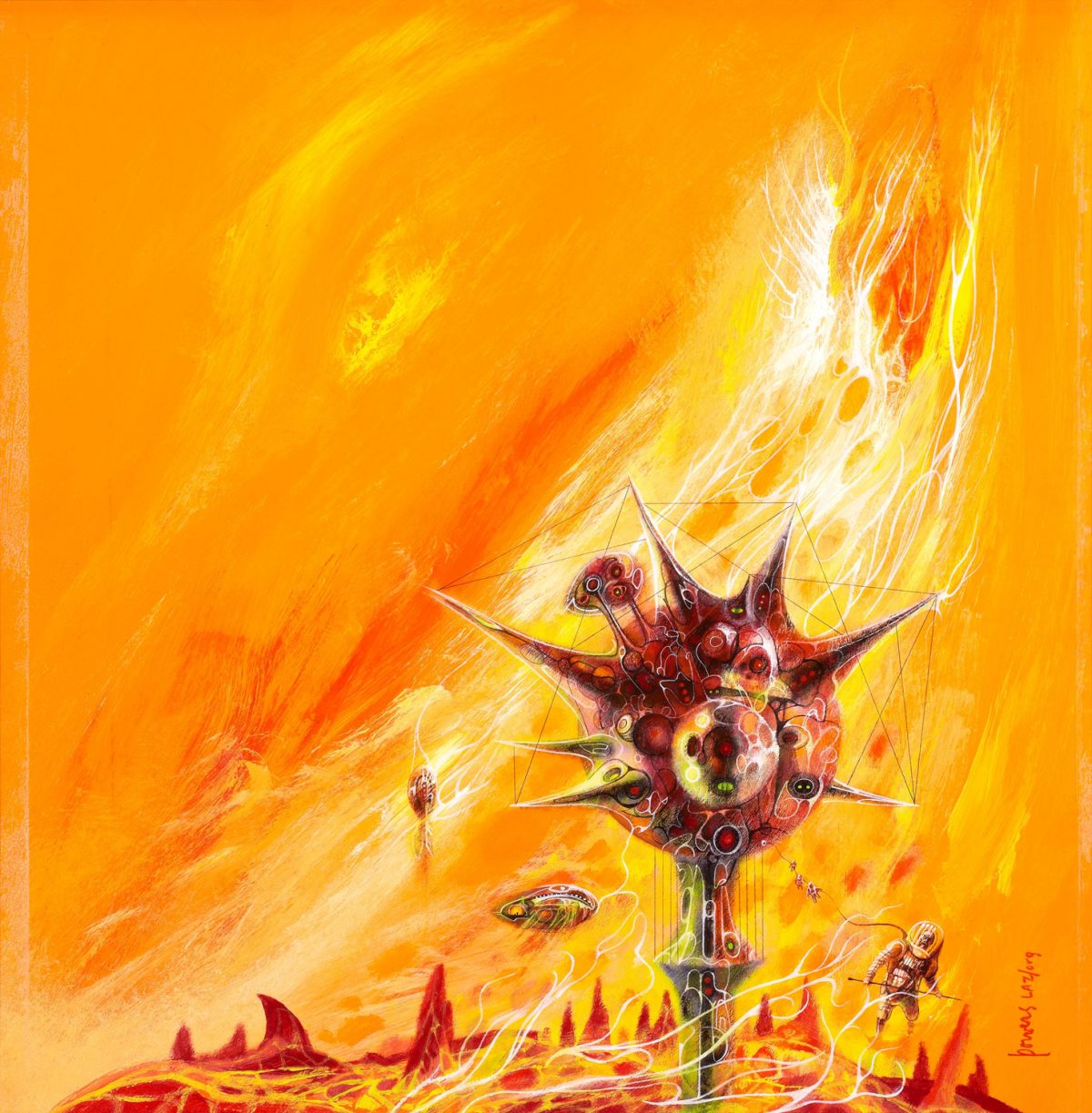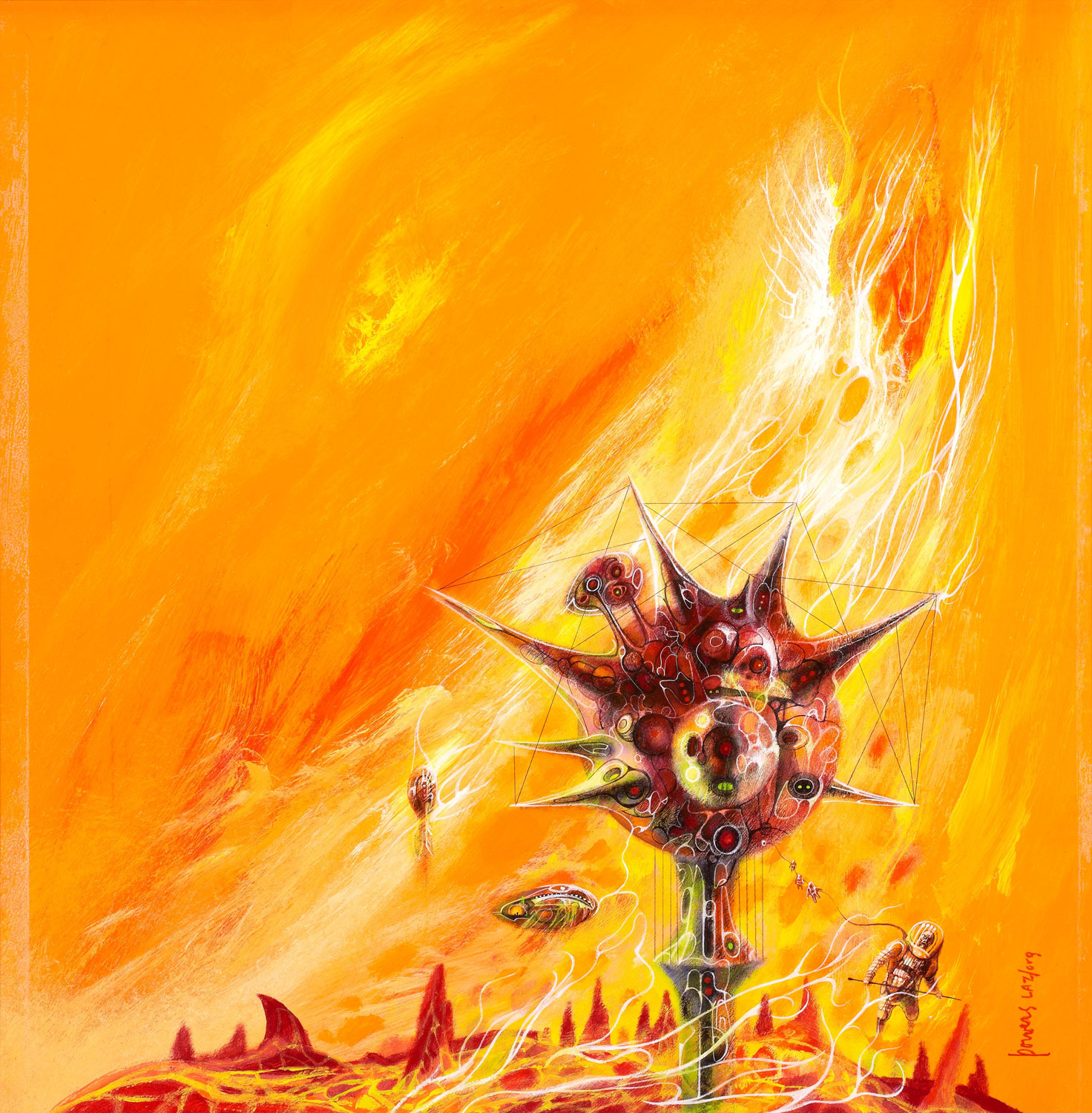 After a few decades of lurid pulp covers featuring half-naked space damsels in distress, grotesque, rubbery aliens, and square-jawed heroic spacemen, sci-fi publishing in the late 50s and 60s opened up to far stranger visions on the covers of their mass-market paperbacks. Foremost among the artists pushing the boundaries of popular sci-fi cover art was Richard M. Powers, who began his career producing conventional covers, but soon found license to explore his Surrealist and Abstract Expressionist sensibilities in full, bringing the influence of favorite artists like Yves Tanguy and Arshile Gorky to a genre that was itself exploring more modernist territory and moving away from the wonky "hard" sci-fi adventures that flourished from the 1920s to the 50s.
Powers' designs were truly unearthly, as Mark Dery writes in a profile of the artist:
Haunted moonscapes. Alien cenotaphs whose shadows stretch from here to forever, tracing the geometry of dreams. Emissaries from the unconscious, their features running like melting wax. Cancerous cities a trillion light years from now, the undifferentiated growth of their lumpy, tumorous sprawl now silent, still as a fumigated wasp's nest.
Daring to apply high art seriousness to a popular commercial publishing industry, Powers' art became increasingly abstract over the decades. He produced some of his best work, like the covers and personal art you see here, in the late 60s, 70s and early 80s. Readers responded, intrigued by his uncanny, alien outer- and inner-scapes. His work has also been taken seriously by critics, some of whom rank him in the company of his fine art influences. "Like Magritte," writes scholar J.H. Matthews, "Powers strove to evoke the mystery inherent in familiar objects, transformed in such a way to destroy their harmony with our naïve or sophisticated notions."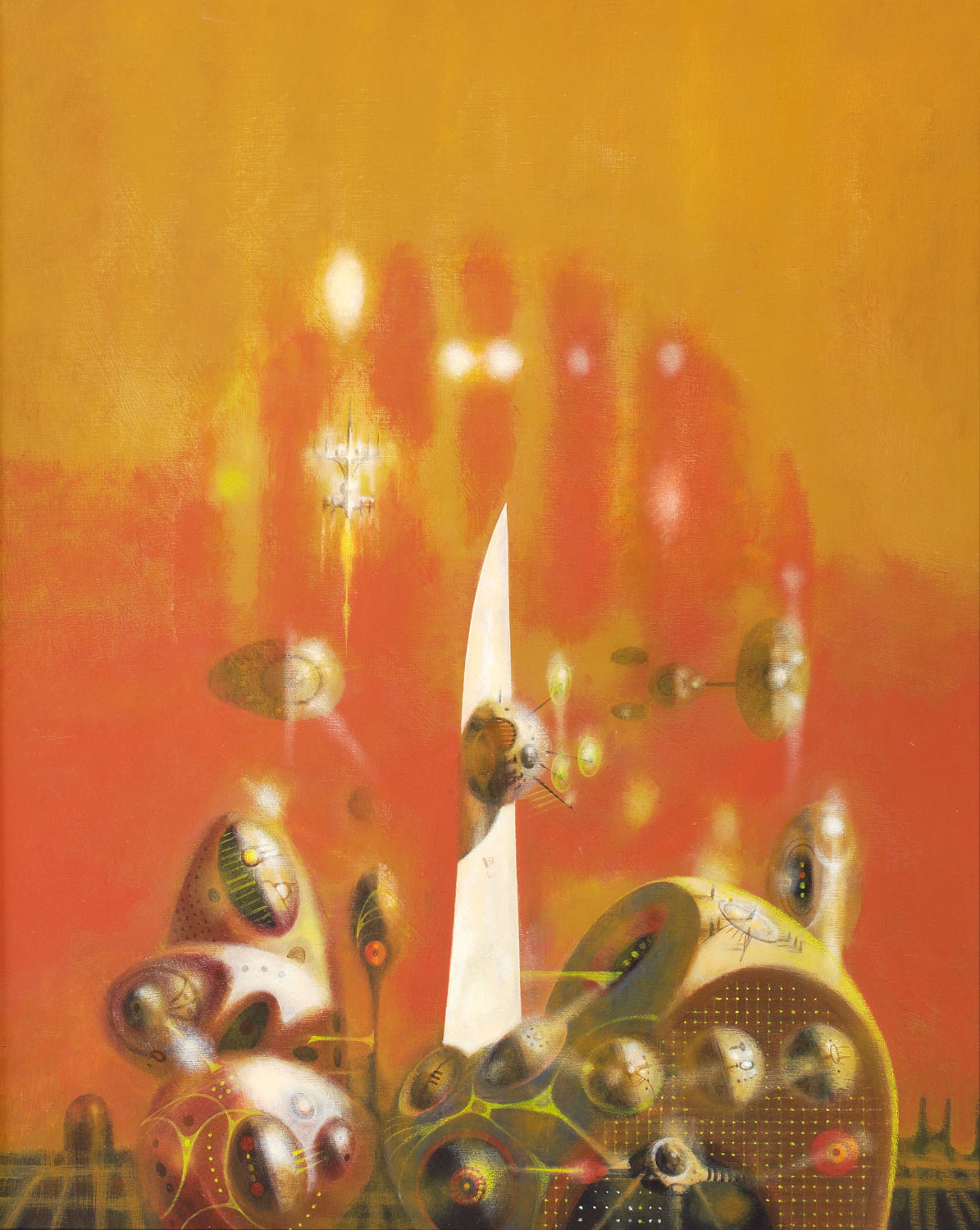 Richard M. Powers himself saw his work as transcending the limits of mass-market publishing. "One of the things that appealed to me about science fiction," he said, "is that it was possible to do Surrealist paintings that had validity… in their own right, and not necessarily functioning as the cover of a book." Nonetheless, his paintings, hundreds of them, sold millions of books, illustrating novels from famed innovative writers and lesser-known names alike, most of them published by Ballantine Books: Arthur C. Clarke, J.G. Ballard, Philip K. Dick, Clifford Simak, Charles Eric Maine, James Blish, and many more.
Powers' work has had significant influence outside the world of sci-fi art, inspiring XTC's Andy Partridge, for example, to release a limited 2010 album of "aural sculptures" called Powers, twelve haunting, cinematic tracks that respond to specific pieces of cover art (hear excerpts and see those covers above). See more classic Powers' covers here.