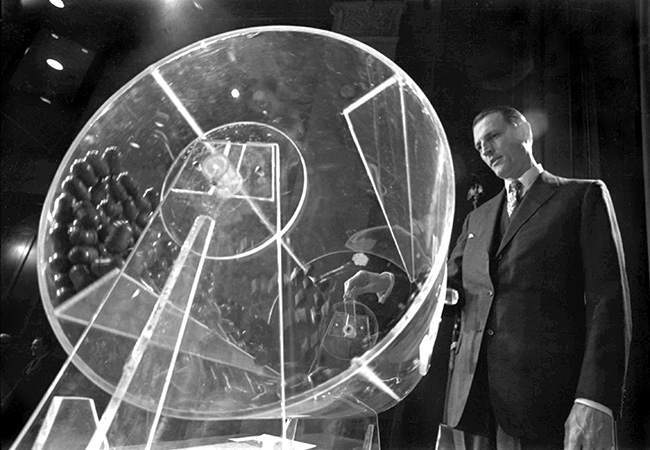 FLASHBACK to The Vietnam War: Draft Director Curtis W. Tarr spins a plexiglass drum containing capsules with birth dates and orders of assignments for men born in 1953 at the beginning of the fourth annual Selective Service lottery in Washington. Tarr, the man who developed the lottery for the draft during the Vietnam War, died Friday of pneumonia at his home in Walnut Creek, Calif., his daughter Pam Tarr said Wednesday, June 26, 2013. He was 88.
Was everyone equal in this macabre lottery?
During the early part of the Vietnam war, males could be exempt from serving in the military (and being sent to war) by attending college. Eventually this practice was ruled unfair (to people who couldn't afford college), so the college exemption was eliminated.
What was in the drum?
The draft lotteries were classical ball and urn experiments: blue plastic capsules containing birth dates were selected from a large glass container. The results were controversial because some believed that the balls were not sufficiently well mixed, and that consequently, the samples were not truly random.
What happened?
A lottery drawing – the first since 1942 – was held on December 1, 1969, at Selective Service National Headquarters in Washington, D.C. This event determined the order of call for induction during calendar year 1970; that is, for registrants born between January 1, 1944, and December 31, 1950. Reinstitution of the lottery was a change from the "draft the oldest man first" method, which had been the determining method for deciding order of call.

There were 366 blue plastic capsules containing birth dates placed in a large glass container and drawn by hand to assign order-of-call numbers to all men within the 18-26 age range specified in Selective Service law.

With radio, film, and TV coverage, the capsules were drawn from the container, opened, and the dates inside posted in order. The first capsule – drawn by Congressman Alexander Pirnie (R-NY) of the House Armed Services Committee – contained the date September 14, so all men born on September 14 in any year between 1944 and 1950 were assigned lottery number 1. The drawing continued until all days of the year had been paired with sequence numbers.
Did it become less biased?
To make the process "truly impartial," Tarr introduced a "double-draw lottery" that employed two drums — one with red capsules assigned 365 different birth dates and another with green ones numbered from 1 to 365. First a birth date was drawn, then a priority number; when paired, they determined the order eligible men would be called up.

Worked out by mathematicians, the procedure appeared to result in "true randomness," The Times said in 1970 after the second lottery had been held. No month had been exhausted of dates until the 335th drawing. The No. 1 priority date, July 9, had been the 11th capsule drawn.
What was it like being chosen?
EDT writes "I had graduated high school in 1970, was in community college. I was always raised to believe that you owed your country service. My brother was about to be drafted. I never really worried about VietNam. I enlisted with my brother under the Buddy System, in March 1971.

After Basic, my brother applied for a recruiter job back home for 30 days. I was sent on to Ft. Sam Houston for Medic training. He later applied to go to Nam and I applied to go to Germany. Well, as fate would have it, I went to Nam and he to Germany. I was a medic, worked in the Operating Room. I was in Nam until August, and I was a changed person when I came home. I wanted nothing from the Government and didn't involve my self with the US Government for 35 years. But here recently , I've been going to the VA Hospital for help with PTSD, and I am now collecting a disability check.

I've never felt cheated by my experiences in Nam, nor did I ever try to make something of myself. Life is to live, and too fragile to be hemmed in by an office or a plant. I worked as a delivery driver for 22 1/2 years at JCPenney–nothing too complicated. I lost my family to PTSD, but am now married to a wonderful gal who is helping me get the help from the Government that has been earned by my experiences. My draft number, I think it was up around 300 or so ……grin…..but I don't regret what I did. I'm proud I served and helped my fellow soldiers the best I could. In the 40 odd years since, I've seen a lot of folks come and go. Keep smiling. "

…

EST writes "I was a a senior at UGA scheduled to graduate from Business School in the fall of 1969. My brother graduated from Fla. State with an accounting degree the year before, was immediately drafted and within 12 months was in country and avoiding firefights. He was with an Americana Division recon patrol based at fire base Mary Ann in NW Vietnam. He sent me a letter pleading for me to get into an Army reserve or National Guard unit, which he assumed would give me a better chance of survival. He knew from our childhood army games and teenage BB gun fights that I was a pretty easy "kill".

Our fraternity had scheduled a "lottery party" on the night of the lottery but it slipped my mind completely. I had actually gone to the UGA library to handle some homework (proving to myself in later years that I actually did visit the place). I got to my car (67 blue GTO – what a beauty) turned on the radio, and the second date that was announced was my birthday for draft #176. In my home county of Fulton, that was not going to cut it.

Two memories remain in my recollection of the feeling at the Pi Kappa Phi house that night. One was that the winners did not celebrate too much because we were all really concerned about the low-number brothers that we feared were going to war. Most of our ROTC and bigger boys got the coveted high numbers. There were mixed emotions that night. At our school there had up to that point been no campus demonstrations or open talk of not going if called to serve. That never came up. It was just a given that you go and serve your country if asked.

My last fall quarter was wonderful. My girlfriend had graduated earlier in the year and had a good job back in Atlanta working for Coke. She would come up on weekends or I would go home. After my last intermural touch football game that fall quarter I knew the good times were about over. I remember looking over all the young brothers and their dates at the house dining room. They were so full of life. Wishing I could stay with them a little longer I knew my life was about to get real serious, real fast.

I was I-A and had passed my military physical. I still had the option of joining the Navy for 4 years rather than serving in the Marines or Army infantry for 2 years as a draftee. I would decide that move when the orders came to report for duty. One weekday morning before Christmas, I got a hurried call from my fraternity brother John Johnson. He was at Dobbins AFB just up the road telling me that the Marines were taking a few good men into their Air Wing Reserve unit. He and Spunky Good were already signed up, and were filling out the paperwork. I told him I was on that unit's list and every other Reserve list in the state. He said it didn't matter, they were taking the next two or three guys through the door. I must have hit 90 on I-285 but got there in time. I very much to this day appreciate that phone call.

My brother made it home alive with several Bronze stars for heroism. It would be 13 years before he got married to start his wonderful family. I served 6 safe and secure years working weekends on F-8 jets for the Marine Corps. I was able to start a career, and start my family immediately. My wife and I were so lucky and fortunate. Several of my fraternity brothers and high school classmates did not make it home from that horible war. Some came home very much injured from their honorable service. Their lives were forever injured as well."

…

EDT writes "I spent three years in the Army which was probably a good thing because I didn't have a clue of what to do with the rest of my life. Within a year of my discharge I was accepted for a federal job and retired in 2004 after 31 years of USG service, most of it spent overseas.

I still remember that night watching the lottery in 1969 and the tears and fear I felt. I have never since then felt such a lonely feeling. My last day as a civilian I had my father take me to a movie theater and, by myself, watched the Godfather. To this day I feel that if there was a draft today our wars would be finished much earlier."
More memories of the draft here.
Some of those who refused are here: