"There was a demonstration early in the flight for the use of oxygen masks and diagrams on how to use an evacuation slide in case of emergency. Instead of using pillows for a dinner tray there is a told-down table which is recessed in the back or the seat ahead, which works out so much bettor than pillows."
– Newsletter 1, Honolulu, Charlotte and Meredith, 19 June 1959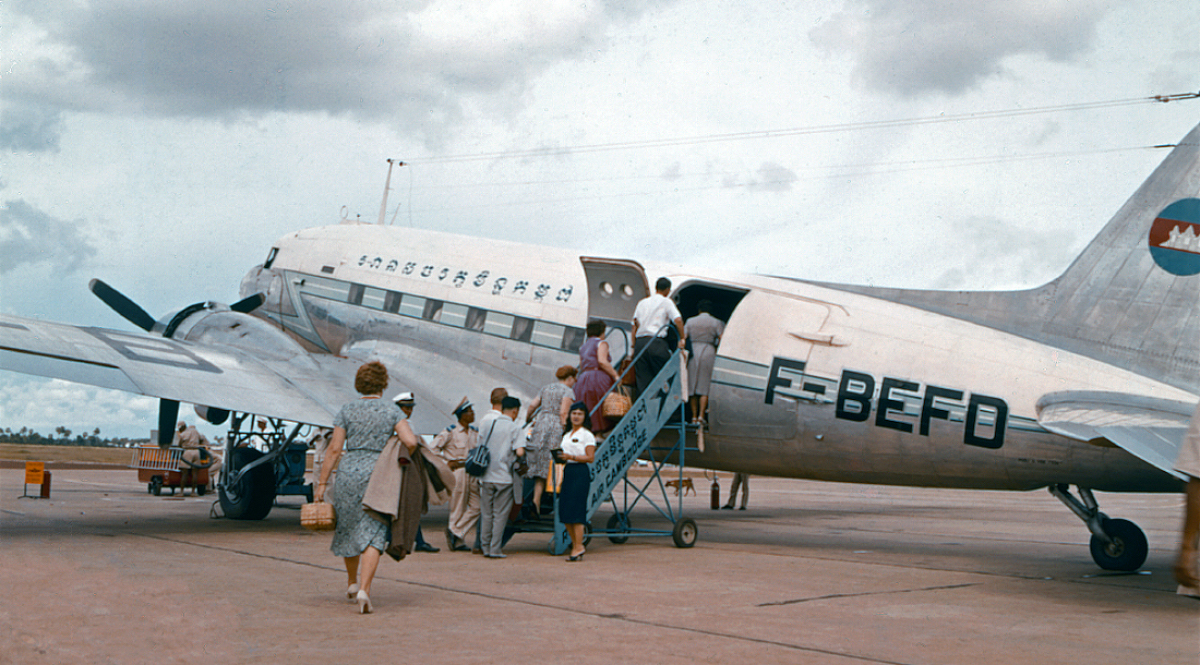 A few years ago we saw an offer of an extensive collection of large format slides, writes Red Garlic Design. Offered were several hundred slides and a complete description of them – this was decisive for the purchase. After digitizing the newsletters (the meticulous description of the trip) the web site was designed. The trip is divided into monthly sections, each with a monthly calendar and the pictures, some with the quotes from the newsletters. All images are scanned with an Epson V700 scanner (a second pass with infrared to remove dust…) – then digitally restored with Photoshop (dust, color correction, format). Currently about 70% of the world tour is published – here are some examples (with original comments).
At Zurich we saw the Grossmunster Cathedral whose twin towers dominate the landscape, also St, Peters, the parish church of Zurich, with a massive tower surmounted by a large, folden-faced clock. The stately Renaissance Rathouse (Town Hall) was also a most unusual structure in Zurich. In both these Lake cities we enjoyed watching the natives feed the gulls, swans, etc.
"During our time here in Berlin we happened to be fortunate enough to get into conversation with a husband and wife who are refugees from East Germany. They gave us their opinions of Hitler's regime and vivid descriptions of their flight from the German Polish border through Dresden and into West Germany. They claim life in East Germany is intolerable and you speak to no one for fear they will report you. Therefore, no person is your friend. We talked with this couple for several hours and it was most interesting to hear the many aspects of living in Germany before,- during and after World War II. They spoke very good English, which they both learned in high school, and you could readily see they were people with above average intelligence who have lost all their worldly possessions, but are slowly regaining the previous standard of living."
We first went to Brandenburg Gate which separates the Eastern and Western zones. While here, we heard a lovely propaganda speech on East Germany and received some literature on this new German Democratic Republic concerning its five year plans. As we proceeded through the almost deserted streets (quite a comparison to West Germany), we saw shop windows with practically no merchandise displayed and many bombed-out buildings and sections which have never been rebuilt.
Saigon is the Capital City of the Republic of Vietnam and was formerly a part of French Indo China. It is a quite attractive city and is characterized by a combination of French and Oriental cultures and tastes. It has many fine buildings, wide tree lined boulevards and sidewalk cafes in the French tradition. The climate is tropical and they have a wet and dry season.
..Hawaii – Waikiki Beach Kapiolani Park – The Kodak Hula Show
Tuesday we took a Down Town Tour and saw Tokyo Station, Imperial Palace Grounds, Kanda Section and walked a good distance at Korakuen Gardens…
Today has been much too restful as it poured rain all day and after we were both good and drenched in downtown Naples we returned to our room and relaxed for the day. I decided it was a good day to do family laundry so our room looks a little strange with lines of underwear, socks and unmentionables draped about the room. We got in a few games of cards and caught up on some of our correspondence.
But today I saw the real reason for our coming here — the Taj Mahal — a veritable dream in marble, whose perfect symmetry, harmony of proportions, lyrical beauty and aerial grace, render it an exquisitely unique piece of architecture.
Meredith makes so many friends due to his interest in cameras and the people are quite interested in his electronic flash equipment.
…a little coral colored Renault Dauphine. We have named our car the "Little Princess" so if I ever write about our Little Princess you will know who I am speaking about. Meredith has done all the driving so far but I will try my luck at shifting gears, etc. next week.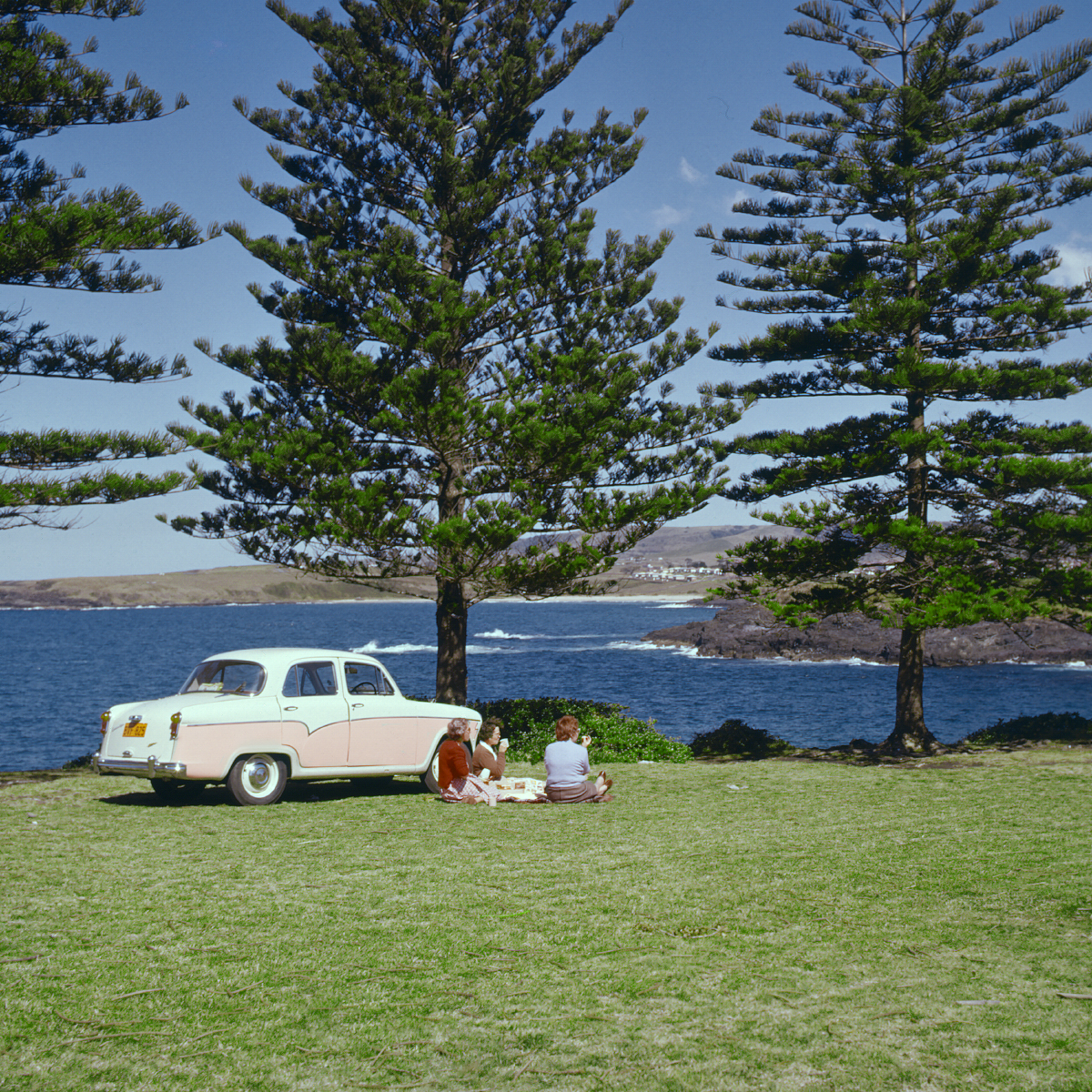 News for today [August 19] is we'll be at Fremantle tonight but since no customs officers come aboard at night we won't leave the ship until Thursday morning, so this news means I'll have to pack today, which is a job I do not like too well. It surely was nice to have sixteen days aboard ship living at one place and not packing so often.

Had a farewell dinner tonight with champagne and all the trimmings and the "Ellen Bakke" turned off her engines about 7 P.M. in the harbor. We had our coffee and almost everyone had brandy or Drambuie with theirs, except me, and then we had music and dancing, gaiety galore and good-byes, etc. until about 2:30 A.M. Went on deck with the captain while he personally showed me the Southern Cross and a gorgeous full moon. Our last two nights were certainly nights Meredith and I will always remember as we all had such a wonderful time. Two of our new Australian friends want to entertain us in Perth on Saturday [August 22]. They are James and Nellie Bartlett.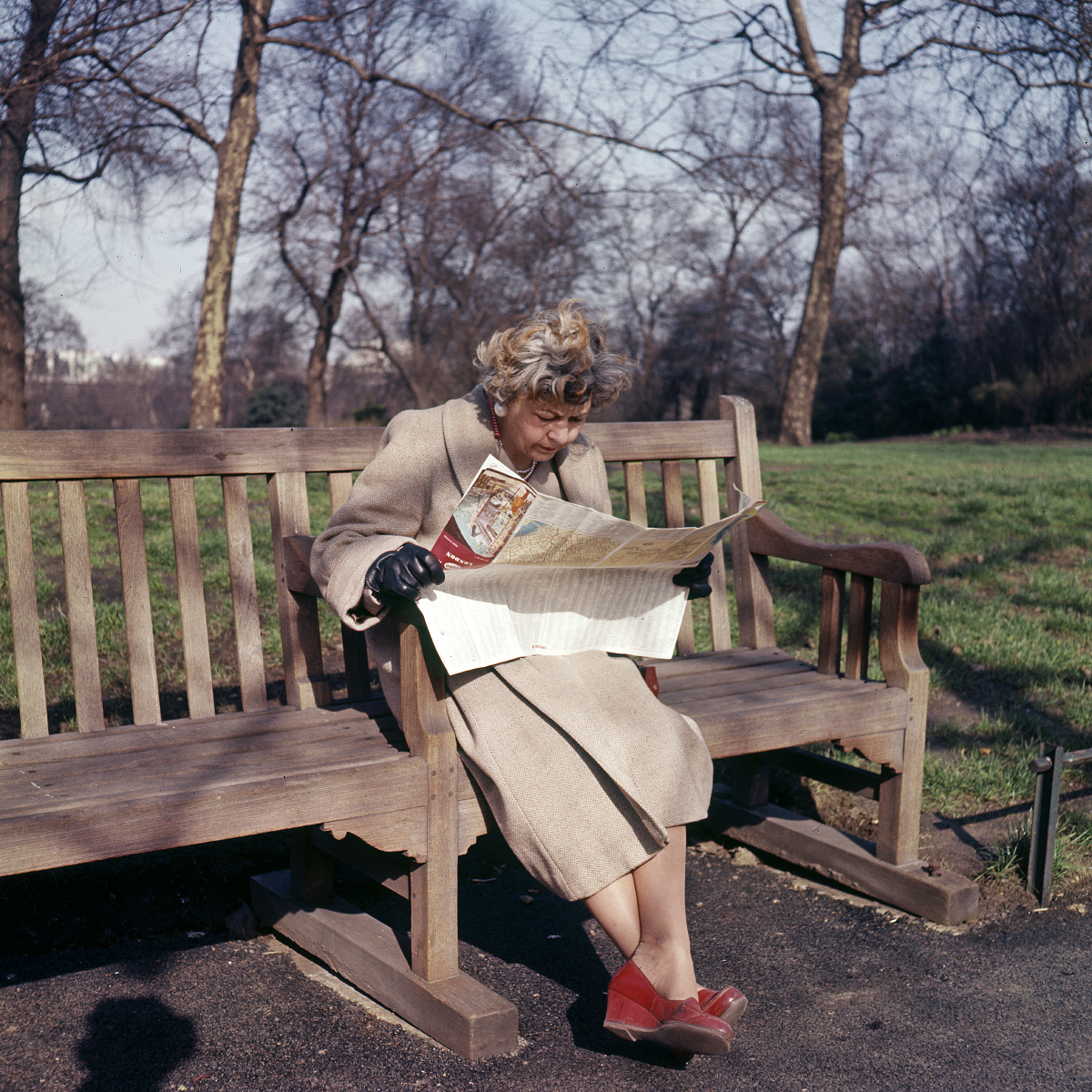 "In twenty minutes we were across the English Channel and saw the lovely White Cliffs of Dover. During our flight across the channel, we saw many ships being tossed about the water. We certainly were exclusive today as we were the only passengers and only car on the plane. Thus, we felt like we were on a privately chartered flight since we had the airline hostess and pilot for we three. The hostess was charming and explained the English coins to us and gave us some other interesting information. This twenty-minute flight costs $64.00 roundtrip but we preferred this to a several hour trip by boat as the channel is often quite rough.

"After arrival we again went through customs and were then off on our month's tour — on the wrong side of the road. This driving on the left is most confusing to me. We had a 60 to 70 mile drive into London and got along rather well considering the terrific traffic and confusing one-way streets of this city. Went to the Embassy and got our usual batch of letters. We always enjoy our mail so much — so, to those responsible for writing we say, "'Thanks for the ever welcome news"'

"Again it's Friday night and the end of another newsletter week. So, we'll close and pray all of you are in good health and happy.

"As ever,

Meredith & Charlotte"
All images: Meredith Neiman (USA, 1959/1960)
All description: Charlotte Neiman (USA, 1959/1960)
Publication: red-garlic design (Switzerland, 2020/2022)
Web Site: Traveling From City To City
(Navigation: choose a month and a picture, then browse through the album with the arrows in the upper right corner – in the Newsletter directory are the descriptions).