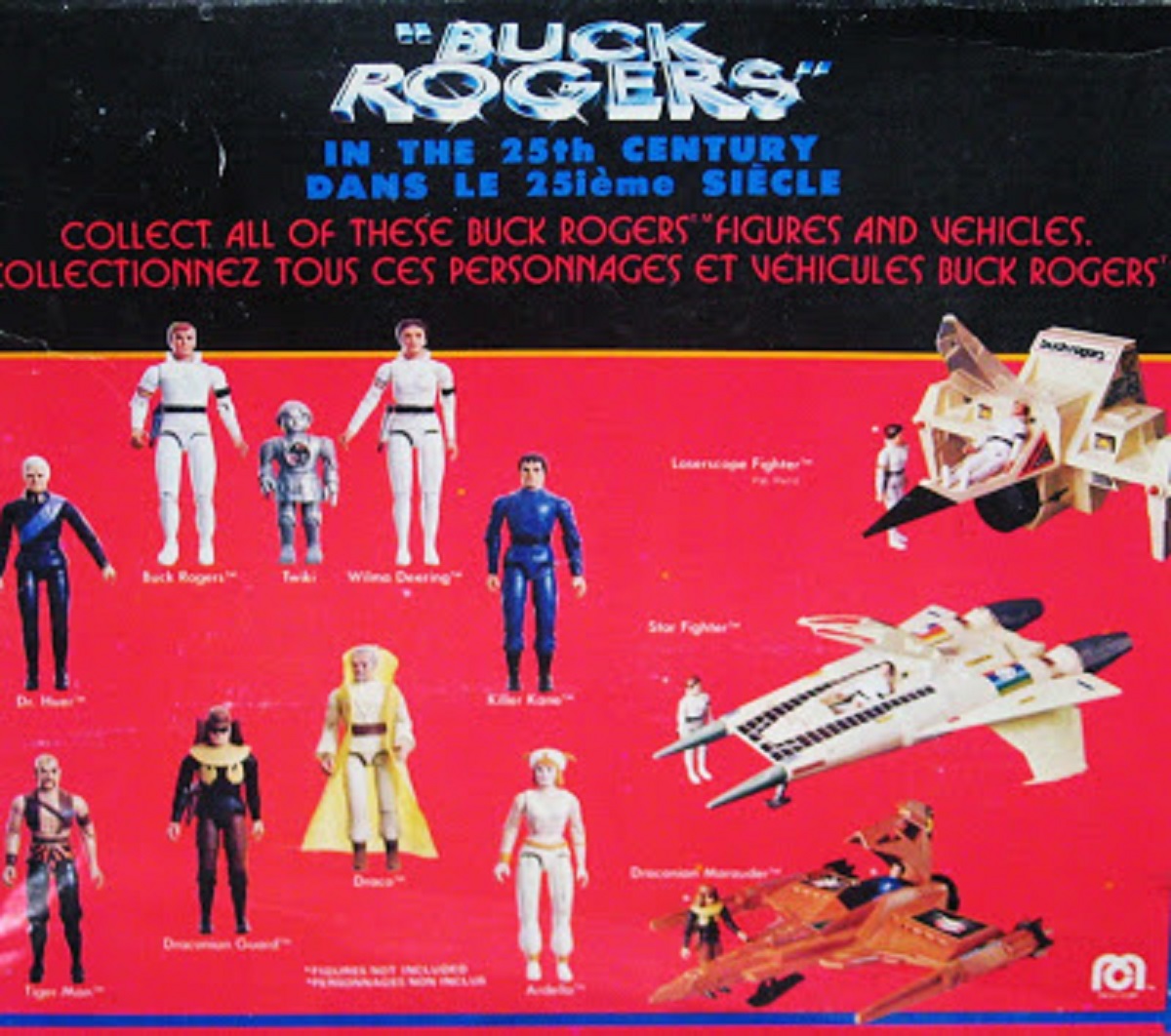 Thirty-seven years ago this week, Buck Rogers in the 25th Century (1979-1981) aired for the first time on NBC TV.  Although the series only ran for two seasons, it left an indelible impact on the Star Wars (1977) generation.
For one thing, Buck Rogers helped pass the (interminable) years between Star Wars and The Empire Strikes Back (1980), and for another, the series captured well Star Wars' sense of humor and sense of comic-book inspiration. Before the second season, anyway, it never took itself too seriously.
Accordingly, Buck Rogers toys soon dominated toy store shelves.  Today, I want to look back at some of my favorite merchandise from the era.
First up, HG Toys "Galactic Play Set."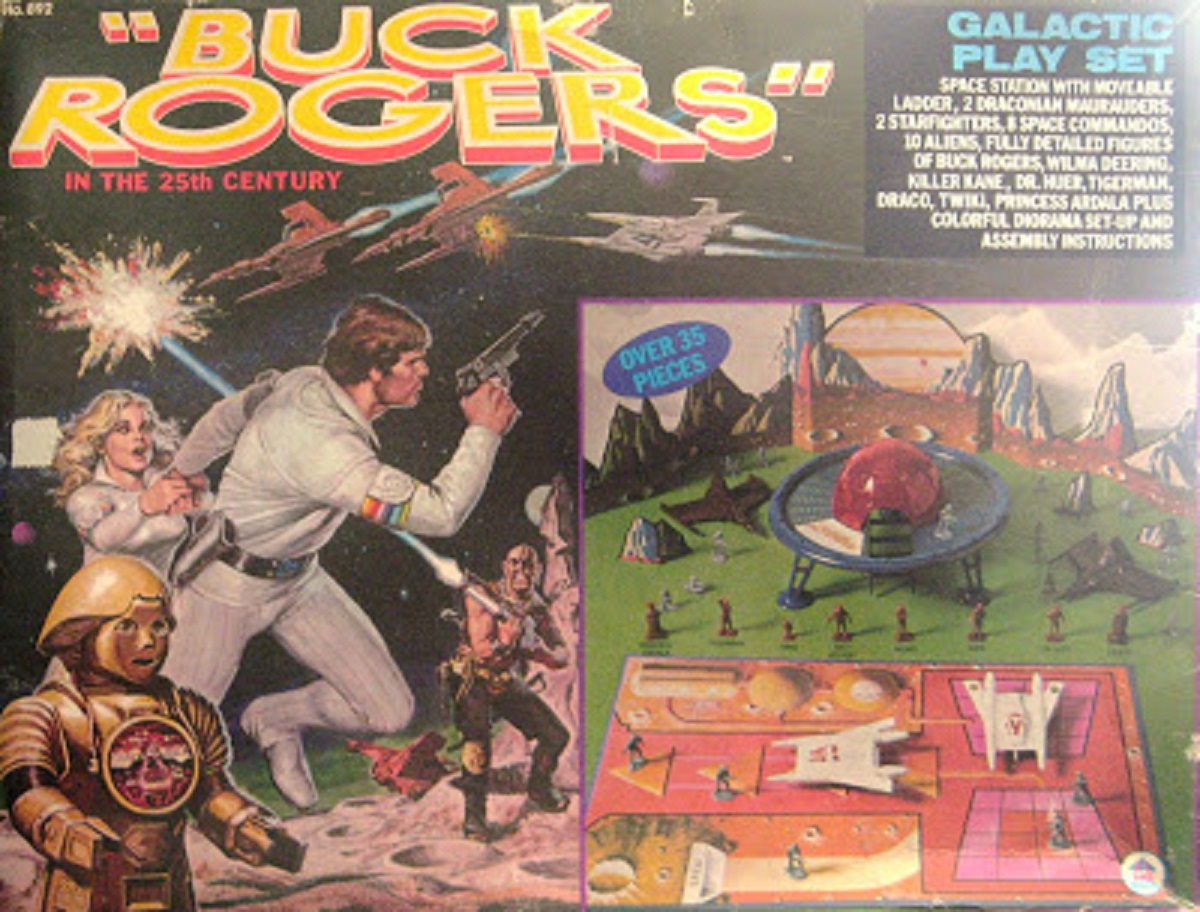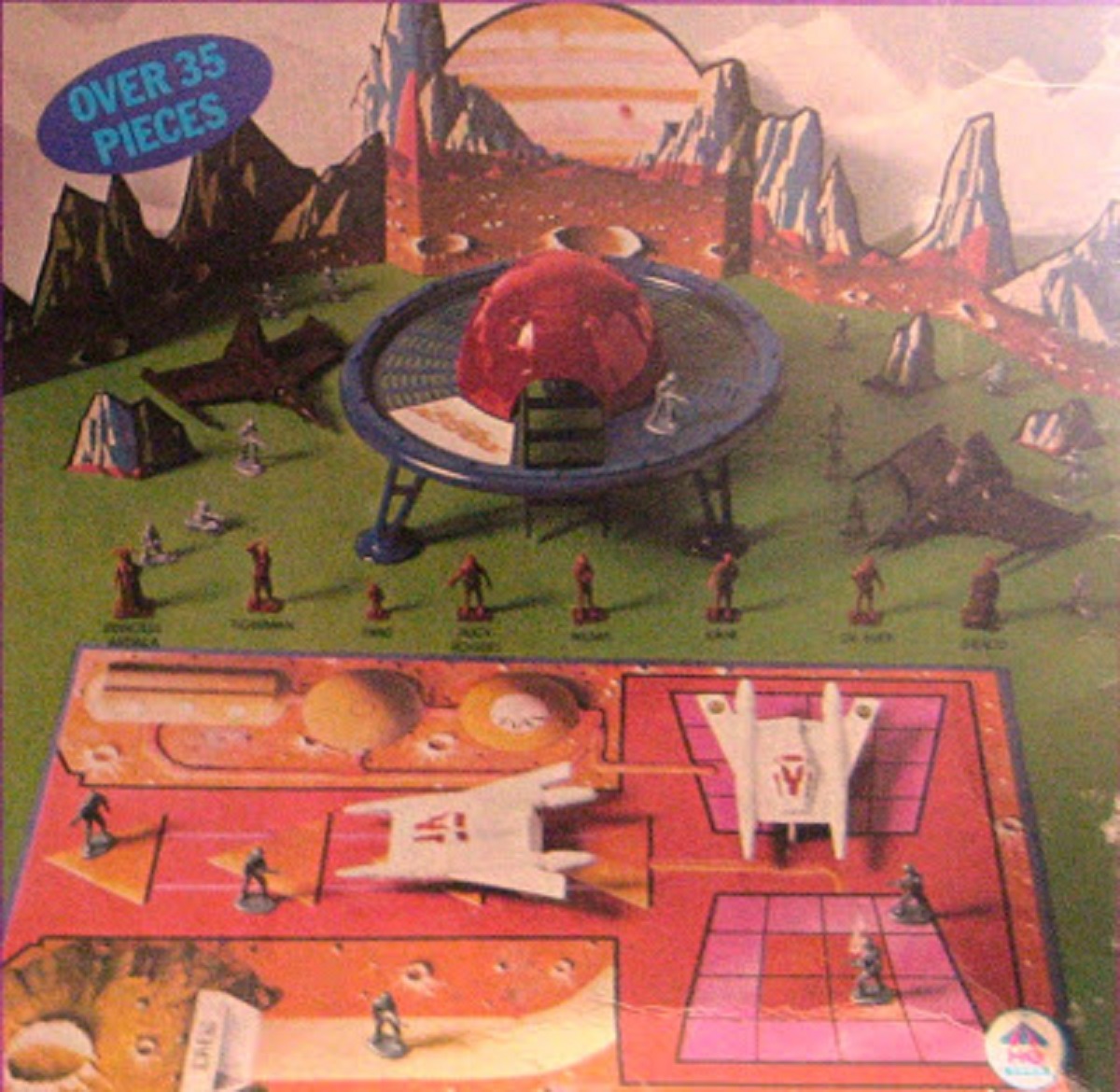 This huge Buck Rogers toy came complete with "over 35 pieces." The set included a "space station with movable ladder, 2 Draconian marauders, 2 starfighters, 8 space commandos, 10 aliens," and "fully detailed figures of Buck Rogers, Wilma Deering, Killer Kane, Dr. Huer, Tigerman, Draco, Twiki and Princess Ardala."
Also present: "a colorful diorama set-up and assembly instructions."
The toy company Mego, meanwhile, released small action figures, toy ships, and one very memorable playset: The Starfighter Command Center.  The toy box suggests: "Issue commands to Buck and monitor his flight pattern with this authentic replica of the Buck Rogers Star Fighter Command Center!"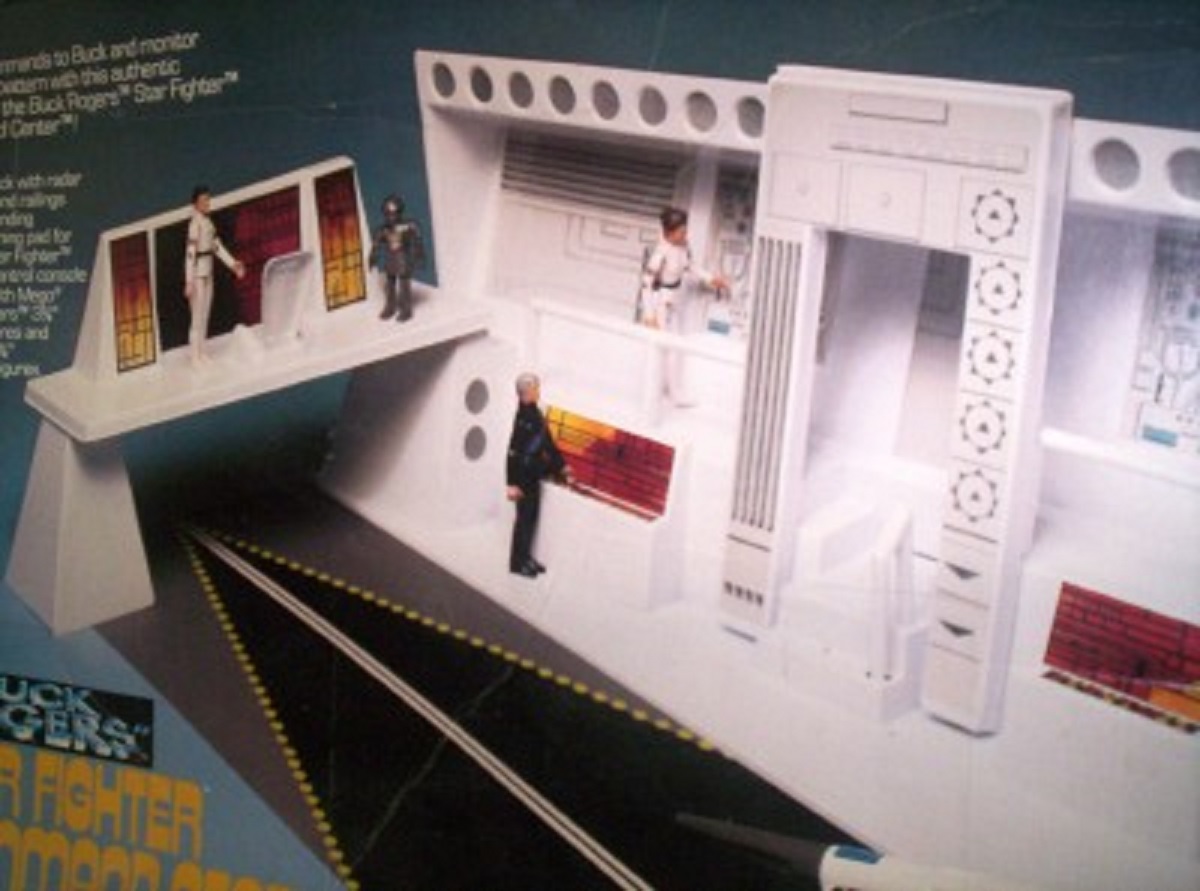 The toy also includes "2 level deck with radar screens and railings," "Cut-out landing and launch pad for Buck's Star Fighter," and "landing control console for use with Mego Buck Rogers 3 3/4 action figures and all other poseable 3 3/4 action figures."
One ship you could dock at the command center was Mego's nifty Laserscope fighter. This sharp-nosed space fighter "with simulated lasers and explosions" featured a cockpit for the 3.5 inch Buck Rogers figures.  But more interestingly, it possessed a rear-mounted view screen through which you could track, target, and incinerate enemies.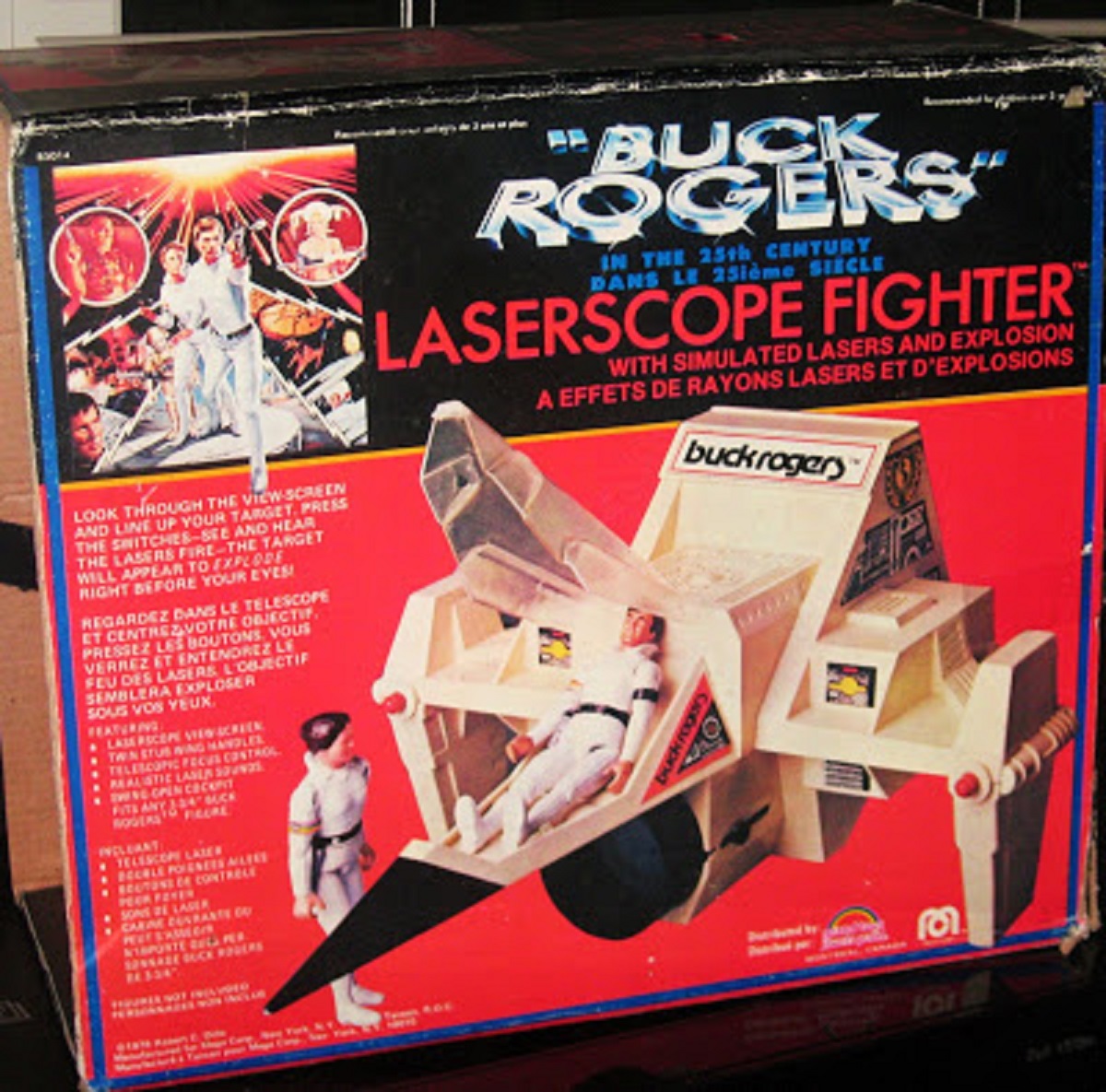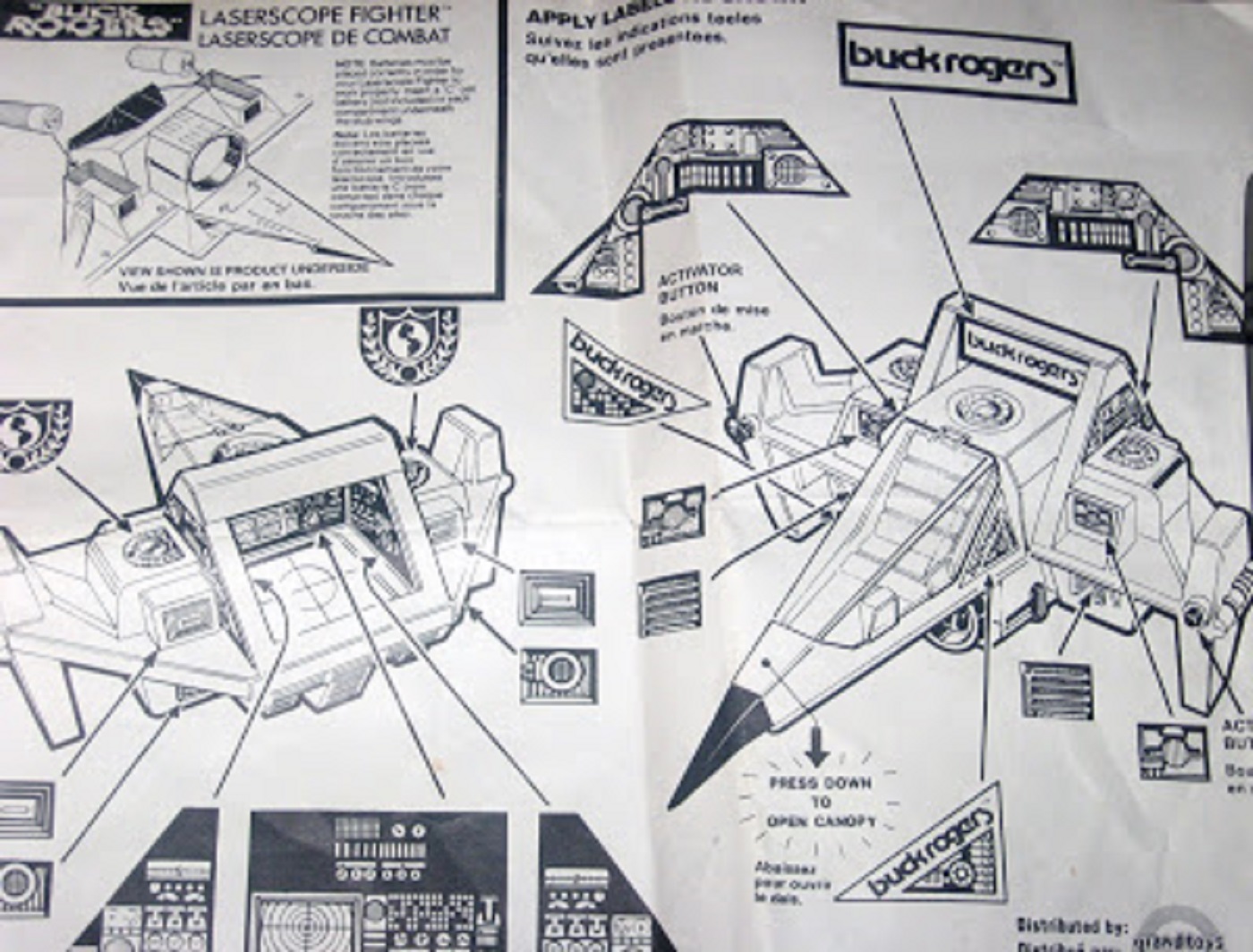 The box explains: "Look through the view-screen and line up your target, press the switches – see and hear the lasers fire – the target will appear to explode right before your very eyes!
Also according to the box legend, this Buck Rogers Laserscope fighter featured:  Laserscope viewscreen, Twin stub wing handles, Telescopic focus control, Realistic laser sounds, Swing-open cockpit, and the ship "Fits any Buck Rogers figure."
I must confess that when I was generously given the Laserscope fighter as a gift, I was disappointed because I really wanted the Buck Rogers star fighter, a craft which was featured on the show and boasted an infinitely cooler design aesthetic.  Fortunately a toy was produced of that ship as well.
But I suppose things could have been worse, anyway. I could have gotten a walking Twiki robot.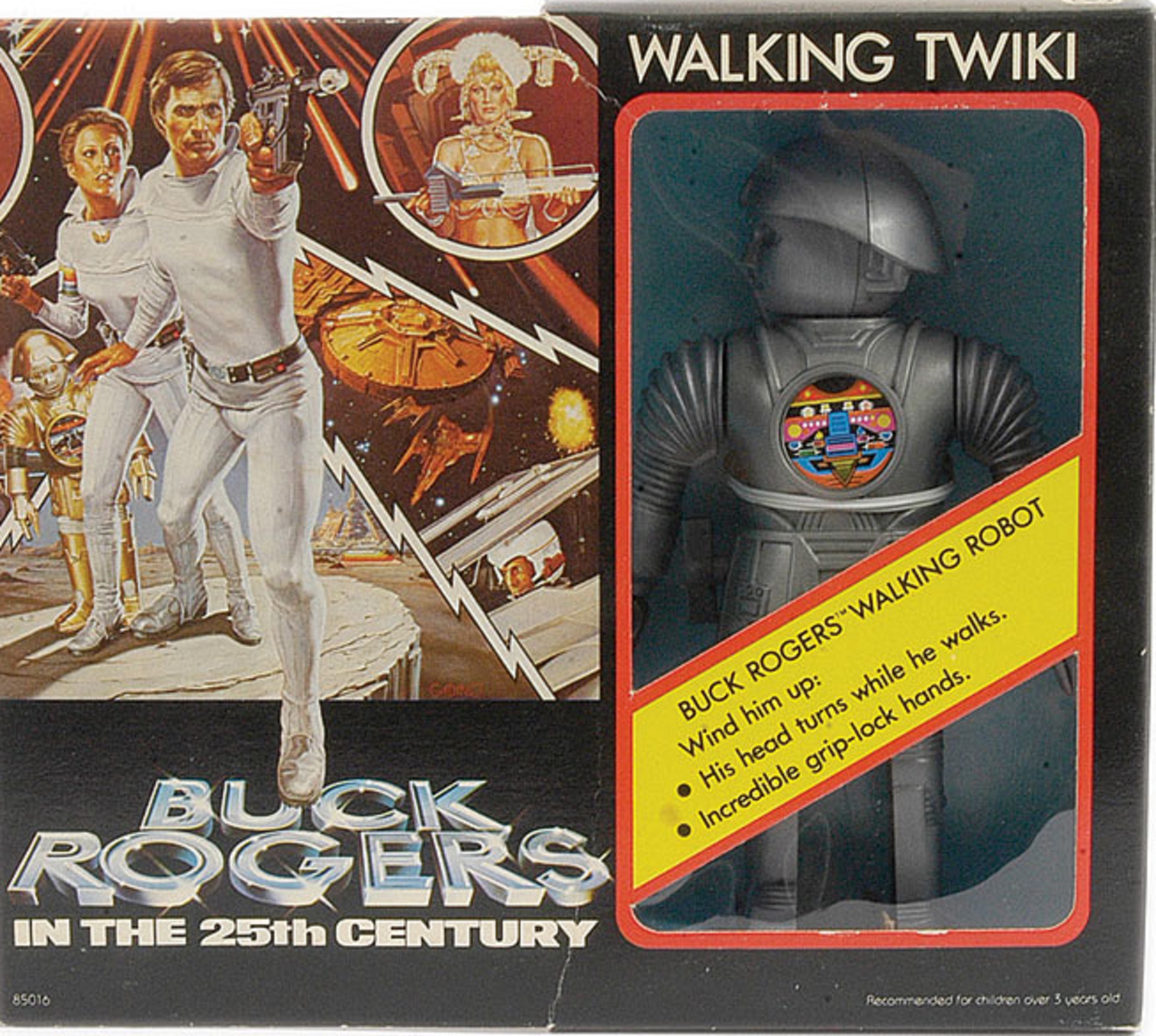 Finally, here is a vintage Buck Rogers toy TV commercial.