MIROSLAC  Tichý  (1926 – 2011) was the man with the homemade cardboard, plywood and tin cameras who snapped photos of unsuspecting locals going about their day in Kyjov, Czech Republic.
Many of the pictures are of women. Many of the women were at the swimming baths.
On his Facebook page, Tichý gets a grand billing:
This last master of the 20th century photography was only discovered some 6 years ago and left a radical and unorthodox body of photography focussed on the female figure. After studying at the Academy of Arts in Prague, Miroslav Tichý withdrew to a life in isolation in his hometown of Kyjov, Moravia, Czech Republic. In the late 1950s he quitted painting and became a distinctive Diogenes-like figure. From the end of the 1960s he began to take photographs mainly of local women, in part with cameras he made by hand. He later mounted them on hand-made frames, added finishing touches with pencil, and thus moved them from photography in the direction of drawing. The result are works of strikingly unusual formal qualities, which disregard the rules of conventional photography. They constitute a large oeuvre of poetic, dreamlike views of feminine beauty in a small town under the Czechoslovak Communist régime.

He was often arrested at the swimming pool.
The police failed to see the artist. They saw a funny, dishevelled man taking pictures of women in their swimsuits. He might have looked like a bit of pervert. But he was an artist.
His work has since been shown at museums and galleries in London, Paris and New York.
A spot of background:
After finishing the secondary grammar school in Kyjov he studied at Academy of Fine Arts in Prague under leadership of Jan Zelibsky. He received recognition within collective of his classmates for being very good draftsman, his immense talent and for his unique personal sense of humour. He left studies in 1948 and returned home.
MessyNessy adds:
Born in 1926, Tichý could have become one of the prominent painters of the modernist Communist regime. He was accepted to the Academy of Fine Arts in Prague, but after the Communist takeover in 1948, he grew defiant of requirements to draw socialist workers in overalls rather than female nudes and quit the prestigious school. Tichý was quickly identified as a rebel by the oppressive regime who began making attempts at "normalizing" him (whatever that entailed). After his compulsory military service, Tichý became more eccentric.
On his official website we learn:
Most of the public thought he was just pretending taking pictures. And it was this distinctness which brought him to the conflict with the authorities. He had to spend some time in mental hospital… But in a sense Tichy was just a rebel against order. This is why asked in 1989 ''Why don't you change your image when times have changed?'' he answered ''Times have changed but people didn't''.
The New York Photo Review said of his pictures:
We see women photographed from the rear, from the front, from the side; we see their feet, legs, buttocks, backs, faces, as well as complete bodies [as when drawing a nude at the Academy]; we see them walking, standing, sitting, bending over, reclining. There are a few nudes, though the poor image quality sometimes makes it difficult to determine if we are looking at a nude or a woman with not much on. […] Whatever eroticism is present is limited to that of the voyeur; these women are not inviting us into their world.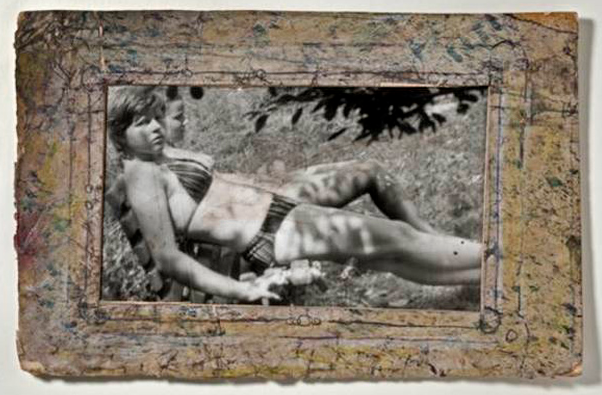 The Michel Hoppen Gallery explains why it's art:
He would often draw intricately on each print in pencil embellishing the images with his lines or reworking them in other ways, Tichy would also sometimes include a card frame around the prints and decorate those too. The work that might to the casual viewer, simply appear to be intrusive voyeurism, takes on a melancholic and poetic quality. They are exquisitely produced small objects of obsession, which have no equal. He produced work – not for others, but solely for himself without any regard for exhibiting or selling the work to others.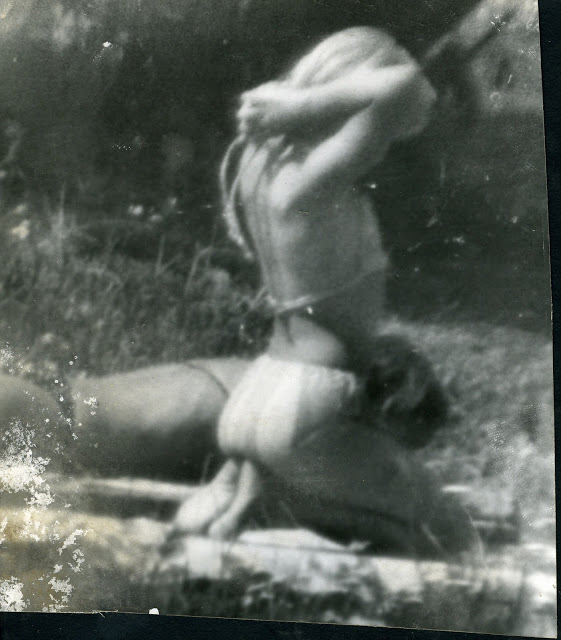 In 1981, Roman Buxbaum, Tichý's neighbour and friend found his prints strewn around on the floor and began collecting them over the years. He was for a long time, the only person other than Tichý to see the prints, which were often gifted to him in stacks by his eccentric neighbour.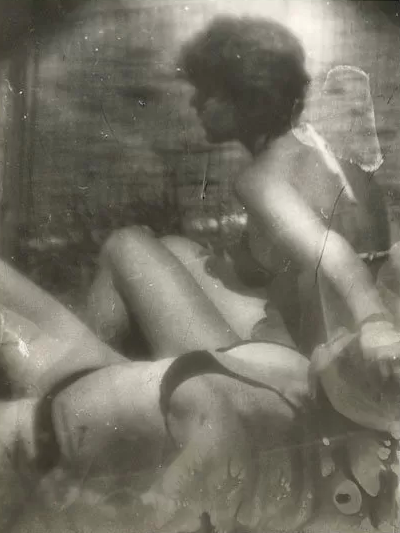 Since his discovery, Tichý never once attended an exhibition and remained an outsider for the rest of his life. He died in the same village where he was born in 2011 at the age of 85.
Tichý reveled the key to his talent:
"First of all, you have to have a bad camera. If you want to be famous, you must do something more badly than anybody in the entire world."