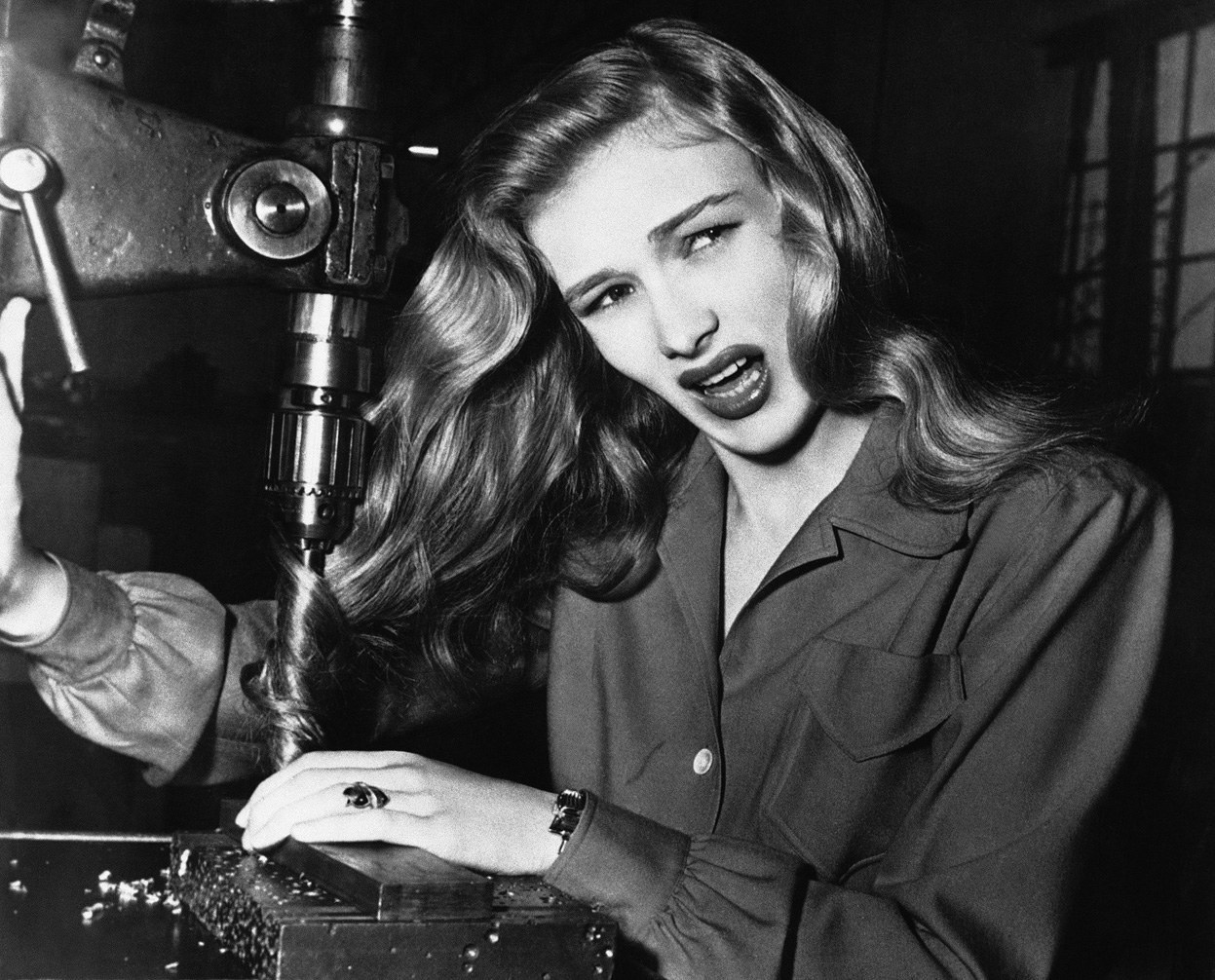 In 1943, Veronica Lake (nee Constance Keane) illustrated what could happen to women war workers in the factory should they fail to tie their hair back.
Lake's hair was her fame and her fortune. It was all about the hair. What she did with hers influenced what others did with theirs.
Lake's hair was famous enough to be referenced in Billy Wilder's 1940 movie The Major and the Minor:
"They all think they're Veronica Lake."
Shadows And Satin take us back:
In 1938, at the age of 16, Constance moved to Hollywood with her mother, stepfather and a cousin, enrolling – mostly due to urging from her ambitious mother – in the Bliss Hayden School of Acting.
The school on 254 South Robertson Boulevard in Beverly Hills was run by prolific husband and wife actors Lela Bliss and Harry Hayden. It's now the site for the The Beverly Hills Playhouse.
She got her first taste of filmdom the following year when she accompanied a school friend, Gwen Horn, to the RKO studios, where Gwen hoped to land a bit part in an Anne Shirley vehicle, Sorority House (1939). Both girls were given roles as extras, and Constance followed these up with bit parts in several other features, including Forty Little Mothers (1940), an MGM film starring Eddie Cantor. Of her appearances in these films, the actress later admitted, "I was so lousy that you could put all the talent I had into your left eye and still not suffer from impaired vision. I was that bad."
While on the MGM lot, Constance met art director John Detlie, who was 16 years her senior. Before the year was out, they would become man and wife. Career-wise, Contstance signed with the William Morris Agency and tested for a role as a nightclub singer in I Wanted Wings (1941) for Paramount producer Arthur Hornblow, Jr.
Of her test, the actress later recalled, "My hair kept falling over one eye and I kept brushing it back. I thought I had ruined my chances for the role….But Hornblow was jubilant about that eye-hiding trick. An experienced showman, he knew that the hairstyle was something people would talk about." She got the part.
Lake – all 4'11" of her –  was mostly hair.
Lisa Waller Rogers explains the look:
Lake's honey-blonde hair – flat on top because women wore hats in the forties – was worn with a deep side parting and swept over to the opposite side. Soft waves draped her cheek and a single S-curl fell seductively over one eye. Long and loose, flowing over the shoulders and down the back, the hairstyle known as the "peekaboo" became a fashion must-have. Women flocked to beauty salons all across the nation to get "The Lake Look." The Fuller Brush Company advertised that Lake gave her hair fifteen minutes of stroking every day with one of their brushes.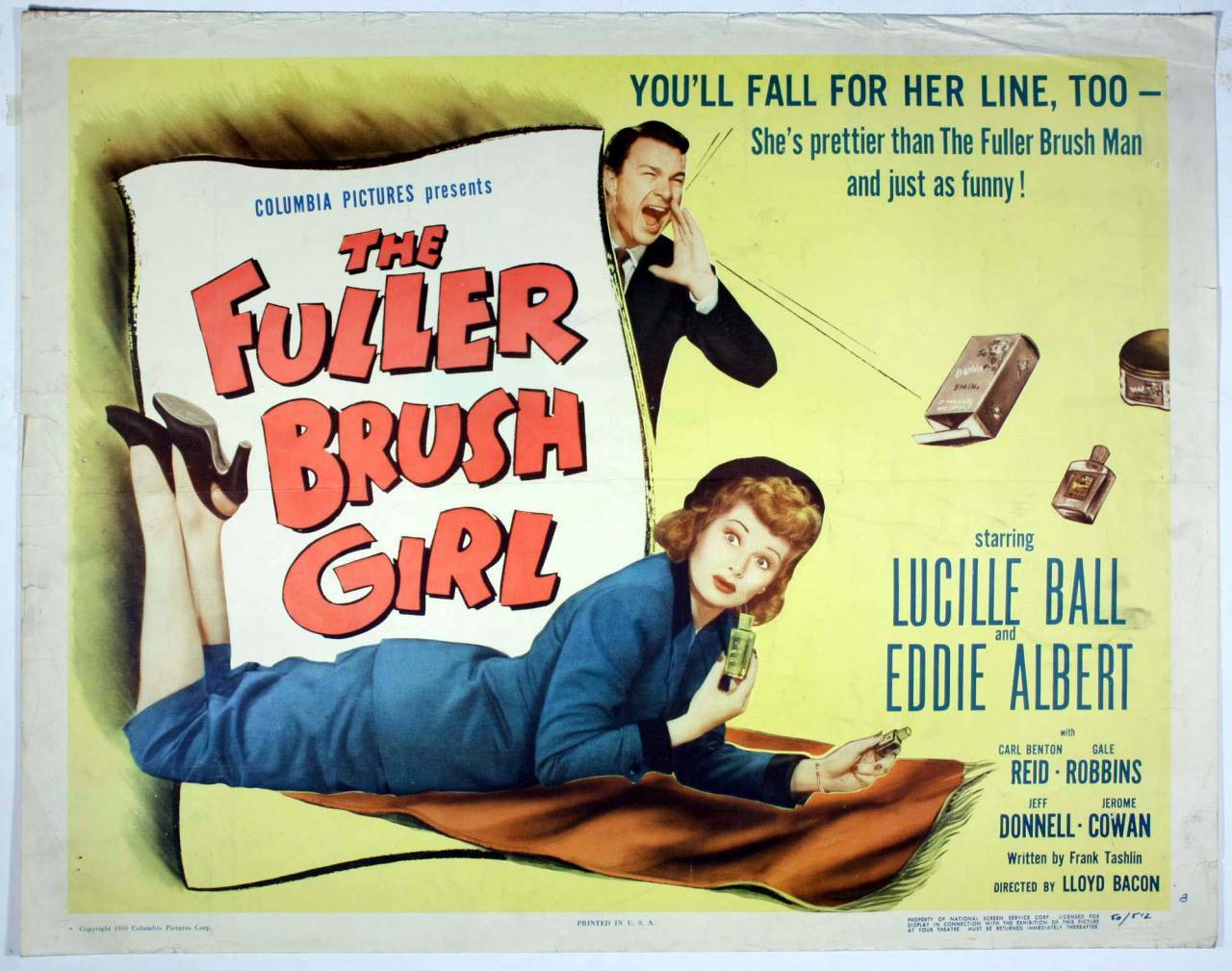 Fuller Brushes were a big deal. In 1950, the company featured in The Fuller Brush Girl, a slapstick comedy starring Lucille Ball and directed by Lloyd Bacon. Animator Frank Tashlin wrote the script. Ball plays a quirky door-to-door cosmetics saleswoman for the Fuller Brush Company.
That was, of course, the sequel to The Fuller Brush Man, a 1948 comedy film starring Red Skelton as a door-to-door salesman for the Fuller Brush Company who becomes a murder suspect.
The woman went bandy for Fuller Brush Man. And he was real – you too could go door-to-door with your dame taming brushes: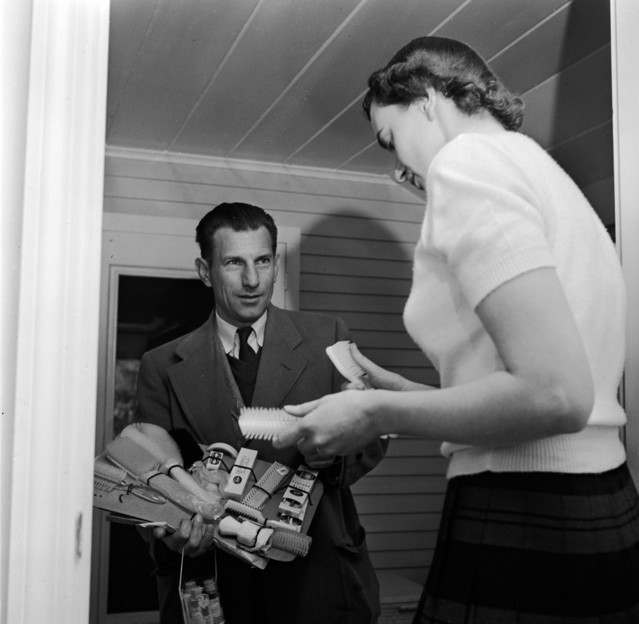 Wowser! When the Fuller brush man comes a'-knockin', Julia Lee gets a-singin':
Fuller were big. And Lake was the brand's face and hair. Hell, Lake was the hair of pretty much anything: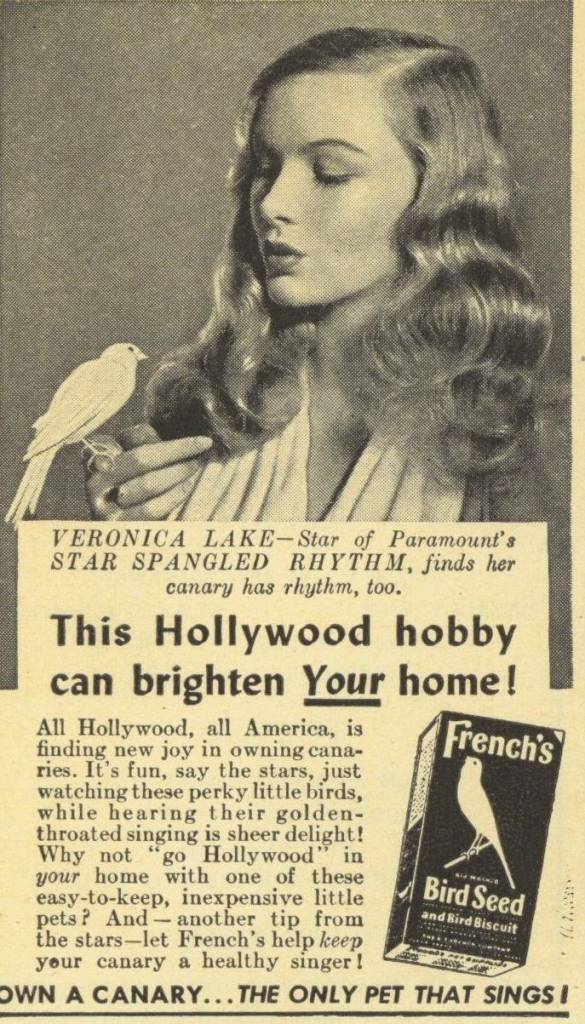 From 1941 to 1943, Life magazine ran five pictorial features on Veronica Lake. In Femininity Susan Brownmiller writes:
Two weeks before Pearl Harbor Life celebrated Lake's hair as a national treasure, divulging the approximate number of hairs on her head (150,000), and reporting that the length was seventeen inches in front and twenty-four inches in back, falling eight inches below her shoulders. The silken cascade…was shampooed twice, treated with oil and rinsed in vinegar each morning. Because the long strands were so fine,  0.0024 inches in cross-section, they tended to snag on buttons and bracelets..
Those hair could also snag on ammunition. In 1943, the US War Production Board considered the look a menace. Lake was invited to tell Life readers:
"Any woman who wears her hair over one eye is silly"
So Lake cut her hair. The Peek-A-Boo Girl' was no more:
Lisa Rogers adds:
At the end of the "Safety Styles" video, the announcer says that, with her new updo, Veronica Lake's "hair is out of the way and combed in a simple and becoming fashion." That fashion was called a "victory roll," making a "V" shape when seen from the back and a "victory" because of the gesture of choosing country over vanity. In the 1943 film, So Proudly We Hail! (1943), Lake wears her hair in a "victory roll" in her portrayal of Lieutenant Olivia D'Arcy. The movie was a success.
Of course, Lake didn't get to thrive in Hollywood by hiding behind her thatch. This is from a magazine in 1944:
"One of the most acute problems in Hollywood is Veronica Lake. Where, and at what precise moment her time-bomb mind will will explode with some deviation from what studio bosses consider normal is an ever-present question. Hence, the grapevine of the movie industry always hums with rumors that unless Miss Lake 'behaves', she will no longer be tolerated, but cast into oblivion."
Her response:
"Women are always trouble to unimaginative men…"
Veronica Lake (November 14, 1922 – July 7, 1973).