The Odd Couples: unlikely pop pairings from the vaults
'It takes two,' sang Marvin Gaye and Kim Weston, but that's the easy part. The question is: which two?
Get it right and it's magnificent – as when Marvin himself met Tammi… (1964)
Get it, wrong, on the other hand, and the results can be disastrous.
Here's a selection of our favourite unlikely pairings. Some of turned out better than expected, and some, frankly, didn't.
Bryan Ferry and Twiggy: Wonderful World (1974)
Sam Cooke's classic never sounded so eggy as it did here, performed on Twiggy's 1974 TV show. Twiggy was a lovely lady, but singing was never her strong suit – despite a lengthy recording career…
Marc Bolan & Cilla Black: Life's a Gas
After performing his manic new tune 'Mad Donna' the elfin one went acoustic with an old favourite from the classic T Rex album Electric Warrior. Cilla remains mercifully restrained and the result is not too bad at all…
David Bowie & Cher (1975)
This unusual musical marriage turned out quite well, as David gets into the spirit of things with a cheesy medley…

… and then a very good rendition of one of his finest ballads, 'Can You Hear Me?'…
David Bowie & Bing Crosby: The Little Drummer Boy
Things did not go so well on this TV special. Bowie hated the gong and pleaded to do something else. And old Bing was brown bread shortly afterwards. Pure coincidence, of course.
Arthur Mullard & Hylda Baker: You're The One That I Want
After John and Olivia's world domination, this tribute/parody was a pleasant palate-cleanser…
Roy Wood & The Wombles: I Wish It Could Be A Wombling Merry Christmas
Roy Wood was a genuine pop genius in his Move days, and his Wizzard were no slouches either, with a string of hits to their name. The Wombles, thanks to their songwriter Mike Batt, also enjoyed some success in the mid-Seventies (occasional Sex Pistol Chris Spedding played a mean Womble guitar too). The Eighties were a different story, though, and the two were merged horribly with this abomination, based on Wizzard's 'I Wish It Could Be Christmas Every Day'…
Ronnie Biggs & The Sex Pistols: No One Is Innocent
Steve Jones is one of the most underrated figures in rock history, and was responsible for several Pistols classics following Johnny Rotten's departure from the band. This thuggish sing-along, recorded in Brazil with the fugitive Great Train Robber, was originally titled 'Cosh The Driver' and received a wholly unsurprising ban from the BBC.
Janie Jones & Joe Strummer: House Of The Ju Ju Queen
The opening song on the first Clash album was named after the legendary singer and brothel-keeper, and here they team up with a pleasingly sleazy tribute to the capital's underbelly…
Prince & Sheena Easton:
U Got The Look
Prince was at the vanguard of pop and soul, and Sheena was the winner of a British reality/talent show and at the cutting edge of Pebble Mill At One. That all changed with the filthy Prince-penned 'Sugar Walls' and this smash hit, taken from the landmark album Sign O' The Times. Here she performs said tracks with some other geezer…
Nick Cave & Kylie Minogue: Where The Wild Roses Grow
These two Aussies came from opposite ends of the musical spectrum, but met agreeably in the middle, with this morbid morsel from Cave's album Murder Ballads…
Ozzy Osbourne & Miss Piggy: Born To Be Wild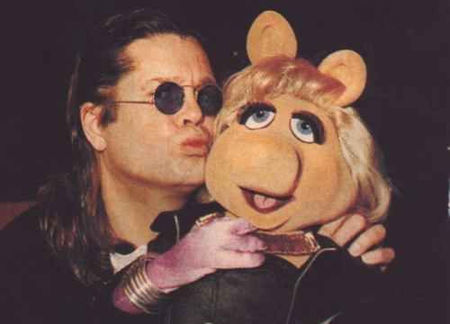 One of the Muppet Show's more memorable musical interlude's saw the pair take on Steppenwolf's biker anthem – and win!…
Gwyneth Paltrow & Huey Lewis: Cruisin'
Smokey Robinson enjoyed a Indian Summer with his wonderful 'Cruisin''. Then this pair ruined it in the service of the film Duets.