In 1955, twenty-four-year-old Jane Funkhouser, an editor at Guide for the Bride magazine, met thirty-one -year-old John Tompkins, a reporter for The Wall Street Journal, at a party on Gay Street in Greenwich Village, New York City. They married and had two daughters together. Here, one of those children, Nancy Tompkins, takes us back to hang out with her parents in 1950s' New York City.
Before we nose around Jane and John's apartment on West 10th Street and imagine living in that time and place, a quick word about the story and how we love to hear from our readers. It began with a painting Nancy posted on Facebook by American magazine illustrator Jon Whitcomb (1906 – 1988). It shows Jane in her wedding gown. Whitcomb, who in 1948 had joined with Norman Rockwell, Ben Stahl, Stevan Dohanos, Al Parker and others to found the Famous Artists' School, an art correspondence school in Westport, Connecticut, wrote from 1948 to 1963 a monthly column for Cosmopolitan magazine on glamour. His portrait of Nancy was used to illustrate his Cosmopolitan story of November 1956, 'Brides Are Big Business'.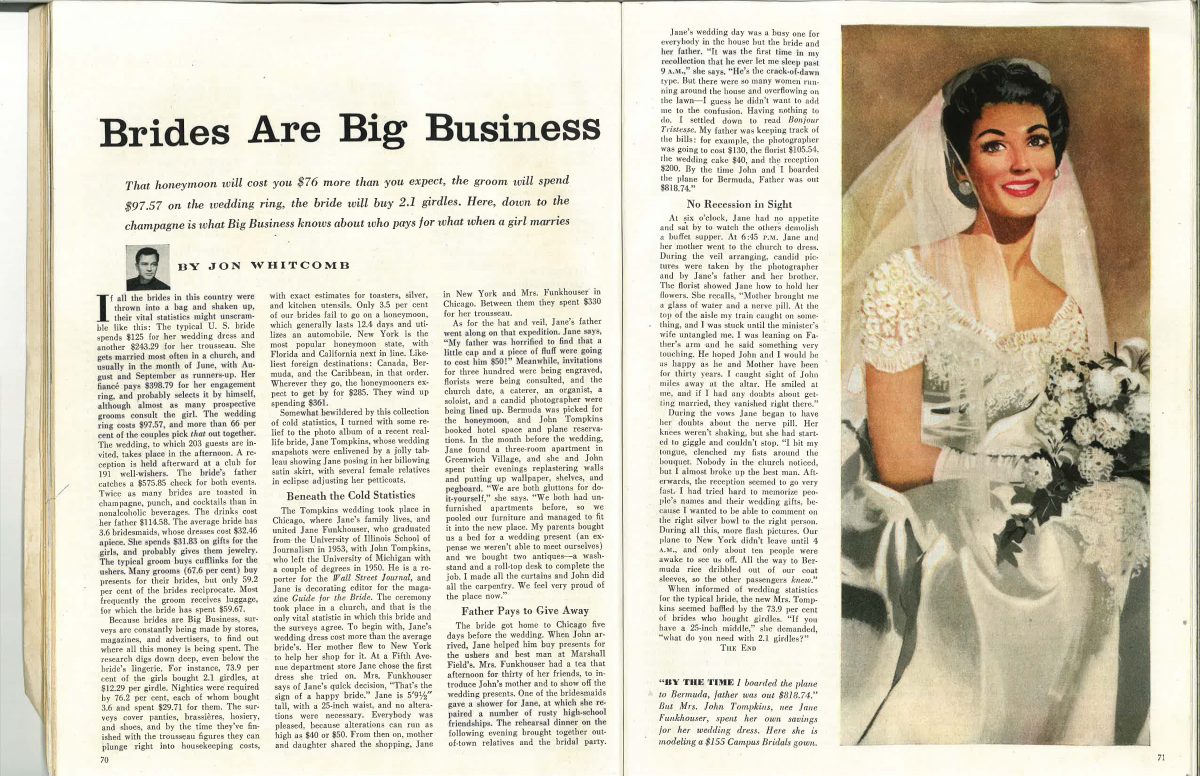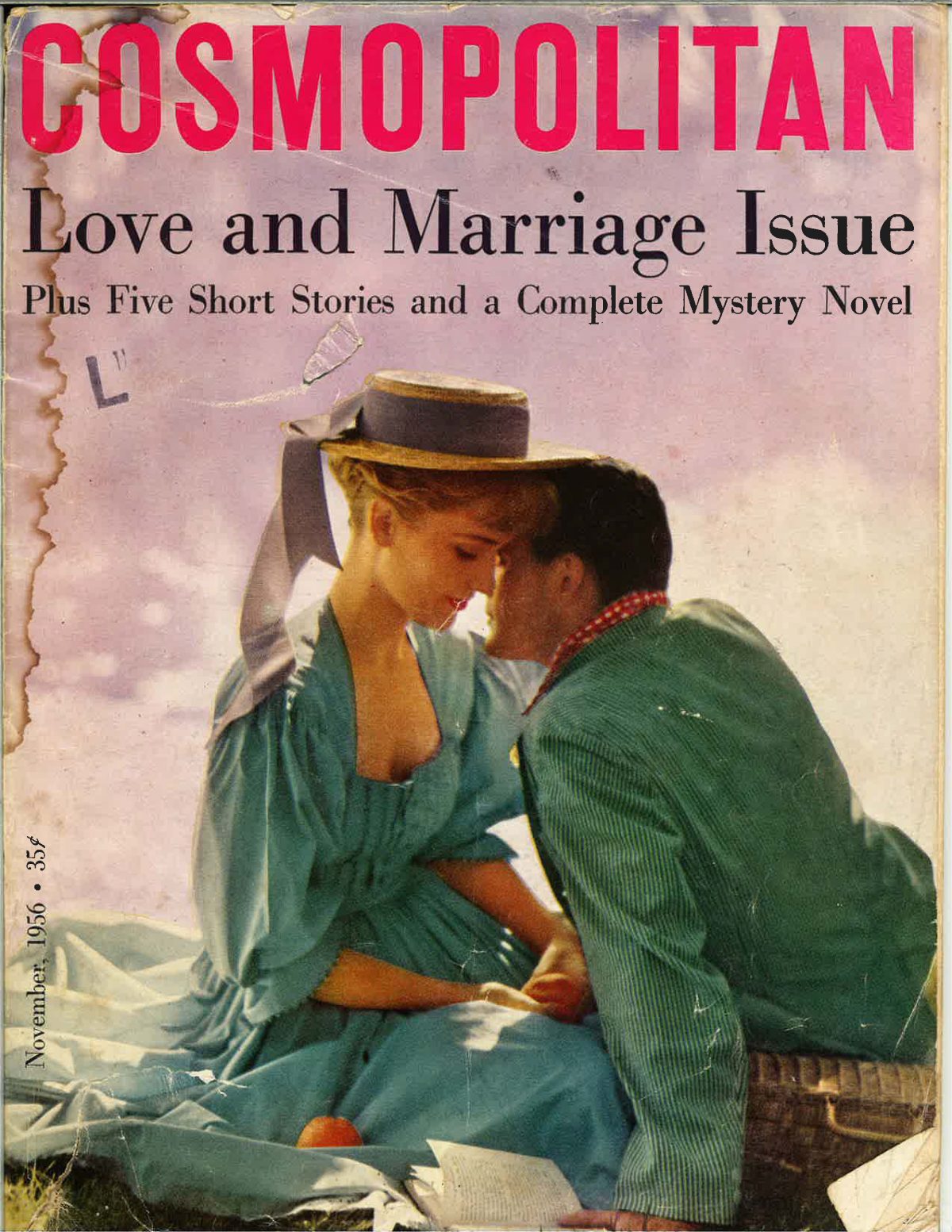 And now, it's over to Nancy:
My parents were transplants from the Midwest: Jane had followed a man named Stanley to New York because he had told her that she was much too sophisticated to be living in Des Moines, Iowa, only to have her heart broken when she arrived in town and discovered he already had another girlfriend. John wanted to be a writer, and writers tended to live in New York. The host of the party on Gay Street took him aside, pointed at Jane and said, "Go talk to that one… she's really special." John was charmed by Jane's  beauty and humor, and she by his intellectual curiosity and quirkiness, and each of them by the coincidence that they had both attended Morgan Park High School in Chicago (although seven years apart.)
During one date early in their relationship they saw the movie version of, Guys and Dolls at the Capitol Theater in Times Square. Both especially liked the lyrics to the title song, which lists all the ways one could tell that a man had fallen in love with a woman:
                   When you spot a John waiting out in the rain
                   Chances are he's insane
                   As only a John
                   Could be for a Jane
They married about six months after they met, not unusual for that era. The wedding took place in Chicago, and the honeymoon in Bermuda. After the wedding a friend of Jane's who worked at Cosmopolitan Magazine asked her if she would like to be profiled in an article about the cost of getting married. She was interviewed and painted by Jon Whitcomb, a well-known illustrator who was known for his glamorous portraits and for his use of gouache (a thick, watercolor-like paint) instead of oil paint. He gave her the portrait as a gift.
The couple moved into a small apartment on the top floor of an 1820s' townhouse on West Tenth Street in Greenwich Village, which they had spent months fixing up before they were married: John building bookcases and furniture and Jane sewing curtains and making rugs. Both of them loved Victorian antiques, which were very unfashionable at the time (1950s' America was in love with the colonial era).
The Village had junk shops and antique stores where they had their pick of the things they loved: an 1870s' German Regulator clock, a brass toast fork with a swan on its handle, an ornate birdcage, and a lithograph of Sarah Bernhardt by Sir William Nicholson. Sometimes they found old furniture that was being thrown out and they would fix it and refinish it (an exercise better known in New York as, "midnight shopping".) Someone Jane worked with once again approached her about having an article written about the cost of decorating the apartment. The article appeared in a magazine called Bride and Home in the winter of 1957.
And now — about the wonderful portrait that Nancy, the daughter of Jane the Cosmo bride rightfully treasures:
If anyone's interested: I'm a painter and elementary school art teacher living in Jersey City, New Jersey and working in Greenwich Village in New York. My social media:  https://www.instagram.com/tompkinspaint/   and https://www.instagram.com/tompkie348/
Thanks, Nancy. If you want to share your story – and please do – you can reach us via this page: Contribute.