THE British New Wave lasted only a few years – say from about 1959 to 1963 and it consisted of little more than seven or eight films. Most of the them were adapted from books or plays written by young contemporary writers such as John Braine, Alan Sillitoe and Shelagh Delaney. A slight relaxation of censorship by the late fifties together with the invention of lightweight portable cameras and faster film stock made it easier for directors such as Tony Richardson, Karel Reisz and Lindsay Anderson to make films on location away from London and the usual film studios. Just as their French contemporaries had done British audiences found this all pretty revolutionary stuff and a cinematic breath of fresh air.
Room at the Top, released in 1959, although set in 1947, was given an 'X' certificate the main reason being because it featured a woman on screen admitting that she had enjoyed sex. Initially the distributors refused to touch it but the ABC chain took a chance and the film went on to become a critical and commercial hit, paving the way for the rest of the 'kitchen sink' British New Wave that soon followed.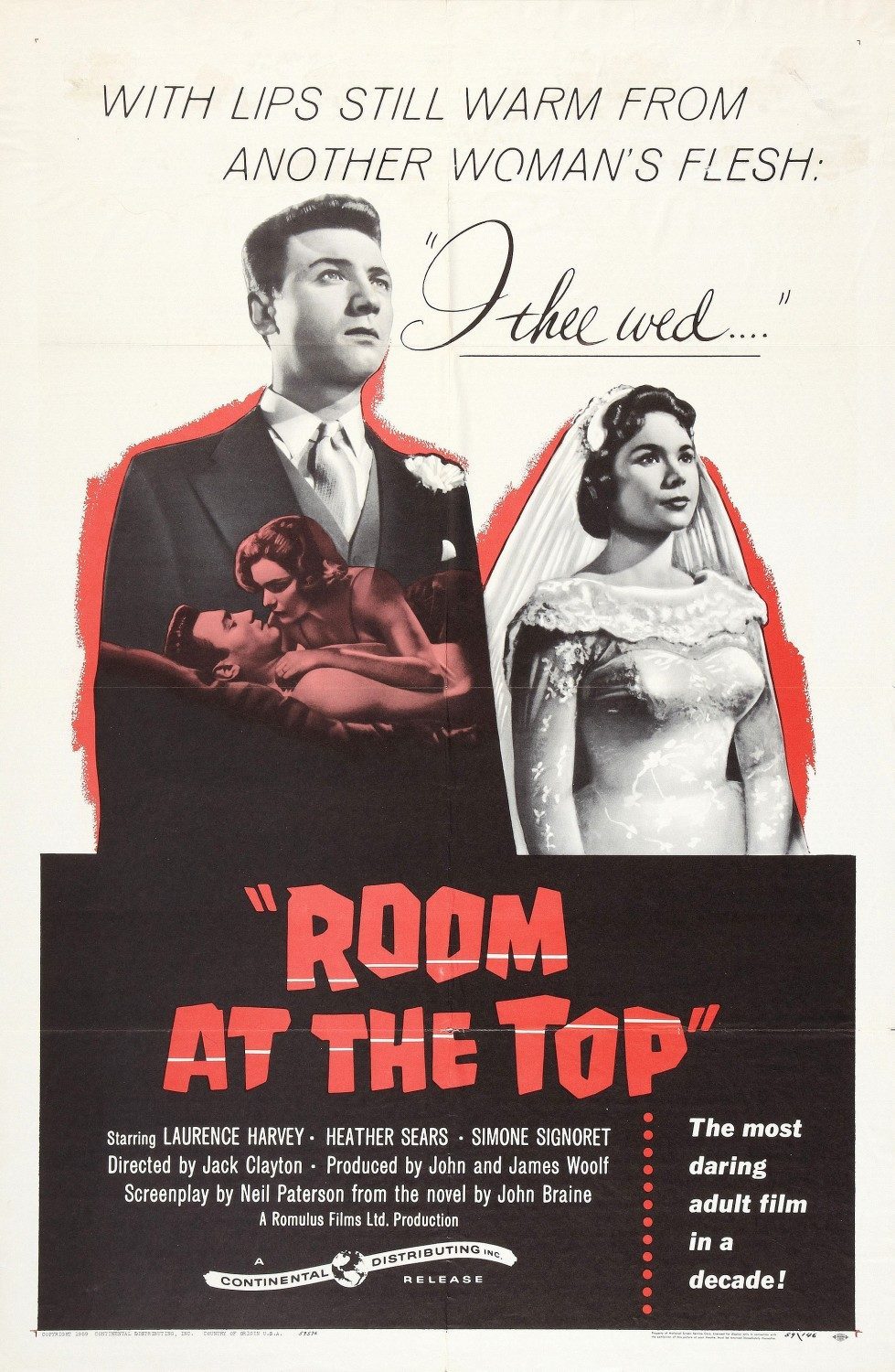 Although he published twelve works of fiction during his life it's fair to say that John Braine is little remembered today for anything but his first novel Room at the Top published in 1957. He was born in a small terraced house near the Westgate area of central Bradford in 1922. The family later moved to the suburb of Thackley when his father got a job at Esholt's Sewage works. The Yorkshire Post described Thackley of the time as "a grim satellite of industrial Shipley, just the sort of place his main Room at the Top character Joe Lampton came from, "where the snow seemed to turn black almost before it hit the ground"'
Braine left St. Bede's Grammar School at sixteen and worked in a shop, a laboratory and a factory before becoming, after the war, a librarian in Bingley, a small town five miles up the Aire Valley. Braine came up with the idea for his first novel while being treated for tuberculosis in a hospital near the Yorkshire Dales town of Grassington. He stated that his favourite author was Guy de Maupassant and that Room at the Top was based on Bel Ami, but that "the critics didn't pick it up".