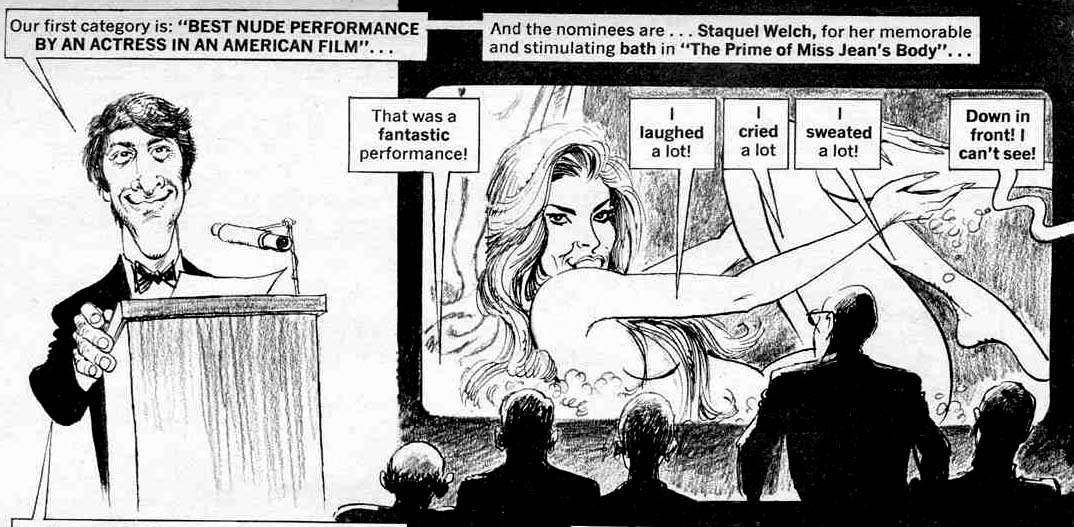 Let me make this perfectly clear – every boy growing up in the seventies read MAD (and Cracked and Crazy – the Heavenly Trinity). And let me make it also clear that these magazines weren't necessarily aimed at minors. Looking back at my old mags, it's interesting to note how inappropriate they were for a young impressionable mind like myself. But then…. they didn't give a shit back then. Children weren't insulated quite like they are today.
Anyway, I've covered this ground before, so I won't rehash it. But, paging through a stack of old MADs, I began to notice a pattern: if there was a sex scene or nude scene in a movie they were spoofing – they were damn well going to include it!
So, here's a handful of panels of cinematic naughtiness from MAD that a generation of us kids grew up on. Be sure to read the speech balloons because they often have a humorous jab at the scene itself. So, enjoy!
The gal in Billy Jack wasn't exactly a looker, if you'll recall. But it was the seventies, and nudity was required.
Who doesn't remember that bit of gratuitous nudity from JoBeth Williams? MAD certainly took note. Here's the next panel…