Al Jaffee's (born Abraham Jaffee; March 13, 1921 – April 10, 2023) was the longest working cartoonist in history. Most of us know him for his work for Mad Magazine, for which he created "Snappy answers to stupid questions" and those brilliant fold-ins.
If you ever got the magazine, you know how it went. If not, the system was simple and tremendous fun. The fold-in turned the back page illustration into a second image that offered a punchline to the first. Simply fold the tabs "so 'A' meets 'B'".
The fold-in was conceived of as the satirical take on expensive-to-produce 4-colour centrefolds. As Jaffee explained in 1997:
Playboy had a foldout of a beautiful woman in each issue, and Life Magazine had these large, striking foldouts in which they'd show how the earth began or the solar system or something on that order — some massive panorama. Many magazines were hopping on the bandwagon, offering similar full-color spreads to their readers. I noticed this and thought, what's a good satirical comment on the trend? Then I figured, why not reverse it? If other magazines are doing these big, full-color foldouts, well, cheap old Mad should go completely the opposite way and do an ultra-modest black-and-white Fold-In!
The first MAD magazine fold-In spoofed public perception of actress Elizabeth Taylor as a man-eater. Jaffe had figured it as a one-issue gag, but MAD editor Al Feldstein had other ideas, demanding a follow up for the June 1964 issue.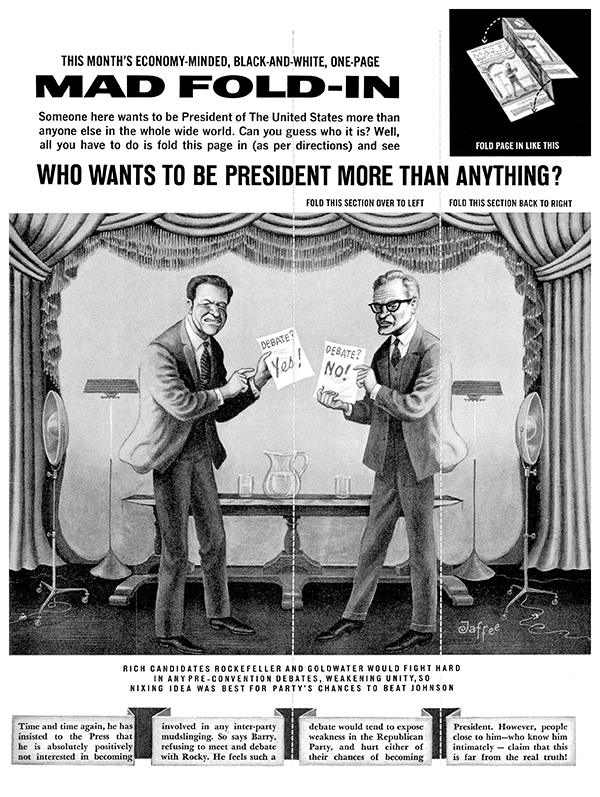 In an interview with Sean Edgar of Paste Magazine, Jaffe described how he turned a Republican primary stage shared by Nelson Rockefeller and Barry Goldwater into a portrait of the man who would become president five years hence:
The first thing I did was draw Richard Nixon's face, not in great detail, just a very rough establishment of where the eyes, nose and mouth would be, and the general shape. I did an exaggerated caricature of Nixon and then I cut it in half, and moved it apart. Once the face was cut in half, it didn't have the integrity of a face anymore — it was sort of a half of face. Then I looked at what the eyes were like, and I said, 'what can I make out of the eyes?' He had these heavy eyebrows. I played around with many things, but I had to keep in mind all the time what the big picture was. So there they (Goldwater and Rockefeller) were up on a stage somewhere, doing a debate, and I thought, 'What kind of stage prop can I put alongside these guys that would seem natural there?' I decided that I could make eyes out of the lamps, and as far as the nose was concerned, that could come out of the figures — their clothing. Then I figured the mouth; I could use some sort of table that could give me those two sides. That's how it all came about. You have to have some kind of visual imagination to see the possibilities. I had to concentrate on stuff that looked natural on a stage.
How the fold-in came to be is a story about Jaffee's curiosity, intelligence and childhood. The Jewish-American story is typically one of people moving from Europe to the US. Jaffe went the other way. Born in Savannah, Georgia, his mother took him back to the shtetl in Zarasai, Lithuania, and left his father behind in the USA. At age 12, he returned to America. His mother remained, believed to have been murdered by the Nazis a few years later.
Time were tough in Lithuania, where he and his brother were forced to invent their own toys. As Mary-Lou Weisman notes in Al Jaffee's Mad Life: A Biography: "This childhood pleasure of making things from virtually nothing would turn Al into a lifelong scavenger and inventor who prefers homemade to store-bought."
The interest in comics was spawned by Jaffee's father, who'd send Al American comic strips rolled into cardboard tubes. In 1936, Jaffee's teachers at the Bronx's Herman Ridder Junior High School tested Jaffee's class for arts aptitude, and sent him on to art school, along with his classmate, Wolf William Eisenberg – who would later change his name to Will Elder.
Here there are in 1936, goofing round in the high-school canteen: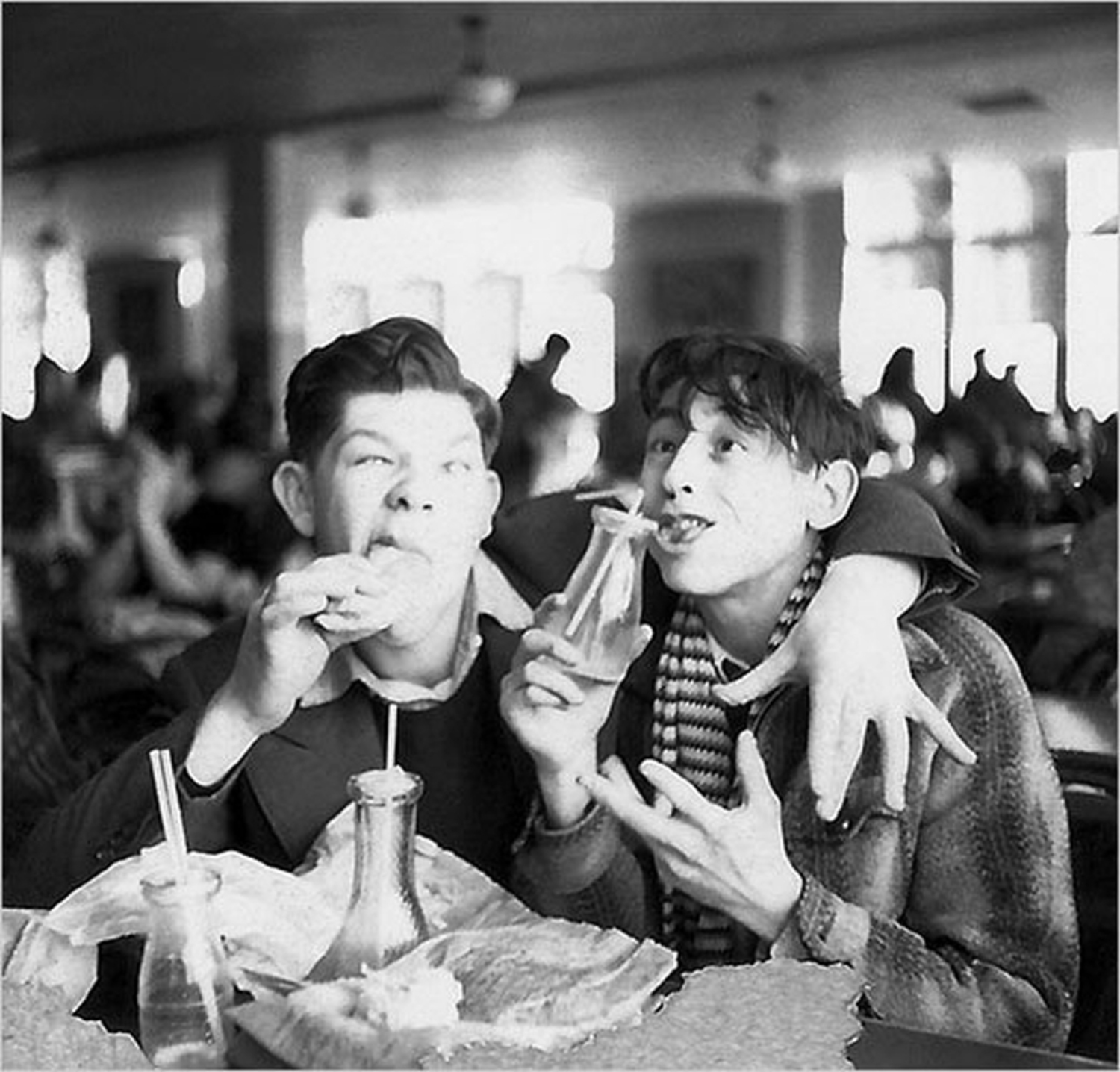 Al Jaffee – March 13, 1921 – April 10, 2023.