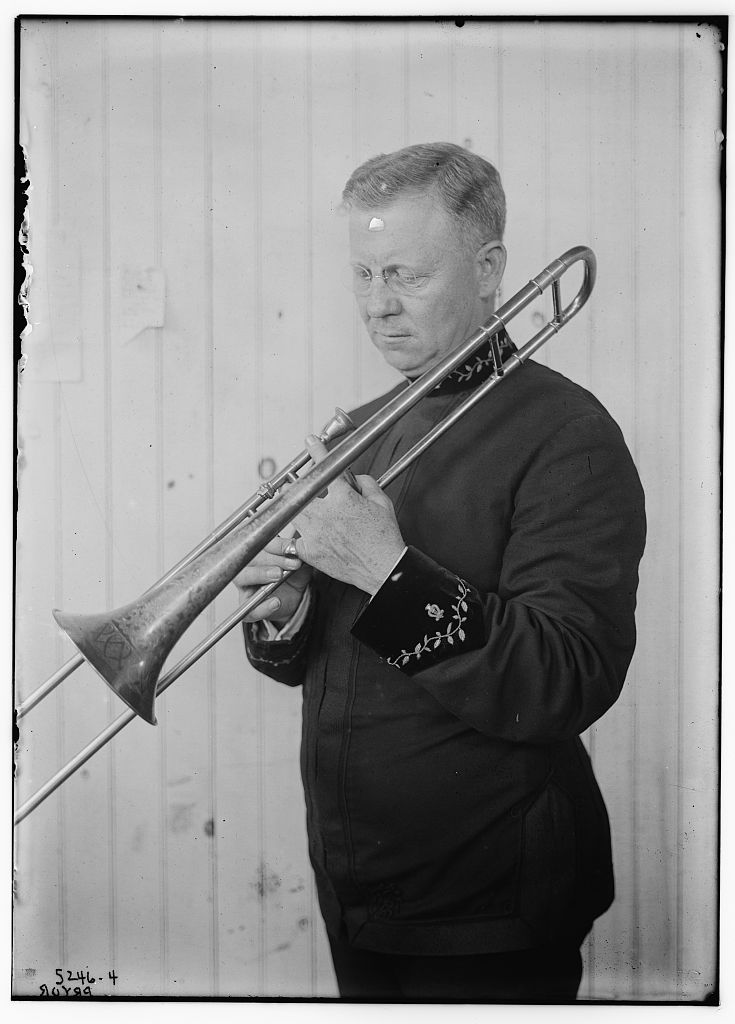 On 27th July, 1897, trombonist Arthur Pryor (September 22, 1869 – June 18, 1942) was in New York City making the record 'There'll Come A Time..
What helps to make this recoding remarkable is not only its age and quality, but the fact that as Arthur plays, you can hear the crowd outside his window.
Arthur, a child prodigy, was born on the second floor of the Lyceum Theater in Saint Joseph, Missouri. The son of Samuel Pryor, a bandmaster and founder of the Pryor band in which Arthur played with his older brother Walt (cornet) and younger brother Sam (drums).
He earned a place in John Philip Sousa's band in 1892, playing his first solo with them during the 1893 World's Columbian Exposition in Chicago.
By way of an aside, Sousa is best remembered for the sousaphone, a modified helicon created in 1893 by Philadelphia instrument maker J. W. Pepper at Sousa's request, using several of his suggestions in its design. Sousa wanted a tuba that could sound upward and over the band whether its player was seated or marching.
During his 12 years with the Sousa Band, Pryor toured the the USA and Europe, performing before King Edward VII and Czar Nicholas II. In 1902 after the death of his father, Pryor ended his association with Sousa and took over the reorganized Pryor band, which made its debut at NYC's Majestic Theatre on November 15, 1903.
For 30 years thereafter, Pryor's band was an American mainstay. The Pryor Band toured until 1909, when he decided to settle down in Asbury Park, New Jersey.
Also at this time, he became a staff conductor and arranger for the Victor Talking Machine Company in Camden, New Jersey. He organized a second band that played at the entertainment complex of Coney Island for a number of years.
Pryor retired from full-time conducting in 1933. On November 7 of that year, he was elected to the Monmouth County Board of Chosen Freeholders, serving a three-year term in office.
By way of for more content for this recording, it's just twenty years since Thomas Edison first recorded sound. Earlier in 1897, Bram Stoker's Dracula was published in London, William McKinley had become 25th President of the United State, Oscar Wilde was released from Reading gaol, Queen Victoria of Great Britain had celebrated her Diamond Jubilee and Guglielmo Marconi had sent the first ever wireless communication over open sea when the message "Are you ready?".
Now take it away, Arthur Pryor…
Lead Image: Pryor with his trombone in 1920