Let's face it, it wasn't too hard to sell a highly addictive toxin in the old days. There were virtually no restrictions and the movies helped out, making it seem like the coolest thing a human being could do. Still, there was marketing to be done. Tobacco companies didn't want this carcinogenic gravy train to run out of steam, so they employed all the tricks of the trade. Let's have a look at some interesting examples of these tricks and cleverly devised strategies…
1. YOU WILL BE THE ENVY OF MANY AND A LEGENDARY CHICK MAGNET
If I had a nickel for every time someone lit up a pipe at a party and mobs of people became infused with envy and arousal….. I'd have approximately zero nickels.
This is the time-honored advertising technique of making the consumer think he will be the envy of the world when he uses your product.  In this case, their highlighting, underlining and bold facing the quality of pipe smoking that sets it above cigarette smoking – the fact that it doesn't smell like a filthy ashtray.
Is it just me, or does the sight of this guy smooching with a pipe sticking out of the corner of his mouth look a bit comical?
2. BENSON & HEDGES LAUGHS AT THEMSELVES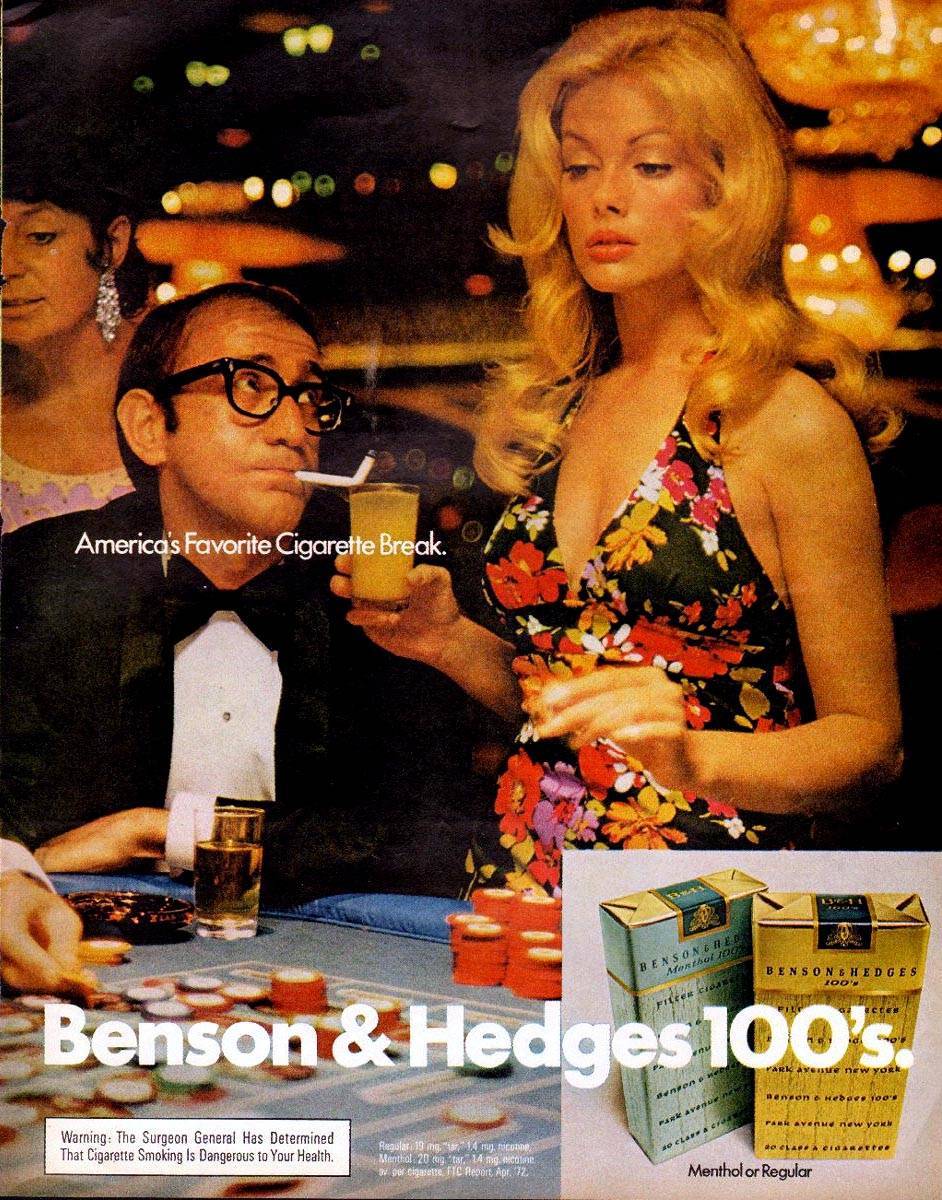 In 1967 Benson & Hedges unleashed unto the world the 100's – a longer cigarette.  To promote their new product, they came up with one of the most celebrated advertising campaigns of the 1960s-70s – the iconic broken cigarette (the cigarette break).  It sort-of poked fun at themselves, and seemed to never get old – tobacco marketing magic was born.
I don't know of another brand which employed the self-deprecating humor technique – it's a hard approach to navigate because you're in constant danger of turning consumers away.

It actually is quite funny, and made even better by the background music, "The Disadvantages of You" by The Brass Ring – one of elevator music's all time greats.
3. COMIC BOOK PIZZAZZ MAKES TOBACCO ADVERTING FUN!
We've discussed Doral's propensity to use comic book style advertising (Carcinogenic Comics: Doral Cigarette Ads For Kids), but they were by no means the only tobacco company to do it.   This 1933 Camel advert delivers a 1-2 punch for the kiddies: a comic book look and MAGIC!  I actually found the magic trick at the end rather interesting.
How many kids were tempted to try Prince Albert? Probably not too many; so, it may be unfair to proclaim that an advert is targeting kids just because it's in a comic book format.  Whatever the motive, this style was banned in the US…. although, after a bit of research, I can't find evidence of the ban.  In other words, Doral and others continued to churn out comic panels throughout the decades, then one day (sometime prior to the 1980s) they were gone.  Cigarette advertising was clearly outlawed in comic books themselves; however, when the format was banned (or highly discouraged) is unclear.
4. CANCER IS FOR WOMEN TOO
"You've come a long way, baby" is another highly successful, long-running campaign – this one specifically targeting female smokers.  Exactly ten years later (from when the advert above was released), the fashions have changed, but it's still going strong…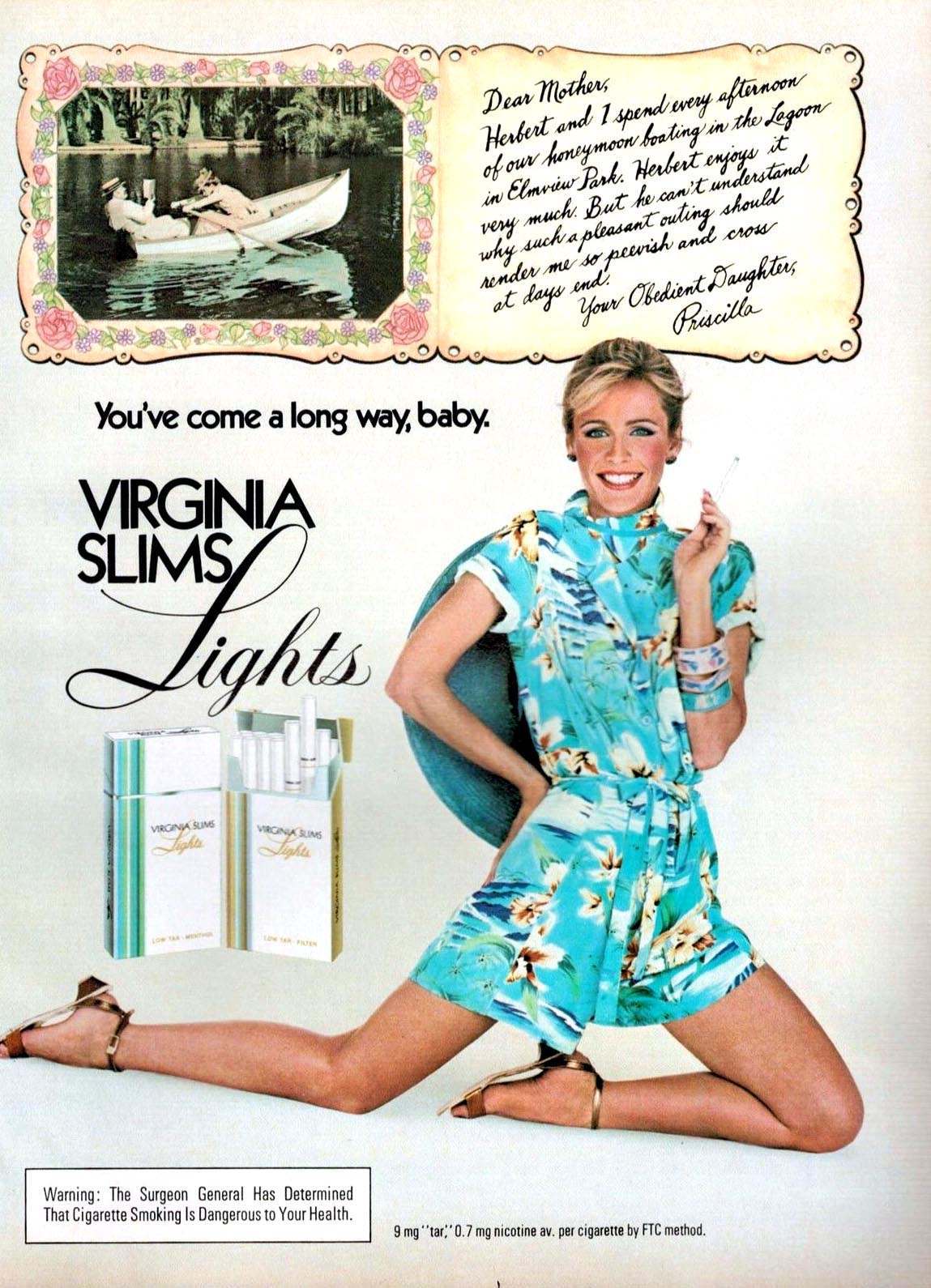 Interestingly, Virginia Slims has the distinction of being the very last cigarette TV commercial aired in the United States (broadcast on the Johnny Carson Tonight Show at 11:59pm on January 1, 1971).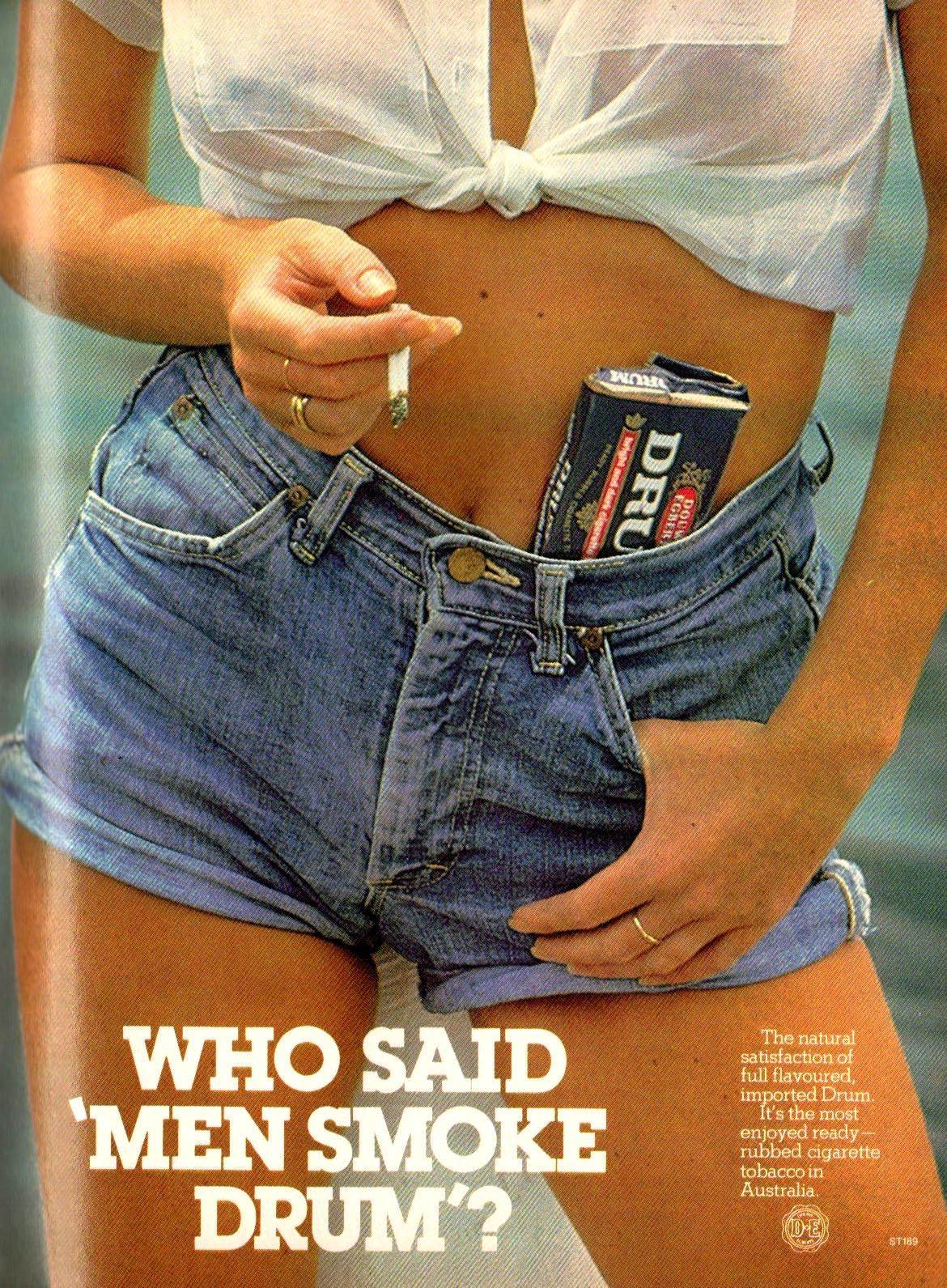 Virginia Slims was marketed exclusively for women – no self-respecting male smoker would be caught dead with one in his hand.  However, other tobacco companies tried to target both genders simultaneously as evidenced by the Drum ad above and the Kool commercial below…
"Lady Be Cool" wasn't perhaps as iconic as the Virginia Slims and Benson & Hedges hook…. but it was better than their "Willie the Penguin" adverts – Kool's mascot from the early days.  The less said about Willie the better.
5. FANTASTIC PRIZES!
Many will remember that coupons and giveaways were a huge incentive – from "Camel Cash" to Belair coupons, it seemed every brand had its own prize reward system to keep folks puffing.
Willie the Smoking Penguin says, "Save 'em for stunning gifts!"
6. OUR BRAND IS FOR THE IN-CROWD; EVERYONE ELSE IS A HOPELESS LOSER
Camel had a slightly mean-spirited campaign in the 1970s where non-Camel smoking people were shown to be pitiably retarded.  Meanwhile, the Camel smoker, clearly an ubermensch, stands alone among the crowd of confederacy of dunces.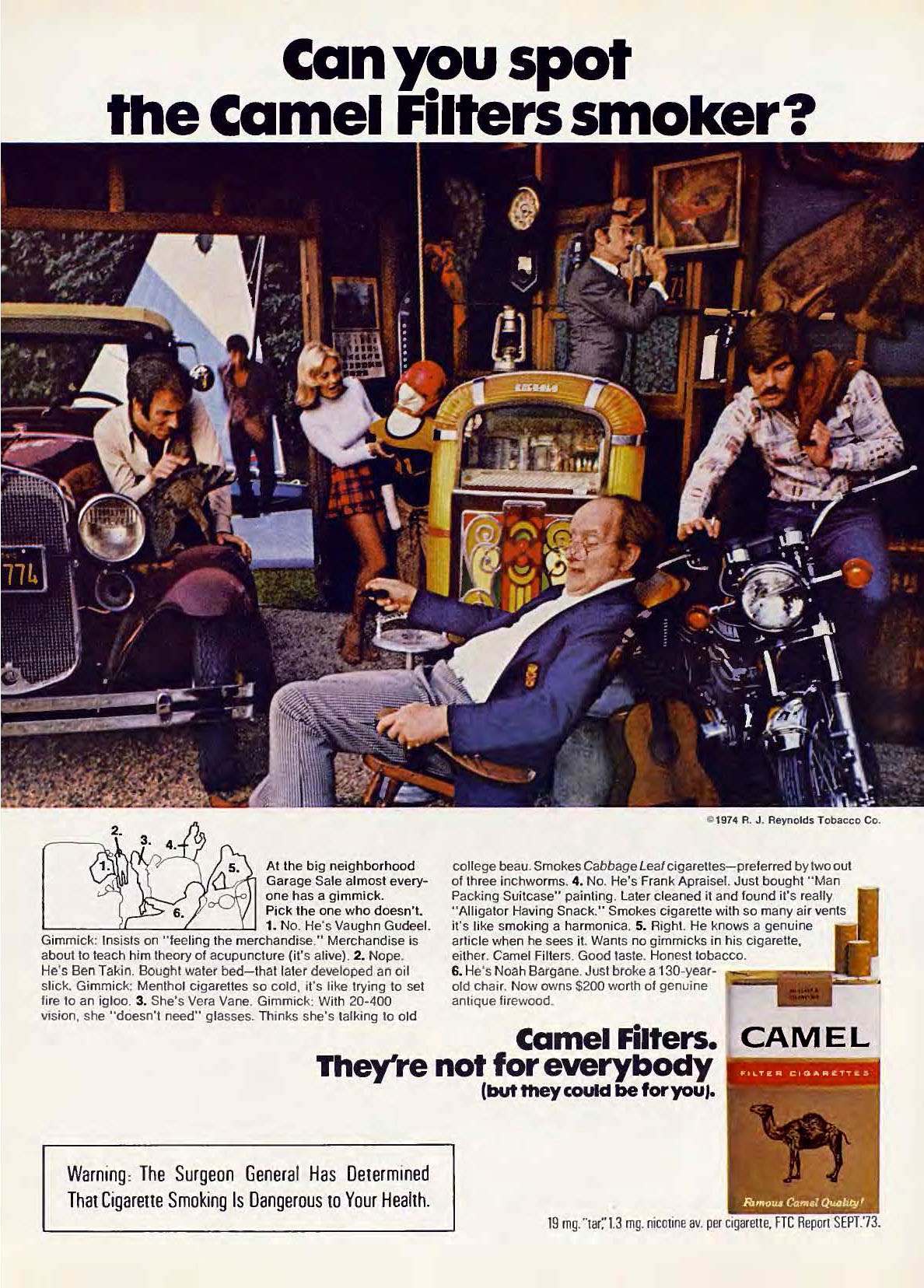 7. TOBACCO IS NATURAL – A HEALTHY BLESSING FROM MOTHER EARTH
The whole "9 out of 10 doctors choose…" shtick had been outmoded by the late 1960s. It was time to get a little creative and subtle to make smokers think smoking was somehow healthy.  Logically, consumers knew the very idea that puffing a fag was a healthy choice was preposterous; but the subliminal notion that tobacco is "natural" was planted.
Prior to the 1960s, it was "game on" for promoting cigarettes as a "health food".  It seems ludicrous today, but it was common to see adverts extolling the healthy benefits of smoking….
They even aid in digestion!
8. SEX SELLS TOBACCO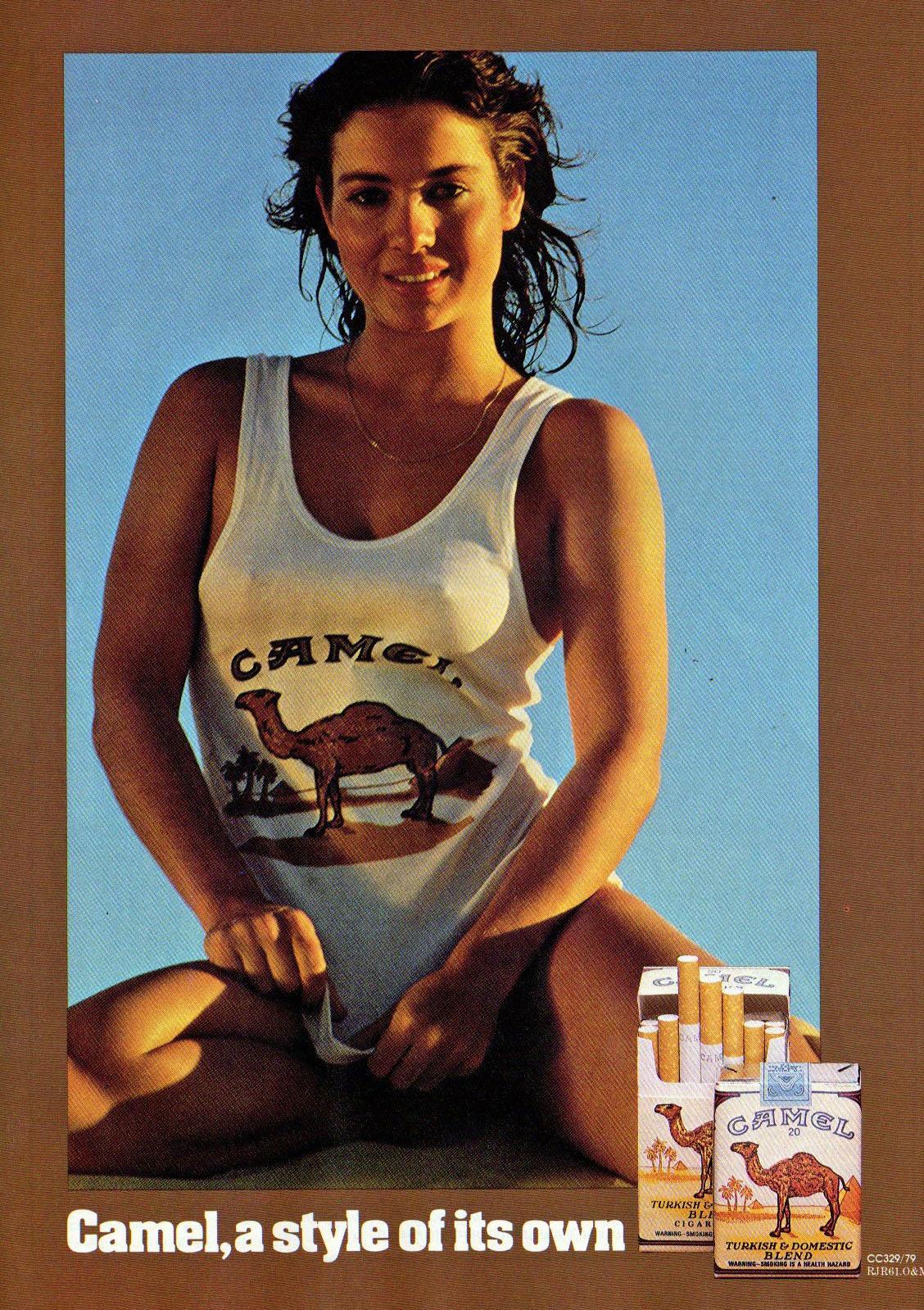 Let's face it, sex sells just about anything.  However, tobacco companies (along with their booze shilling counterparts) took the technique to new heights.  We've covered this before (Sex Sells Tobacco: 10 "Smoking Hot" Vintage Adverts), so I won't belabor the point.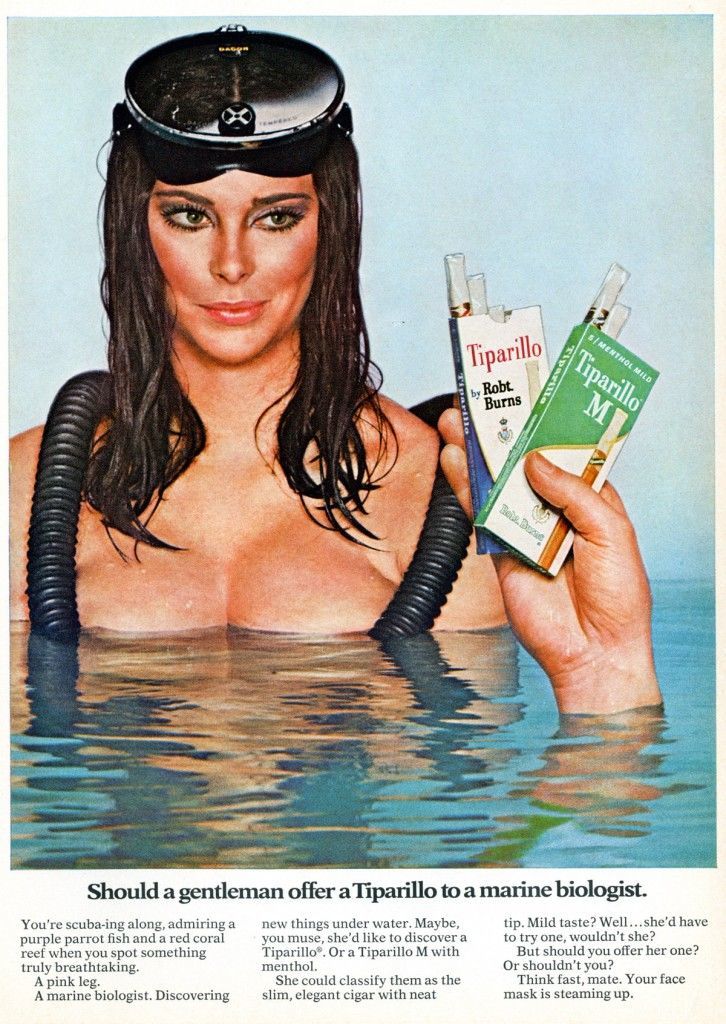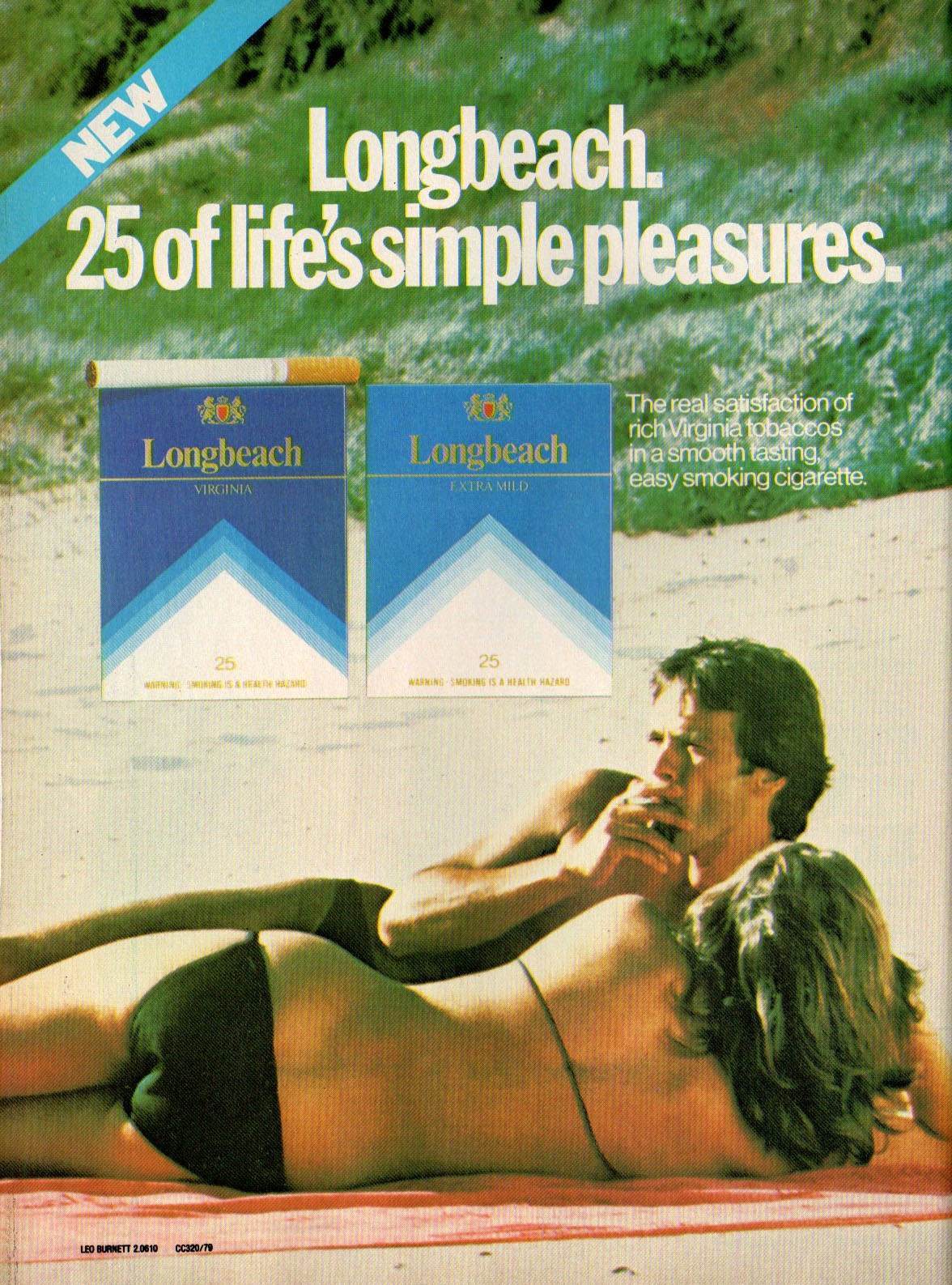 9. SELLING IT SUBLIMINALLY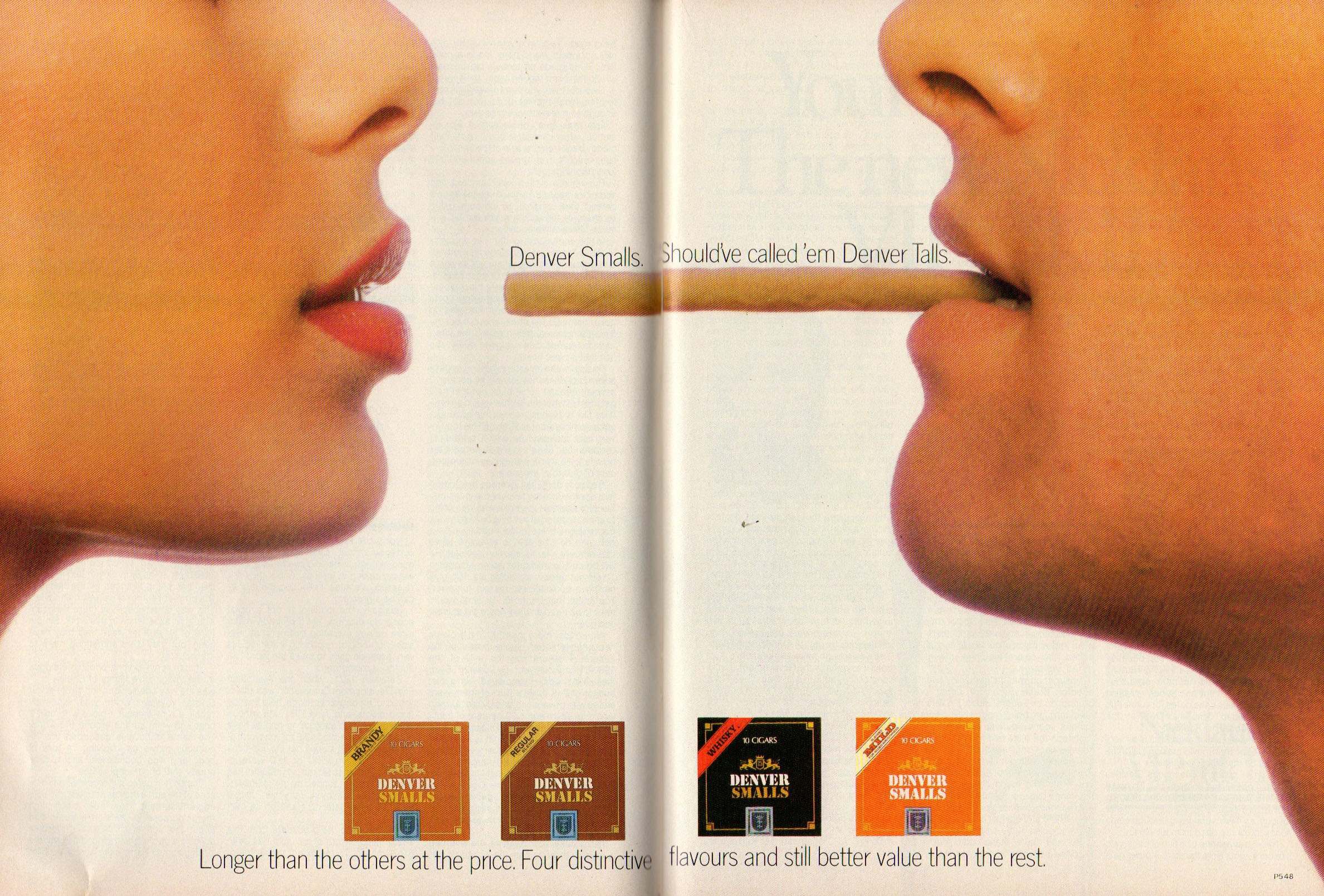 The tobacco product as subliminal phallus was a common trick.  I'll just add that Newport had everyone beat in this clever technique by a mile (see Alive With Pleasure! Insanely Sexual Newport Adverts of the 1970s-80s).
10. GLOBETROTTING SMOKERS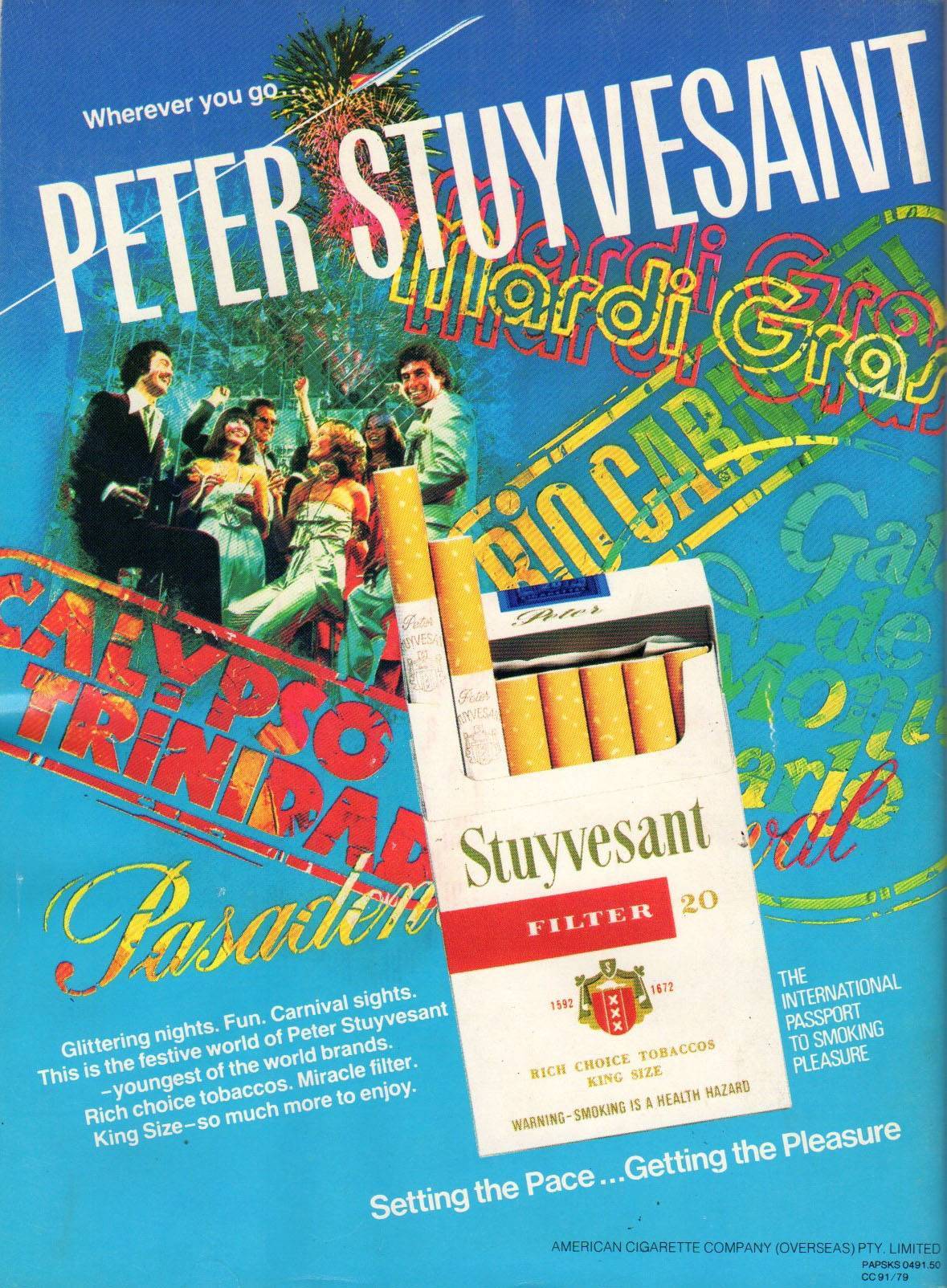 I'm not sure why so many tobacco adverts made it a point to show that world travelers are big-time smokers.  Perhaps to erase the mental picture of a sad smoker sitting at home alone.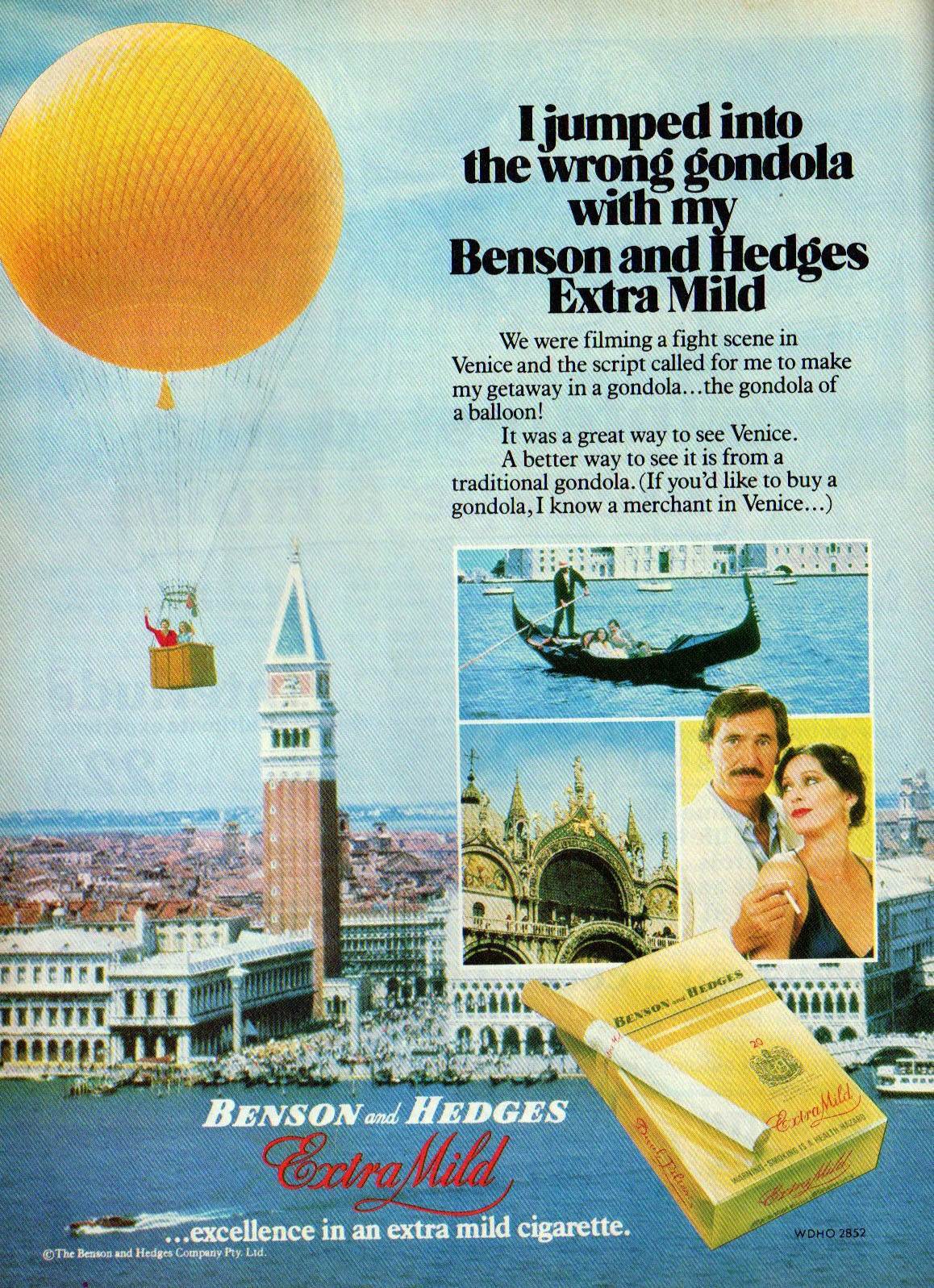 Jesus.  How many times can he say "gondola"?  Surely this is some kind of record.
11.  LET'S JUST LOGICALLY REASON THIS OUT…
As a final example, it seems Vantage just got tired of the trickery.  Instead, of phallic symbols, faux health guarantees, shady prize giveaways, and psychological manipulation they just laid all the cards on the table, and said, "let's just talk this thing through."  I don't think the technique worked, but a here's points for trying.