AFTER Hillsborough and the deaths of 96 Liverpool fans at the FA Cup semi-final, the Reds played the final. They won, beating Everton 3-2 in extra time at Wembley Stadium.
After the horrors of Hillsborough, the cage around Wembley had been removed. When Everton scored their equaliser with virtually the last kick of normal time, Blues fans celebrated by running onto the pitch.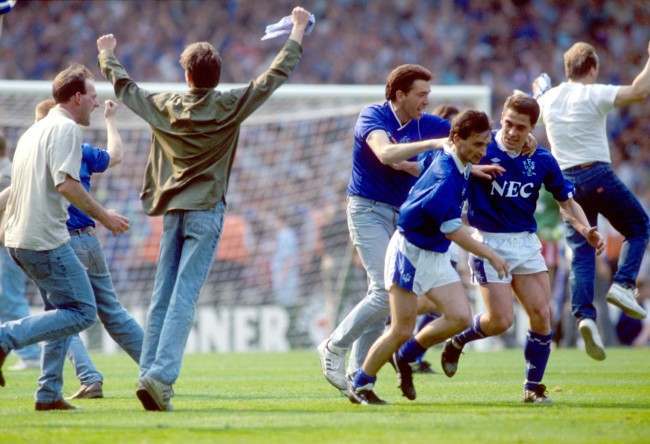 Everton's Pat Nevin tried to get the fans to leave the pitch.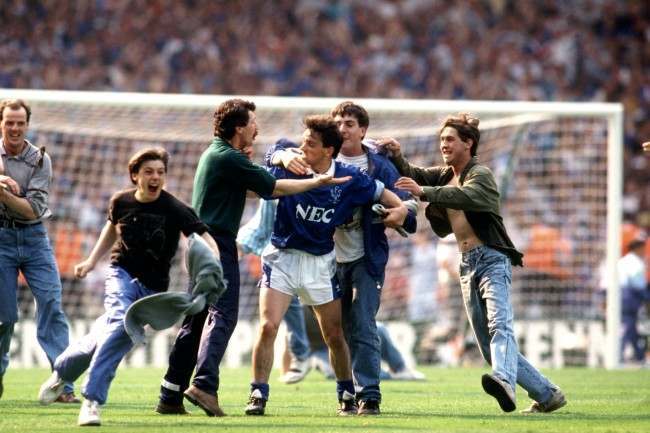 For crowd-on-the-pitch action, you can fast forward the video below to 1hr 39mins; 1 hr 52 mins and 2hrs 11mins.
BBC commentator John Motson shook his head at the unruliness. But was it that bad? Pitch invasions can be annoying. They can be violent. But when they are the celebration of a goal or victory, they can be joyous. Many celebrating fans want to be on the pitch. I'm one of them.
Indeed, the greatest moment in English football is memorable for a wonderful piece of commentary that owes some of its magic to the pitch invasion:
Some people are on the pitch….
The BBC liked pitch invasions so much it created a TV show called They Think It's All Over. Here's a section from it featuring BBC employees feeling up a woman for laughs:
But that was then. This was the 1980s, when football fans were "slum people" who needed caging and made to carry ID cards. So bad was it that the Daily Mirror led with a picture of the rabid hooligan element marauding onto the hallowed turf. Run, Kenny Dalglish! Run for your life!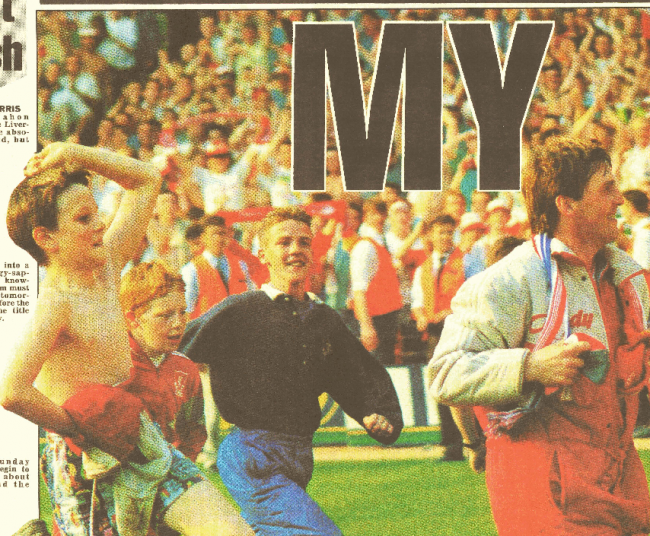 Just in case readers thought the pitch invasion wasn't all that bad, or had been in any way enjoyable, the Mirror's  Nigel Clarke brought news of the "stain on a day of glory".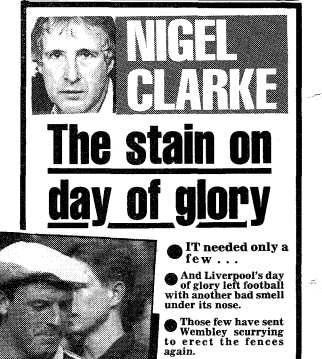 This was typical reporting of its time, giving the readers what they expected. We all know how the Sun gave the dead a good kicking: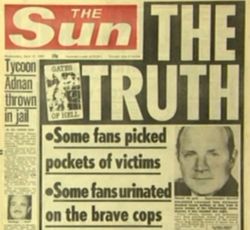 But it was reporting in keeping with the view of football fans as scum. The Sun went on its famous flight of fancy:
The Truth; some fans picked pockets of victims; some fans urinated on the brave cops; some fans beat up PC giving kiss of life. "Drunken Liverpool fans viciously attacked rescue workers as they tried to revive victims of the Hillsborough soccer disaster, it was revealed last night. Police officers, firemen and ambulance crew were punched, kicked and urinated upon by a hooligan element in the crowd.

"Some thugs rifled the pockets of injured fans as they were stretched out unconscious on the pitch. Sheffield MP Irvine Patnick revealed that in one shameful episode a gang of Liverpool fans noticed that the blouse of a girl trampled to death had risen above her breasts. As a policeman struggled in vain to revive her, the mob jeered: 'Throw her up here and we will **** her'"
Take this from the Liverpool Daily Post:
So it was at Hillsborough that the yobs made enough nuisance of themselves to convince the police that so-called gates of Hell were opened… the gatecrashers wreaked their fatal havoc. At best it was unfettered zeal. At worst it was uncontrolled fanaticism and mass hysteria which literally squeezed the life out of men, women and children. This was yobbism at its most base. People without tickets who had no right to be there were crushing to death their fellow Scousers. When it comes to apportioning blame, the accusatory finger can also be pointed at Liverpool. Scouse killed Scouse for no better reason than 22 men were kicking a ball.
The Star went with: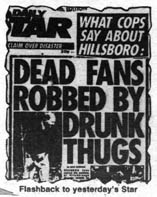 All of it utter balls, of course. And all of it just what the State wanted.
(And on it went. In 2010, to help Bostonians make sense of Boston Red Sox owner John Henry's acquisition of Liverpool FC, Alex Beam wrote in the Boston Globe: "Two months ago, Red Sox owner John Henry and his partners in New England Sports Ventures purchased Liverpool FC, historically one of Europe's greatest soccer teams… For now, the Red Sox PR machine is pumping out happy news about Henry's visits to grotty Liverpool… Even by the deranged standards of European soccer, Red fans are totally bonkers. Their excitable Internet fan sites are still agonizing over a 21-year-old soccer riot that killed 96 people.")
Clarke was watering fertile ground.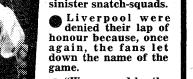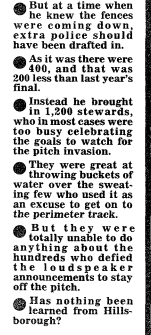 To comment on that final question, which appears to be rhetorical, the answer is 'no' – the powerful were still presenting football fans like scum.
Read: Hillsborough: 96 Liverpool Fans Killed By 'A Slum Sport Watched By Slum People In Slum Stadiums'