On Christmas Day 1977, the Sex Pistols treated the kids of Huddersfield to the Sex Pistols Christmas Party. All the cool children were at Ivanhoes to see the Pistols play a benefit show for the families of striking firemen and miners.
Johnny Rotten served cake to the children of striking miners. They did the right thing: they picked it up threw it in his face.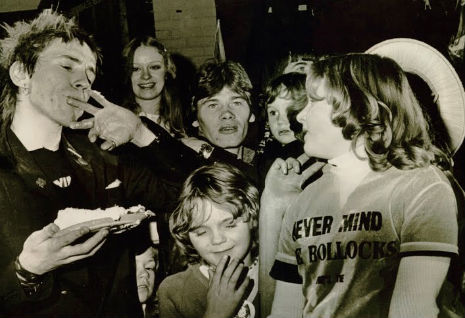 Says John Lydon (nicknamed 'Johnny Rotten' by the band's Steve Jones on account of his teeth):
"Fantastic. The ultimate reward. One of my all-time favourite gigs. Young kids, and we're doing Bodies and they're bursting out with laughter on the 'f*ck this f*ck that' verse. The correct response: not the shock horror 'How dare you?' Adults bring their own filthy minds into a thing. They don't quite perceive it as a child does. Oh, Johnny's used a naughty word. Bodies was from two different points of view. You'll find that theme runs through a lot of things I write like Rise – "I could be wrong, I could be right". I'm considering both sides of the argument, always.
Jez Scott was there:
Johnny Rotten came out in a straw hat and they had a cake with Sex Pistols written on it, the size of a car bonnet. He started cutting it up but it soon degenerated into a food fight. He was covered head to foot. It was fantastic. I took a photo of Steve Jones, who did a rock'n'roll-type pose. I took one of Sid and he asked, "Do you want to put Nancy [Spungen] in as well?"

Eventually the Pistols came onstage. I think they only played about six songs. I remember they did Bodies, but omitted the swear words because of the children.
The story gets better with age.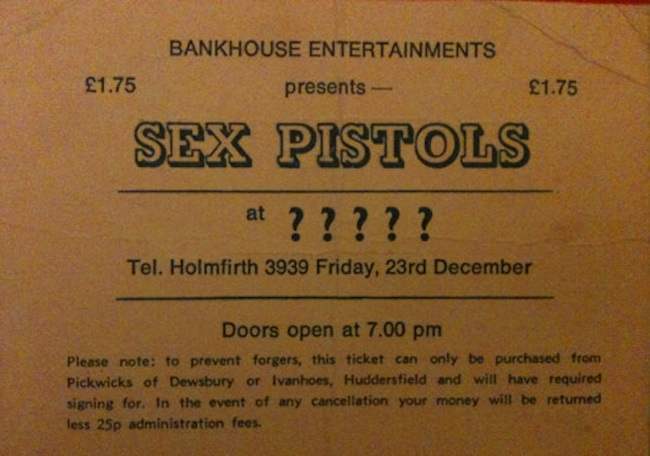 One more time with feeling: