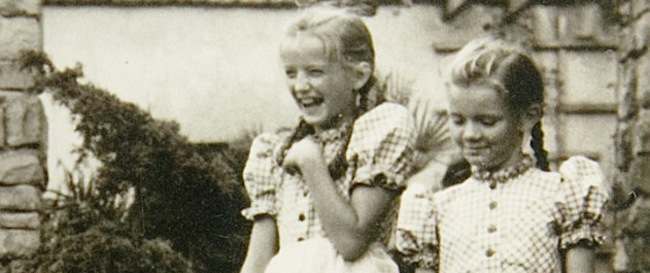 BRIGITTE Höss has lived for four decades in Washington DC. She's worked in a Jewish-owned fashion store. And that's interesting because her father was Rudolf Höss (aka Rudolf Hoess) leading Nazi and Kommandant of Auschwitz. Rudolf Höss was a mass murderer.
Between the aged of 7 and 11 she lived with her four brothers and sisters in a handsome villa with views of the death camp – the place her father designed and built. She also lived by  in Dachau and Sachsenhausen. (Photos above: Brigitte's on the left.)
The Auschwitz house was decorated with objects stolen from the murdered prisoners.
Men in striped pyjamas tended to her family's garden.
She's still alive.
The 80-year-old lives in Virginia.
Only now is she telling her story, speaking to author Thomas Harding, whose great-uncle, Hanns Alexander, captured her father in 1946. He writes of her in his book Hanns and Rudolf. She kept her past from her family. Why?
"There are crazy people out there. They might burn my house down or shoot somebody…

"I am still scared here in Washington. There are a lot Jewish people, and they still hate the Germans. It never ends."
Adding:
"It was a long time ago. I didn't do what was done. I never talk about it — it is something within me. It stays with me."
Should she have ben killed, just as we kill the children of our enemies today, such as Saddam Hussein's sons?  Rudolf Höss was hanged for his crimes. She says she told the fashion store owner about her father. The author notes:
When I ask him why his parents had decided to employ her all those years ago, despite knowing that her father had been a senior member of the Nazi leadership that had driven their own family out of Germany, he told me that it was because of "humanity."

His parents had seen her as a person, in her own right, apart from her father. "The one has nothing to do with the other. She is a human being," he says. "She was not responsible for her father."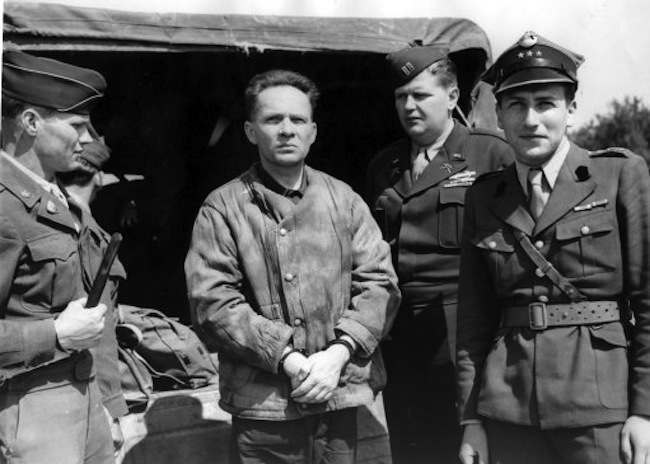 Photo:  Rudolf Hoess, self-confessed slayer of two and a half million jews as commandant of the Auschwitz extermination camp, is pictured at Fuerth Airport near Nuremberg. With him, left to righ, are: – S/Sgt. Edge McGehee of Atlanta, Ga., Guard; Rudolf Hoess; Capt. S.H. Binder of Woodbine, Iowa, Operations Officer of I.M.T. Security; and Capt. Grodecki, Polish Army Representative.
But for Brigitte Höss, life went on. She left Germany for Spain, where she found work as a model. In 1961, she married an American (now divorced). They had a son and daughter. The son died. She has grandchildren. She has lived inLiberia, Greece, Iran, Vietnam, moving to Washington in 1972.
So. All views are her own, untainted and unshaped by nurture, love and genetics? (Her mother, Hedwig, died in her sleep in Washington aged 81.)
Brigitte says:
"I'm sure he (her father) was sad inside. It is just a feeling. The way he was at home, the way he was with us, sometimes he looked sad when he came back from work. There must have been two sides to him. The one that I knew, and then another."
And then…
"He had to do it. His family was threatened. We were threatened if he didn't. And he was one of many in the SS. There were others as well who would do it if he didn't."
Her father went on the record, stating:
"The gassing was carried out in the detention cells of Block 11. Proctected by a gas mask, I watched the killing myself. In the crowded cells, death came instantaneously the moment the Zyklon B was thrown in. A short, almost smothered cry, and it was all over… I must even admit that this gassing set my mind at rest, for the mass extermination of the Jews was to start soon, and at that time neither Eichmann nor I was certain as to how these mass killings were to be carried out. It would be by gas, but we did not know which gas and how it was to be used. Now we had the gas, and we had established a procedure…

"I did, however, always feel ashamed of this weakness of mine after I talked to Adolf Eichmann. He explained to me that it was especially the children who have to be killed first, because where was the logic in killing a generation of older people and leaving alive a generation of young people who can be possible avengers of their parents and can constitute a new biological cell for the reemerging of this people."
And then Brigitte wonders:
"How can there be so many survivors if so many had been killed?"…
The author asks:
When I point out that her father confessed to being responsible for the death of more than a million Jews, she says the British "took it out of him with torture."
And on it goes…
Note:  Fordham University law professor Thane Rosenbaum talks of his book Payback: The Case for Revenge:
Most people think that eye for an eye suggests bloodthirstiness. What it really means is exactness. What it essentially means – and we get this from the Old Testament and, of course, in Hammurabi's Code – that when a moral injury is created, a debt is created, and then payback is required, but it has to be specific. It has to be proportionate. And all an eye for an eye means is a way to prevent disproportionate revenge. Disproportionate revenge are blood feuds, recycling of vengeance, the Hatfields versus the McCoys.

Through the natural history of our species, we were able to manage revenge through tribes and individuals because people knew what enough – what was enough to be satisfied. And that means that when one loses an eye, they're entitled to receive no more than an eye, but also no less than an eye. And in our system, unfortunately, with plea bargains, we're very often shortchanged, and we're constantly paying back less than an eye.
Such are the facts…