FLASHBACK  to 1896: Henry Ford is seen on the Quadricycle, the first automobile he ever built in Dearborn, Mich.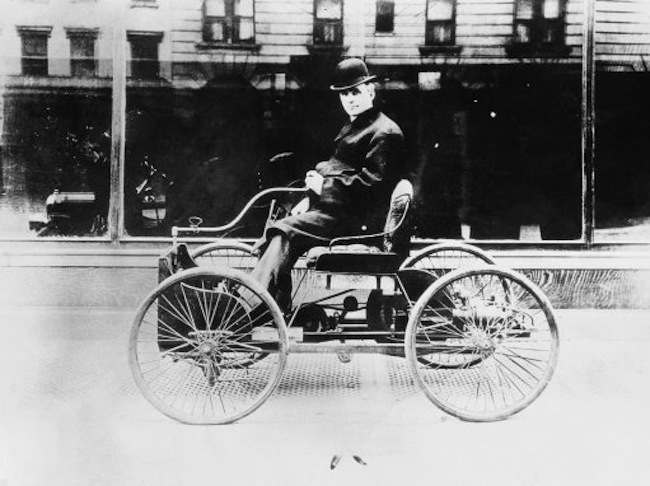 On June 4, 1896 in a tiny workshop behind his home on 58 Bagley Street, Ford put the finishing touches on his pure ethanol-powered motor car. After more than two years of experimentation, Ford, at the age of 32, had completed his first experimental automobile. He dubbed his creation the "Quadricycle," so named because it ran on four bicycle tires, and/or because of the means through which the engine drove the back wheels. The success of the little vehicle led to the founding of the Henry Ford Company and then later the Ford Motor Company in 1903.[5]

The two cylinder engine could produce 4 horsepower.The Quadricycle was driven by a chain. The transmission had only two gears (first for 10 mph (16 km/h), 2nd for 20 mph (32 km/h)) but Ford could not shift into second gear due to lack of torque and did not have a reverse gear. The tiller-steered machine had wire wheels and a 3 US gal fuel tank under the seat.[2] Ford test drove it on June 4, 1896, after various test drives, achieving a top speed of 20 mph (32 km/h).
Over 100 years later, the speed limit in Dearborn is 35mph. Progress…