AH, yes. The school dance. Awkward and often soul shattering, it was a necessary rite of passage. It's no surprise that such a dramatic collective memory would make for some great moments on film. Here's a list (in no particular order) of the 16 greatest school dance scenes in movies. Feel free to add your own – I'd love to hear them.
It's a Wonderful Life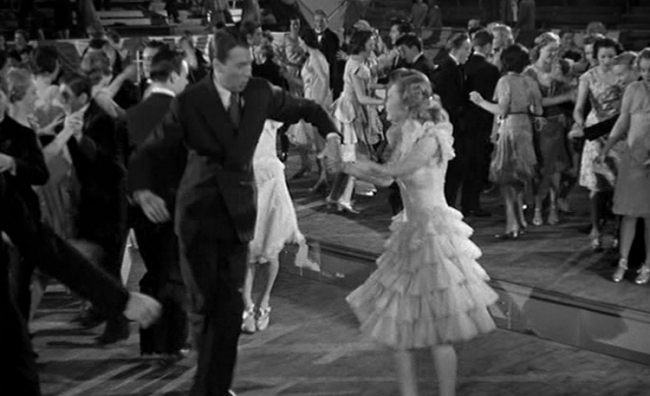 The gym floor opening up into a pool is a beloved movie moment. It highlights perfectly George Bailey's wild and promising youth before his big fall.
Carrie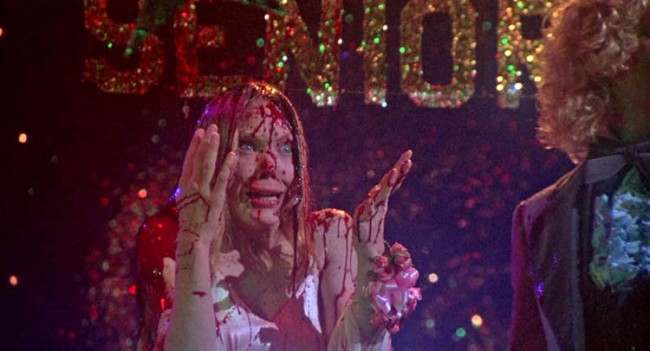 Perhaps the most memorable of all high school dance scenes. DePalma's split screen technique in combination with Spacek's ghastly visage is one that's hard to shake.  Last year's remake game an honorable effort, but you just can't recreate this sort of horror magic.
Zapped!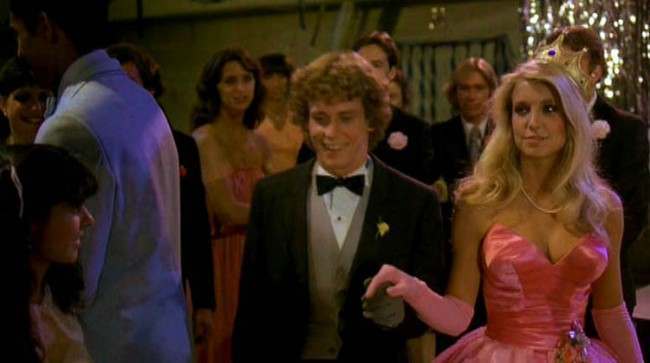 Scott Bao's powers are taken to their limit, and we get to see Heather Thomas zapped and disrobed (well, actually her body double, but a high point in teen sex romps nonetheless).
Pretty in Pink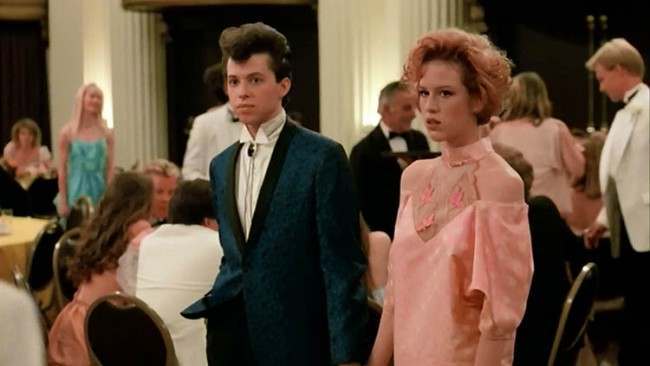 Andi (Molly Ringwald) ended up with Duckie in the original version of the film, but test audiences were appalled. John Hughes subsequently changed to the script to have Andi end up with Blaine (Andrew McCarthy). I strongly agree with that decision; in fact, I would have preferred Duckie die a horrible death instead.
Grease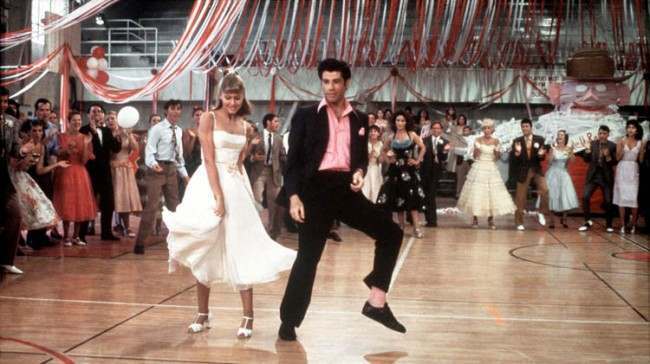 Who cares that every kid at Rydell looks like they're over 30. This dance scene with Travolta in his prime doing the Hand Jive is solid gold.
Can't Buy Me Love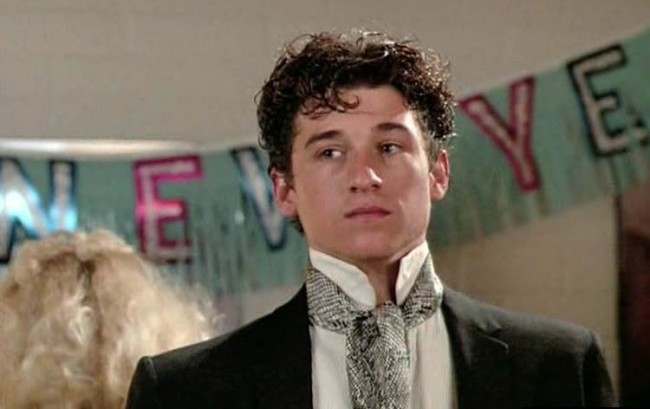 Somehow Patrick Dempsey's African Anteater Ritual dance catches on, and soon the entire student body is joining in. What a bunch of sheep.
Sixteen Candles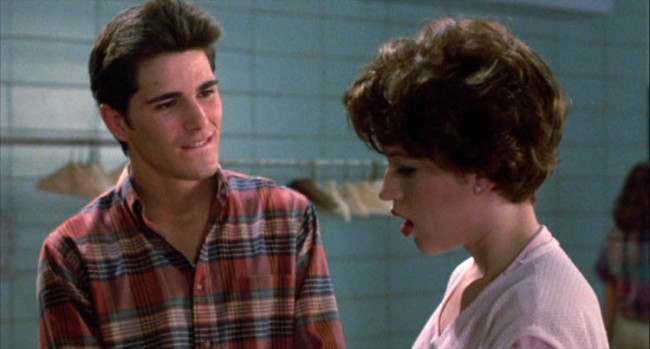 The dance scene has so much to love: "True" by Spandau Ballet, a painfully awkward dance by Farmer Ted, a brief appearance by John Cusack, Dong and his buxom soul mate, the scoliosis girl, and a $1 cover charge to see Sam's underwear.
Napoleon Dynamite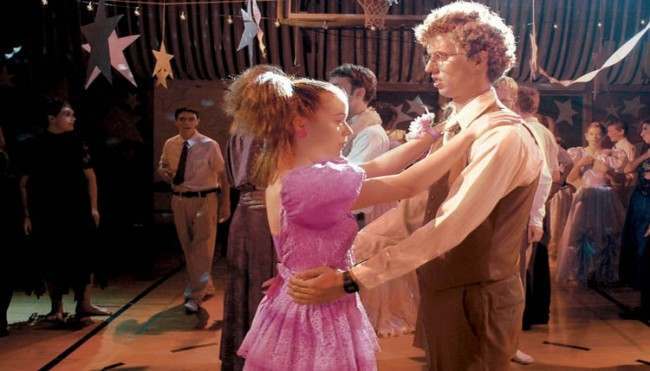 "My old girlfriend from Oklahoma was gonna fly out for the dance but she couldn't cause she's doing some modeling right now."
Perfectly captures the awkwardness of being on the outer fringes of the popularity caste system – all to the sounds of Alphaville and Cindy Lauper.
Footloose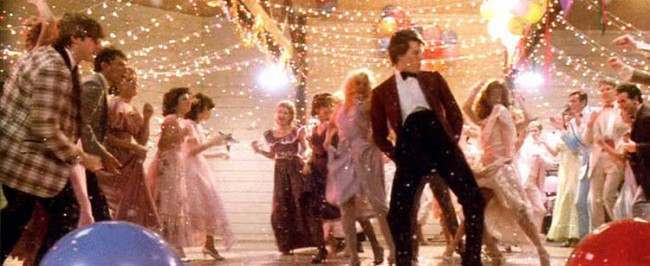 Ren and Ariel release some seriously pent up sexual energy on the dance floor. Lithgow was not amused.
Better Off Dead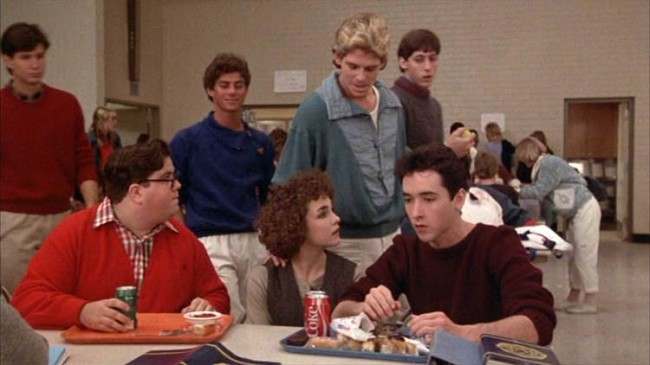 Ricky (the fat dude from Head of the Class) dances like an effing maniac to impress Monique. I laughed till I ran out of air and blacked out, woke up and laughed some more.
Prom Night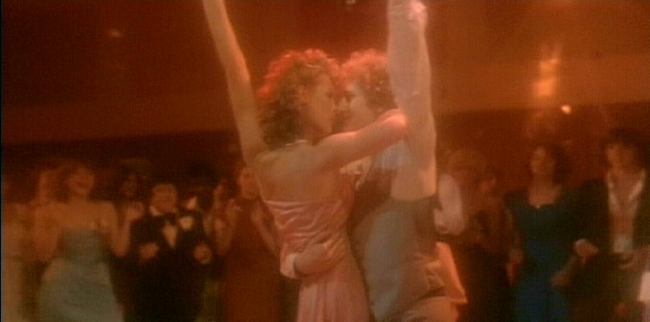 A prolonged dance sequence set to disco music (featuring Jamie Lee Curtis) is unusual for a slasher film, but a beautiful thing nonetheless. It's like Xanadu meets Friday the 13th. Even better, we get to see Leslie Neilsen putting on his boogie shoes!
Romy and Michele's High School Reunion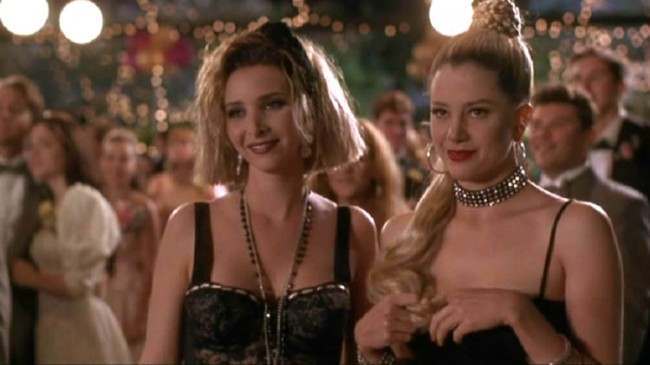 The prom flashback is a brief but wonderfully effective reminder that high school dances feel monumentally important at the time, but really has no consequence for the life that awaits. The reunion dance to "Time After Time" is a nice touch as well.
American Graffiti
There's a very touching scene with Cindy Williams interspersed with plenty of mid-century tomfoolery. My personal favorite moment: Ron Howard telling the principal to go kiss a duck.
Just One of the Guys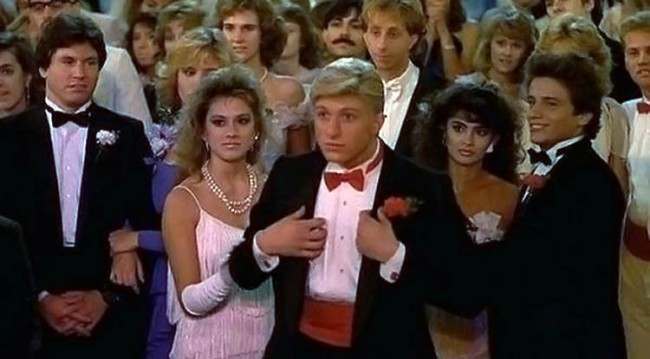 Joyce Hyser shows her friend that she's really a girl in disguise by exposing her breasts. An odd but historic moment in the annals of gratuitous nudity. (And, no, it's not in the video below)
Valley Girl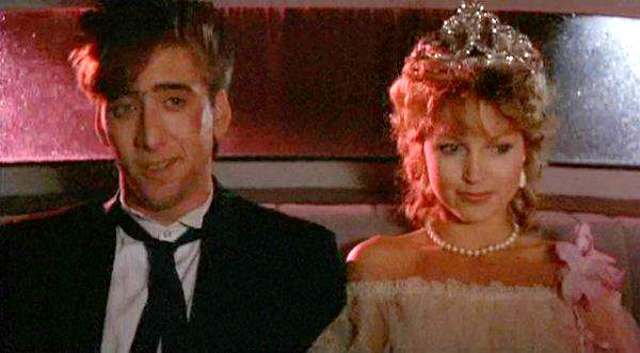 The curtain opens revealing a brawl between Randy (Nicholas Cage) and Tommy the Prom King. Hilarity ensues when the titular Valley Girl shoves guacamole in Tommy's face and the crowd erupts into a food fight.
Back to the Future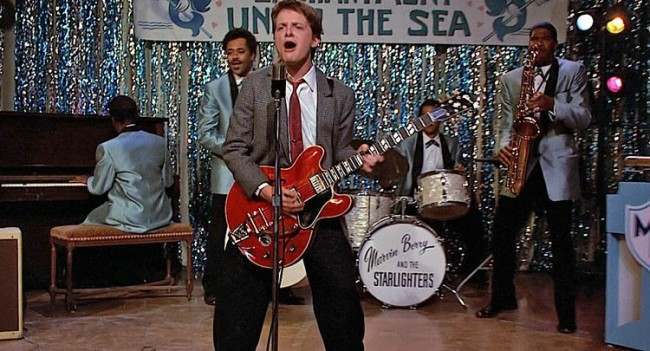 McFly on the guitar playing "Johnny Be Good" to an eager crowd at the Enchantment Under the Sea dance is an amazing moment…. but then his digression into heavy metal guitar noodling leaves the audience saying "huh?". Classic.
Honorable Mention: The pilot episode of Freaks and Geeks
It's a TV show, but it still deserves a mention. Sam Weir finally gets to slow dance with his crush, but the opening to Styx's "Come Sail Away" quickly turns loud and fast. He decides to go with the flow, stop being so damn self-conscious and just have fun. The feeling is contagious and his sister Lindsey, operating the punch bowls, who had a little something to do with the mentally challenged boy's broken arm ventures over to see if he has forgiven her by asking him to dance. Perhaps the greatest school dance scene of them all.