The 1970 BBC documentary At A Printmaker's Workshop focuses on Dorothea Wight's fabled Studio Prints in Queens Crescent, Kentish Town.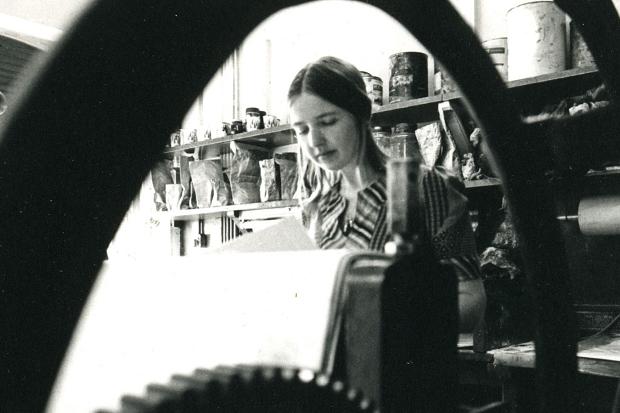 It is also a marvellous snapshot of London on the cusp of change as inner city areas became invigorated by the arrival of interesting new businesses (with none of today's dread "regeneration" and its companion property-speak of "creative quarters" and such).
And the area did not fall prey to gentrification, no doubt as a result of the local presence of substantial tracts of social housing; Queens Crescent Market appears to be limping along, but is as socially mixed as it ever was.
Having been taught by the master printmaker Anthony Gross at the Slade, Dorothea Wight bought a letterpress with a bank loan and opened her atelier in the late 60s, first in a basement and then in a former butcher's shop at 159 Queen's Crescent (which had been supermarket chain Sainsbury's second outlet, it's so-called"country branch").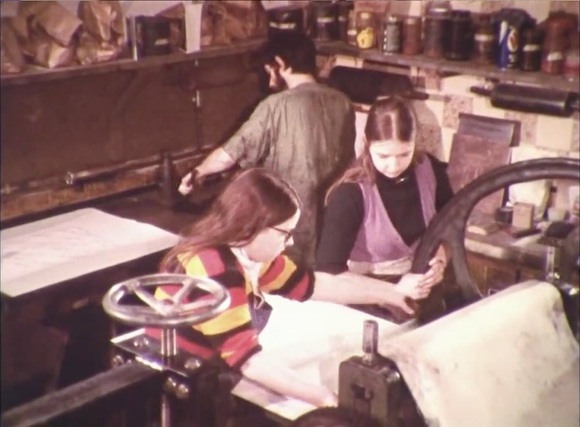 In the film, Wight demonstrates the printing of etchings by Gross to illustrate a book of poems by Archilochus  published by Douglas Cleverdon.
Studio Prints was situated in the market,  familiar to me in the mid-70s since a girlfriend's parents ran a shop and business – which included a graphics studio – in adjacent Malden Road. I have another connection to the film, having had the pleasure of meeting the brilliant Cleverdon through a schoolfriend earlier in the decade.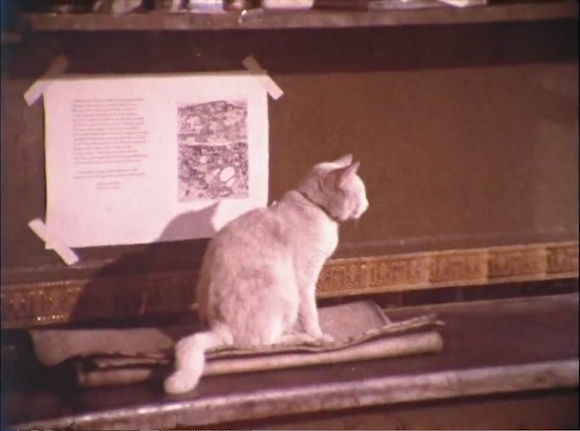 Also appearing with Wight in At A Printmaker's Workshop are fellow artist/printers Garry Kennard, Francis St Clair Miller and Christopher Penny.
With Gross' patronage, Wight swiftly achieved her aim of specialising in prints for artists: the roll-call of clients over three decades included Frank Auerbach, Stephen Conroy, Lucian Freud, Tess Jaray, Leon Kossoff, RB Kitaj, Julian Trevelyan, William Turnbull and Paula Rego.
Wight died in 2013. A couple of years earlier a show of Celia Paul's work at London's Marlborough Fine Arts included a suite of etchings produced between 1991 to 2011 and dedicated to Wight, who had made them.
In his Independent obituary for Wight, Charles Darwent wrote that her lasting legacy lies "in the healthier state of British printing today". Read Darwent's obit here.
These links will bring you up to speed on the other print-makers in the film: Garry Kennard, Francis St Clair Miller and Christopher Penny.
There is an illustrated history of Queen's Crescent Market here. Frank's Superstore was another popular local business; the obituary of owner Frank Streeter is here.