"The fans appropriate the band, they do their own thing and have a laugh; it's not clean, it's messy and it's chaotic."
Depeche Mode are one of the biggest groups on the planet. They also have one of the largest fanbases. What the Beatles were to the sixties, Depeche Mode have been the equivalent over the past four decades.
Later this year Depeche Mode will release their official fan documentary SPIRITS in the Forest directed by Anton Corbijn. It promises to be an extraordinary film documenting some powerful and emotional stories of what the band means to so many of their millions of followers.
But this isn't the first time a film has been made about Depeche Mode fans.
Back in 2007, artist Jeremy Deller and filmmaker Nicholas Abrahams were commissioned by Mute Records and Depeche Mode to make a documentary about the band's most obsessive fans called Our Hobby is Depeche Mode.
Over three weeks, Deller and Abrahams travelled the world interviewing people in America, England, Mexico, Romania, Germany and Russia to meet fans whose lives had been changed by the band.
As Deller explains:
"A friend of mine, Nick Abrahams, told me that Mute Records were looking to make a film about Depeche Mode for an anniversary 'greatest hits' package. I thought that could be quite interesting. And either he or I or both of us – I can't actually remember –suggested that we do something about their fans, as you hear almost mythical stories about their Eastern European fanbase, particularly in the 1980s. We went to Mexico, the US, Germany, Romania, Brazil and
Canada – all in under three weeks.

"In Russia, 60 fans met us at the airport and basically kidnapped us for two days, which was brilliant for the film. As we suspected, the story from Eastern Europe was massive. The effect of Depeche in that region during the 1960s was similar to the effect of the Beatles on the UK during the 1960s."
Deller and Abrahams did not have any set plans when they set out to make their documentary, as they explained to Dangerous Minds:
JD: You know what you want but you don't know how you're going to get to it. It's so random really because you're relying on the public. You can't really control those people who you're working with and filming. You know the kind of thing you want.

NA: We thought the stories in the film were culturally interesting, especially the stuff behind the Iron Curtain. At one stage it was going to be called How Basildon Ended the Cold War. Because it was like soft propaganda. And because in England they're not taken that seriously where in other places they are. It's as simple as that. Also how culture travels around the world, how it varies.

JD; A film with a global story which show's [Depeche Mode's] reach as a band really and how different countries look at them in different ways.

NA: It's all tangential. None of this is what the band is aiming to do. People take something and use it in their own way. I suppose that's part of what the film's about.

We couldn't have made the same film about another band, like say U2, because there's an outsider-ish element to Depeche Mode.
When Deller and Abrahams delivered their film, Mute Records supremo Daniel Miller loved it but Depeche Mode didn't seem too interested. The film has been left unloved and "lost" ever since only rarely being screened at festivals.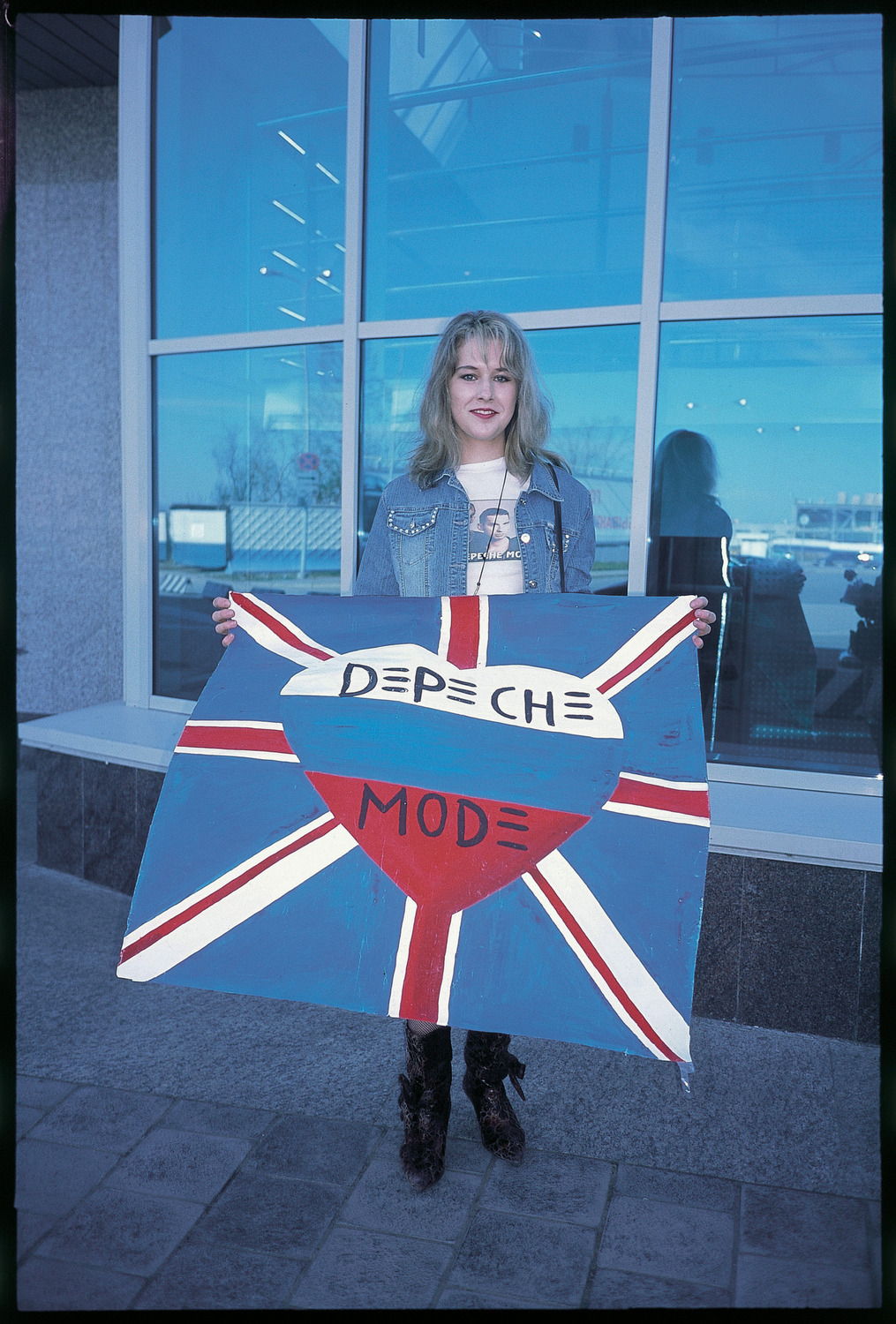 Deller suggests one reason why this may be:
"The film was never released – we suspect for a number of reasons. One of which was this German family, who dress their children up as members of the band and characters from the films. They somehow manage to get tickets for the press launches of albums, private meet and greets – and no one can work out how they do it. A lot of German fans seem to resent this family.

"Also the band have been so carefully branded and marketed that the fans' behaviour sometimes disrupts this carefully crafted image. The fans appropriate the band, they do their own thing and have a laugh; it's not clean, it's messy and it's chaotic."
Now Abrahams has uploaded the full film. You can see what you've been missing, and whet your appetite for Anton Corbijn's forthcoming official documentary.