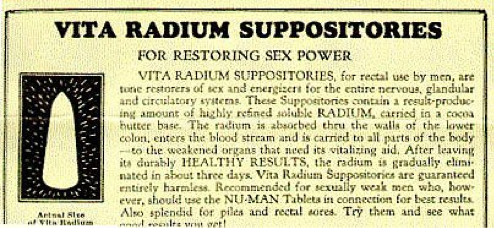 In the early 1900s men seeking added virility were invited to invest in some radioactive pellets, which when inserted in the rectum (your own) va-va-voomed your sex drive. .
The advert boasted:
"Vita Radium Suppositories, for rectal use by men, are tone restorers of sex and energizers for the entire nervous, glandular and circulatory systems. These Suppositories contain a result-producing amount of highly refined soluble RADIUM, carried in a cocoa butter base. The radium is absorbed thru the walls of the lower colon, enters the blood stream and is carried to all parts of the body-to the weakened organs that need its vitalizing aid. After leaving its durable HEALTHY RESULTS, the radium is gradually eliminated in about three days. Vita Radium Suppositories are guaranteed entirely harmless. Recommended for sexually weak men who, however, should use the NU_MAN Tablets in connection for best results. Also, splendid for piles and rectal sores. Try them and see what good results you get!"
The brochure for Vita radium suppositories called on "Weak Discouraged Men!" who would "Now Bubble Over with Joyous Vitality Through the Use of Glands and Radium". All Home Product customer orders were shipped in a plain wrapper for confidentiality.
"…properly functioning glands make themselves known in a quick, brisk step, mental alertness and the ability to live and love in the fullest sense of the word… A man must be in a bad way indeed to sit back and be satisfied without the pleasures that are his birthright!… Try them and see what good results you get!"
Such pills could be kept inside an air-tight tin.
Quack Cures has more:
The manufacturer, the Radium Remedies Company, was located in Pittsburgh, PA. Other "Radio-X" products of the Radium Remedies Company included Tablets, Ointment, Complexion Soap, Asthma Pads and Radium Emanation Water. The Radio X pad was promoted by the singer Al Jolson who claimed that it "worked wonders" for his throat.

The company, which seems to have operated from 1917 or so to 1929, was owned by Robert McKnight whom the company literature described as an "eminent American Chemist."
Once inserted, you should not forget to wash your hands:
All laughable by today's standards, of course. And very saleable back then. As JF Ptak writes:
If this was 15 May 1915, we could all be attending the Illinois State Medical Society's annual meeting at the Masonic Temple in Springfield, Illinois. And if we went to booth 18, we could've bought some fine, newish radium-based products that would be enjoyed drinking or bathing in. And all for the cause of human progress, the radium-based nonsense promised cures for all sorts of ills: rheumatism, dandruff, dull teeth, gout, sexual problems, general malaise, and on and on.

The exceptionally important discovery by the Curies was made 17 years before this event, with the medically-unknown problems of radium waiting in the wings for another decade or so after this. In the meantime, there were many companies that took advantage of the unknown qualities of radium (as happened with the use of X-Rays for all sorts of quack applications) using it as a shining addition to dozens of products.
By 1936, this was how you handled radium:
Of course, men could play it safe with a prostate gland warmer. Just plug it in to the mains, dip the tapered end into some red pepper, insert and wait for the heat to transfer from the bulb to your burning libido.