Females in the 1960s and 1970s had plenty of job opportunities at their fingertips – magazines were chock full of ads for low-wage, low-skill positions.  Want a career in aviation?  No problem. You can be a stewardess or travel agent.  Want to work in the exciting world of business? That's easy too.  There are ads for secretaries and bookkeepers.  For 1960s-70s women, the world was their oyster -well, maybe not quite….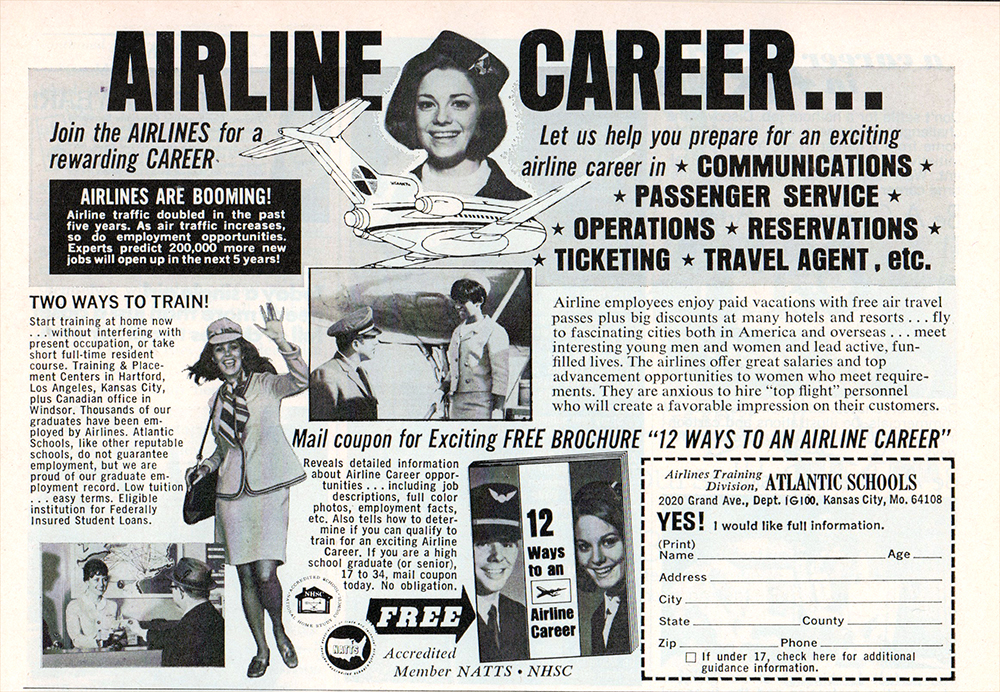 You'll note they mention "communications, passenger service, operations, reservations, ticketing, travel agent"… but leave out pilot.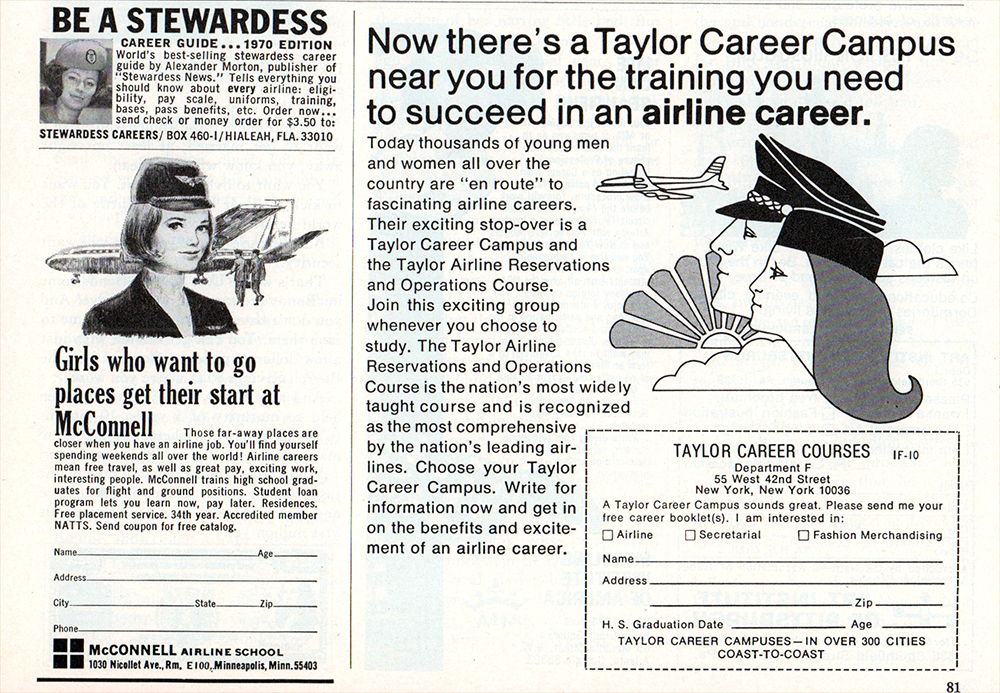 Again, you can't help but notice that being a pilot is the one position that's off the table for the ladies.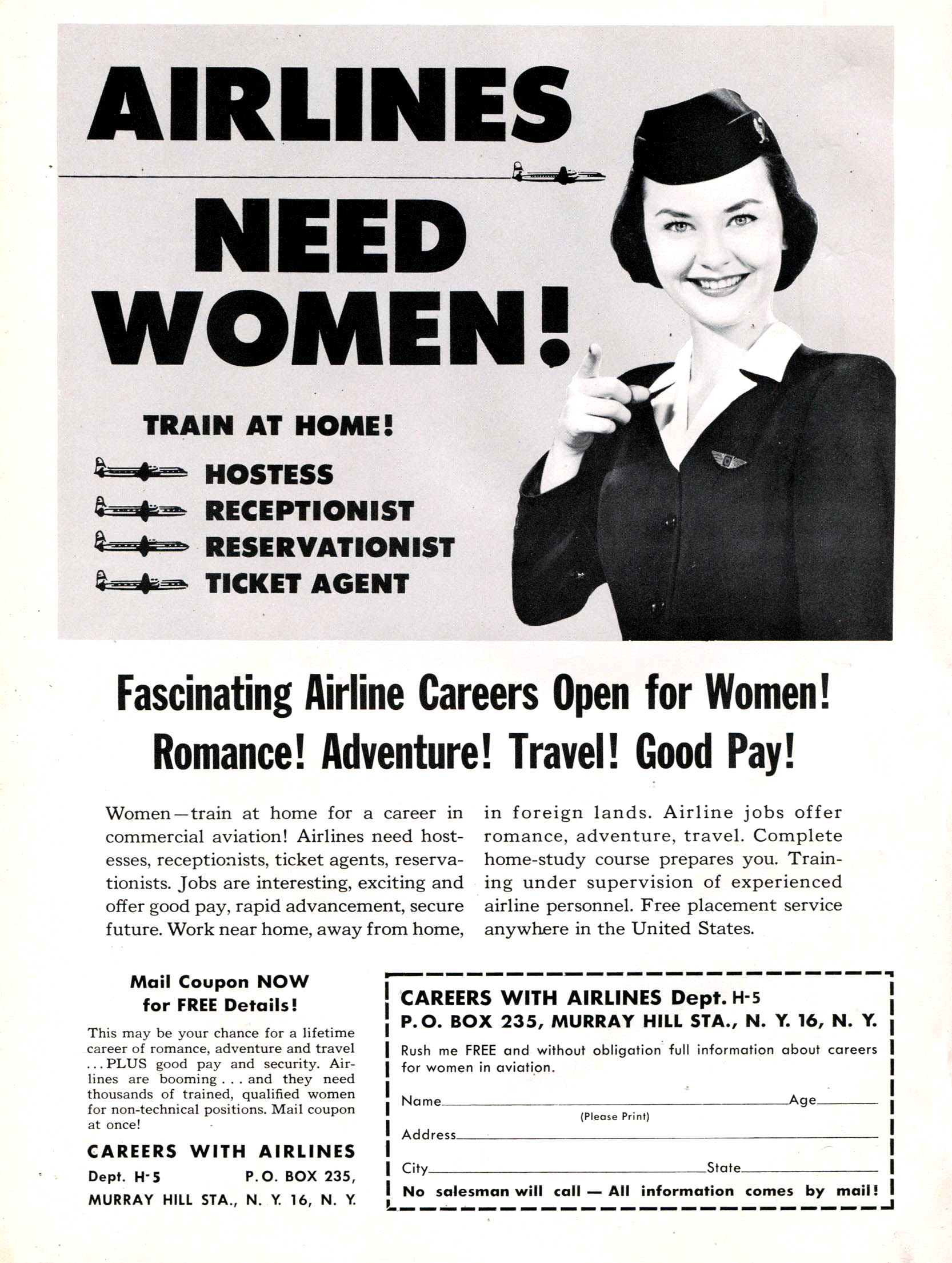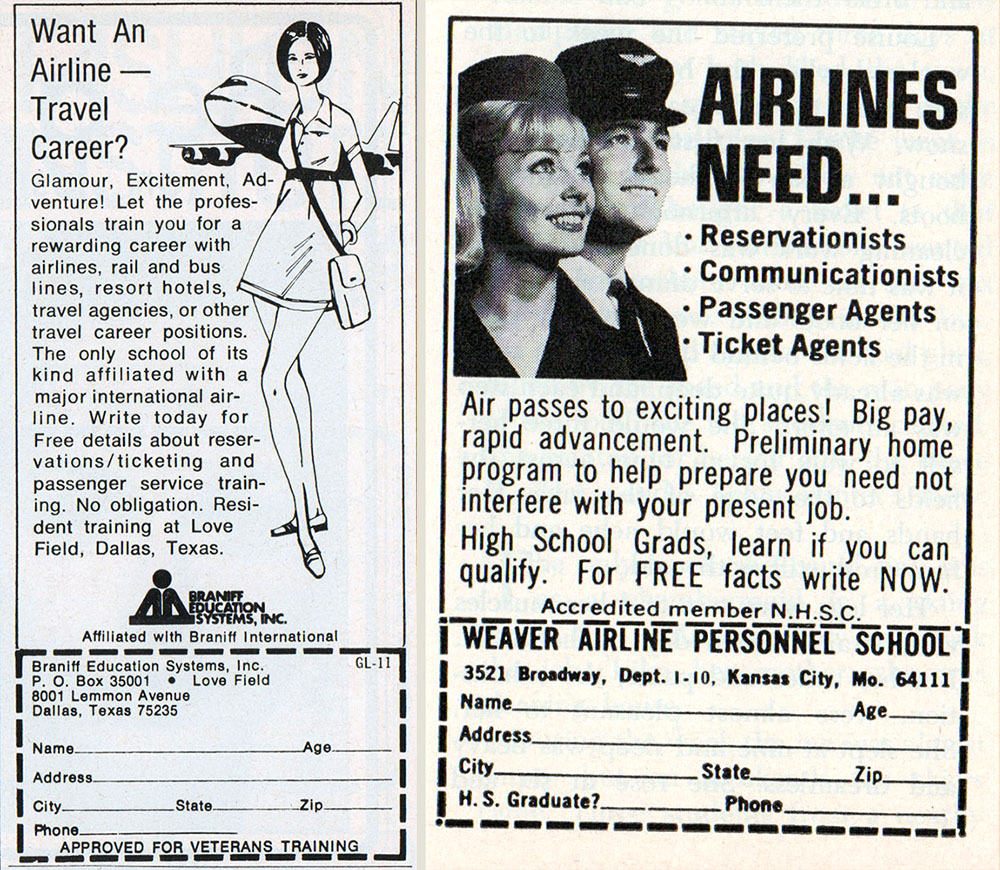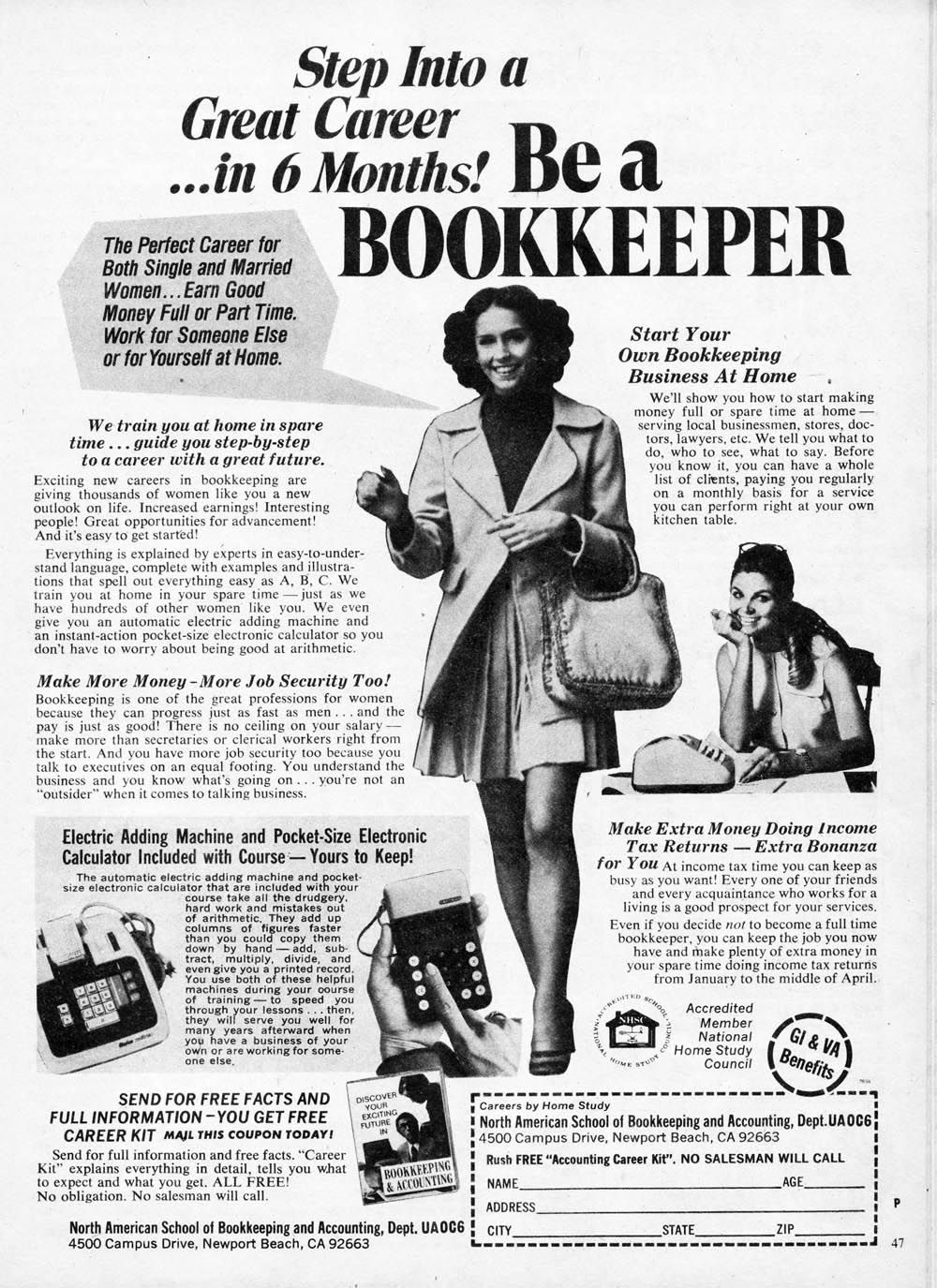 "Bookkeeping is one of the great professions for women because they can progress just as fast as men… and the pay is just as good!" (1977)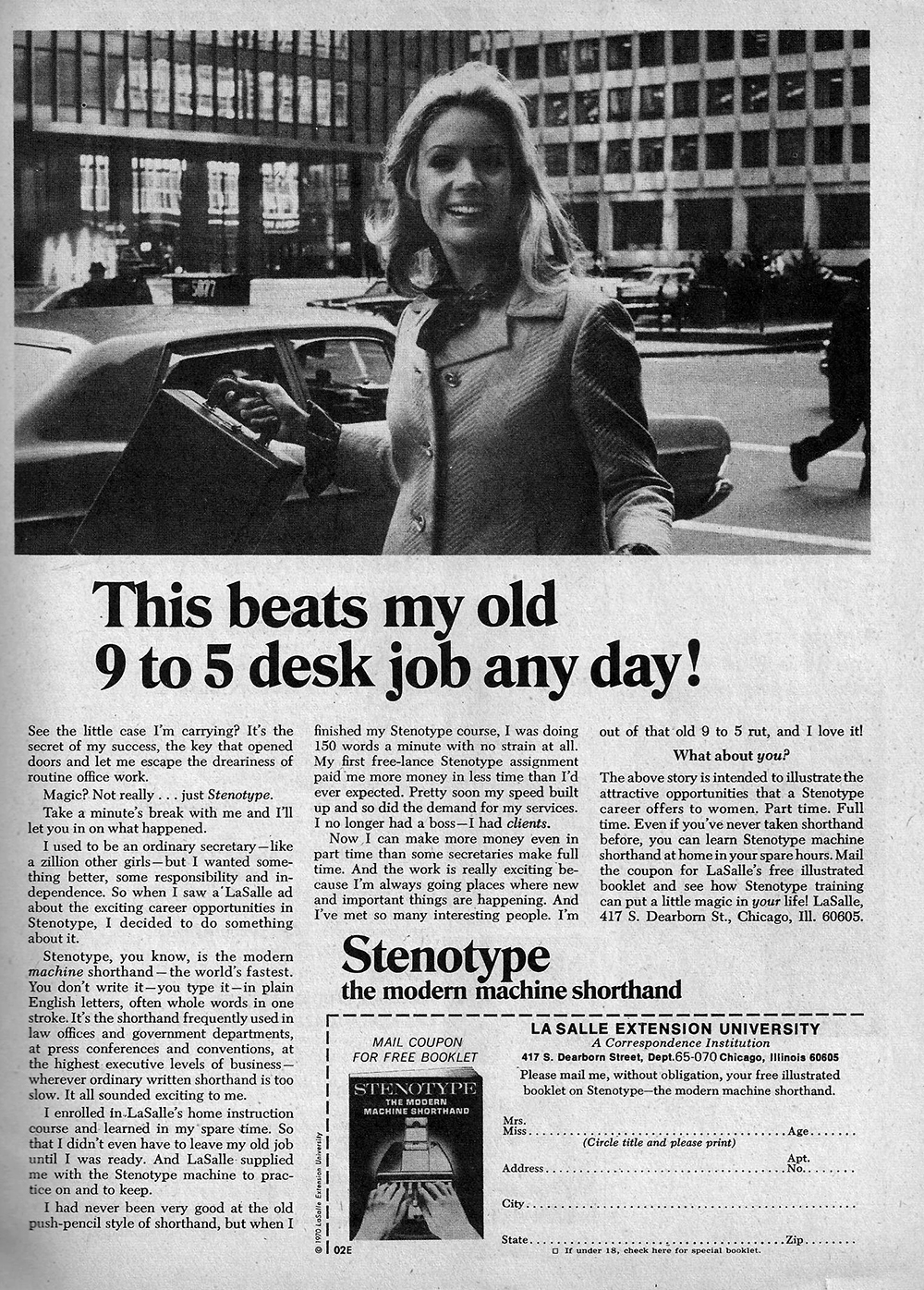 "I used to be an ordinary secretary – like a zillion other girls – but I wanted something better, some responsibility and independence.  So when I saw a LaSalle ad about the exciting career opportunities in Stenotype, I decided to do something about it….. Now I can make more money even in part time than some secretaries make full time. I'm out of that old 9 to 5 rut and I love it!"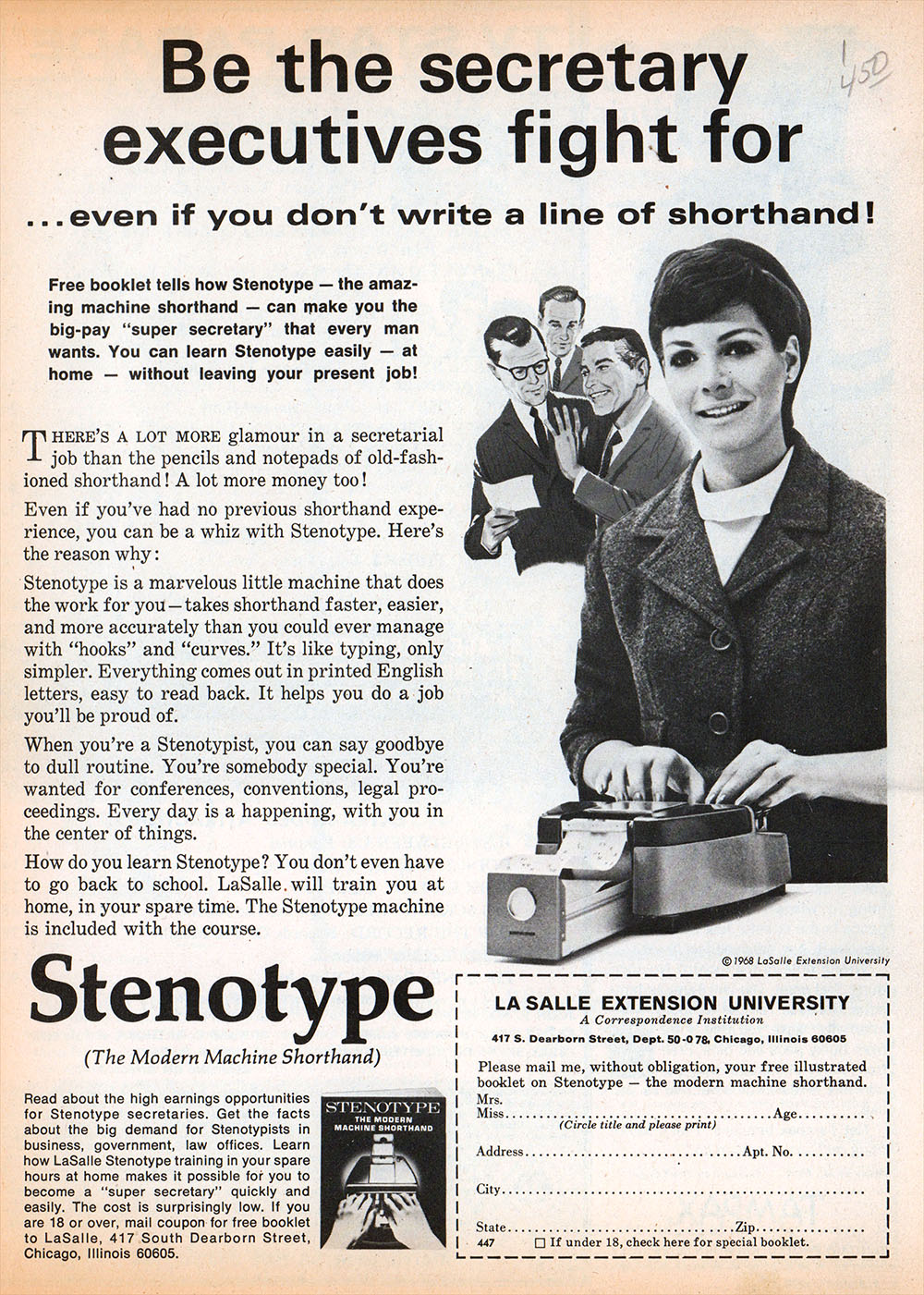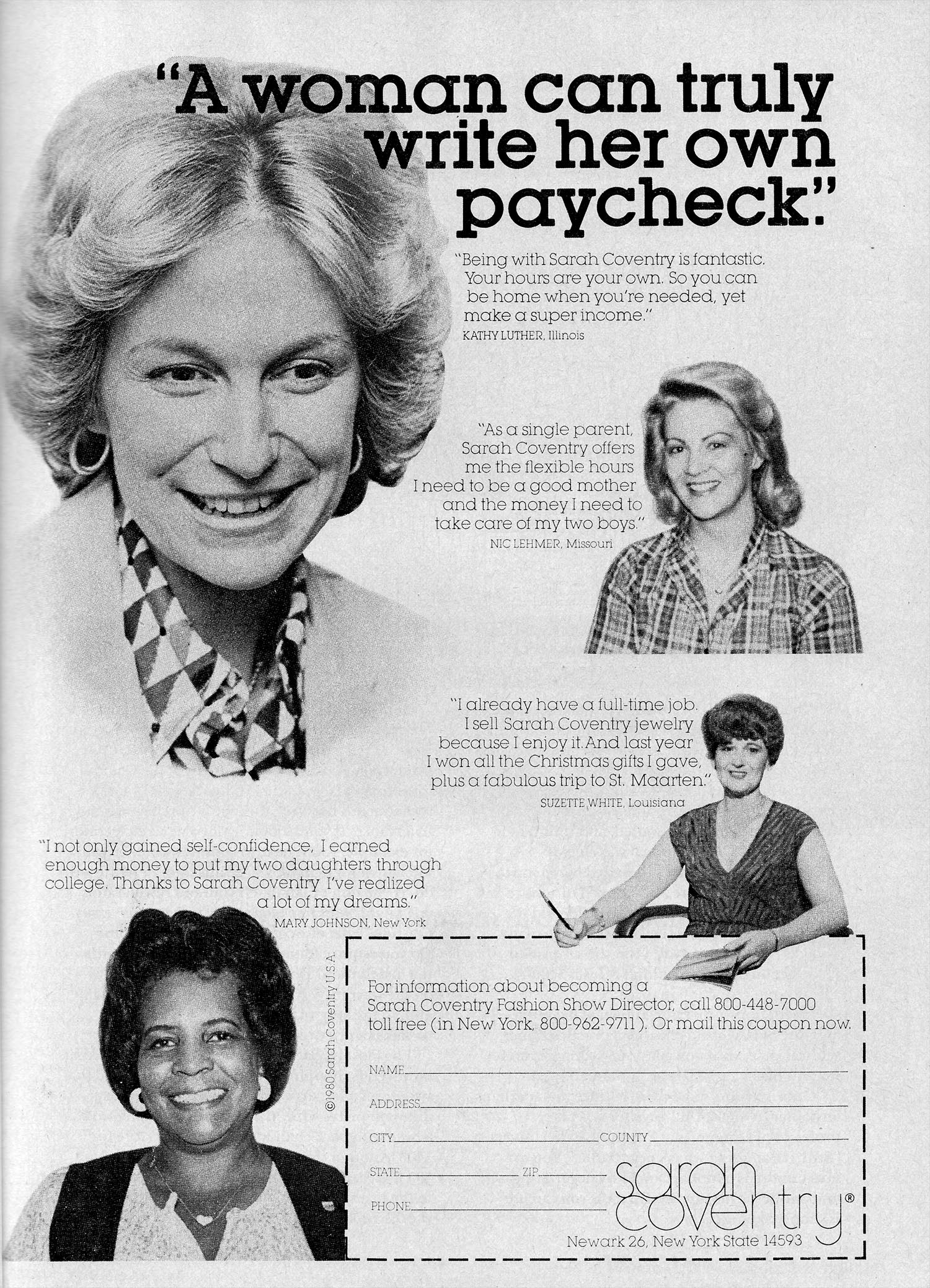 Sarah Coventry – "Fashion Show Director" jobs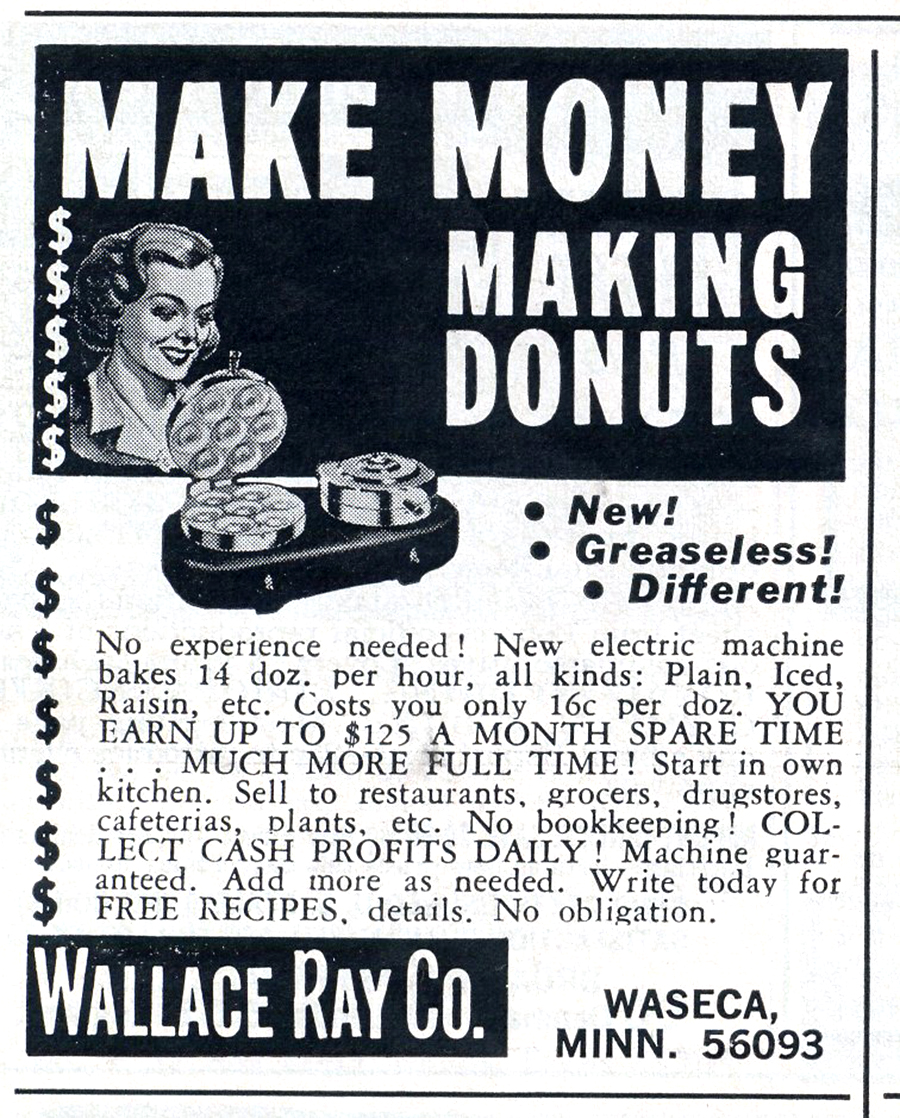 Bookkeeping and fashion show direction maybe a little too high-stakes?  You can always just make donuts.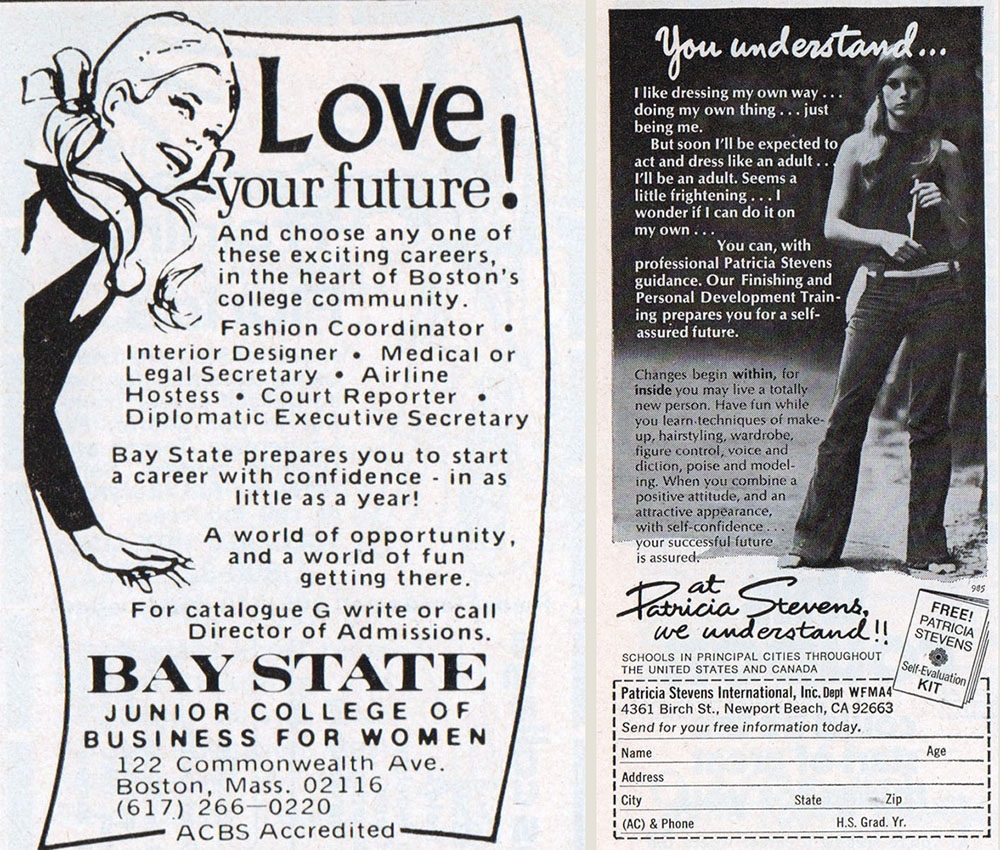 Look at all the great opportunities for women! Bay State Junior College of Business offers these amazing careers: "Fashion Coordinator, Legal Secretary, Airline Hostess, Interior Designer, Medical Secretary" and even (drum roll please) "Diplomatic Executive Secretary".
Patricia Stevens will get you on the right path to success having you learn "techniques of make up, hairstyling, wardrobe, figure control,… and modelling."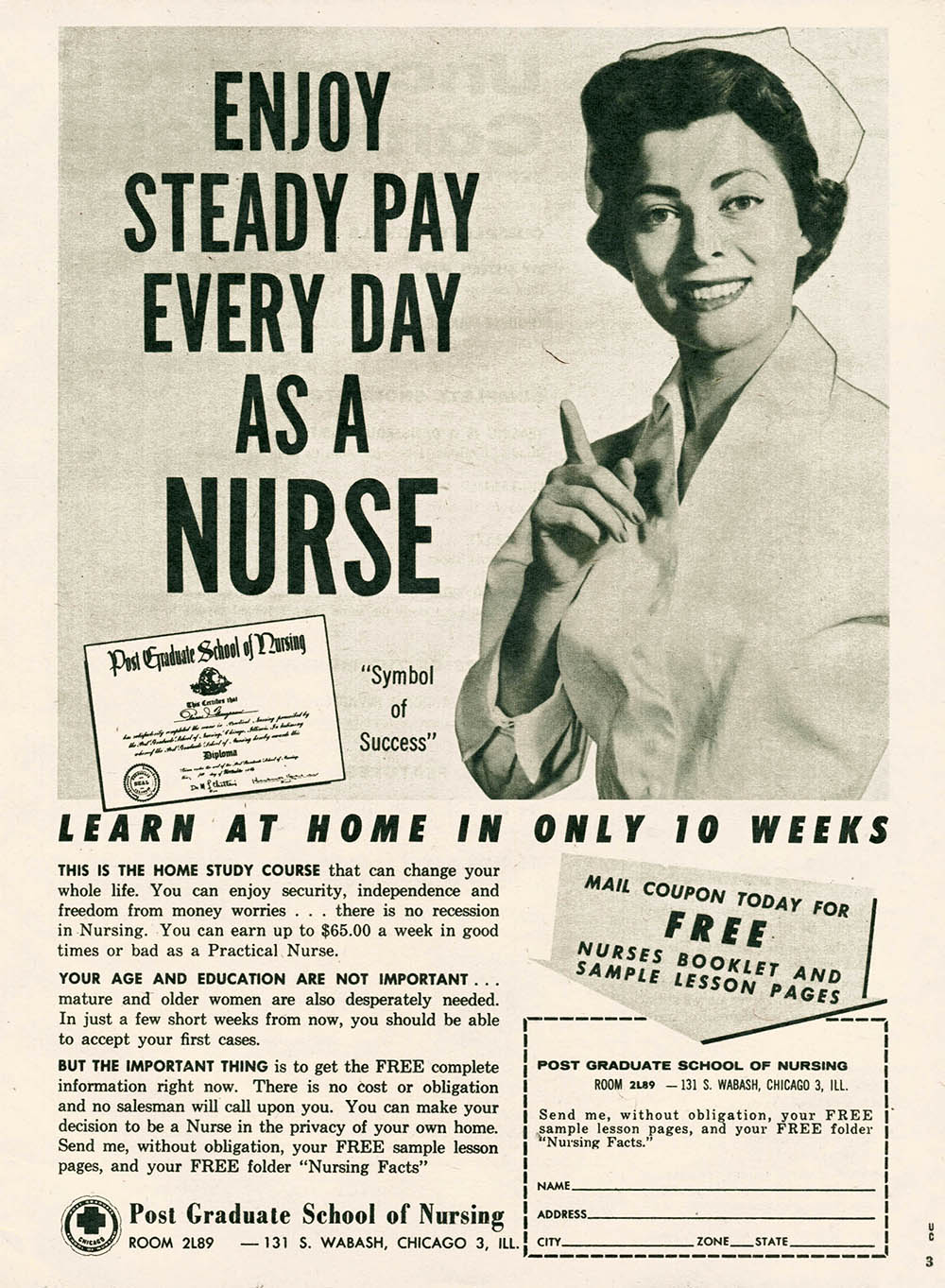 If a career in the field of medicine is what you're after – you can enjoy steady pay as a nurse.
The disparity between male and female job opportunities was readily apparent in The Gold Key Comics "Your Future" series…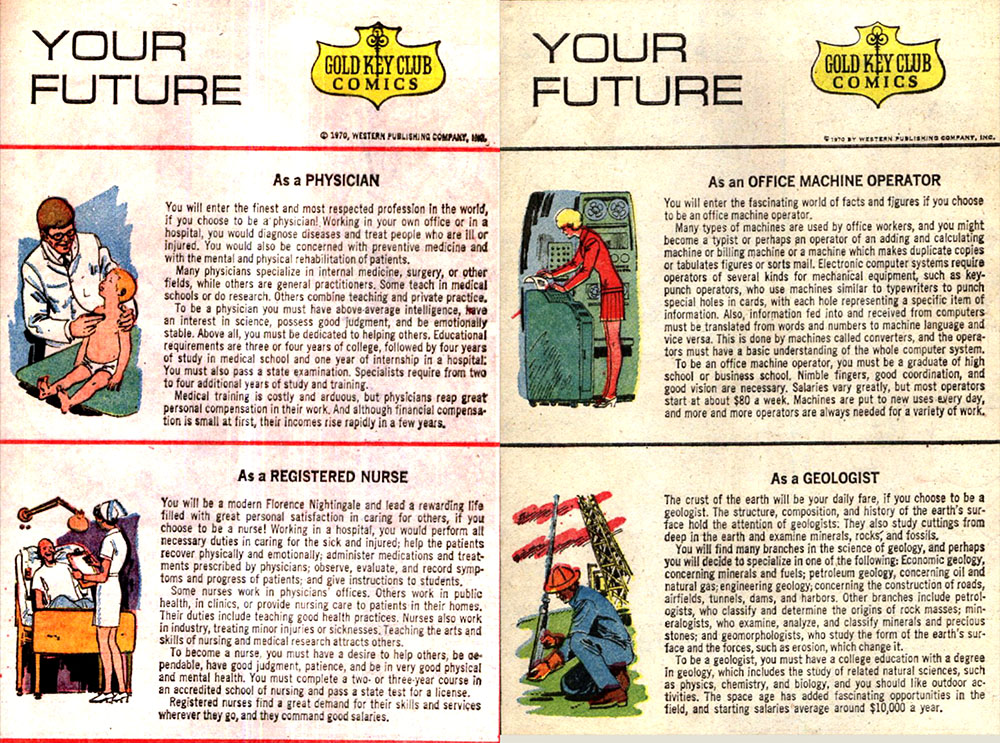 In the field of medicine, boys can aspire to work in the "most respected position in the world", while girls can dream of being Florence Nightingale.  A guy can be a geologist and the girl can operate a typewriter.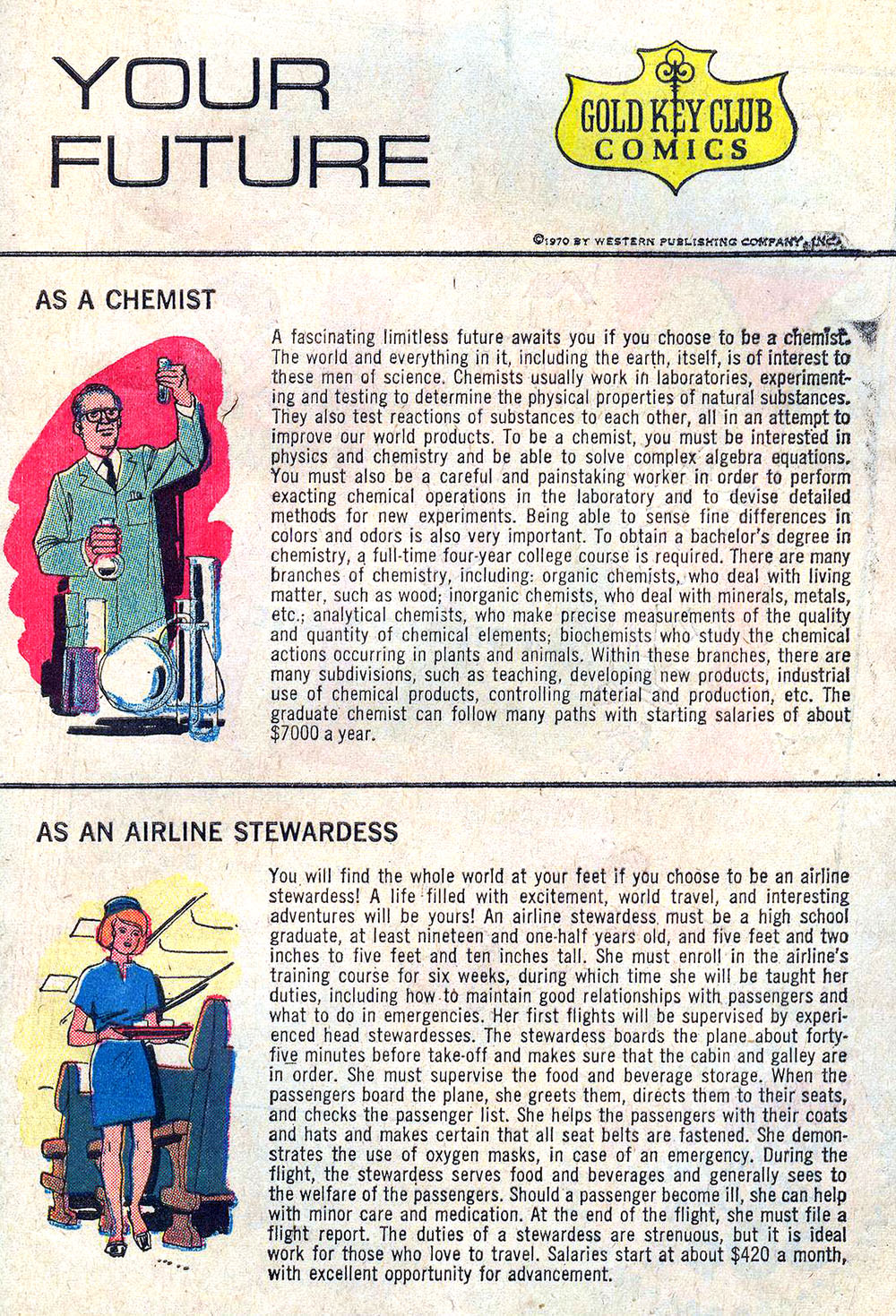 In the end, this article isn't meant to look back in scorn at the narrow career options made available to women.  Nor is it to look down on these positions – all of them honorable and honest ways to make a living.  Rather, it's just an interesting look back to how different things were – and it should make us feel positive at what a long, long way things have come!  Cheers.