Stardust: The rise and fall of Jim Maclean.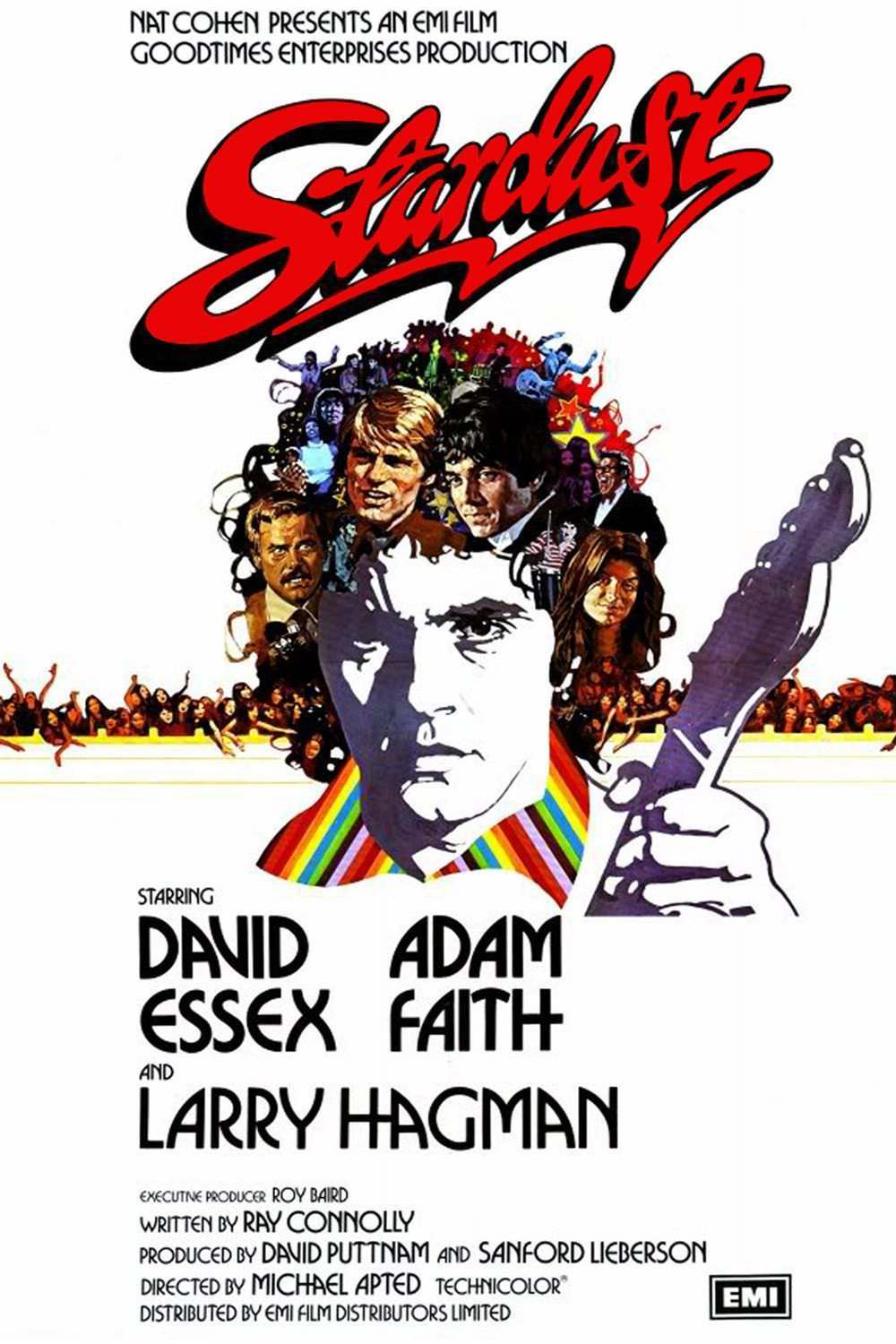 "There was an identity crisis going on," said David Essex of his second movie, Stardust. "Things in the film were happening to me in real life."
This was no empty hyperbole. In 1974, Essex took his pop career to the next level, with a smash hit album and his first British number one, the aptly named Gonna Make You A Star.
And stardom was the theme of that year's sequel to That'll Be The Day, in which the rise and fall of Jim Maclean is charted from the same unsentimental perspective as its predecessor.
We rejoin Jim as a member of The Stray Cats, an archetypal group from the British 'beat boom', driving up and down the country in a van and dossing in seedy boarding houses. On screen, they are played by proper pop stars Dave Edmunds, Keith Moon, and Marty Wilde, plus actors Karl Howman, Peter Duncan (of Blue Peter fame) and Paul Nicholas (who actually had some hits in the 1970s, including Dancing With The Captain, Reggae Like it Used To Be, and Grandma's Party – all of them utterly execrable.)
Nicholas's character is ditched Pete Best-style, before the band makes it big, and his preying on young fans does not go unnoticed ("It'll be little boys and sheep next," remarks Howman's character with undisguised disgust.) In real life another band was put together by Edmunds to record his songs for the film (which were uniformly good) and these appeared on the soundtrack album, alongside real hits from the 1960s.
Moon's presence was a constant disruption, and his usual hotel antics at one point threatened to get the entire cast and crew chucked out, thus jeopardising the whole production. Essex's presence was disruptive in other ways. The Stray Cats' performance (supposedly at the 1965 NME Pollwinners' Concert) was filmed at Mancheter's Belle Vue, and the audience consists of real-life David Essex fans going apeshit (and initially shouting 'David!' instead of 'Jim!' before they were put right). Unfortunately, they are also waving 1970s silk scarves, wearing 1970s clothes, and sporting 1970s haircuts (as are the bouncers). It's a sight to rival the end of Escape To Victory, when thousands of flare-wearing herberts invade the pitch and spoil the Nazis' party. When the girlds chase the cars after the show, it's all for real too, and gives real-life Beatlemania a run for its money.
The story initially mirrors that of the Beatles, as do the band's velvet-collared suits. They conquer the USA, acquire – against their will – a ruthless American manager (played entertainingly by Larry Hagler), and start to become jaded by the endless touring. The tale parts company with the Fab Four when Jim goes solo (in acrimonious circumstances) and begins to crack under the pressure, eventually becoming a hermit in a Spanish castle, where he lives with his English manager Mike (Adam Faith). Here, Jim's unpleasant character manifests itself again when he gives Mike's dog a tab of acid, causing it to miscarry in a horrible bloody scene. In another example of life imitating art, Faith and Essex seriously considered buying the castle themselves.
Things end badly for Jim. Coaxed to do one last interview, he overdoses live on television. "You can't die," says Mike in the ambulance. "I own half of you."
It's a suitably droll ending for a fairly bleak film. Indeed, its uncompromising content earned it a BBFC certificate that prevented many of Essex's fans from seeing it. One fan who did get in was Sean Ryder. "I came out and said, 'that game is for me'," he reminisced later. "I always loved music but Stardust and David Essex changed my life."
Watch it here…
https://www.youtube.com/watch?v=DRUPeGrwUzI