"June 9th 1969. A warm night in Cambridge. A rock band plays the May Ball gig for £120. A great deal of champagne, a good deal of hashish, some acid and a very little preludin. And the band still have three sets to play."

– Teeth 'n' Smiles, 1975
In 1976, the pre-Dame Helen Mirren was asked about her role as Maggie Frisby, a sardonic, fading rock singer, in David Hare's play Teeth 'n' Smiles. The play was first performed at the Royal Court Theatre on 2 September 1975 and revived at London's Wyndhams Theatre in May 1976 (directed by the playwright).
The cast was starry. Aside from Mirren, there was Antony Sher KBE (14 June 1949 – 2 December 2021), Cherie Lunghi and Jack Shepherd. During the initial run at the Royal Court, Keith Moon (23 August 1946 – 7 September 1978), hymned drummer with The Who. turned up drunk at the stage door, joined Helen Mirren in her dressing room and told her how great the show was. He then tried to join the cast on stage before being stopped by the management.
The story centres on the May Ball at Jesus College, Cambridge, on 9 June 1969, when the band are booked to perform. As world's collide, Maggie burns down the venue's marquee.
According to the New York Times review:
The core of the play is Maggie. She is a Joplin on the rocks – a tormented woman who makes her first entrance as a limp mattress slung over a musician's shoulder. Later, dried out, she rises to spotlighted stardom, performing at a level she cannot sustain.
On BBC TV's Tonight, Mirren shared her thoughts. Would the play be a hit?
"You never can tell with the West End. You have a play here that is not usual West End material, in the sense that it's not middle aged and middle class, particularly. It's got a lot of swear words in it, a lot of very loud music. On the first public preview quite a lot of people walked-out, quite early on in the play when the first music takes place as it was too loud."

 
In The Blue Touch Paper: A Memoir, David Hare recalls why Mirren got the part:
My lasting hatred of the word self-destructive stems from the fact that I have no idea what it means. Or rather, it's in such common and lazy use as to have no meaning at all, except presumably to convince you that the user somehow knows what he or she is talking about. When a politician takes no care to hide the fact he is sleeping with his research assistant, the word for what he does is stupid. When a rock singer dies in a pool of his own vomit, the word for him is almost certain to be addict. In my play, the central character, Maggie, is fond of a drink, and is also in a state of violent revulsion at what she sees her world becoming. As she keeps intoning satirically, "The acid dream is over; let's have a good time." But there is a purpose to her antics. Under the ragged surface of chaotic abuse, her ex-boyfriend, the lyricist Arthur, can detect a certain iron control. For the role of Maggie, Patsy [casting director, Patsy Pollock] and I therefore needed an actress who was too intelligent to buy into the newspaper myth of self-destruction. She had to be able to scare the living daylights out of every man she met but also to amaze them with her acumen. There was only one candidate. But the problem we had was that Helen Mirren couldn't sing.

 
But she got the part:
At the time she came to us, Helen had been traveling 'round Africa with Peter Brook and was very much a believer in onstage spontaneity. She had an insouciant approach that included telling stories about the unhappy effects of imagining she could enliven her appearance in a Royal Shakespeare Company performance of The Wars of the Roses in Stratford with a few spliffs. Helen's ways of not listening to direction were far more sophisticated than those of anyone I had previously encountered. Once she received me naked for a notes session in her dressing room. She discarded the Evening Standard, which had briefly obscured her, clearly with the aim of putting me off my stride. She succeeded. Helen's fondness for hanging loose was fine by me—it was so unselfconscious and natural, and onstage it fed into the character—and it was also fine with Jack Shepherd, who was playing Arthur. He was an old hand who had dealt with far trickier people than Helen. He loved going out and jazzing according to whatever Helen threw at him that night. She was so accomplished that, whatever she did, she never let go of the play's intent.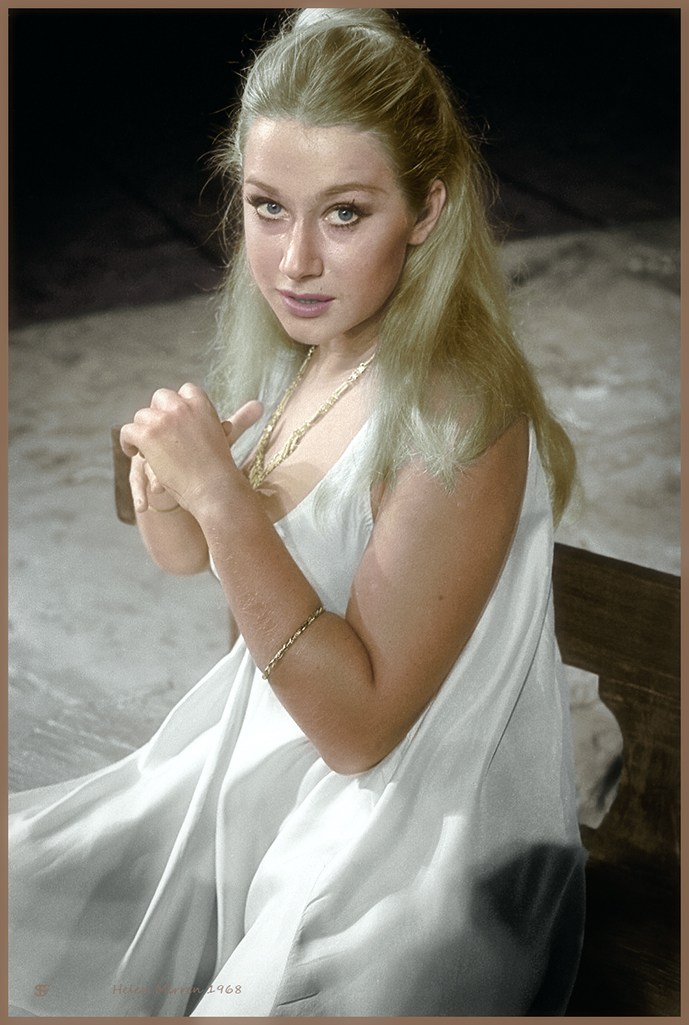 Mirren enjoyed playing Maggie. The site Helen Mirren quotes her telling Time Out magazine in 1975:
"I'm very like Maggie in many ways, only she's much more ballsy and gutsy than me. I endorse most of what Maggie says, in fact in many ways it's difficult to talk about her because I feel so close to her…

"When I was first offered the part I was so scared. I've never wanted to play a part so much since I played my first part when I was seven years old [Gretel]. I get very bored going to the theatre now. I'd much rather go to rock concerts [JJ Cale, Dr John and Led Zeppelin are among her favourites]. So when I was offered the part of Maggie, a singer, well, I'm not a natural audience, I'm a performer, I had to do it. Of course I felt scared about the singing, I love singing but I can't sing. [Nick Bicat, music director for the production, says she can sing 'because she's herself and very brave'.] "
And more from NME in 1976:
"There aren't many good parts for actresses. Maggie is a good strong part and that's quite rare in modern theatre. So I like it for that. I don't like it because it gets to me in a funny sort of way. Perhaps too close to sides of me I don't much like. But it just makes me feel unattractive. … Maggie's doing it [struggling with a boring middle-class background] in one way. I don't think that's the only way to do it, possibly. But I've always had this sneaking admiration for people who go to the extremes of energy and wit. They're terribly, horribly destructive often, but there's something really fascinating and very lovable about them. I find it very difficult to let go. I mean I find it practically impossible to let go. I just get very sulky instead. I don't think I can do a Maggie at all. I'm too self-conscious. … When I played Miss Julie, it was the same cathartic experience, because you let it go. You let it all come out without ever actually committing yourself personally – although I do try to commit myself personally as much as possible on stage and try to make it as real and present as possible."