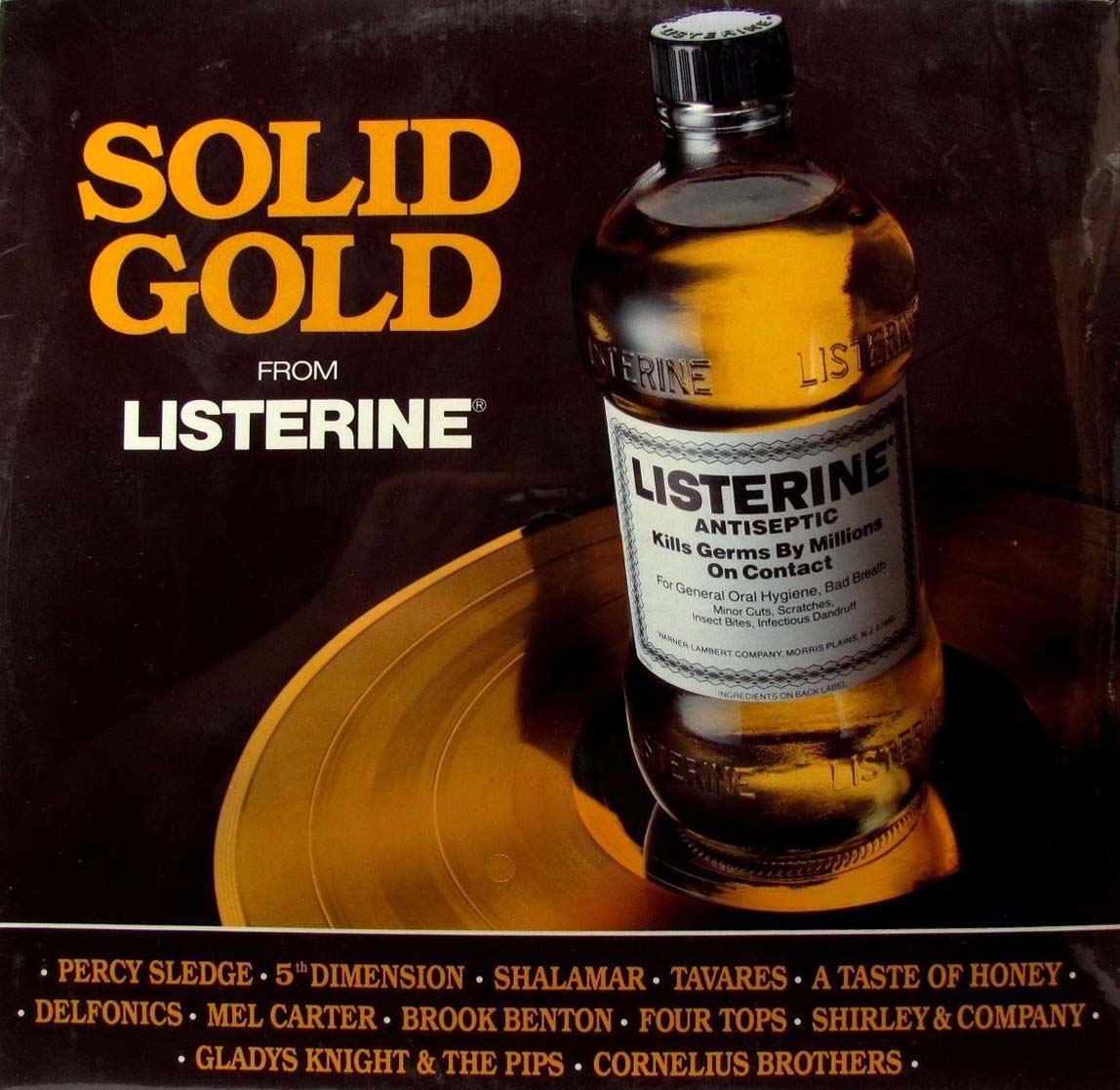 Back in vinyl's golden age, it wasn't uncommon for companies to advertise their brand by releasing a promotional album.  While there's nothing wrong with this whatsoever, it did create a recording genre that, in retrospect, is curious at best and godawful at worst.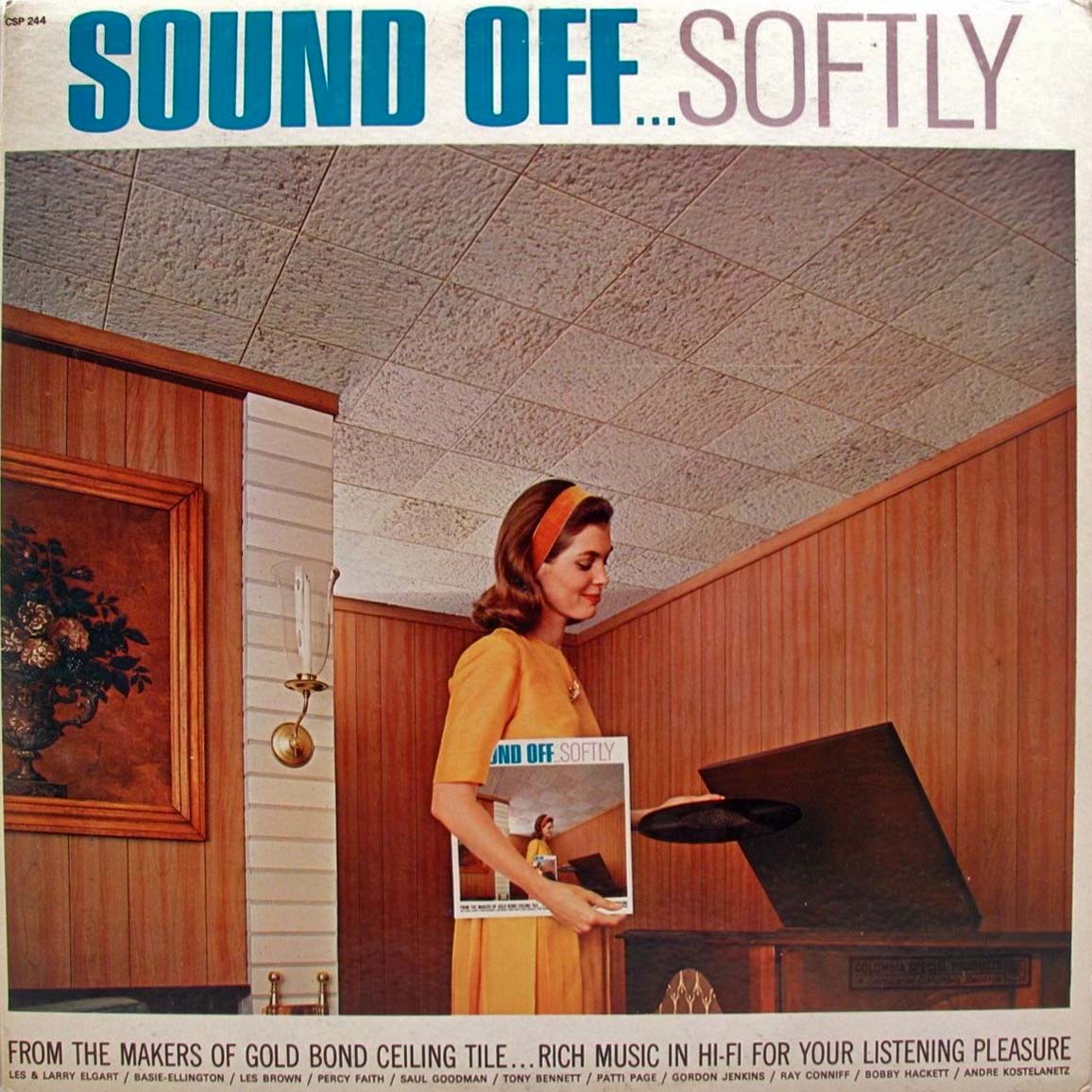 This is a promotional album for Gold Bond Ceiling Tile – specifically their Silentex product, which claimed to improve a room's acoustics.
You'll notice the playlist is strictly EZ Listening – none of that mopheaded rock-n-roll on this record!  After all, it was dear old dad who was paying for that new ceiling tile, not the young lads listening to The Who.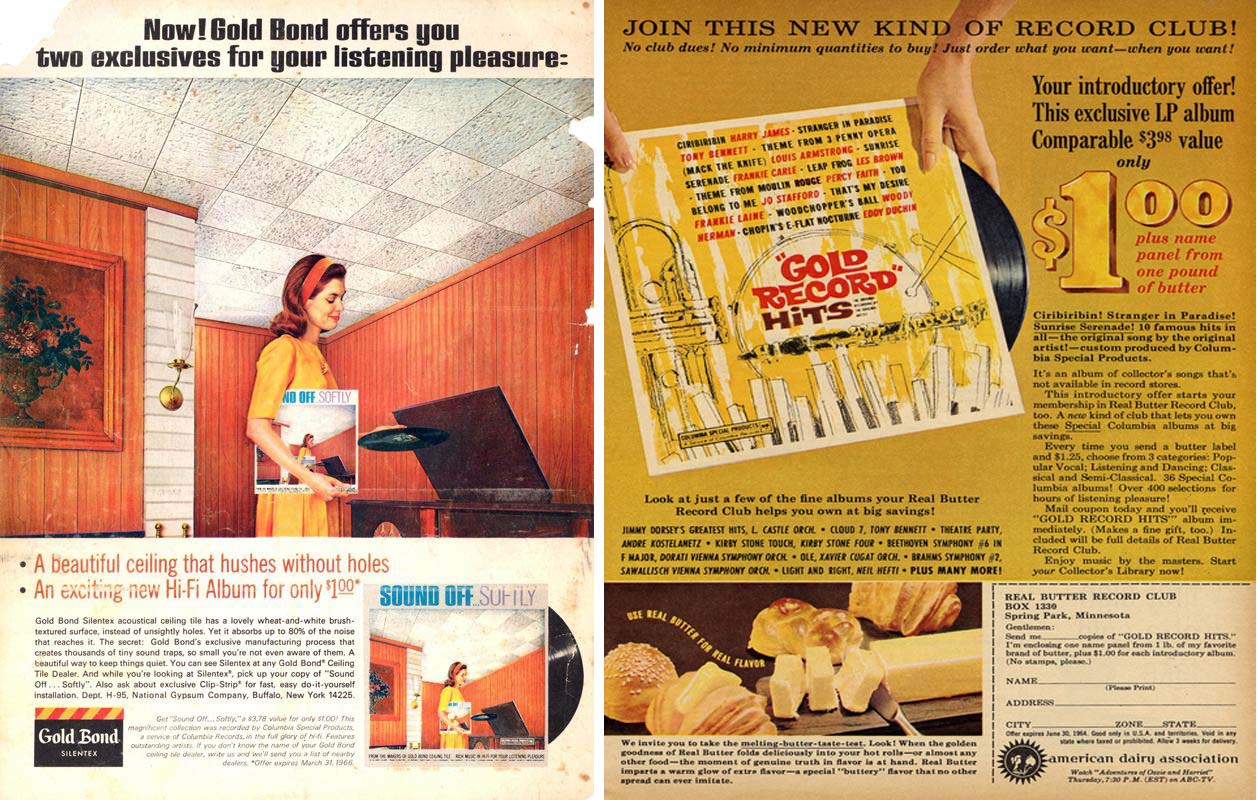 If you're into this sort of elevator music for your hi-fi, then you may want to consider joining the Real Butter Record Club, brought to you by the American Dairy Association.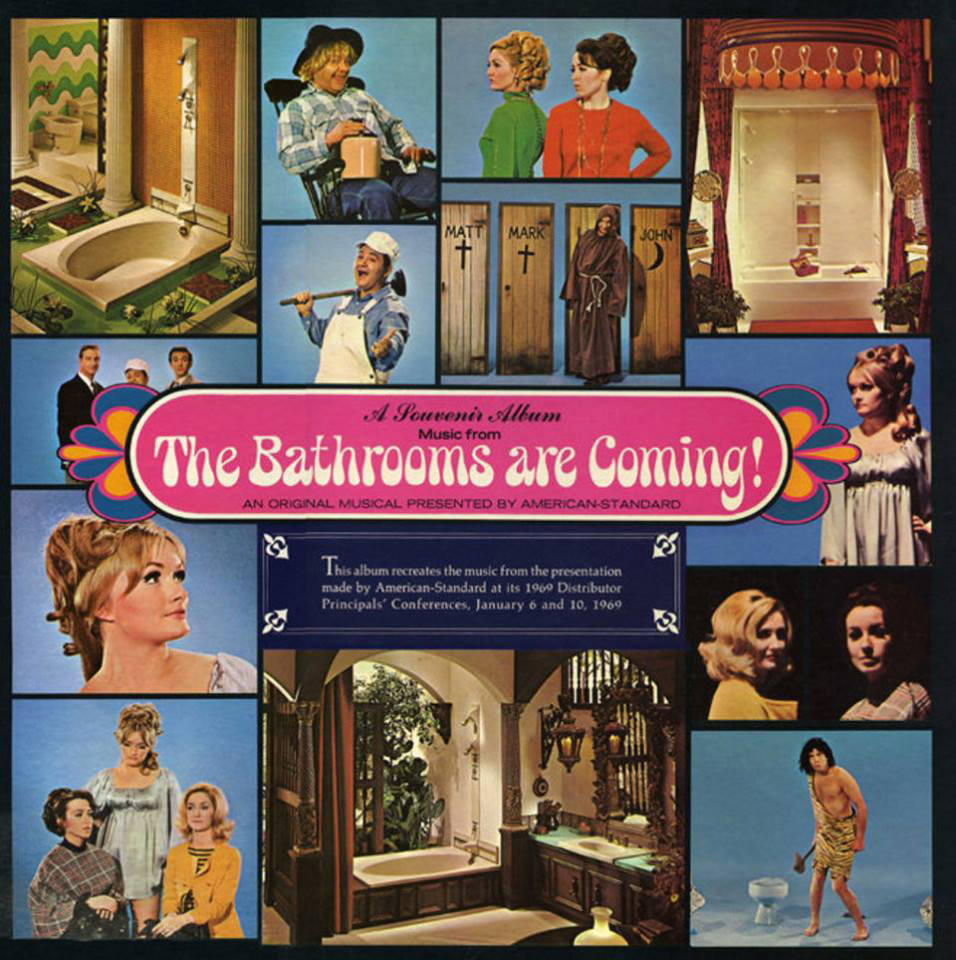 Sgt. Pepper is overrated – let's talk about one of the truly great LPs of all time: The Bathrooms Are Coming!  Yes, it's an original musical by the makers of America's number one toilet bowl manufacturer.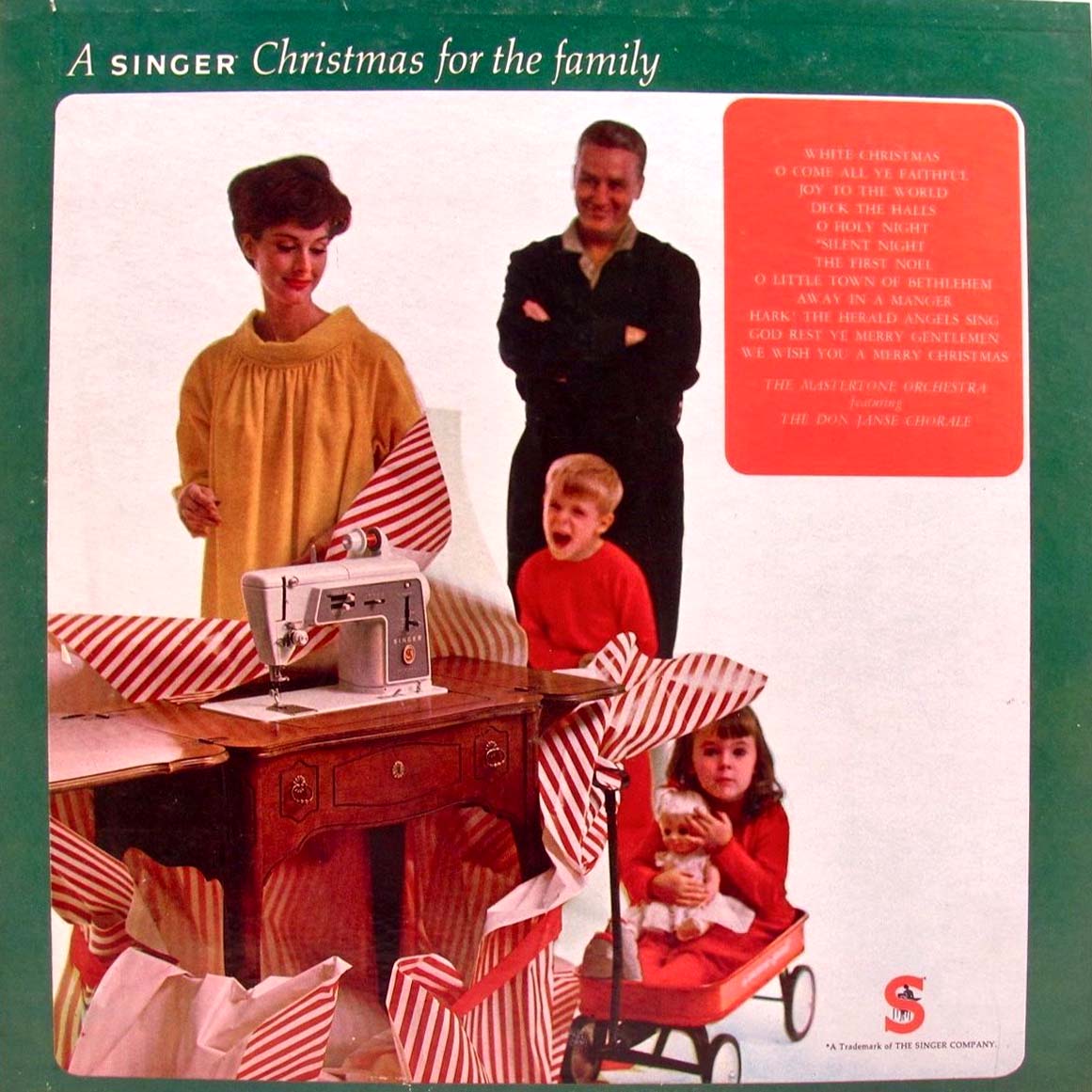 Singer sewing machines release a Christmas album and we're reminded of why Women's Lib came about.  You can tell this poor woman is feigning joy at her gift (perfect for mending dad's work clothes); meanwhile her hellion son screams endlessly.  Time to reach for Mother's Little Helper.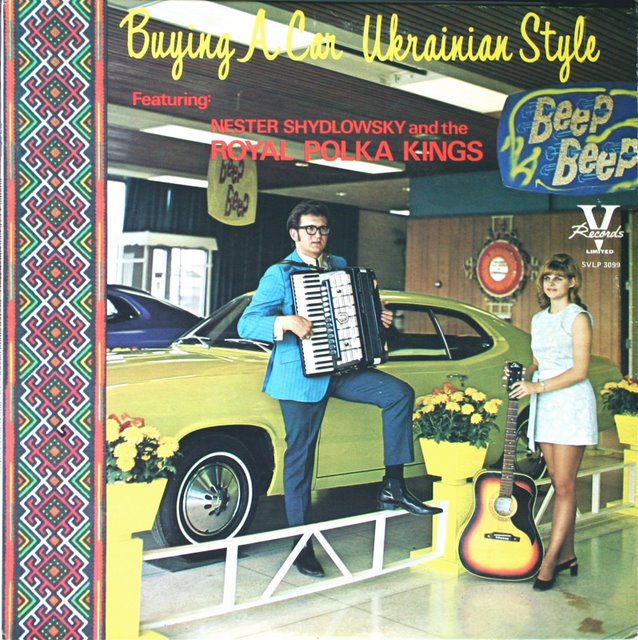 Nester Shydlowski and his lovely cousin Kaja Wladyslaw have just the car for you! Enjoy the sounds of polka as you browse the selection of fine Polish rides.  Dobrej zabawy!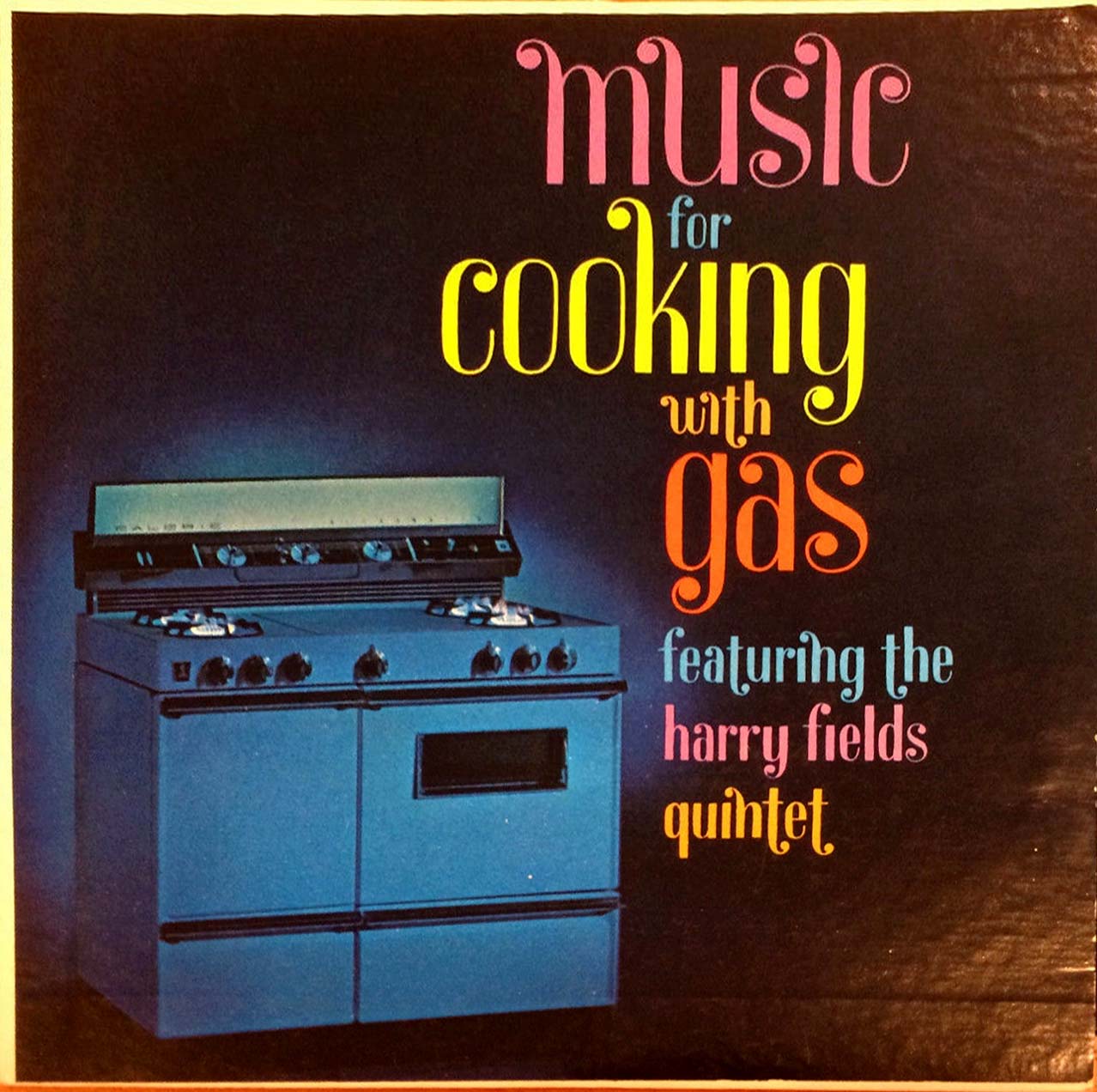 I feel sorry for the Harry Fields Quartet – they finally get a record contract, and it's for kitchen appliance advertising.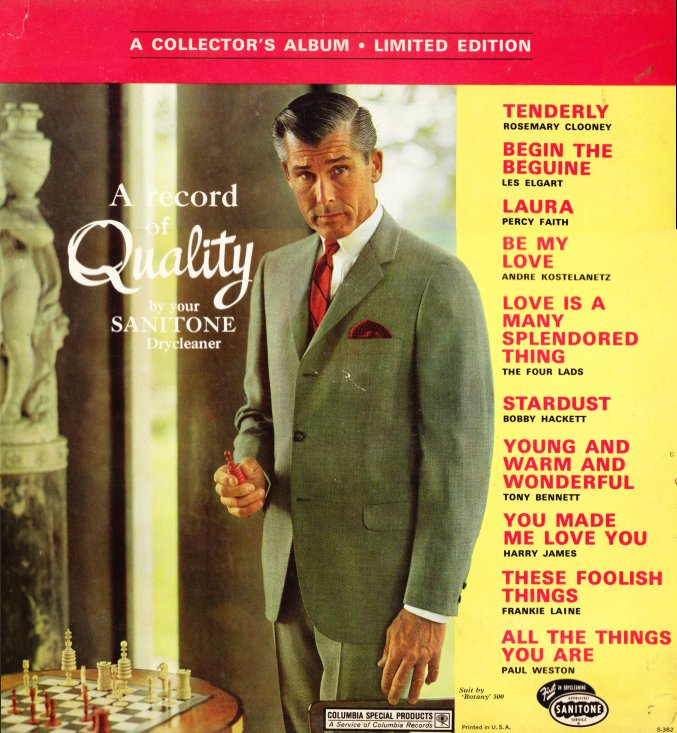 You know a record by Sanitone Dry Cleaners has to be good.  And this well tailored man clearly has the "I'm handsome and better than you" expression down pat.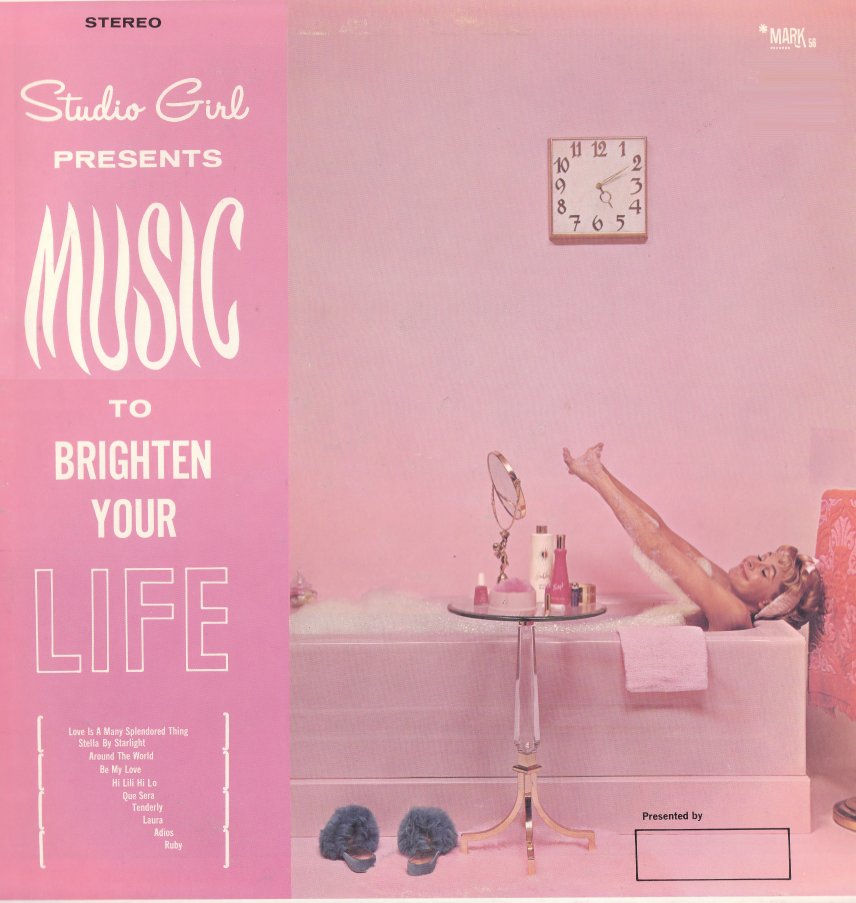 A beauty/cosmetics company called Studio Girl gets in on the vinyl marketing action.  Here's the back cover: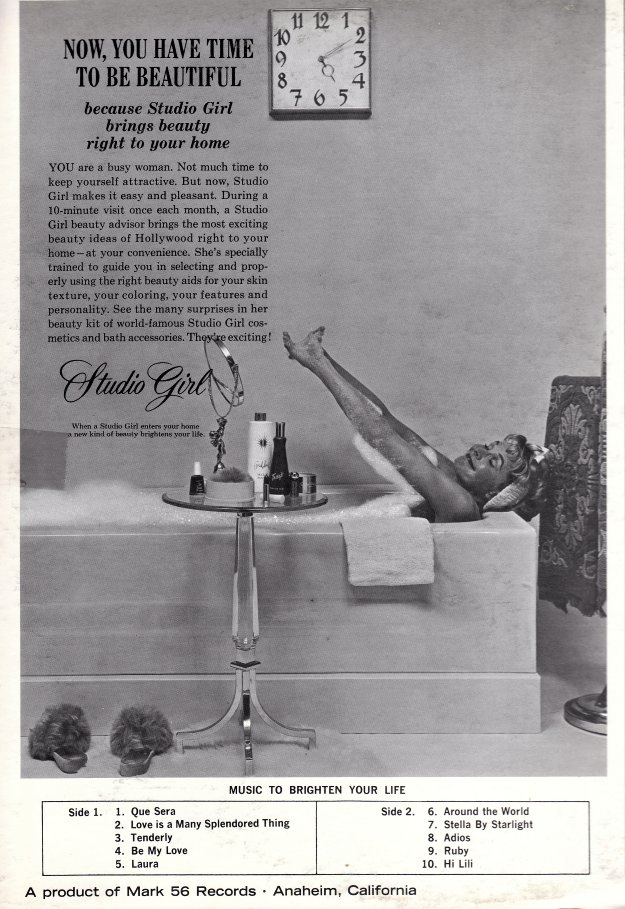 Again, you'll notice a trend on these albums: They are marketed squarely toward the money makers of the 1960s home.  So, none of that psychedelic long-haired hippy music here… just stuff like "Love is a Many Splendored Thing" covered for the millionth  time on vinyl.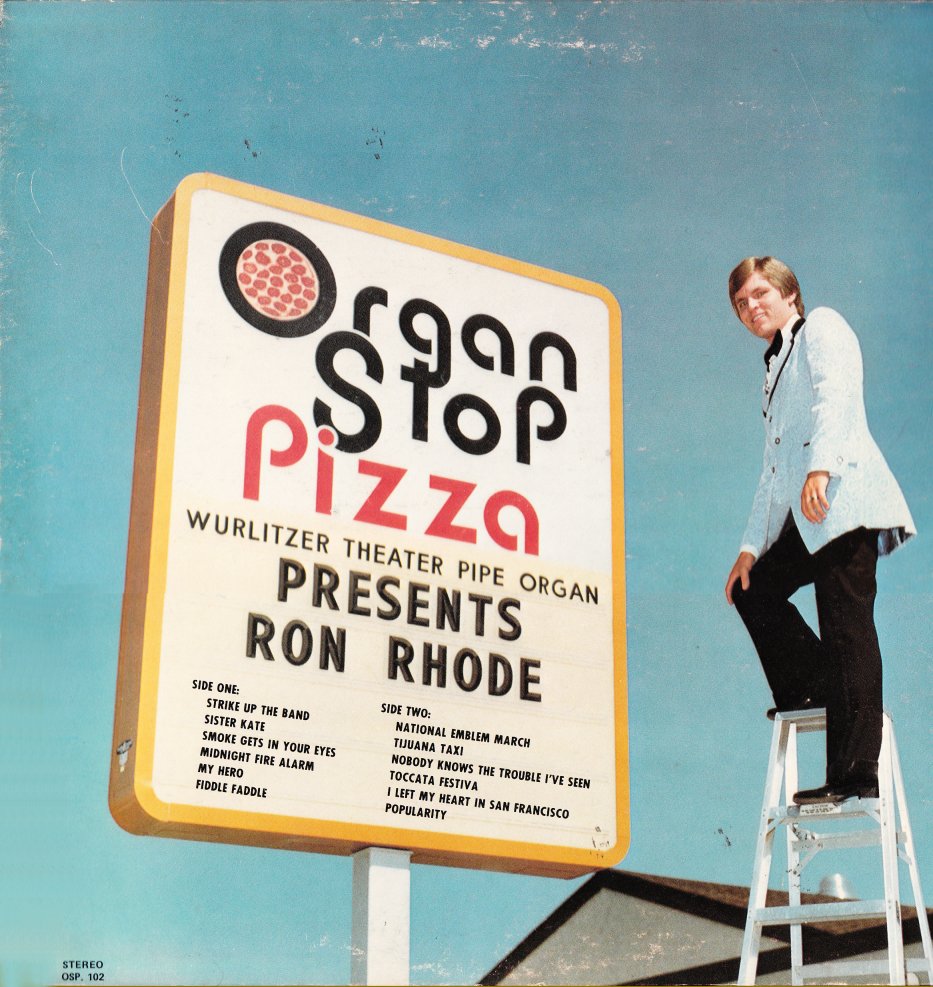 While Polish cars and mouthwash have no connection to music whatsoever, some products did have a legitimate claim to release a record.  Organ Stop Pizza played Wurlitzer organ music in their establishments, so it's only natural they would release an LP or two.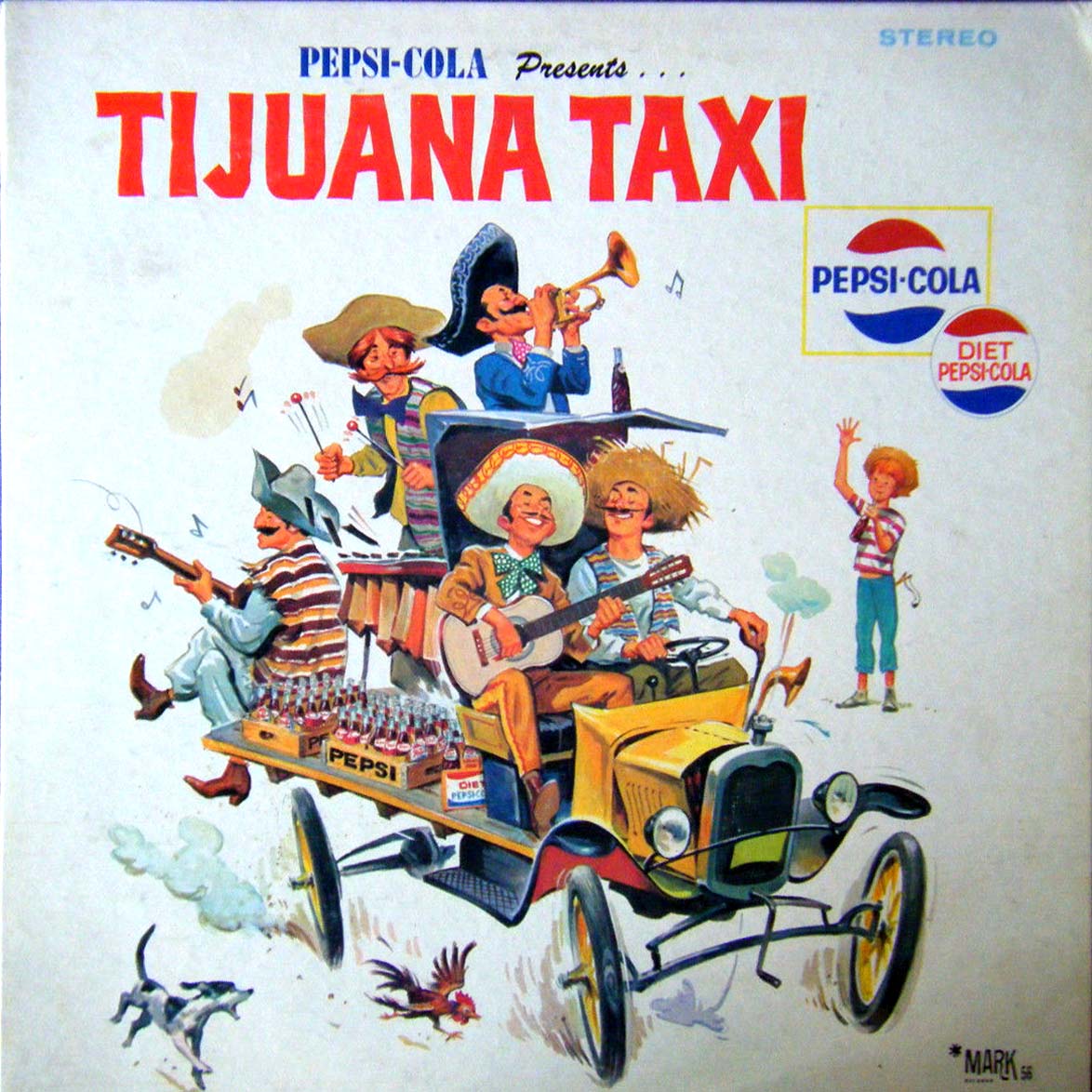 Disclaimer: The Pepsi Cola Company does not support nor condone the use of Mexican stereotypes.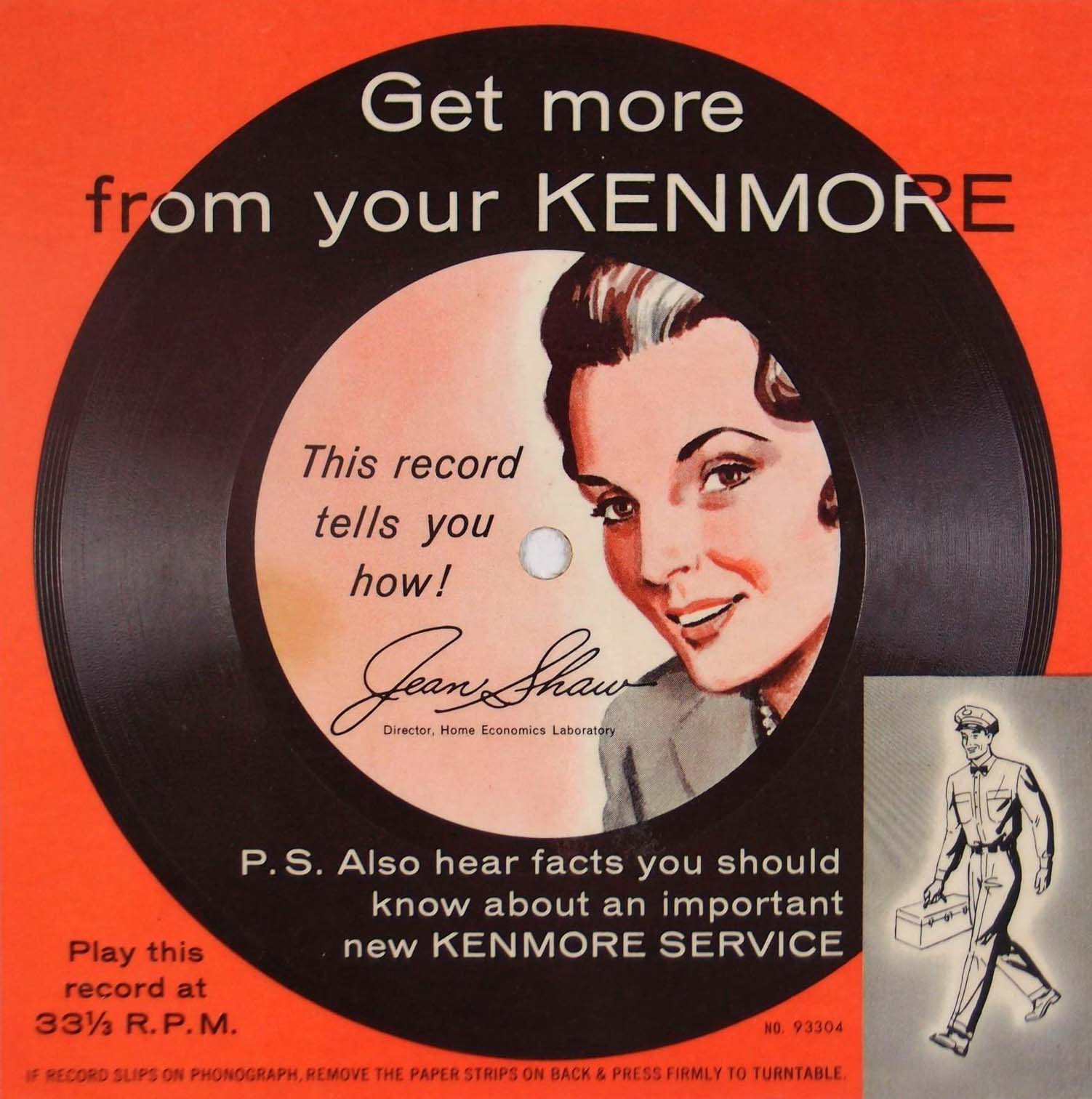 Is it just me, or does this lady seem overly excited for her Kenmore repairman visit?  Methinks she wants more than her washing machine "serviced".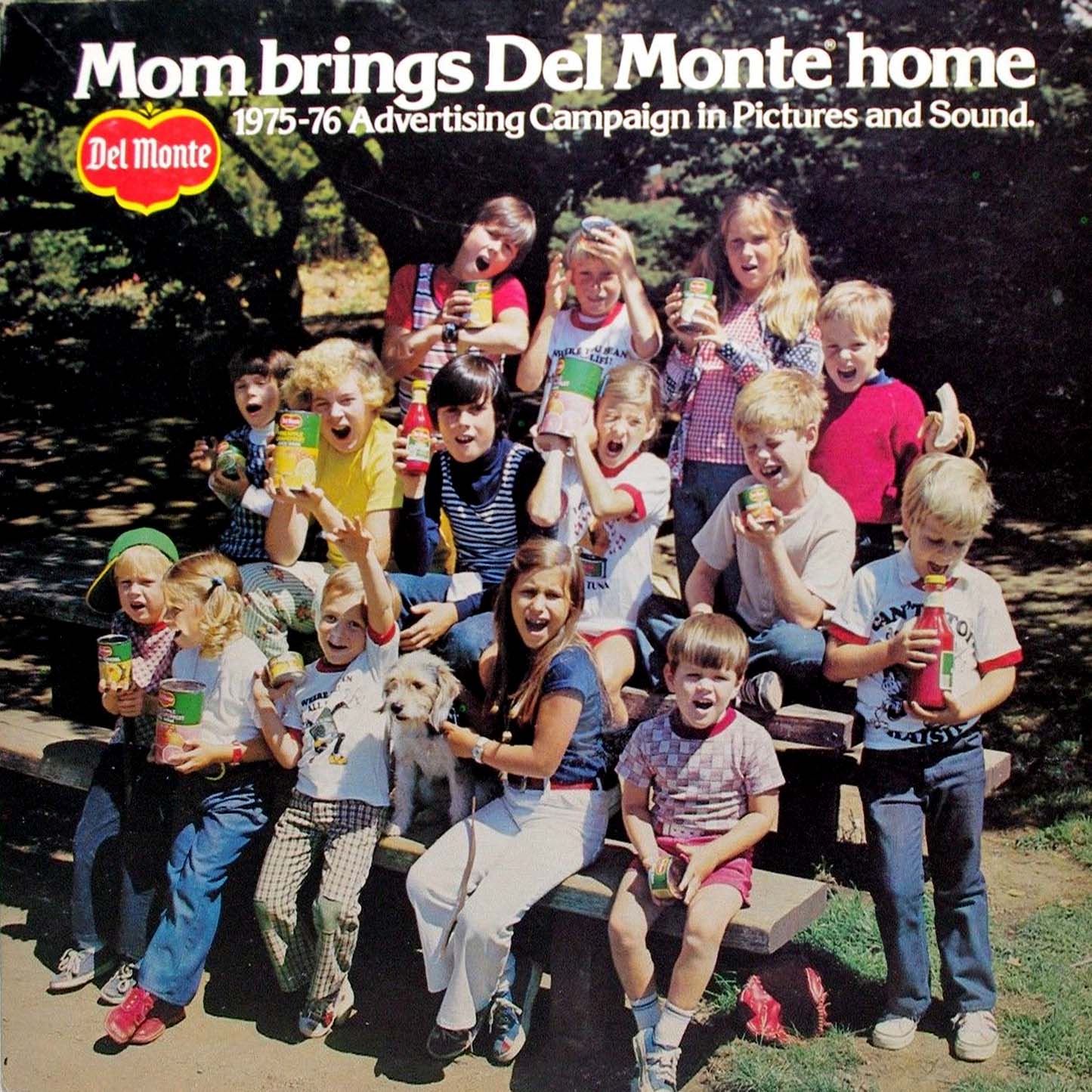 I want you to save this picture to your phone.   That way, the next time someone tells you this-or-that record is the "worst of all time", you can whip this out and say, "Beg your pardon.  But here is the worst record of all time."   Surely, even the worst that Justin Bieber or Kanye West can dish-up pale in comparison to a canned goods and condiment company's record sung by untalented 70s kids… right?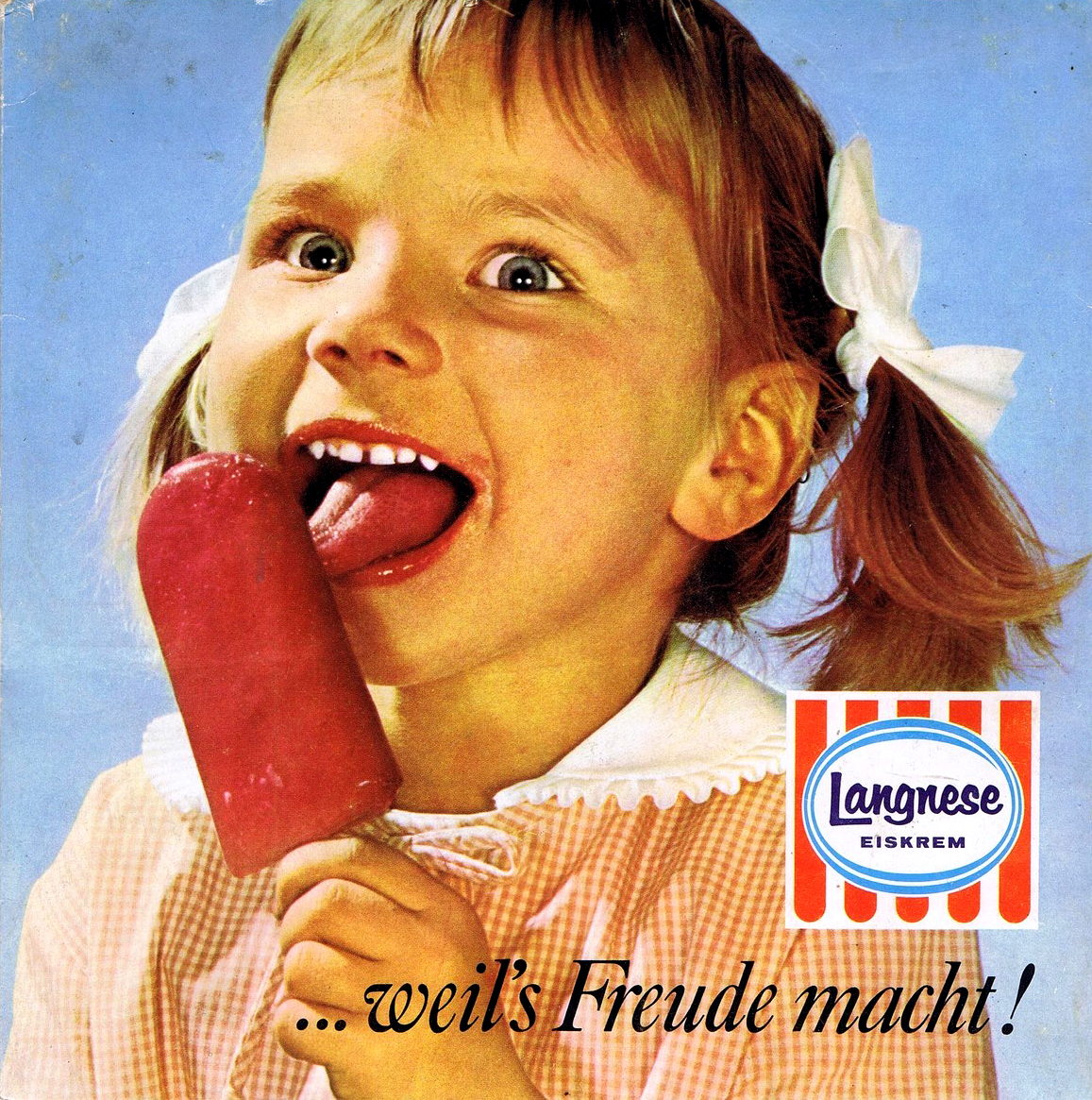 The horror!