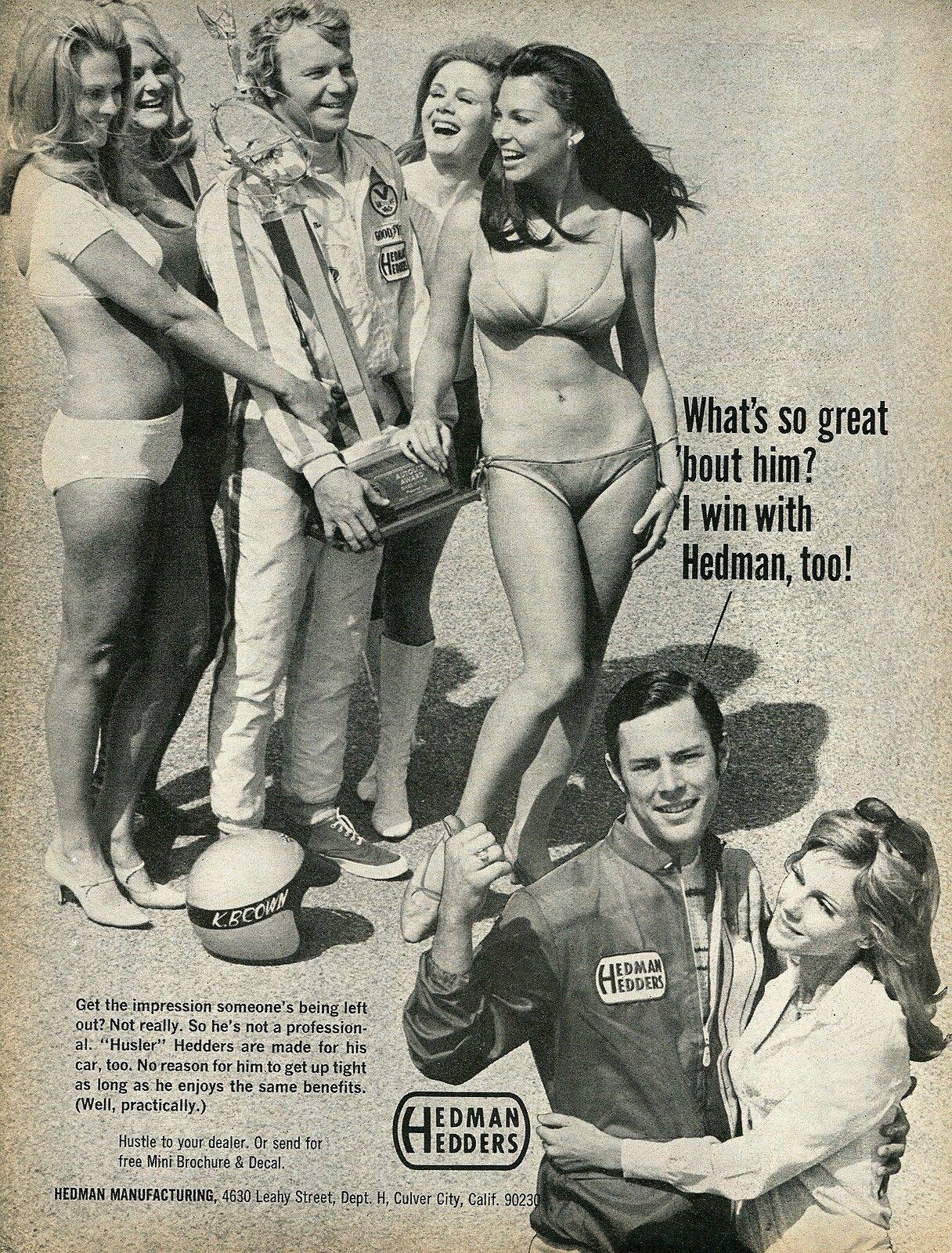 Auto equipment advertising in the 1960s-80s basically consisted of two components (1) the product and (2) a scantily clad babe nearby.  Oftentimes, you'd have the added bonus of horribly crafted sexual innuendo (ex.  a picture of a big breasted gal with the line "Everybody enjoys a nice set…. of high performance mufflers".)   Take a look at some great examples of "sex sells" in the auto parts industry, and if you still want more, check out Part One.
It's not as thought auto equipment advertising was always dirty… it just had to have a pretty lady to "sell the sizzle".  The Hurst shifter (above) is a perfect example.
Or this steering wheel advert…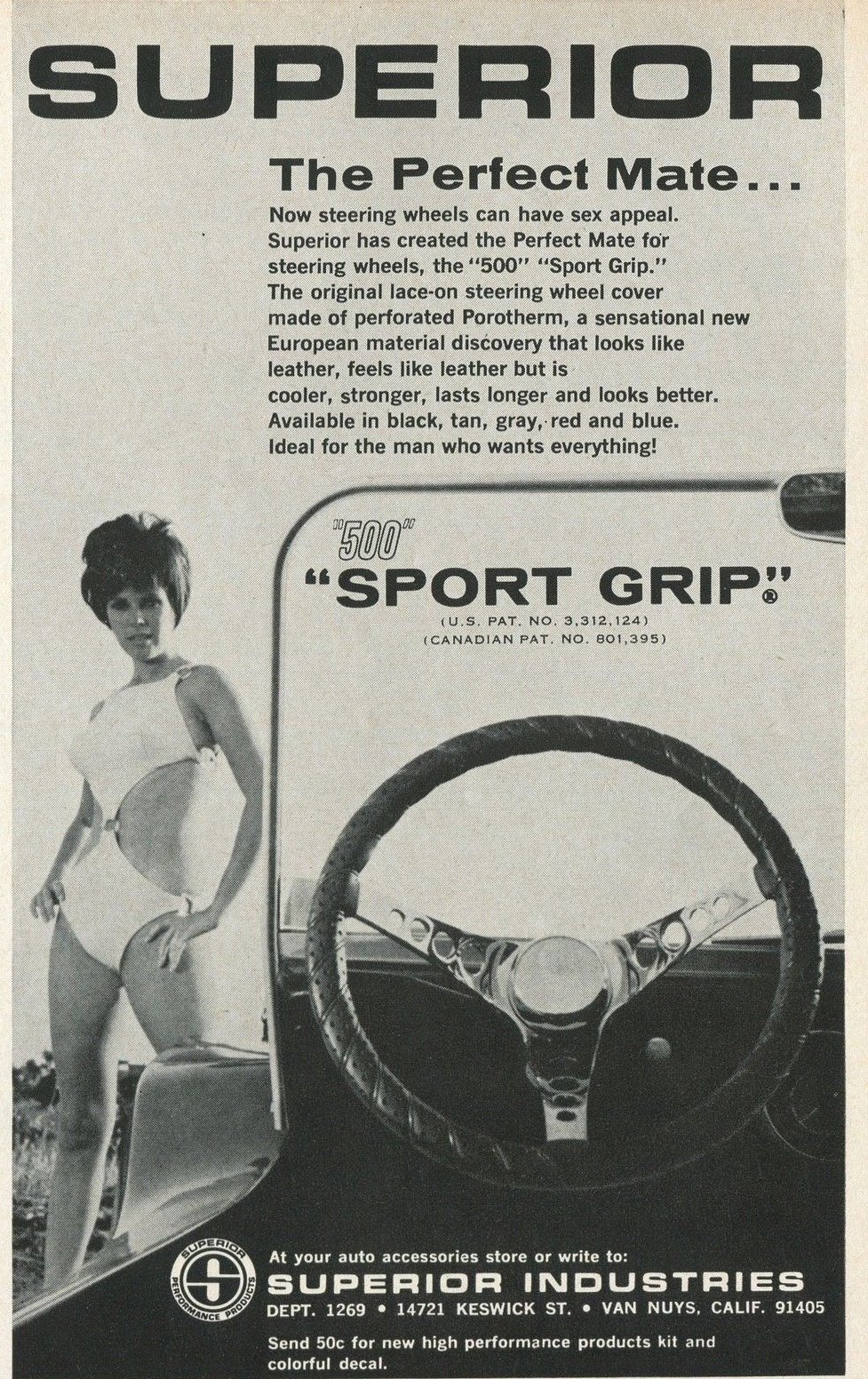 "Now steering wheels can have sex appeal"
But smoking hot babes don't just sell steering wheels… they sell steering wheel covers!
If the chick in the miniskirt didn't sell it for you, surely the "new material discover, Porotherm" did.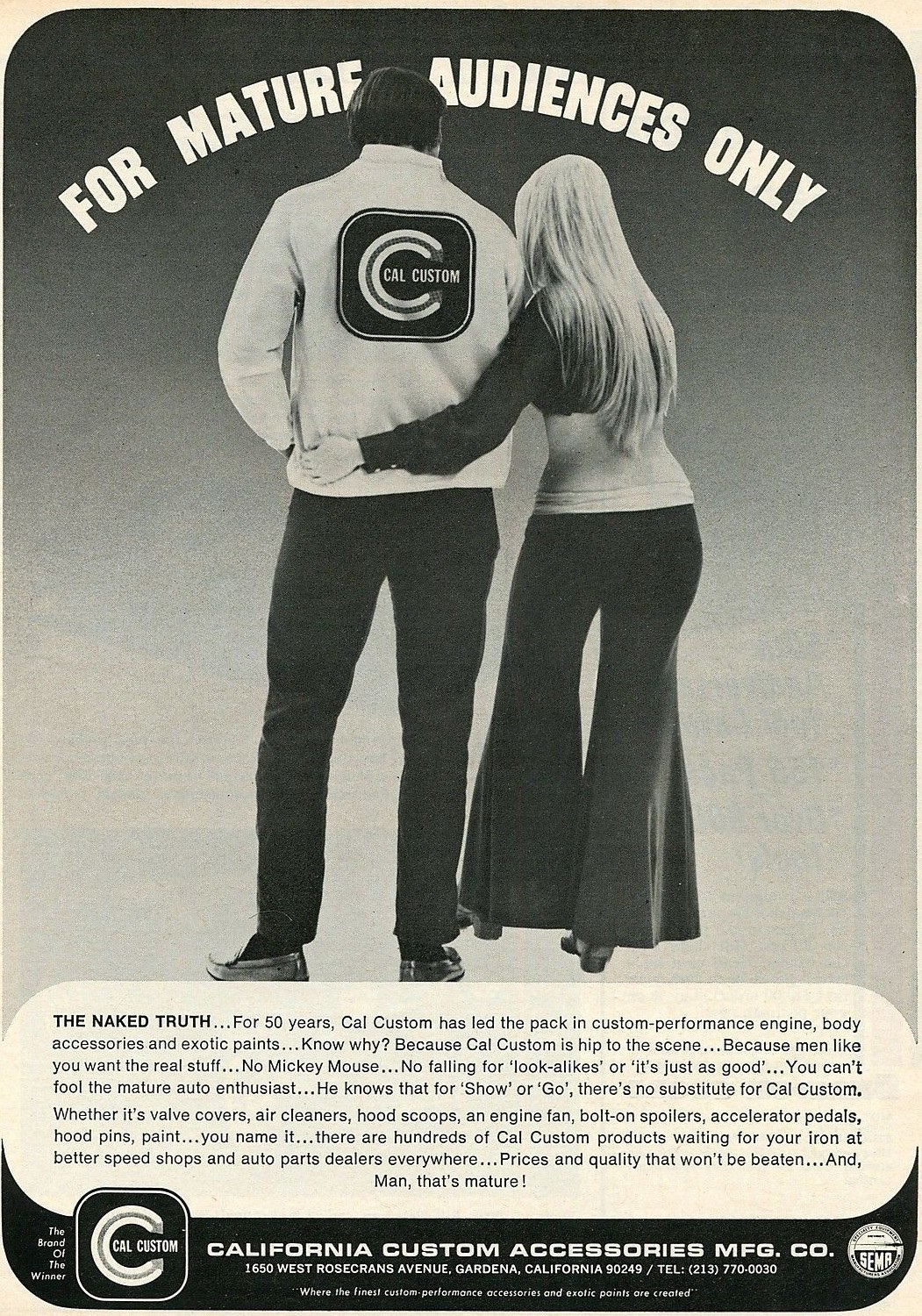 Note the innuendo "mature audiences", "naked truth"… because Cal custom "is hip to the scene".  Even something as mundane as valve covers and hood pins are imbued with excitement when livened up with a little sexual connotation.
Imagine for a moment this Hurst auto equipment advert without the blonde in the miniskirt…. all the information is still intact, but something is just lacking.  For some reason, with a babe nearby, gear lube is suddenly cool.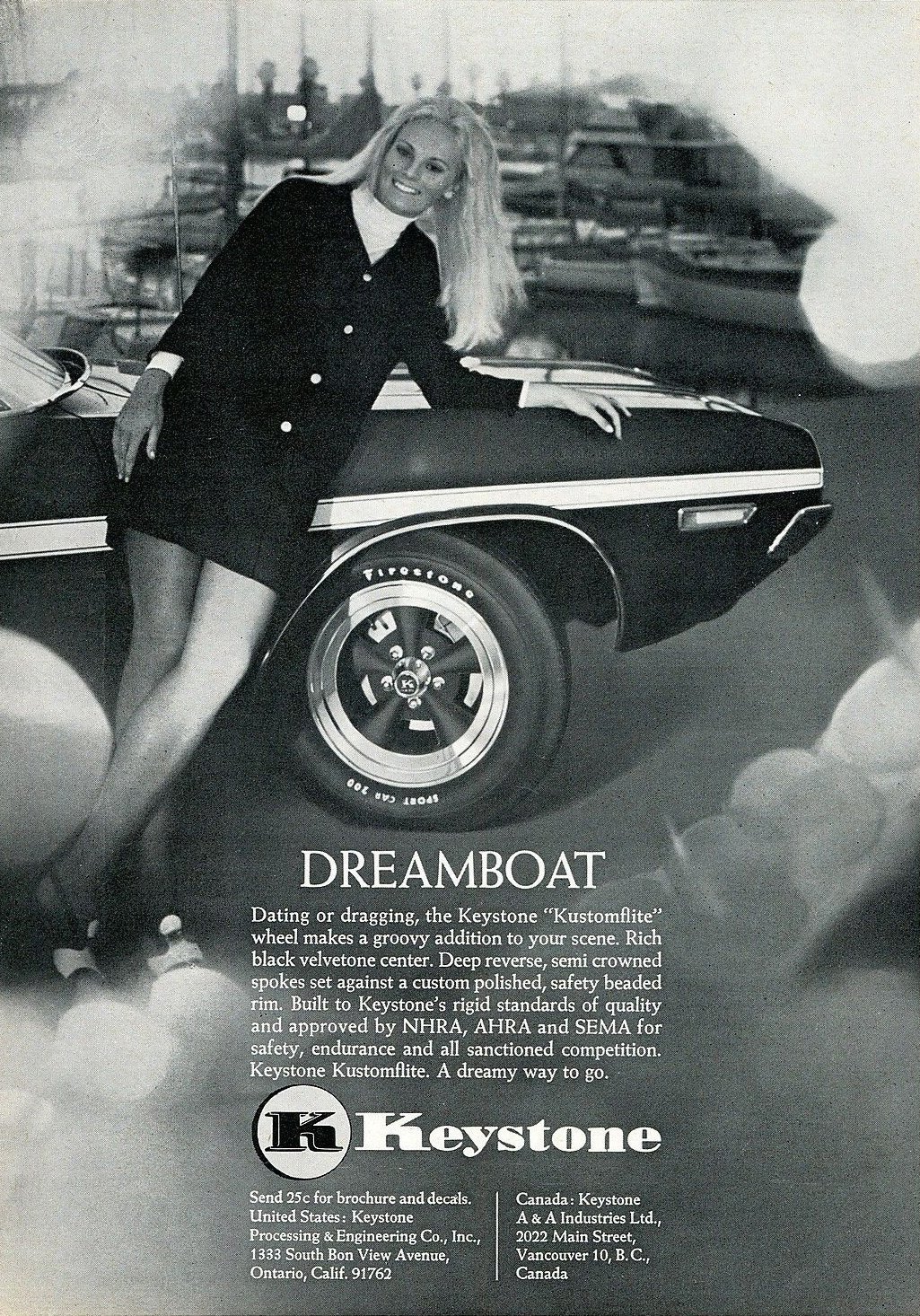 "The Keystone 'Kustomflite' wheel makes a groovy addition to your scene."
I have to think they could've thought of a better brand name than Kustomflite.  I'm just sayin'.
More Keystone shenanigans….
It seemed every piece of equipment could be warped into having sexual connotations.  No auto part was safe.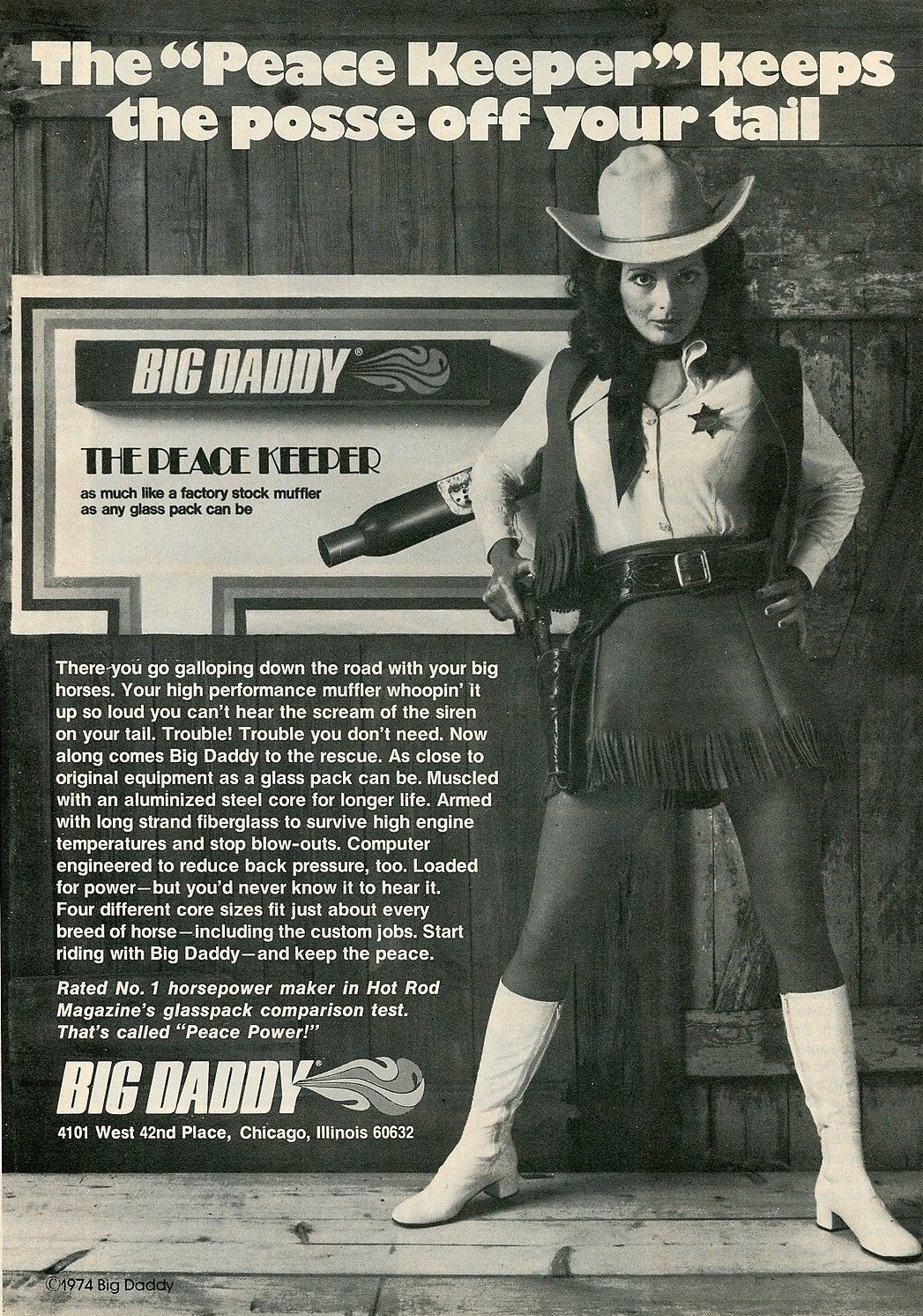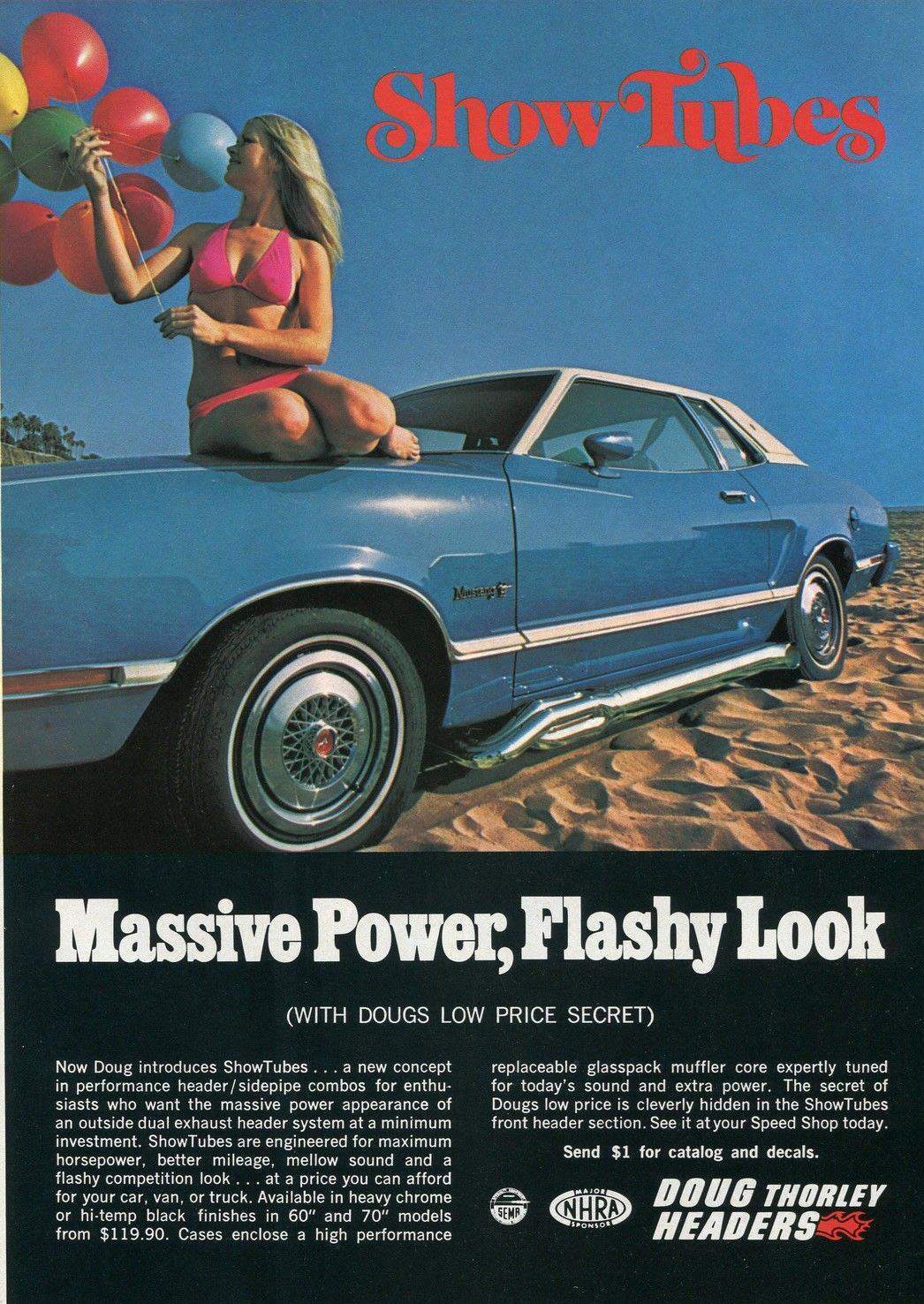 Mustangs, bikinis and badass sidepipes…. It was 1974, and life was groovy.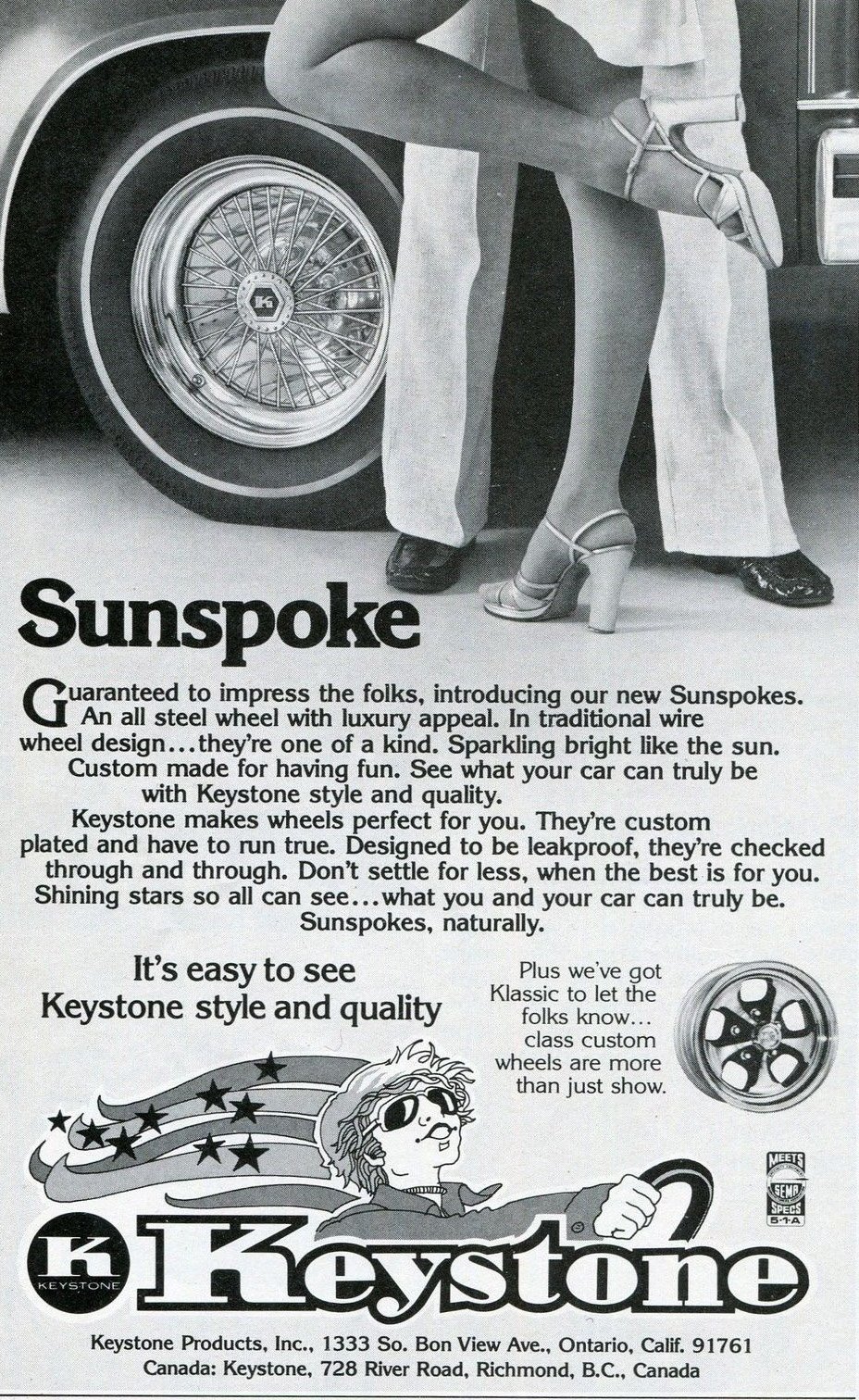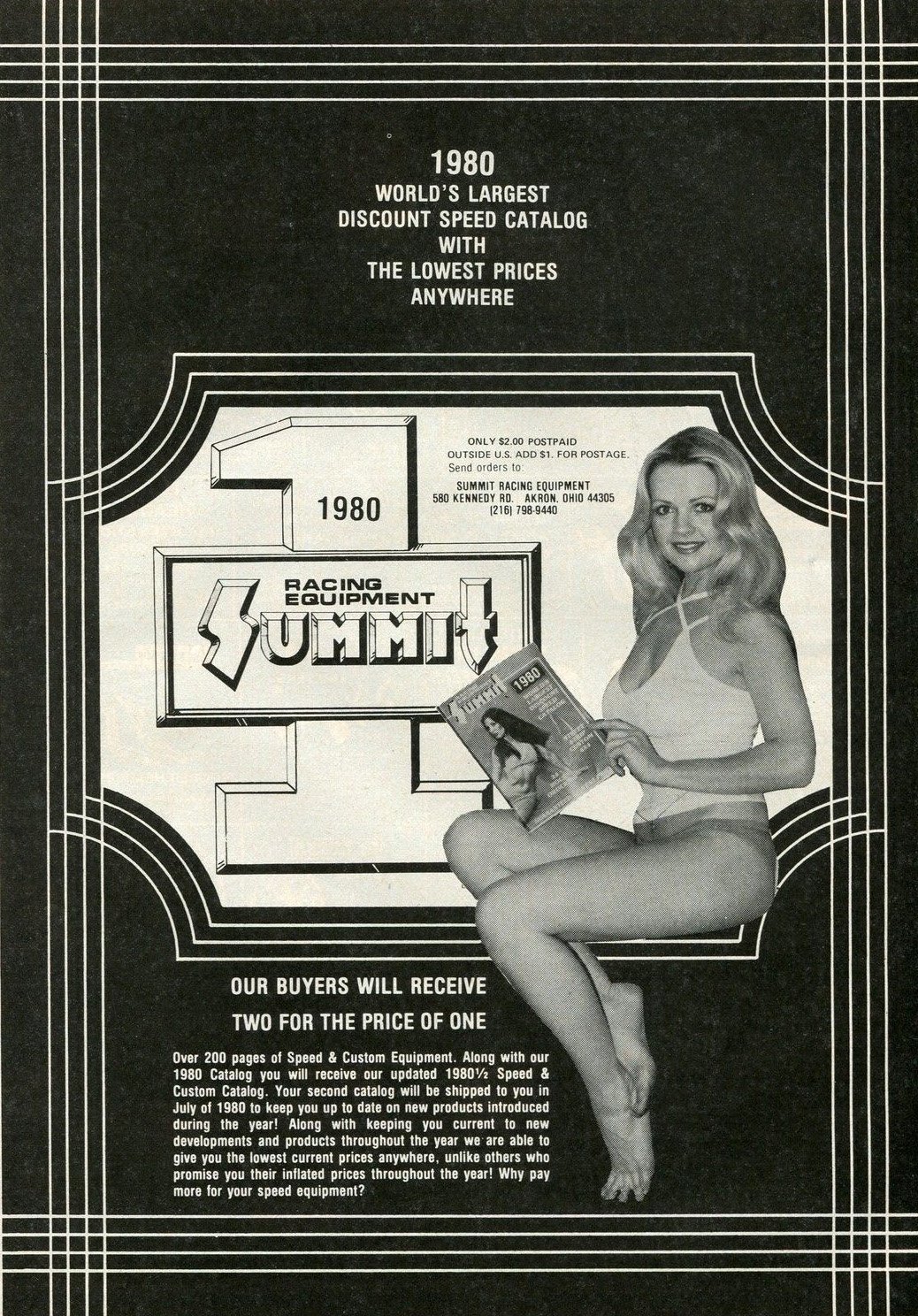 Let's face reality.  Guys were reading this discount auto equipment catalog for reasons other than the bargain basement pricing.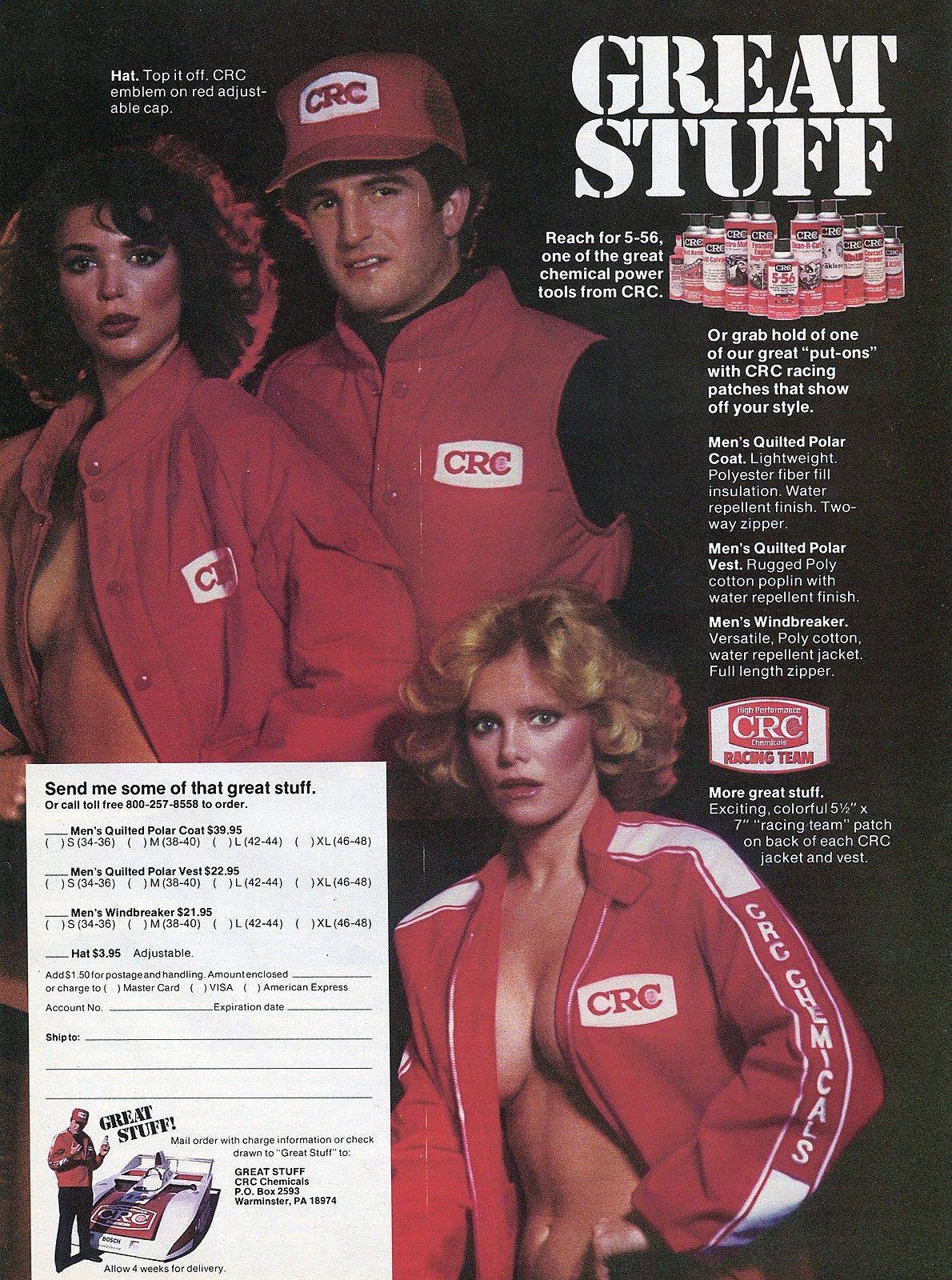 CRC Chemicals aren't just  a manufacturer and distributor of industrial chemicals for maintenance and repair of automotive equipment – they also make stylish garments (best worn unzipped whilst topless).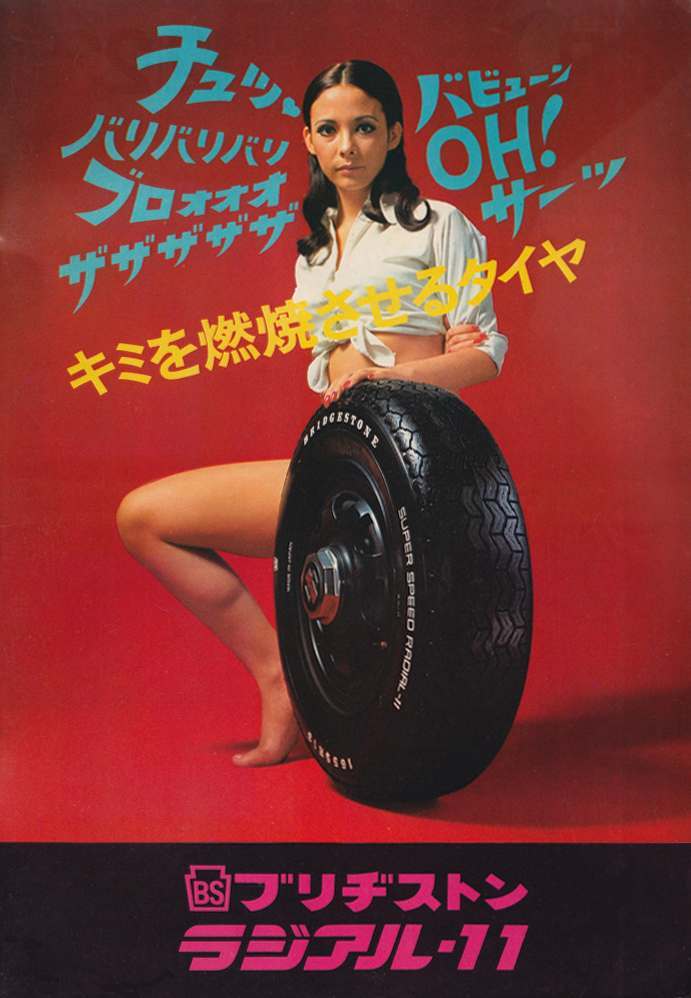 Included to demonstrate that the "sex sells auto equipment" philosophy was alive and well in other parts of the globe.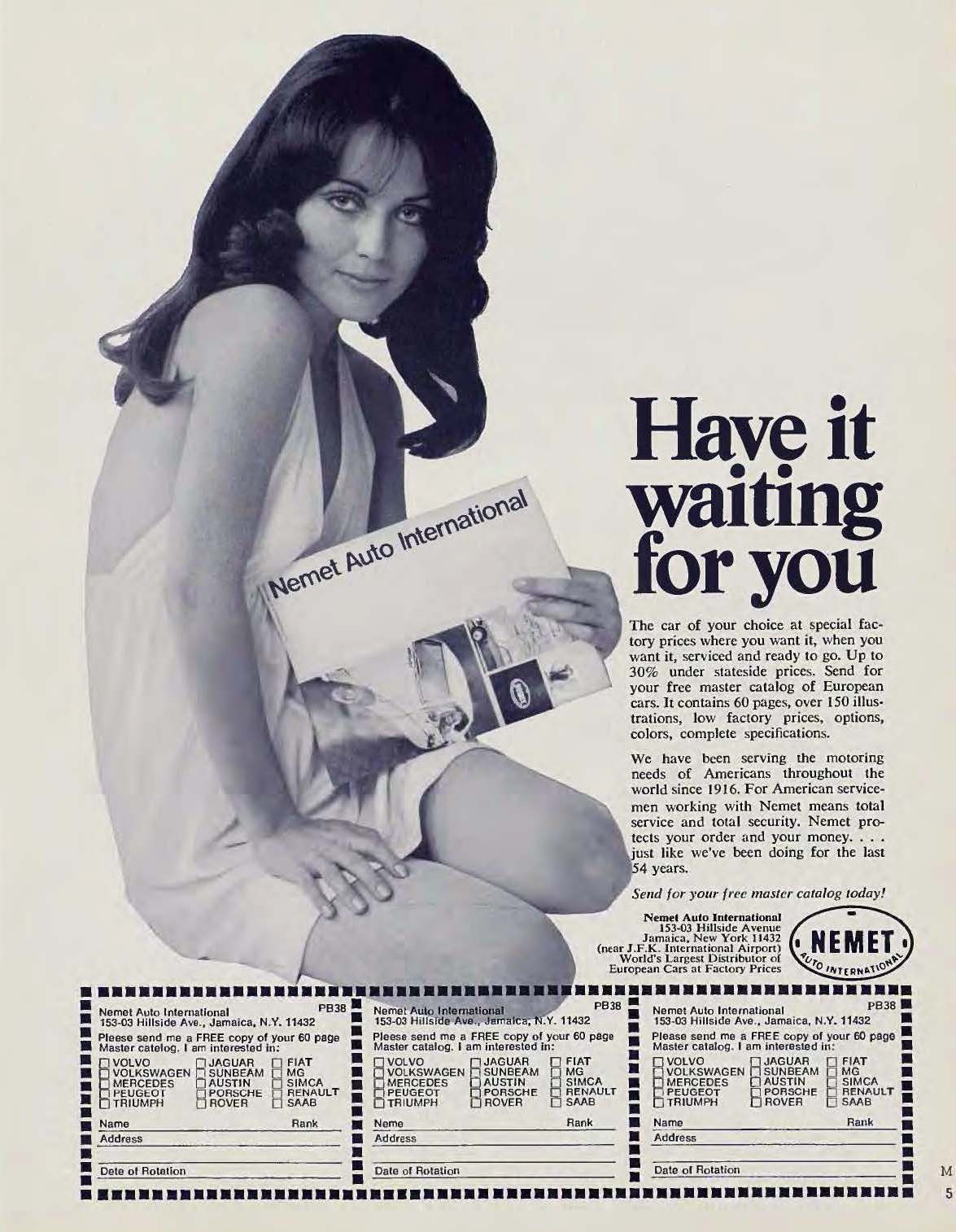 This sultry maiden wants to give you something…. and I think you'll like it.  Like it a lot.  That's right, she wants to reach down and give it to you.  Close your eyes.  Now open them.  Yep – it's an auto buyer's catalog. (insert sound of deflating balloon)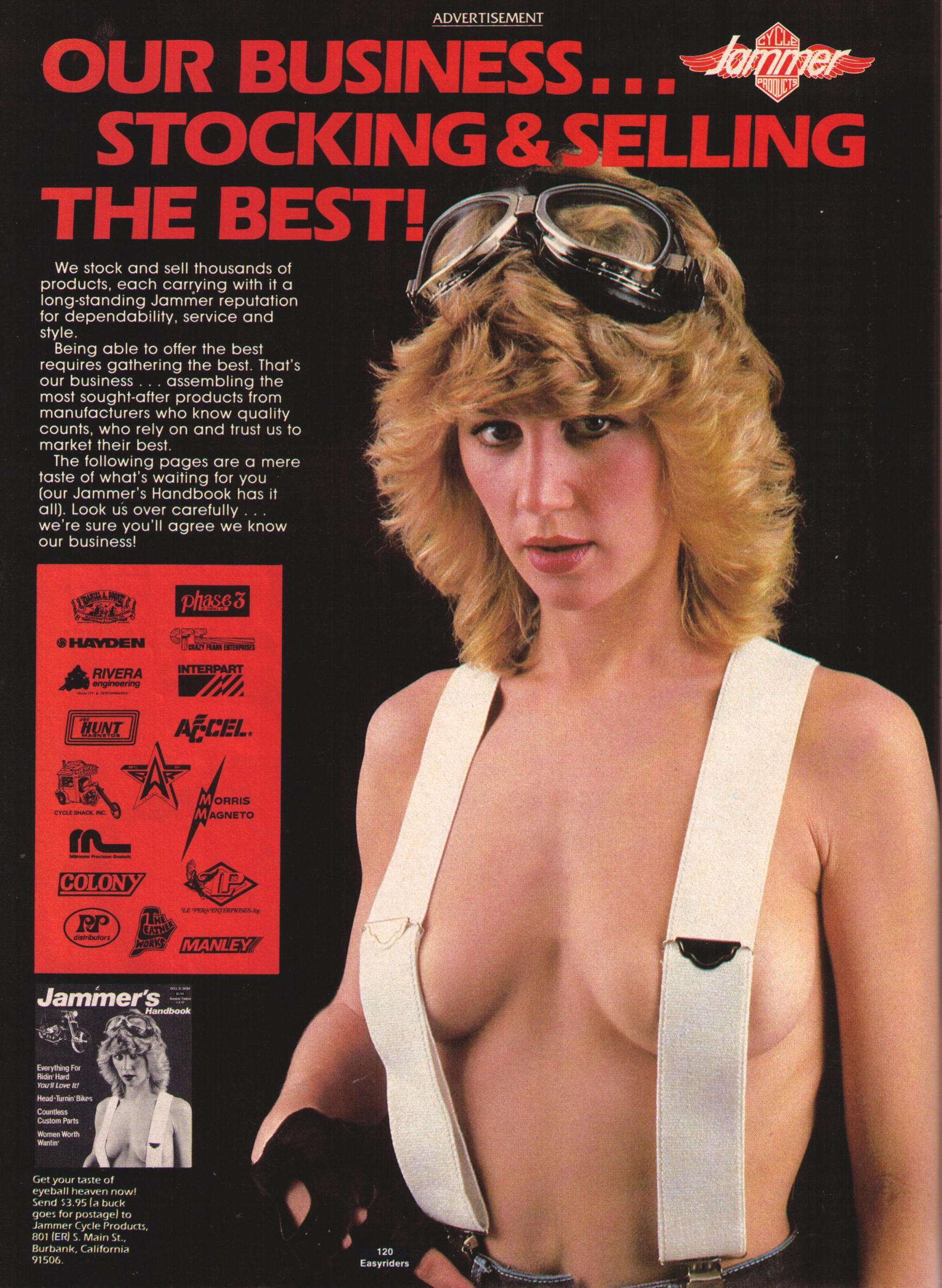 The auto catalogs were sexy, but the motorcycle handbooks were straight-up trashy.  Still, who doesn't want a "taste of eyeball heaven"?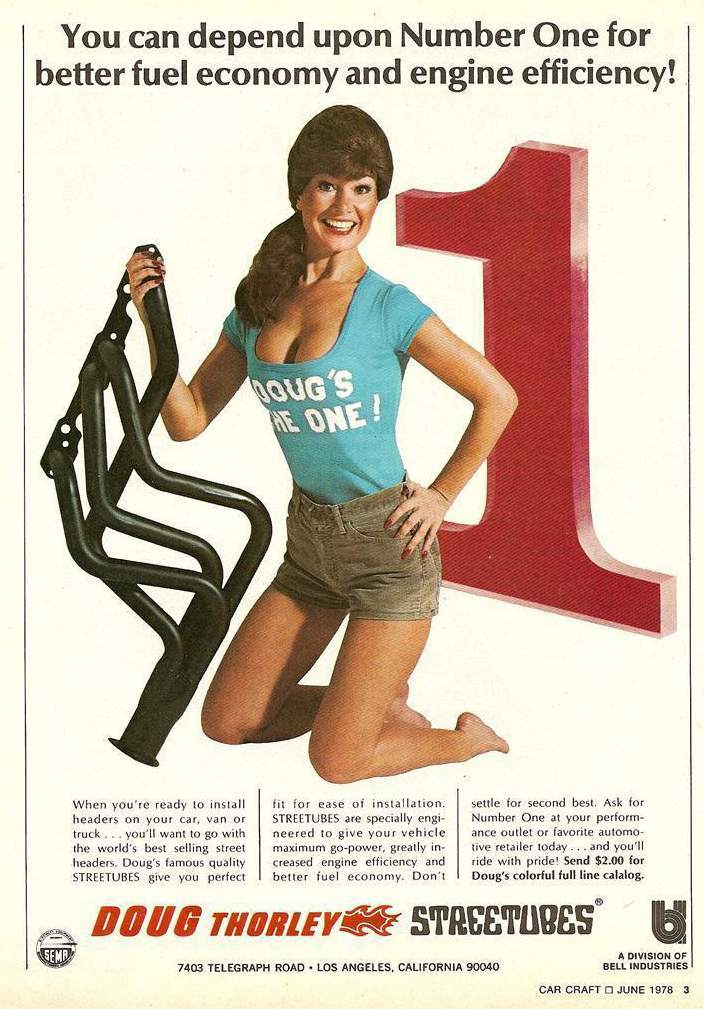 Boobvertising at its finest.
THE  END