Hugh Casson's (23 May 1910 – 15 August 1999) role as Consultant Architect for street decorations in Westminster to mark the coronation of Queen Elizabeth II on 2 June 1953 saw him create designs in tune with the streets they would adorn. His mantra was: "The Queen will have colour wherever she goes." There was lots of gold and red.
The visuals mattered. The coronation was broadcast live. More than 20 million people watched the service on television, outnumbering the radio audience for the first time. TV cameras would follow the Queen's carriage to Westminster Abbey.
As RIBA notes, shoppers on Oxford Street saw crests representing shoemaking, hat-making, umbrella-making and other retail fashions. St James's Street, by St James's Palace, featured crowns. On Hungerford Bridge, the railway bridge over the River Thames that links Charing Cross and Waterloo stations, coronation decorations featured trains and a banner bearing the message 'God Bless the Queen' on a bright red locomotive.
At Piccadilly Circus, the statue of Eros, erected in 1893 to designs by Alfred Gilbert, was encased in a golden birdcage structure  It was intended to be partly decorative and partly protective of the statue. It might have been profound as the young queen took the throne.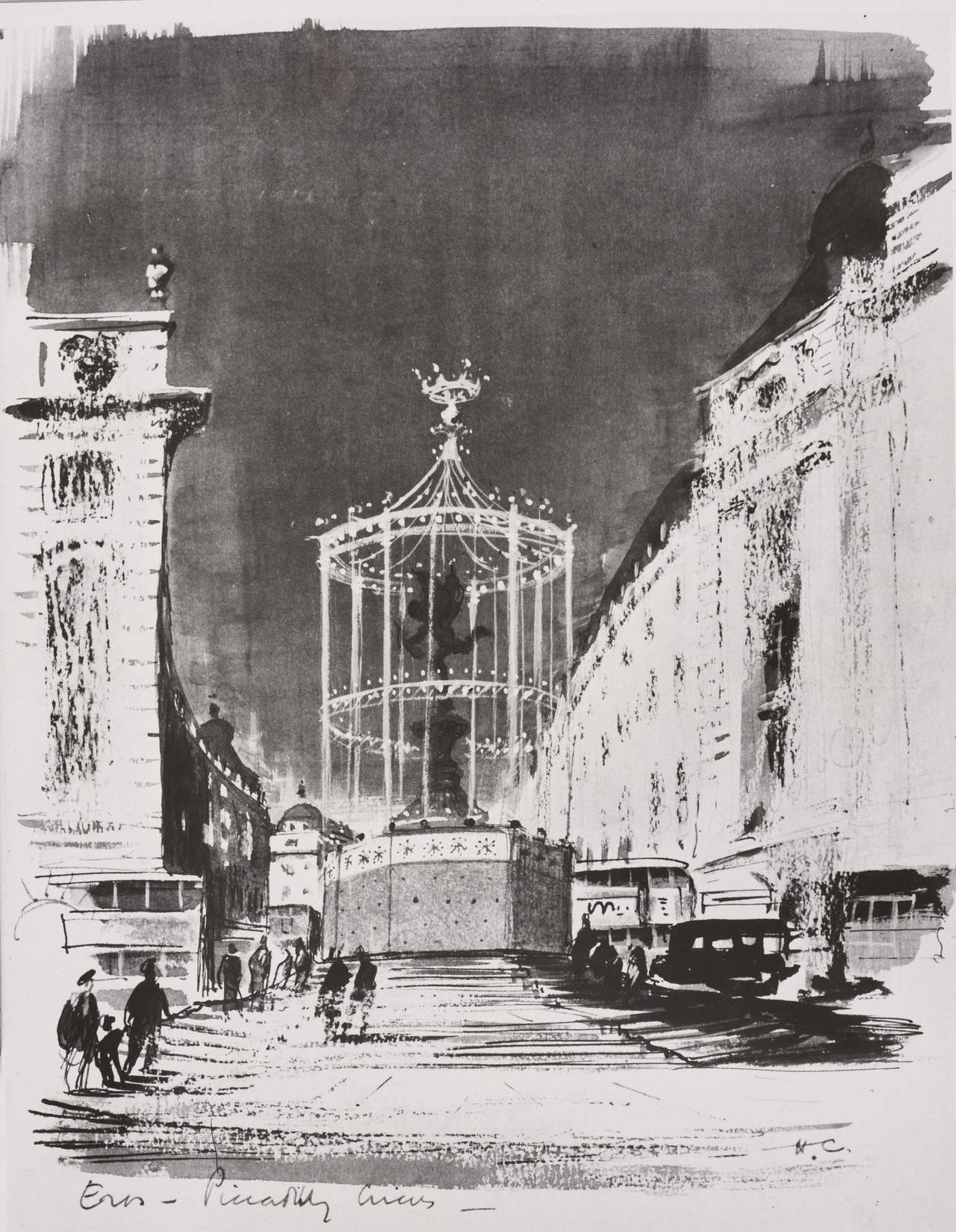 Casson had been the director of architecture for the 1951 Festival of Britain on London's South Bank. From 1976 to 1984, he was president of the Royal Academy.
In what forms a neat line to the coronation of King Charles III on 6 May 2023, Casson reportedly taught watercolour painting to the then Prince Charles. In another link, it also rained on the crowds lined up to celebrate both coronations.
Sir Alfred Gilbert, who sculpted the Shaftesbury Memorial Fountain, commonly known as Eros, and less commonly known to be made out of aluminium, ironically had no liking for Piccadilly Circus at all. In 1893 he described the Circus as 'a distorted isochronal triangle, square to nothing of its surroundings—an impossible site, in short, upon which to place any outcome of the human brain, except possibly an underground lavatory!'
The stars of the street show were the huge hanging crowns over The Mall towards Buckingham Palace. Four steel Coronation Arches, designed by Eric Bedford, were erected. The arches featured metalwork crowns and fan-shaped designs, and were floodlit at night. The arches were linked by by lines of standards mounted with golden crowns. From each standard were hung four scarlet banners, not shown in this photograph, bearing the royal cypher 'E R'.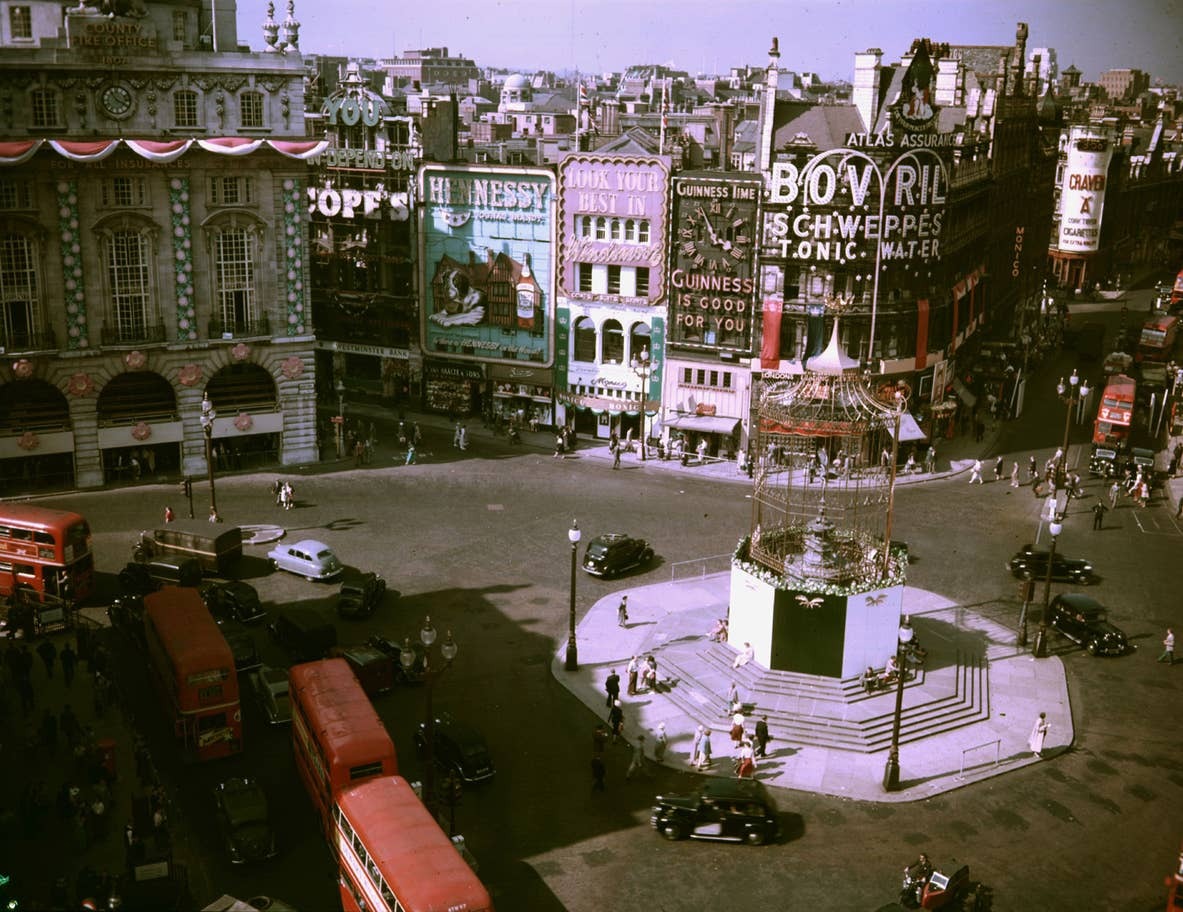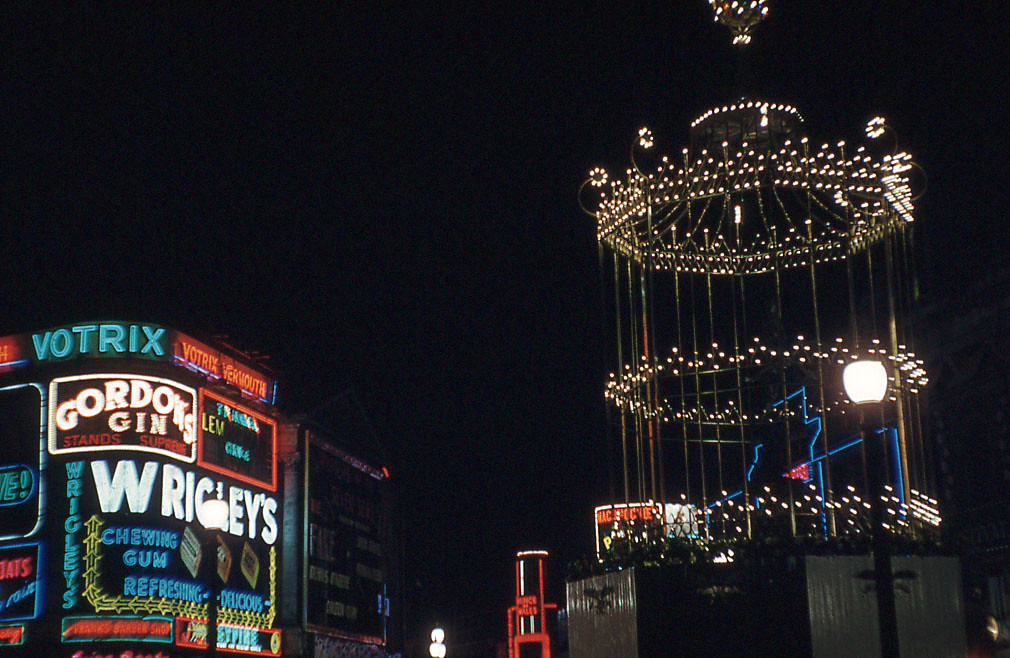 And now a homemade film – albeit short – the great day:
A Wonderful Visual History of Piccadilly.