Sean Connery died peacefully in his sleep at his home in the Bahamas on 31 October 2020 aged 90. His son Jason said he had been unwell for some time.
In this story we particularly focus on his time in Kilburn and West Hampstead.
Growing up in Scotland
On his father's side, Sean, or as his birth certificate records Thomas Connery, had Irish roots. His dad was Joe, a jobbing labourer in Edinburgh who married Effie Maclean in 1928. Tommy was born two years later in Fountainbridge, Edinburgh's industrial district, where the grime and smoke had gained it the nickname, Auld Reekie. There wasn't much money and Tommy had a tough childhood. He got his first job when he was nine years old; helping on a milk round before school, with an evening shift as well at a butcher's. He was a physically strong boy, fit and good at sport, but he was restless, and keen to leave Fountainbridge behind. So, he joined the navy when he was seventeen. Although he signed up for seven year's active service, he was invalided out in 1949, suffering from duodenal ulcers.
Back in Edinburgh, Connery took up a British Legion scholarship and trained as a French polisher. He was a very good footballer and at one point might have decided on a professional career, but he was also devoting hours to body building. In 1952, he worked as a lifeguard at the Portobello Pool and he earned more money posing as an (almost) nude model at Edinburgh College of Art. His well-toned physique and dark good looks made him very popular: 'The girls always wanted to sketch me up close, it was embarrassing.' He also posed for photos in musclemen magazines.
His coach (another body builder), suggested they go to London where his biographer Michael Callan, says Connery entered the 1953 'Mr Universe' competition, coming third. Several contemporary photos of him reveal an impressive physique.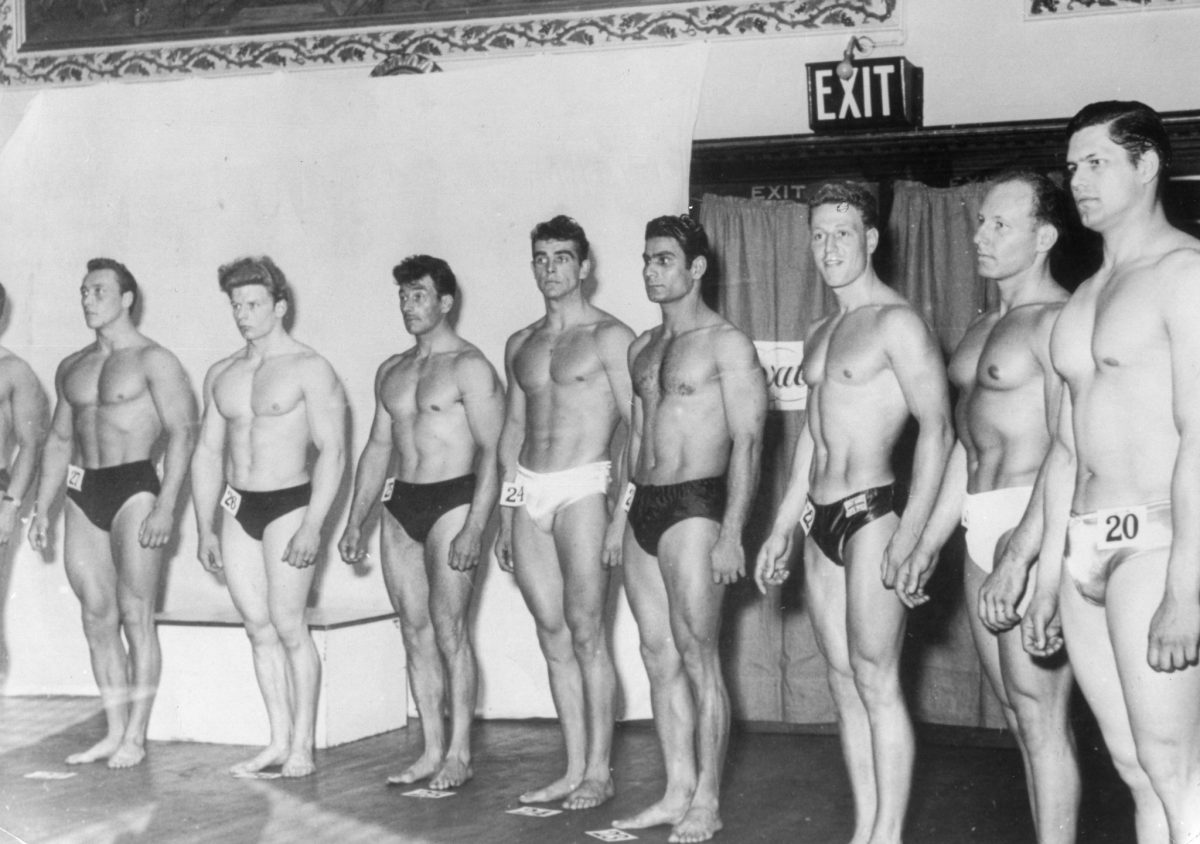 With money running low, Connery was about to return to Scotland when he auditioned and got a job in the chorus of a travelling show of South Pacific. It paid £12 a week, worth about £330 today. Connery knew and liked the theatrical world; he had worked briefly behind the scenes in an Edinburgh theatre with a walk-on role in a play, but his acting career truly began in London in 1953.
Living in London
Around this time, 'Tammy' as he was sometimes known, became 'Sean'. Always a grafter, he worked hard but found himself out of work when the two-year run of South Pacific ended. A few stage parts were followed by his first TV role (1956) and a film 'No Road Back' (1957), where he played Spike, a minor gangster.
To make some extra money Connery worked as a babysitter at 46 Abbey Road, the home of Peter Noble, a journalist and film buff. Sean charged 10 shillings an evening and another 10 shillings for every dirty nappy he had to change; (as Peter recalled, sometimes there were at least two). Noble got to know Sean through his friends Llew and Merry Gardner, who had a first floor flat at 67 Brondesbury Villas in Kilburn, where Sean lodged for a year, paying 12s 6d a week.
Llew was a TV presenter who later worked on World In Action. Merry worked with Sean's current girlfriend, photographer and actress Julie Hamilton.
Llew said; 'My first impressions of Sean were of a very large, very hirsute Scottish young man who kept working out with dumbbells. He had a collection of pictures showing himself in body beautiful poses for which he must have shaved all over because there wasn't a trace of hair to be seen. What struck me most about him was he was very canny, not easily impressed by those in a position to offer him money and fame.'
Llew remembered that Sean used to bargain with the Kilburn traders over clothes and food: 'he could go out and buy the cheapest piece of meat and turn out a very good stew.' When he bought a second-hand, three legged bed, the Gardners gave him thirteen volumes of the works of Stalin to use as the fourth. Llew said, 'I imagine it was the first time that Stalin had ever been screwed that way.'
Connery was living with the Gardners when 'Requiem for a Heavyweight' went out on the BBC on 31 March 1957. It told the story of an ageing boxer at the end of his career. In Fountainbridge his parents watched their son on a new TV Set; 'By Heavens, that was smashing,' said Joe. Sean went home to Kilburn after his performance, celebrating with a typical meal of stew and a glass of beer.
The reviews were generally good, The Times praising his 'shambling and inarticulate charm.' Unfortunately, any recording of this broadcast has been lost.
Connery was signed by 20th Century Fox but waited in Kilburn for work to materialise. He landed the role of Mike in 'Action of the Tiger' (MGM, 1957), but the director Terence Young believed the film would flop and told a disappointed Sean: 'Just keep at it and I'll make it up to you.' Four years later Young kept his word when he was sent the film script of Dr No.
In 1958 Sean moved a short distance across the Kilburn High Road to the quiet No.3 Wavel Mews, off Acol Road in West Hampstead. His new home comprised three rooms above a garage. The house was bought with help from Julie Hamilton's mother Jill Craigie. She had secondly married politician Michael Foot, who later became the leader of the Labour Party. Local directories show 'T. Connery' at Number 3, and he started renovations around the time he began work on 'Another Time, Another Place' (Paramount, 1958).
Sean also returned to serious body building. His close friend and fellow Scottish actor Ian Bannen, who often stayed at Wavel Mews said, 'he had all the equipment and he was deadly earnest about it, sometimes it was like a gym.' Sean had always favoured a motorbike for personal transport and he still did. Bannen again: 'it remains in my memory only because he was always falling off. Didn't seem he could go down a bloody road without hitting some tree or something.'
Bannen moved into Number 3 when Connery was offered a major part in Disney's Darby O'Gill and the Little People (1959), which was filmed in America. The 'little people' of the title were leprechauns and it was Connery's first big hit.
Bannen left Wavel Mews when Sean returned from Hollywood and started converting the garage space below the flat into a sitting room. More stage and TV work as well as several films followed: Tarzan's Greatest Adventure (Paramount 1959), The Frightened City (1961), On the Fiddle (1961) and a small part in The Longest Day (1962).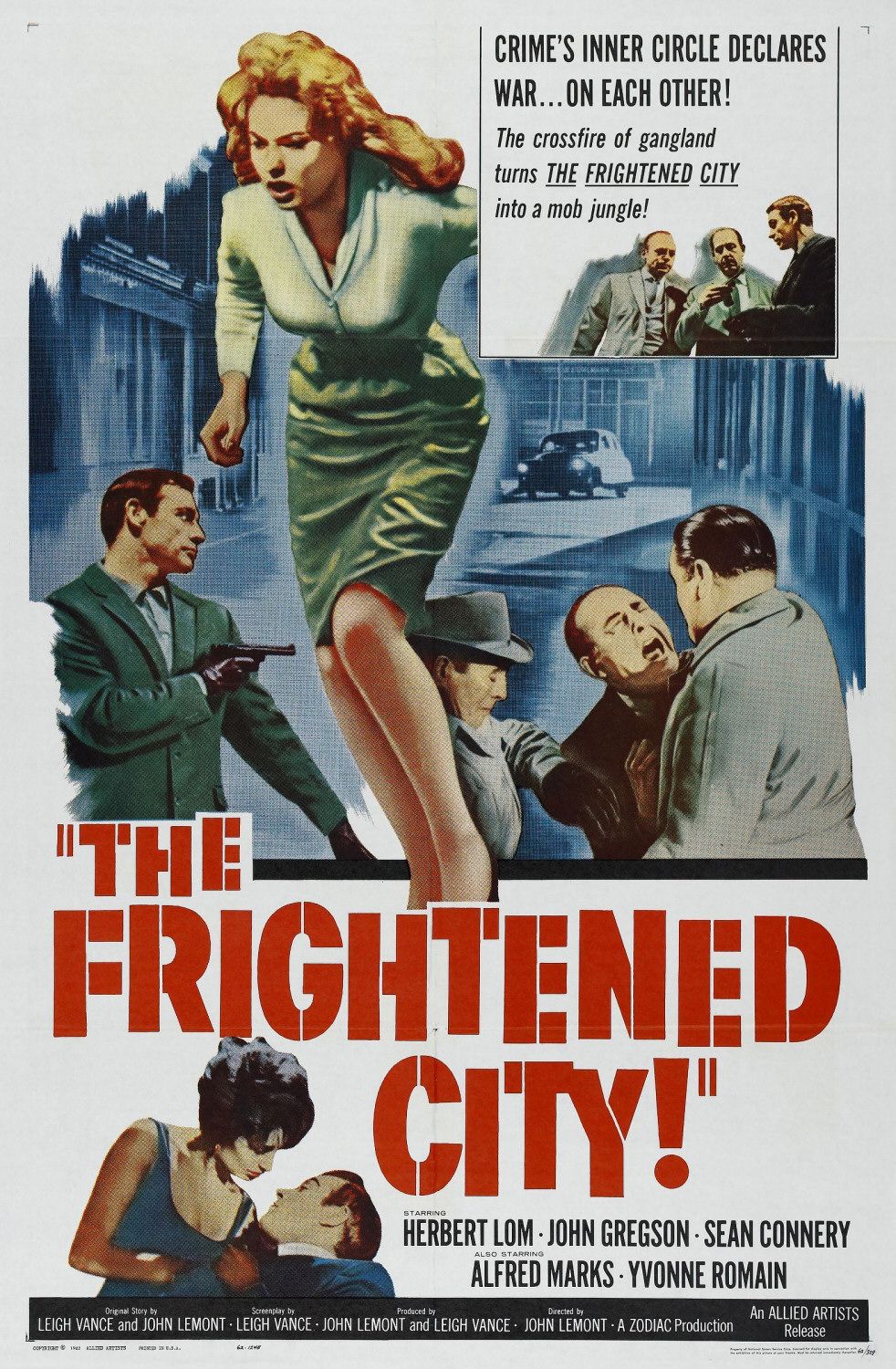 But for Connery things were about to change dramatically. Albert Broccoli and Harry Saltzmann offered Terence Young (not their first choice), the chance to direct Ian Fleming's Dr No.
James Bond
'I'm looking for Commander James Bond, not an overgrown stunt man', was Ian Fleming's reported response on first meeting Sean Connery.
Sean was in the running for the role of Agent 007, but so were many other actors with far stronger pedigrees: Cary Grant; David Niven; Patrick McGoohan (Danger Man and The Prisoner); Roger Moore (who went on to become Bond in Live and Let Die), plus established British stars Richard Johnson, Rex Harrison, Michael Redgrave and Trevor Howard.
Tipping the scales in Connery's favour was possibly the fact that Broccoli's wife Dana, had seen Sean in Darby O'Gill and told her husband his 'macho aura was inescapably attractive': in other words, he had sex appeal. When Connery started testing, United Artists cabled Broccoli and Saltzmann, 'see if you can do better' but they were already committed to Connery. Sean signed a multi-picture deal that held until 1967, and his casting as James Bond was announced on 3 November 1961.
Connery went on to appear in four more Bond films in succession: 'From Russia With Love', 'Goldfinger', 'Thunderball', and 'You Only Live Twice.' Then he became disillusioned playing Bond, and was replaced by Australian actor George Lazenby in 'On Her Majesty's Secret Service.'
But in 1971 Connery was lured back to make 'Diamonds Are Forever', on condition that one million dollars of his fee went to set up the Scottish International Education Trust. Now at Birmingham University, the Trust exists to give financial help to Scots men and women who show exceptional ability and promise.
A top London tailor, Anthony Sinclair, was hired who described Sean as having the perfect figure on which to hang clothes. When asked how he would manage to conceal Bond's shoulder holster under his armpit without ruining the line of the suit, Sinclair replied: 'When you have fitted a famous magician with full evening dress to hide all those damn doves he carries about him for his act, Mr Connery's armpit holds no fears for me.'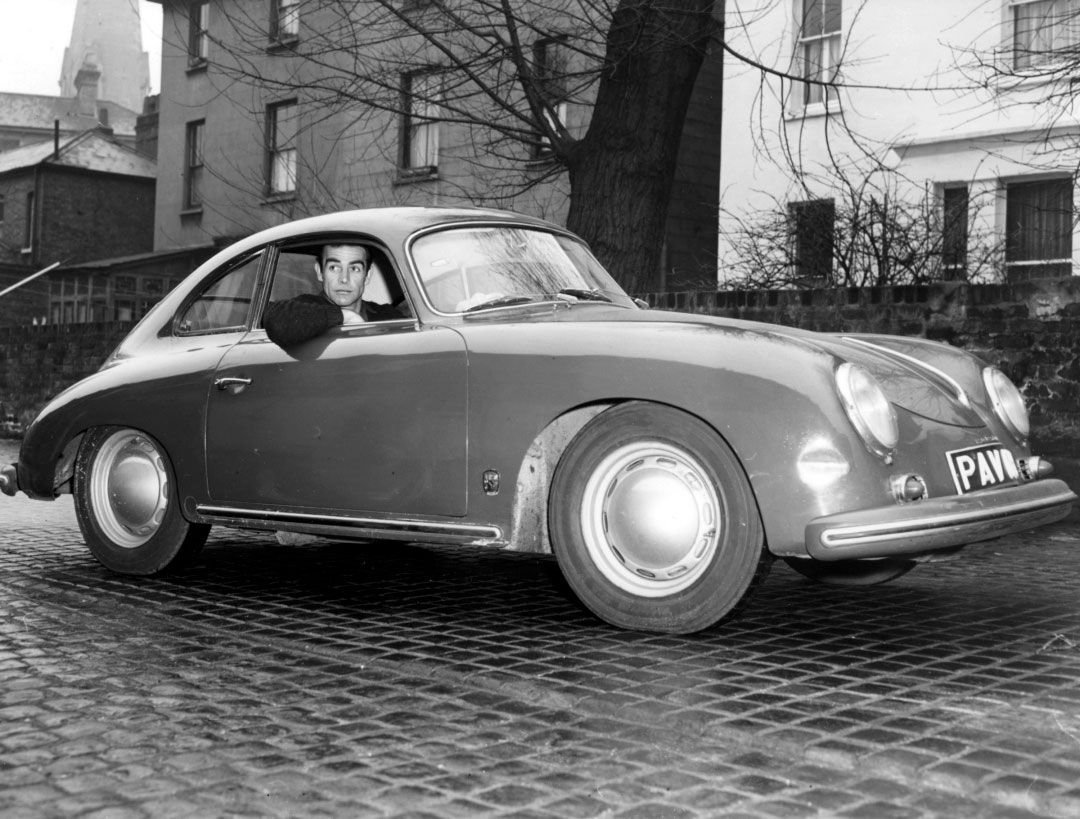 The photograph was taken in December 1961, shortly after signing the Bond deal. Motor bikes had been abandoned in favour of fast cars. Connery had twisted his knee on an icy patch in the Mews, en route to filming Dr No in Jamaica. He always believed the film had all the ingredients of a hit: 'I just sat tight and waited.'
As 1962 drew to a close, Connery left West Hampstead for Acton. There he bought (for £9,000) and renovated the 12-room Acacia House on Centre Avenue, overlooking the local park. This move reflected his career success and more particularly, his recent marriage to Australian actress Diane Cilento, who was expecting their baby, Jason.
You can see clips of many of Sean Connery's films on the web and his later roles have been well documented. There is a clip on Pathe News where Connery receives the Variety Club 1965 award for his portrayal of James Bond and his role in 'The Hill', directed by Sidney Lumet. He made another film with Lumet, 'The Offence' and both gained him the critics' praise.
While luck played a part in his rise to stardom, there's no doubt that Connery always worked extremely hard to achieve success. He was knighted by the Queen in July 2000.
Marianne remembers an elderly friend of her mother's who lived in Acol Road. One day she tripped and fell over on the pavement in West End Lane. She was helped to her feet by a tall, good looking man with a strong Scottish accent. He picked up her shopping and walked her home, even offering to make her a cup of tea.
No prizes for guessing who he was.
Thank you to Dick Weindling and Marianne Colloms for allowing Flashbak reproduce their post from their History of Kilburn and West Hampstead website.