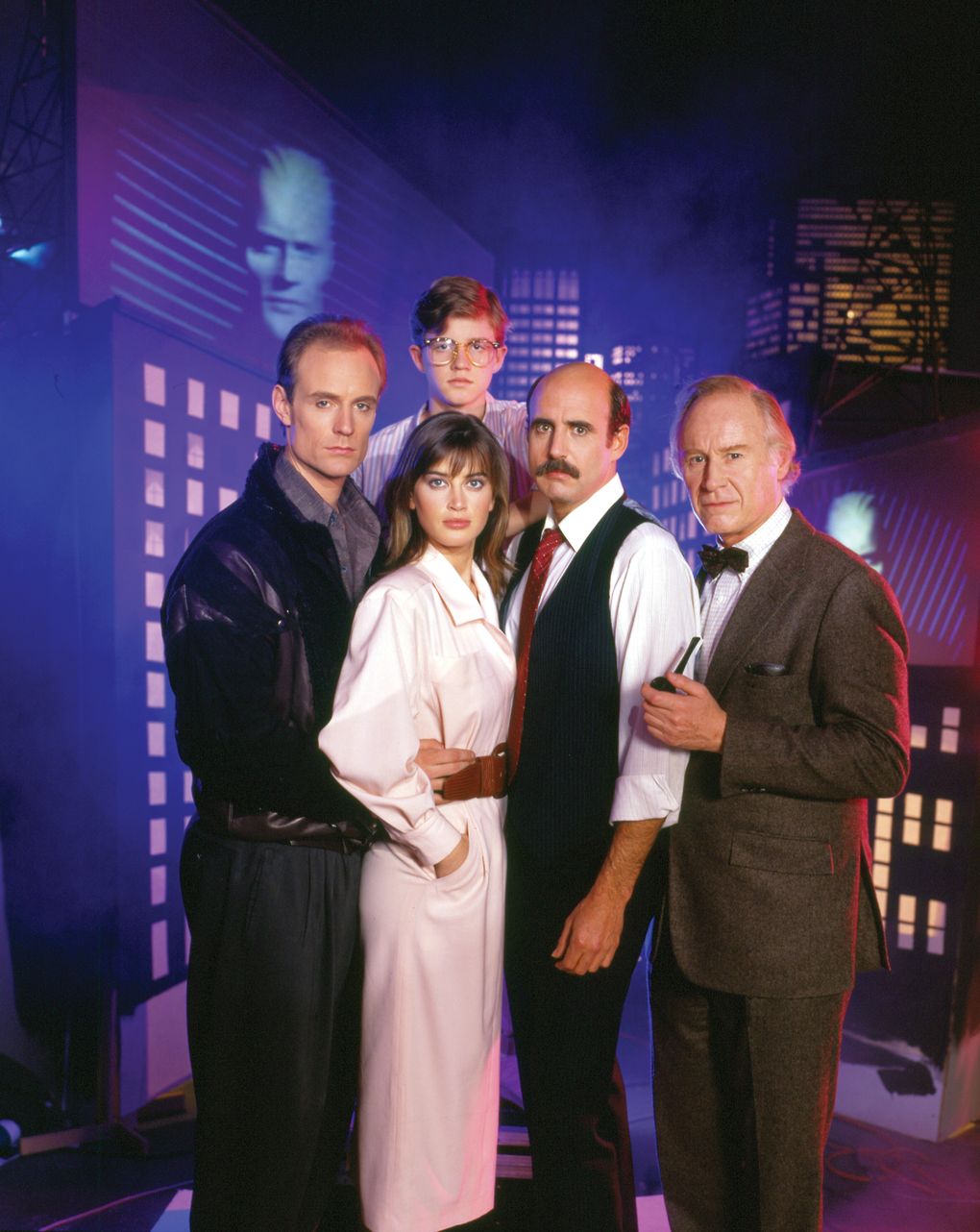 The year was 1987. U.S. President Ronald Reagan was dealing with the fall-out from the Iran Contra affair, the Fox Network was starting up (with fare such as The Tracey Ullman Show, Werewolf and Star Trek: The Next Generation (1987 -1994)) premiered in syndication to enthusiastic audiences.
On the tube, original sci-fi TV programming was still trying to get a foothold. Virtually all the new series of the season involved larger-than-life heroes, whether from fiction, a Mad Max-like dystopia, or the auspices of new, digital technology.
The Highwayman
An uncredited William Conrad narrates the opening montage of this unusual series from Glen A. Larson and Douglas Heyes. Conrad – in authoritative baritone –reports that the series occurs "just beyond now," in a world "where reality rides a razor thin seam between fact and possibility." That's a fancy way of noting that the series takes place in the near future.  Our narrator also notes that this is a world in which "the laws of the present collide with the crimes of tomorrow."
Fortunately, there's a "new breed" of lawman to handle such crimes. Our series lead is the enigmatically-named Highway (Sam J. Jones), a lawman who drives a truck that can go into "stealth mode" and that features a cab which looks like a helicopter. In the back portion of the track is stored a sports car for short jaunts.  Highway's assistant is Jetto (Jacko), his version of Scotty is engineer D. Montana (Tim Russ), and the Highwayman's boss is played by the great Jane Badler, late of V: The Series (1985).
The Highwayman's pilot aired on NBC on September 20, 1987, and the series ran for 9 hour-long episodes the following Spring.  The unusual stories found Highway and his team contending with bikers ("Terror on the Blacktop"), aliens ("Hitchhiker"), Native American curses ("Haunted Highway") and even time travel ("Summer of '45.")
After heavy curiosity viewing and a well-received pilot in '87, the series numbers tanked and The Highwayman was out of gas after half a season.
Max Headroom
This unusual series was a pop culture phenomenon for about fifteen minutes on ABC in 1987. Based on a British TV pilot called Max Headroom: 20 Minutes into the Future, this series – like The Highwayman – is more than a bit dystopian in setting.
Max Headroom features a future world in which powerful TV networks are perched at the top of society, making laws and controlling governments.
In other words, the series forecasts the power of Roger Ailes and Fox News.
But in this world, the supremacy of the networks is threatened by a heroic, independent investigative journalist, Edison Carter (Matt Frewer), who works for Network 23.
Early in the series' run of fourteen episodes, Edison is badly injured and his mind is uploaded to a computer.  That copy of his mind becomes his avatar, the titular Max Headroom.
In the course of the series, Edison is aided not just by his digital alter ego, but by Blank Regs (W. Morgan Sheppard), a man not registered or tracked by the government…and who remembers the good old days.  Edison is also aided by his love interest, star anchor Theora Jones (Amanda Pays).
The stories of Max Headroom find Edison exposing the dark deeds of the TV networks. In "Blipverts," he exposes a new brand of TV advertisement or commercial that overloads the human brain.  In "Body Banks," he contends with illegal organ donations, and in "Baby Grobags," he learns about designer, genetically-engineered babies.
Often termed the first cyberpunk TV series, Max Headroom slipped in the ratings when it returned in 1988, and died out before it could finish an abbreviated second season.
Once a Hero
ABC's Once a Hero is the story of Captain Justice (Jeff Lester), a superhero who lives in Pleasantville, a comic-book town that, while colorful, is also – literally — two dimensional.
There, Captain Justice combats his nemeses such as Mr. Mayhem. Captain Lazarus and Destructor, and is in love with Rachel Kirk. These problems become secondary, however, when Captain Justice faces an enemy he can't defeat: reader apathy.
It seems his comic-book is no longer being read by fans in the real world and thus his universe – friends and enemies alike – are fading from existence. Thus, as the series commences, Captain Justice traverses "The Forbidden Zone" and travels to Earth.  There, he meets his creator, comic-book writer Abner Davis (Milo O'Shea) and moves in with a typical sitcom family: The Greeleys.
Unfortunately, Captain Justice's powers don't work in the real world, so he must re-learn what it means to be a hero in this new setting.
Once a Hero aired for just three Saturdays in 1987, but former Batman star Adam West was slated to appear in the fourth episode as an out-of-work actor typecast as a superhero ("Things Get Ugly.")  The episodes that did air included the pilot, "Triangle," wherein Rachel Kirk (Dana Lee Grant) arrives on Earth, and "The Return of Lazarus, in which an old nemesis re-appears.