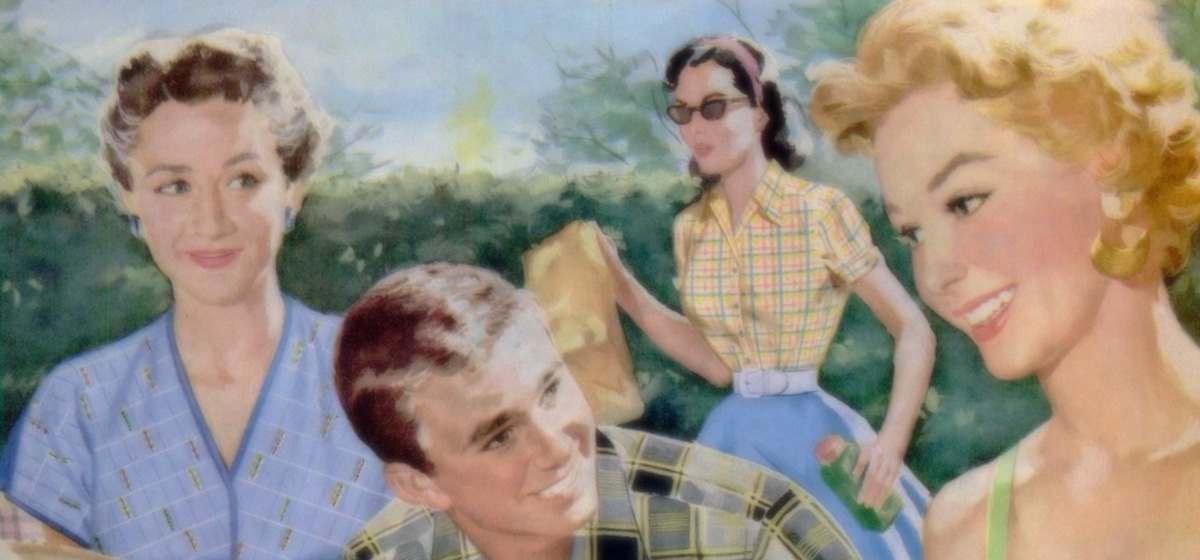 In 1957, the stressed could learn to relax by watching this video presentation by J.B. Roerig and Company, a division of Pfizer specialising in nutritional supplements. Roerig marketed a new tranquilliser via a film called The Relaxed Wife. Called Atarax, this pharmaceutical-grade cure worked where other relaxation techniques failed.
In the film we watch a calm woman salve her husband's aching mind. She's so cool. What's her secret? We don't get to know, but we'd guess it's Miltown, a handy helper named after the New Jersey hamlet in which it was first manufactured in 1955. Whatever it is, it's wholesome, all-American and kind, a lab-made brew for clean-cut people who don't do drugs.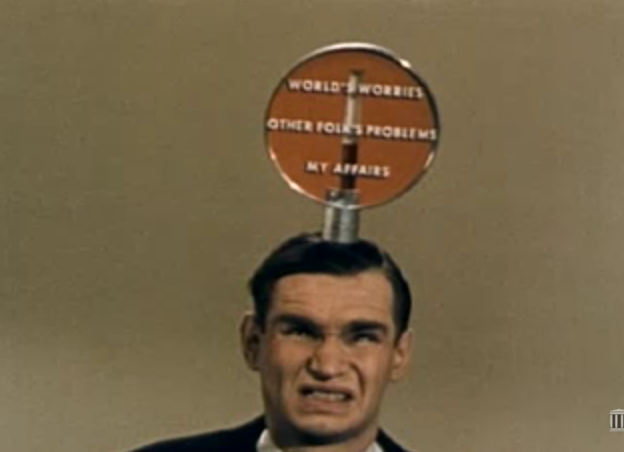 Thanks to this chemical marvel, there's no need for Mr Fret to grip his hair and soldier through. No need to read from the bedroom's one shelf of books, all on relaxation techniques. These books are kept by the wife's single bed. She curates them as a murderer might tend a rack of poisons. When things get really bad she reads aloud from these literary belladonnas, lulling the husband into state of intense anxiety. This one has the makings of a B-movie Hollywood thriller.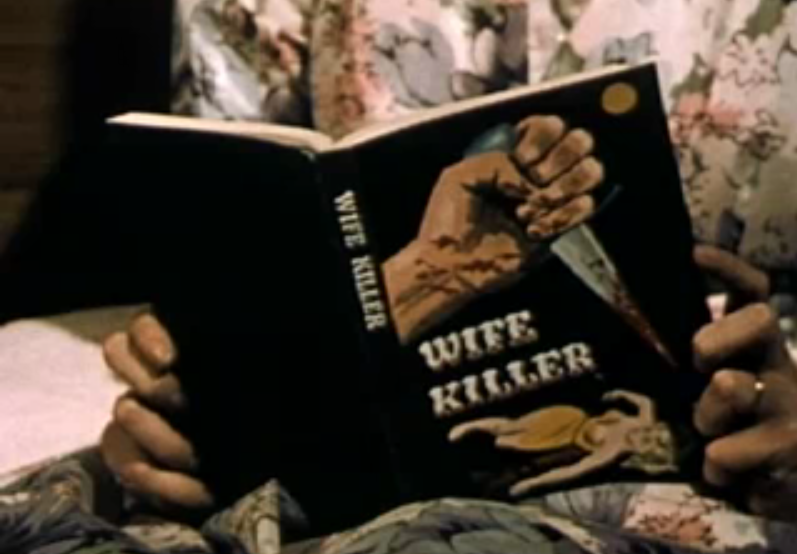 Do you blame her? No, better to blame yourself Mr Man for not heeding sound medical advice.
With Atarax there's no need to drink her hot toxic brews that make you dash to the toilet like a Salt Lake City mayor leaving a brothel. With Atarax you will glide though the day as if in a pleasant dream and at night slip off to the land of Nod – leaving her to slip out of her daywear and into something more seductive. Is she going out? Is she cheating on you? Pah! Who cares. You've got Atarax. You're doing just fine:
In case you missed it, here's that Atarax poem:
Today, medical science recognizes,
that some folks aren't helped by relaxing exercises.
In cases of difficult tension, and nervous apprehension,
doctors are now prescribing an ataraxic medicine.
It makes those who fear they're about to quit,
feel like they're ready to begin,
bidding their darkened spirits goodbye,
for the calming peace of a cloudless sky.
Of all the states throughout this nation,
the happiest by far is the state of relaxation.
There'll be fewer breakdowns and insomniacs,
when more of us have learned to be relaxed.
We'll be free to relish the joys of life,
no longer tense over daily worries and strife."
By the 1960s and 1970s, the whole family were on Atarax.