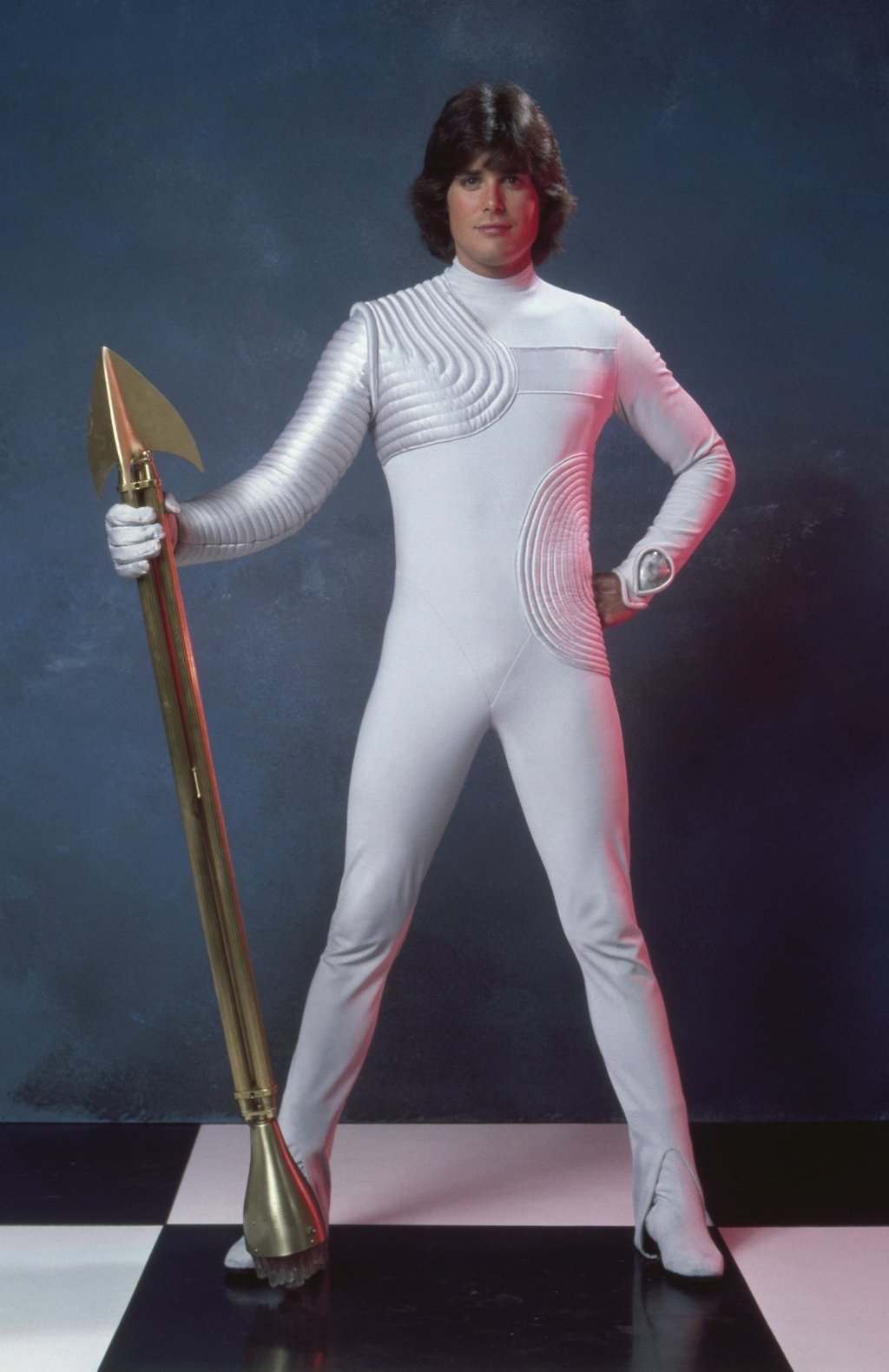 We all love and remember successful science fiction TV series such as Star Trek (1966-1969), Doctor Who (1963-1989) and The X-Files (1993 – 2002).  We even remember the not so successful programs, like Lost in Space (1965-1968) that nonetheless lasted for a few years. These are generational touchstones for so many viewers.
But in this series of posts at Flashbak, I remember instead the ones that got away; the ventures that didn't catch fire with the public and have fallen, largely, into obscurity. These are the one-season wonders; the series that failed after half-a-season, never to be seen again, except, occasionally, on Sci-Fi Channel (now Sy Fy…) reruns.
Last time around, I gazed at the year 1979 and three notable if obscure genre TV programs of the disco decade (Cliffhangers, Salvage 1 and Supertrain). This time, I turn my attention to another year with great possibilities and a lot of unfulfilled potential: 1982.
The Phoenix (1982)
A TV-movie, The Phoenix, first aired in 1981 before the characters returned in 1982 short-lived series.
The Phoenix is the story of Bennu of the Golden Light (Judson Scott), an ancient astronaut who hails from the planet Eldebran. This blond haired demi-God awakes in Peru in the 1980s and attempts both to help struggling humanity and find his missing partner, Mira.
Capable of astral projection, clairvoyance, levitation, telepathy and telekinesis, Bennu is soon hunted by the U.S. government, and a particularly hapless pursuer, Justin Preminger (Richard Lynch).
Essentially, this series is a science fiction version of The Fugitive (1964-1968), with a hero always on the run, always in danger of being caught, and always helping out different people (guest stars!) each week.
The Incredible Hulk (1978-1981) and The Immortal (1970) had already pioneered the use of The Fugitive format in science fiction, but later series also imitated The Phoenix's alien on Earth approach to the same material.  A TV adaptation of Starman (1984) comes to mind.
The Phoenix aired on ABC for just five hour-long episodes, from March 19, 1982 to April 6, 1982.  The show was canceled for low ratings and Bennu's journeys on Earth came to an abrupt end.
Series star Judson Scott, however, went on to become a fan favorite, appearing in V: The Series (1985), Star Trek: The Next Generation (1987-1994) in "Symbiosis," and as a vampire in Blade (1998).
The Powers of Matthew Star (1982)
He's a high school super-hunk…and a secret superhero!
That's how the protagonist (Peter Barton) of The Powers of Matthew Star was marketed to the public in the autumn of 1982.
This series aired over twenty episodes between September 17, 1982 and April 8, 1983, and underwent a sudden (and jarring) format shift about half-way through.
As the series begins, teenager Matthew (Barton) and his guardian, Walt (Louis Gossett Jr.) have fled their home planet, Quadris, as it came under attack from an alien armada.  Matthew, however, is alien royalty — a crown prince — and a frequent (or "constant" target of alien assassins.  Oddly enough, one of those assassins is played by Judson Scott, or The Phoenix's Bennu.
Between assassination attempts, Matthew attends a high school in America, and dates lovely human Pam Elliott (Amy Steel). Over the course of the series, he encounters his parents, as well as new foes.  If this plot sounds at all familiar, it is because The Powers of Matthew Star (1982) is an early version, in a way, of aliens-on-Earth TV series of greater and later popularity, such as Roswell (1999 – 2002) and, to a large degree, Smallville (2001 – 2011).
Unfortunately, rather than sticking with its original format, there was a mid-season switch.  Suddenly, Pam is no longer a character in the program, and Matthew and Walt are secret agents for the U.S. government, represented by Major Wymore (James Karen).  This move takes much of the heart and personality from the series.
TV Guide once counted this series as one of the 50 word of all time, and yet there's an interesting Star Trek connection worth considering in regards to it.  The Powers of Matthew Star was produced by Harve Bennett, the man who revived Star Trek with The Wrath of Khan, for example. Leonard Nimoy also directs one episode, "Triangle," and another – "Mother" – is written Mr. Chekov himself, Walter Koenig.
Voyagers! (1982)
James D. Parriott created this NBC series that lasted on season.  Voyagers focuses on a mysterious (but handsome) individual who might be an alien, named Phineas Bogg (Jon Erik-Hexum). With the assistance of a knowledgeable and studious twentieth century adolescent named Jeffrey Jones (Meeno Peluce), Bogg travels the corridors of time making certain that history will unfold as it should.
In description, the series sounds a lot like the unholy offspring of Doctor Who (1963-1989) and Sapphire and Steel (1978-1981).  Here, the duo travels through time with the help of a nifty stop-watch device called an Omni, rather than a TARDIS. And when time is going wrong, an indicator on the Omni shows red. When time is restored, the light is green.
In the first and only season of Voyagers, the time travelers encounter Robin Hood, Albert Einstein, Abraham Lincoln, the Wright Bros. and other key figures from the past.  The best episode, however, is "The Trial of Phineas Bogg," which explores the world of its Time Lord-like alien. The Omni breaks down because Boggs is accused of violating "the Voyager code."  His Omni Memory Record has been tampered with in an attempt to frame him.
Oddly enough, a 1986 Doctor Who season-long serial "Trial of a Time Lord," features a very similar story. There, another enigmatic time traveler — The Doctor (Colin Baker) — contends with a sabotaged memory storage system (The Time Lord Matrix), and the story concludes with the revelation that the Doctor as been framed.
Probably the best series on this 1982 list, Voyager features a strong educational bent, and a childish but entertaining and jaunty approach to its stories.  The series aired against 60 Minutes at 7:00 pm on Sunday nights, but after 20 episodes, the voyages were over.