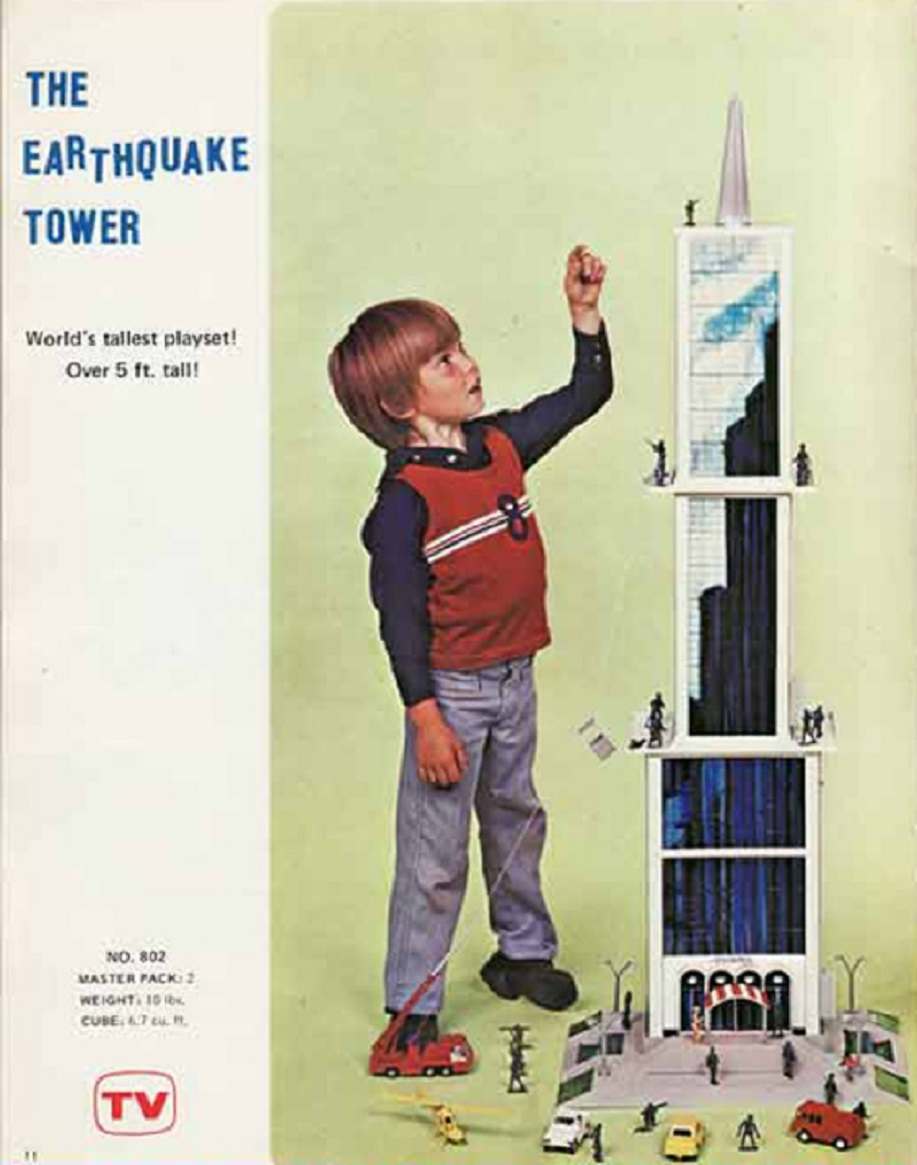 Now here is a disco-decade toy that Irwin Allen — the cinematic master of disaster — would have likely approved of.
Billed as "the world's largest playset" and standing a whopping five feet tall, the Remco Earthquake Tower was a mash-up of the biggest Hollywood hits of 1974: The Towering Inferno and Earthquake.
You had, essentially, the high-rise building from the former and the colossal threat from the latter.
Basically, it was a kid's job to save everyone in the giant playset from a massive earthquake (presumably innocent civilians…), using a plastic rescue squad consisting of 2 rescue trucks and a copter.
The authenticity of the make-believe earthquake was enhanced by a "disaster sound record" a "3 minute, 55 second" vinyl recording accentuating "realism."
If you listen to the record, you'll hear choppers whirring, sirens blaring, explosions, and a soundtrack that doesn't exactly match John Williams' work on The Towering Inferno, in terms of suspense and grandeur.
Here's a sample of what that 40 year old record sounds like:
When you coupled those sound effects with the toy's "sway action," the Earthquake Tower was a full-fledged recreation of the disaster genre.
To activate that sway action, kids just had to "press the quake button," and sit back and watch as the "tower begins to quake."
This Remco toy came complete with 40 pieces (including the cardboard parts to assemble the building…), including 24 toy people, 2 working elevators, and "other accessories for staging disaster and rescue."
I never had this toy as a kid, but one of my friends did.  I always considered him lucky because he could stage large-scale disasters at his leisure, any time he pleased, with Remco's Earthquake Tower and Rescue Playset.