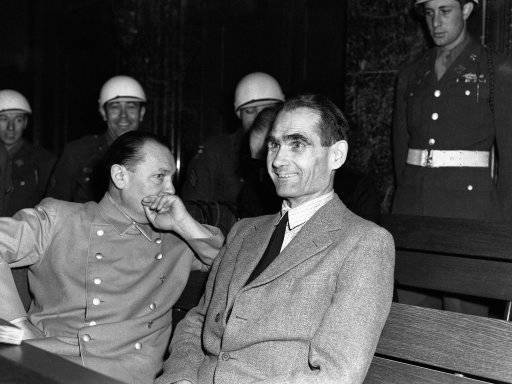 RUDOLPH Hess is no longer buried in a grave at Wunsiedel, Bavaria, southern Germany. His bones and what else was left of the leading Nazi were dug up, burnt and buried at sea.
Hess was 93 when he committed suicide in a Berlin's Spandau Prison in 1987. He was buried according to his wishes. The Lutheran church said his last wishes must be honoured. So. He got a Christian burial. His grave carried the legend "I dared".
Nazis agreed that this was good idea. They arrived to pay their respects to their one-time leader who was Adolph Hitler's deputy. They marched through the cemetery on the anniversary of his death. They would never forget. And in some ways that was good. The ugly humanity that glories in rape, murder and terror marches – and as the Nazi enthusiasts march they remind us, the living, of the horrors that went before when their like held power and the murderers, rapists, child killers, paedophiles and thieves worked at will and under rule of law.
Now their shrine has gone. The Nazi sympathisers will still march. They will still wear their replica shirts, logos and little badges and lament a time when their lives would have had value and meaning. They will seek to rewrite history. They will connive that the Holocaust was a lie – but, hey, if it had have happened it would have been great. They will hanker for what went before as a rejection of what goes now without understanding what it is they want.
And the rest of us – the humanity that can live without dictatorship, subservience and hate…we must never forget…
"You who live safe
In your warm houses,
You who find warm food
And friendly faces when you return home.
Consider if this is a man
Who works in mud,
Who knows no peace,
Who fights for a crust of bread,
Who dies by a yes or no.
Consider if this is a woman
Without hair, without name,
Without the strength to remember,
Empty are her eyes, cold her womb,
Like a frog in winter.
Never forget that this has happened.
Remember these words.
Engrave them in your hearts,
When at home or in the street,
When lying down, when getting up.
Repeat them to your children.
Or may your houses be destroyed,
May illness strike you down,
May your offspring turn their faces from you."
— Primo Levi – Survival in Auschwitz
[imagebrowser id=3137]