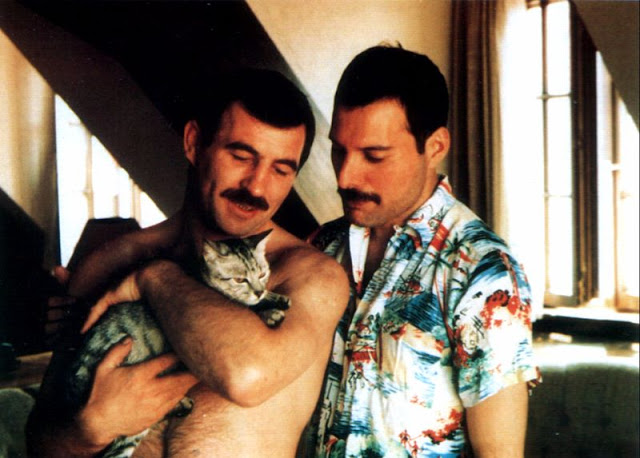 Freddie Mercury and Jim Hutton were in love, sharing that rare and binding force fed by honesty and conviction. The couple began dating in the mid 1980s, but their first meeting were anything but auspicious. It took Freddie three times of trying to pull John.
They first met in late 1983 at London's Copacabana nightclub. Freddie waited for Jim's lover, John Alexander, to pop off to the gents before moving in, offering to buy Jim a drink. "No, thank you," replied Jim, already supping a near-full can of lager. Freddie persisted, asking Jim what he was up to later. "Fuck off," came the reply. When John returned, Jim pointed the man out who'd just tried to chat him up. "That's Freddie Mercury," said John. "Freddie who?" asked Jim.
In early 1984, the pair met at a London restaurant. "Hey, Freddie Mercury is behind you," a voice told Jim. Freddie offered him a drink, which Jim accepted. And that was that until 18 months later on Saturday, March 23rd, 1985, John once again encountered Freddie at Heaven, a gay nightclub in London's Charing Cross. Stood at the bar, Freddie approached Jim, who offered the singer a drink. "A large vodka," came the reply. "How big's your dick?" asked Freddie. "Well, you'll have to find out," replied Jim, telling the singer to drop the phony American accent. "But I don't have an American accent," said Freddie, who invited Jim to join him and his friends.
This meeting had been no accident. Freddie had been looking for Jim. They remained together until Freddie's untimely death in November 1991. Jim died in 2010.
On Freddie Mercury's death, Jim wrote:
I slipped my arm under Freddie's neck, kissed him and then held him. His eyes were still open. I can remember very clearly the expression on his face — and when I go to sleep every nighti t's still there in front of me. He looked radiant. One minute he was a boy with a gaunt, sad little face and the next he was a picture of ecstasy. Freddie's whole face went back to everything it had been before. He looked finally and totally at peace. Seeing him like that made me feel happy in my sadness. I felt an overwhelming sense of relief. I knew that he was no longer in pain.

Dave Clark had only got as far as the doorway when Freddie died. He came back in to stay with me, and Phoebe rant o find Joe.

I stopped the tiny fly-wheel of the wind-up carriage clock by the bed. I'd given it to Freddie because he told me he'd always wanted one. It read twelve minutes to seven. I've never started it again