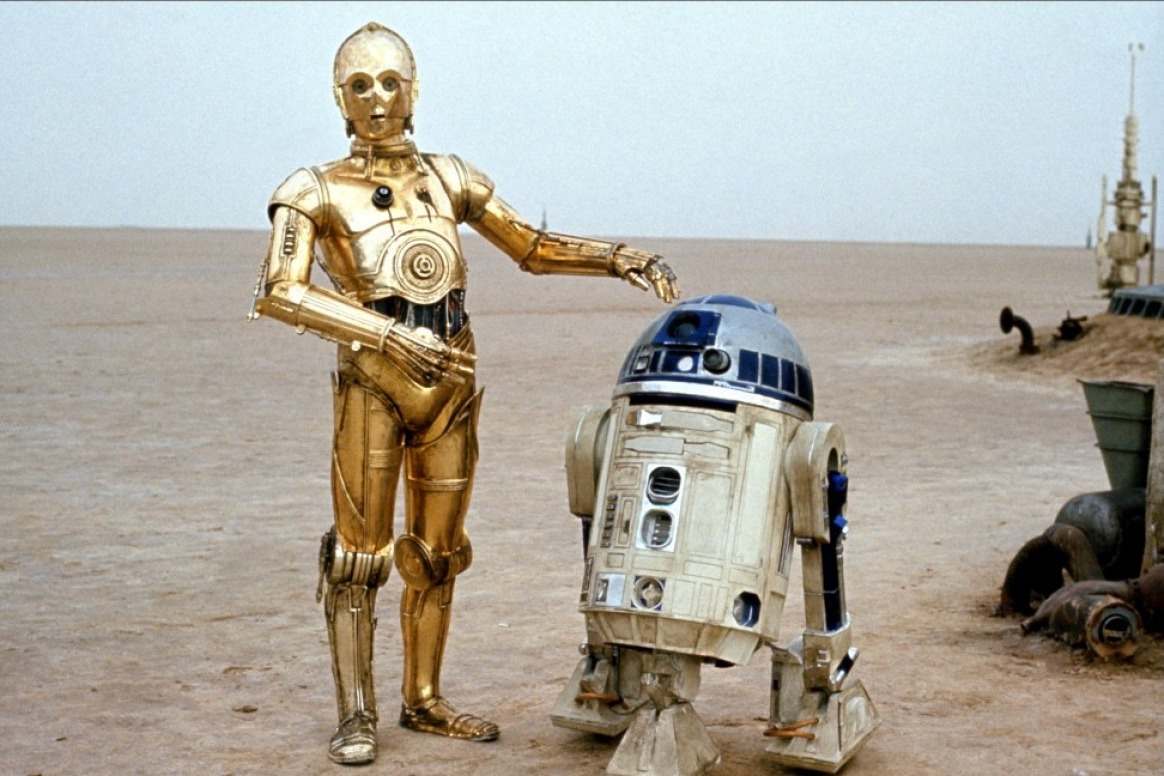 The premiere of Star Wars: The Force Awakens (2015) is just a few months away now, and toys are already on store shelves.  Soon, however, the publicity deluge will really hit, and we'll see familiar (and new) characters everywhere; from talk shows to fast food restaurant commercials.
In the past, two of Star Wars' most beloved characters — R2-D2 and C3PO — have been the franchise's most visible ambassadors on the boob tube, starring in commercials, joining a no smoking campaign, presenting awards at the Oscars, and appearing on variety TV programs.
Here's a look back at the robotic Laurel and Hardy duo, and their most memorable visits to our airwaves.
Donny and Marie Star Wars Parody (1978)
C-3PO and R2-D2 join Redd Foxx (as Obi Wan Kenobi), Paul Lynde (as Governor Tarkin), Kris Kristofferson (as Han Solo) and Donny and Marie Osmond (as Luke and Leia, respectively) in this excruciating variety show salute to the original Star Wars.
R2-D2 Falls in Love with a Fire Hydrant on Sesame Street.
The Star Wars films and the muppets have had a long association (thanks in part to Frank Oz and Yoda). In this early Sesame Street segment, R2-D2 has a new love I his life.
The Muppet Show: "Wish Upon a Star"
Mark Hamill and Chewbacca join the droids in another variety show segment.  In this one, they all perform "When You Wish Upon a Star," and C-3PO channels his inner Fred Astaire.
No Smoking PSA
Here, C3PO takes R2-D2 to task for trying a cigarette.
At the Oscars: May the Farce be With You
Bob Hope introduces Mark Hamill at the Academy Awards, and the Star Wars actor is joined on stage by Threepio (in a bow-tie) and his astromech friend.
R2-D2 and C3PO Go Shopping
A 2010 commercial for Currys.