In 1971, Philip Guston (1913-1980) lampooned Richard Nixon in a series of 180 drawings called Philip Guston's Poor Richard. Created at Guston's studio in Woodstock, New York, the biting satire could be used to explain any number of US presidents since, not least of all Donald Trump.
"The wonder of Nixon (and contemporary America) is that a man so transparently fraudulent, if not on the edge of mental disorder, could ever have won the confidence and approval of a people who generally require at least a little something of the 'human touch' in their leaders," wrote Philip Roth in Reading Myself And Others.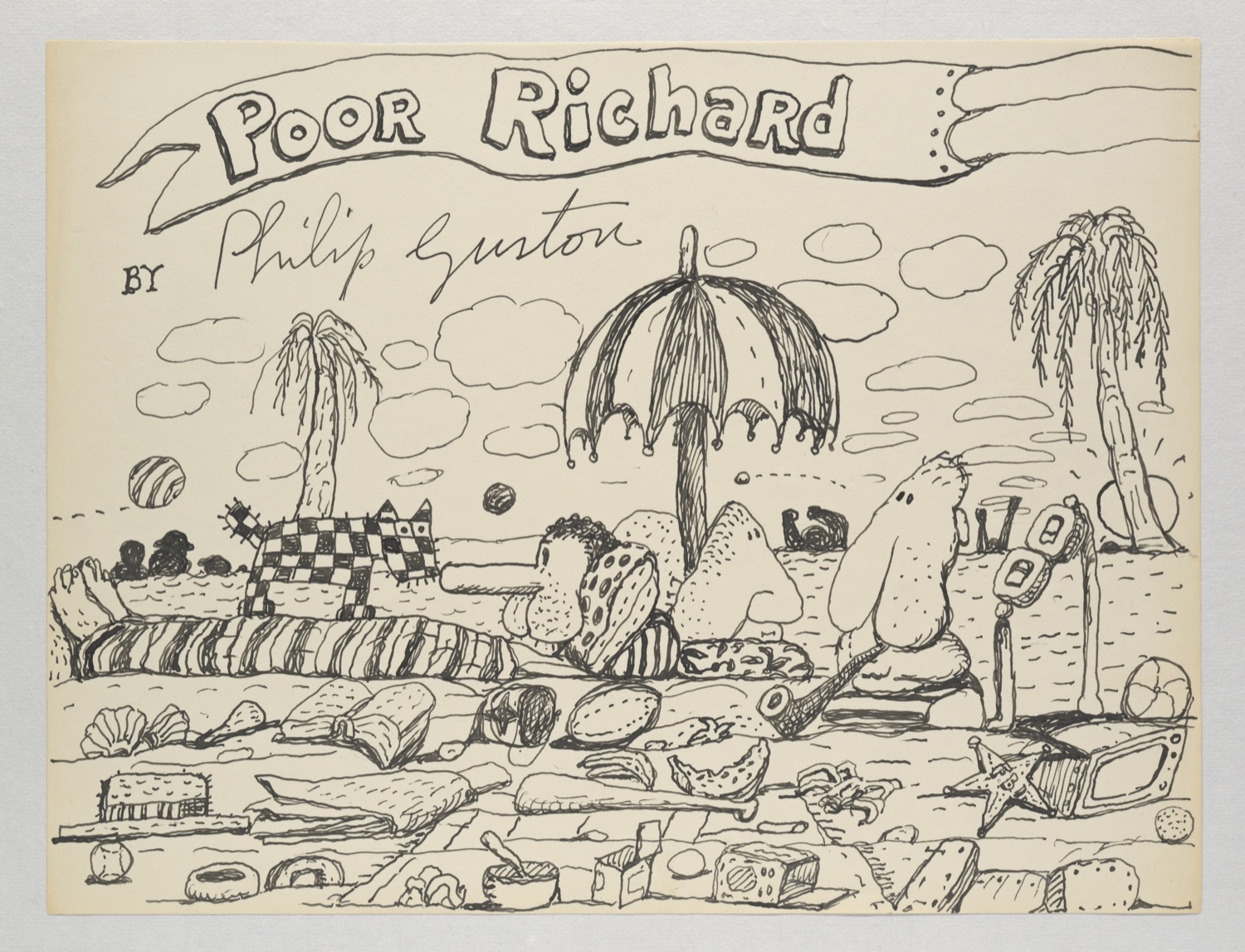 Roth has just completed Our Gang, a work that brought the reader "Trick E. Dixon". The work was inspired by this Nixon quote:
"From personal and religious beliefs I consider abortions an unacceptable form of population control. Furthermore, unrestricted abortion policies, or abortion on-demand, I cannot square with my personal belief in the sanctity of human life – including the life of the yet unborn. For, surely, the unborn have rights also, recognized in law, recognized even in principles expounded by the United Nations."
As Dwight McDonald wrote in the NY Times:
A mouse, surely, compared to the President's daily elephants; nothing worth squashing under a mountain of satire. Especially since President Nixon was meeting a clear and present danger; he had just discovered that "Under liberalized military procedures, the wives' of servicemen were able to obtain abortions more easily than they would have under state regulations." He put a stop to that instantly – he's the Commander in Chief, after all -and if he only hadn't felt obliged to rig up a philosophical base for his ukase, "Our Gang" wouldn't have been written.
'Two years before Watergate and three years before Nixon's resignation, these provocative, searing condemnations of a corrupt head of state are remarkable, prescient political satire. The drawings mock Nixon's physical attributes–his nose is rendered as an enlarged phallus throughout-as well as his notoriously dubious, shifty character. Debra Bricker Balken's book is the first book–length publication of these drawings.

'A visual narrative of Nixon's life, the drawings trace Nixon from his childhood, through his ascent to power, to his years in the White House. They incorporate Henry Kissinger (a pair of glasses), Spiro Agnew (a cone-head), and John Mitchell (a dolt smoking a pipe). They depict Nixon and his cohorts in China, plotting strategy in Key Biscayne, and shamelessly pandering to African Americans, hippies, and elderly tourists.' – Debra Bricker Balken
He poses for photographs with his arm around the necessary demographics—hippies, blacks, "mom and pop" whites—bearing a grin betrayed by a hungry glare. Guston dresses him in a police uniform, a Ku Klux Klan hood, blackface, and, in the final panels, offensive Orientalist costumes as he sets sail confidently on his ill-fated "journey of peace."
Via The Paris Review, The Boulevardiers