THE 1970s was a decade set ablaze with countless Jesus Freaks and Holy Rollers cranking out an untold number of gospel records.  There seemed no end to the number of artists Bound for Glory and preaching the Good Word.  What holds them all together is not only their brand of music, but also their total inability to produce an album cover that is not jarringly awkward.   The hideous fashions, the frightening hair styles, the creepy vibes… each Gospel album here is a tiny miracle of condensed tackiness and unease. Hallelujah!
I guess the glory of the Lord is so bright; four of the six bespectacled Farr boys had their lenses tinted.  The top-center Farr is simply majestic – the mighty 'fro helmet is a thing of heavenly beauty.
Looks like one of the Disciples didn't get the memo.  Everyone's dressed alike, and then there's her.  Her frozen smile seems to say, "Kill me, now, Lord."
I can't help but be a little curious (and afraid) of what accounts for that missing 56/100th!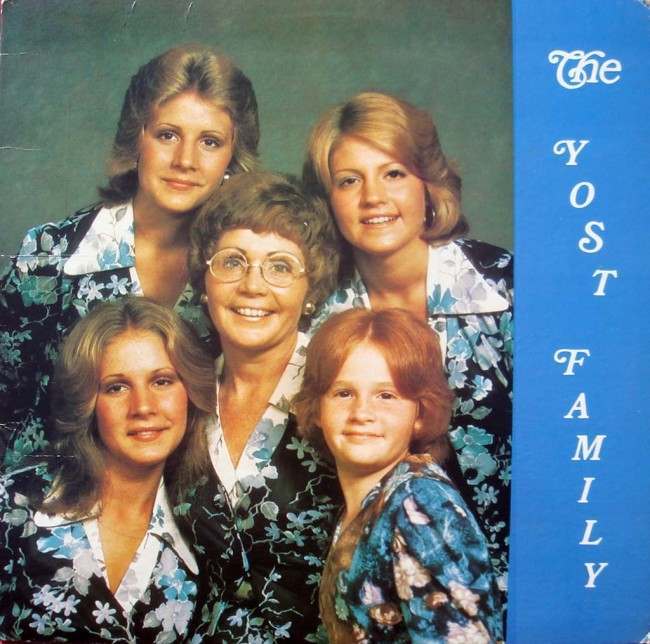 Any resemblance between the Yost girls' wardrobe and the upholstery of their home furnishings is purely coincidental.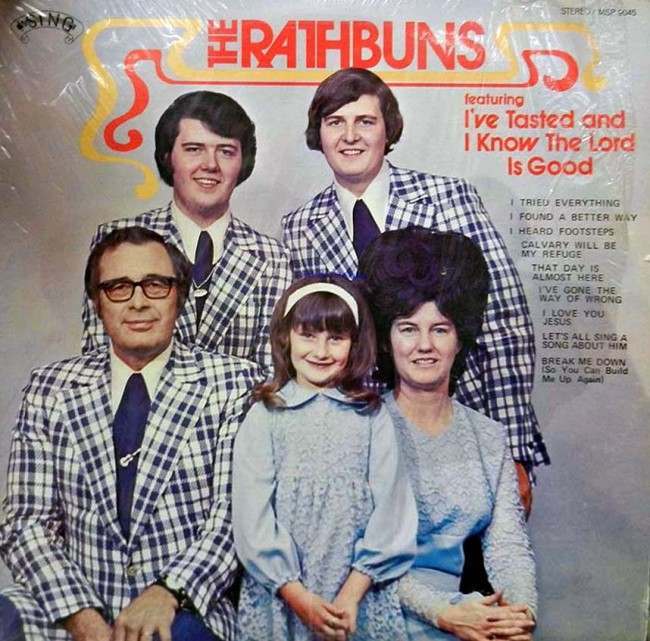 Featuring "I've Tasted and I Know the Lord is Good" (However, He did need a little salt.)  I would be remiss if I didn't say that Mama Rathbun's bouffant is nothing short of incredible. It's like a giant black monolith set against a sea of plaid.
I'm beginning to wonder if the giant hair thing was just a ploy to get just a few inches closer to heaven.  Well played, Ledbetter ladies.  Well played.
This is truly an anomaly among gospel family album covers – the kids are actually dressed like normal 70s kids!  Surely Yahweh will smite them down for such blasphemous apparel.
And they come with fashions only God could forgive… and even He is a little upset.  It's a miracle He didn't decide to flood the planet again – although, it would have been just punishment for the Lutke's wardrobe sins.
The only thing more fertile than that garden was Mr. Kolenda himself.
Add this to the mounds of proof that Paul is Dead.  You see his abandoned bass guitar leaning against the fence?  "We found Happiness" – well, what is happiness but a "warm gun"?  Obviously, they shot Paul and now little Missie waters his grave.
Apparently, leisure suits are "in" in Cana.
Last I checked, a trio isn't composed of five members.  Maybe they couldn't "stand still" long enough to get an accurate head count.
Jesus is not amused.