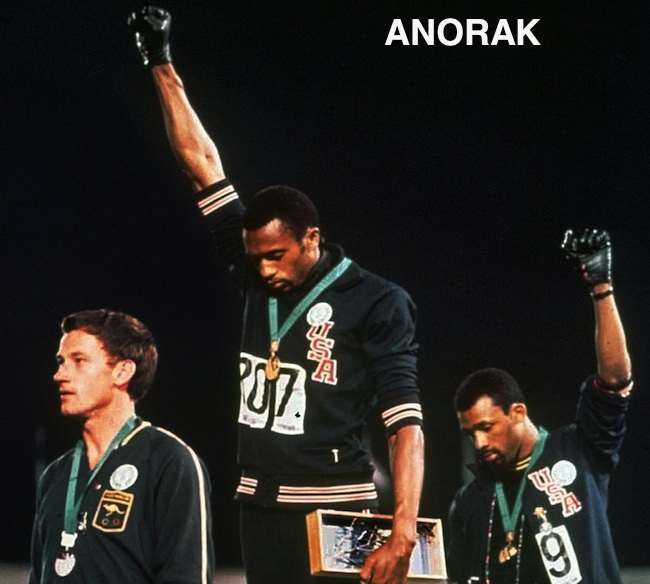 ON This Day In Photos: October 17 1968: At the Mexico Olympics, Tommie Smith and John Carlos, gold and bronze medallists in the 200m, race a clenched fist against racial discrimination. As the strains of the American National Anthem struck up. Smith and Carlos, dressed in black socks and no shoes to represent black poverty, made their protest.
Said Smith:
"If I win I am an American, not a black American. But if I did something bad then they would say 'a Negro'. We are black and we are proud of being black. Black America will understand what we did tonight."
The International Olympic Committee was aghast, calling it "a deliberate and violent breach of the fundamental principles of the Olympic spirit". Smith and Carlos were suspended from their national team, expelled from the Olympic village and sent home.
The silver medallist in the 200m event was an Australian named Peter Norman of Australia. He was white. On the podium he wore an Olympic Project for Human Rights badge in support of Smith and Carlos' protest. He later said:
"I couldn't see why a black man wasn't allowed to drink out of the same water fountain or sit in the same bus or go to the same schools as a white guy," Norman said. "That was just social injustice that I couldn't do anything about from where I was, but I certainly abhorred it."
Norman remained at the Games, although he was reprimanded by the Australian Olympic Committee and "ostracized by the media in his homeland".
Do sport and politics mix? Yes. Smith, Norman and Carlos were right. In 1968, where else but in the field of sport could a black man win and be seen to be winning?
[imagebrowser id=3582]