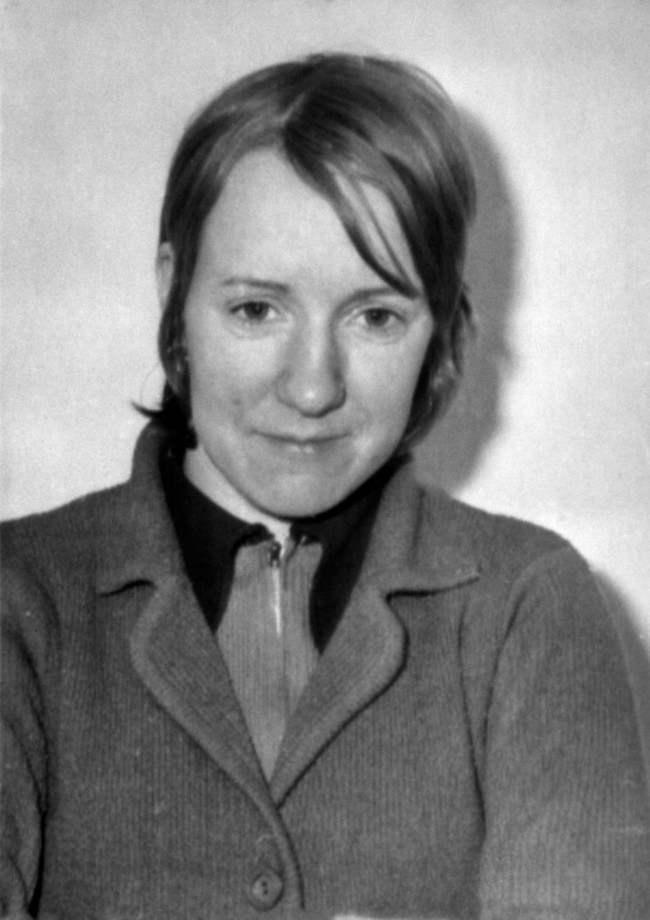 ON This Day in photos: Judith Ward is handed 12 life sentences for the 9 soldiers, one civilian adults and two children murdered on a bomb planted on a Manchester coach passing Hartshead Moor service station on the M62. It was just past midnight. Many more were injured.
Among the dead was Corporal Clifford Houghton, his wife Linda and his sons Lee (5) and Robert (2) were killed.
David Dendeck survived:
"I didn't hear any bang, it just happened so quickly. I just thought it was a dream, I just thought I'd fallen asleep into a bad dream and I just kept on shaking my head and trying to come round. Then, I found out it was real. I was just under all this metal. There was blood coming in my eyes…It was dark and there were people screaming and running up the verge on the grass. I could hear my sister on the other side of the coach shouting for me."
Ward was also imprisoned for two other bomb attacks.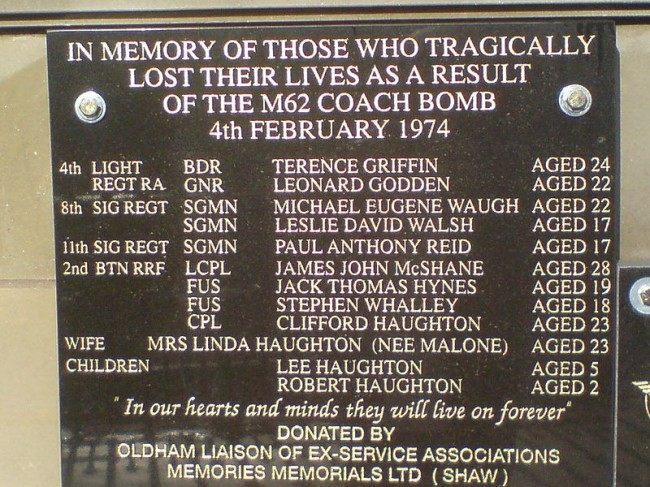 Had Ward, from Stockport in Cheshire, joined the British Army, to provide the IRA with detailed knowledge of military bases? She had joined and deserted, that much was true. But the prosecution said she left at the IRA's command.
Ward denied being in the IRA. But the prosecutions produced pictures of her dressed as an IRA member.
She had been was arrested after the bombing of London's Euston station on September 10, 1973. Police said they had found traces of explosives on her hands. But they let her go.
Photo: FORENSIC SCIENTIST FRANK SKUSE WHOSE TESTS FOR NITROGLYCERINE HELPED CONVICT JUDITH WARD AND THE BIRMINGHAM SIX.
On February 12, 1974, a bomb went off at The National Defence College in Latimer, Buckinghamshire. Police wanted to tie her to that explosion, too.
Ward confessed. The police had her confessions in writing. She had confessed to all three bombs. She told them about her role in the Manchester bomb:
"I walked over to the bus station. I was shaking like a leaf. The boot was open."
But Judith Ward was innocent. When she said she had been blowing up the coach, she'd been in Oxfordshire drinking in a pub.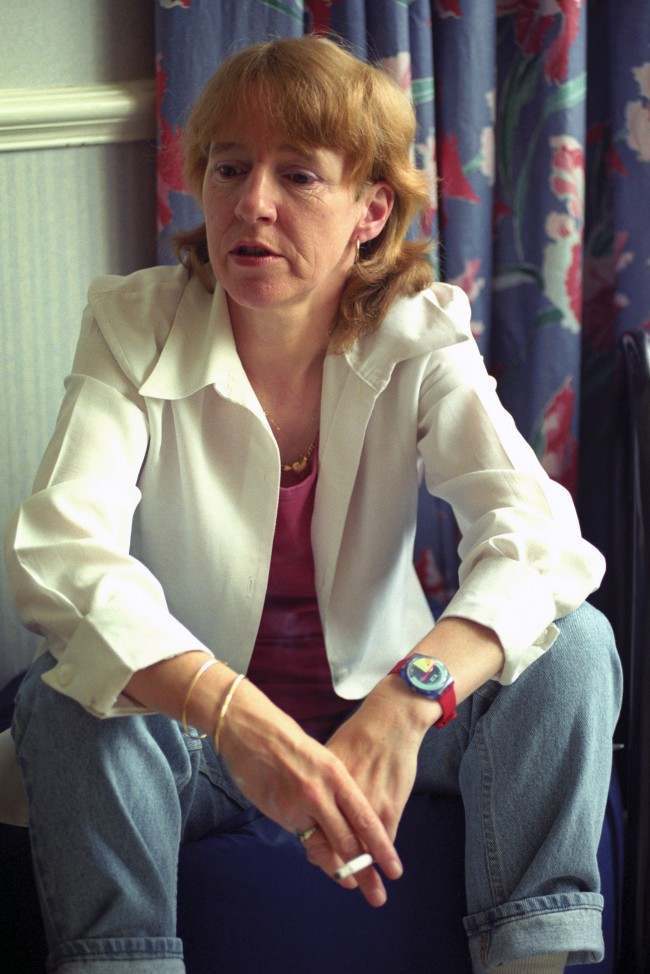 Photo: Ward in her London flat, 1993.
The background:
* In 1970, she returned to Stockport and joined the Women's Royal Army Corps, in which her mother had also served. She did her basic training at Guildford and Catterick and was posted to Aldershot as a communications centre operator in the signals section. Within eight months she had gone absent without leave and returned to the Irish stables.

According to friends, she became something of a 'republican groupie' who liked to hang around and drink in Dundalk pubs with IRA men. She was regarded by them as unreliable but eventually joined Sinn Fein in London and would be seen in a black beret at marches.

Over the next few years she liked to tell people of her IRA links. She once scratched the initials IRA on her arm. When she gave herself up to the army after going absent, she told them she had been approached by the IRA for information.

Later, in 1972, she told the Royal Ulster Constabulary she had drawn a map of Aldershot for the IRA before the 1972 barracks bombing. In 1973, when arrested while sleeping rough in London, she told the police she was an IRA activist.

Each time she was released. Intelligence sources have since said she was released only so she could be watched.
Paul Foot covered the story in Ambushed: My Story:
She was taken off the streets of Liverpool at half-past six one dark wet February morning in 1974. For several weeks she had been living the life of a drifter, sleeping in railway wagons off Euston Station. She had hitched a lift to Cardiff with a friend to spend a single night between sheets. From Cardiff she'd hitched again to Liverpool, where a police car came across her shivering in a shop doorway. She was taken in for questioning for one reason only: her driving licence was issued in Northern Ireland. Ambushed doesn't help us much about what happened next: Judith Ward doesn't remember. She was suffering from a serious mental disorder. One result was that she told the police anything she thought they wanted to know…

Police inquiries among Ward's friends proved that at the time she said she was putting the bomb in a coach at Manchester she had been many miles away in Chipping Norton. Lots of witnesses saw her there. Obviously her story had been wrong, but the budding Inspector Morses from Thames Valley were not put off. They went to Risley Remand Centre ('grisly Risley', as everyone there called it) to interview Ward again. She agreed at once that she hadn't put the bomb on the bus after all, and apologised for the mistake. She said they could 'put me down' for the Latimer bombing.

On 26 February she told Mr Oldfield of West Yorks that she wanted to change her statement about the bomb in the bus – she hadn't done that after all. Instead she gave a tasty story about gun-running between the South and North of Ireland. By the afternoon a commander (Huntly) and a chief superintendent (Nevill) were up from London again to ask her about a bomb at Euston Station in September 1973. Oh, she said, she hadn't planted that, but she had delivered the bombs for it. Come to that, she'd delivered the bomb for the Manchester coach as well. The police were content. They had more than enough for five charges of causing explosions, including 12 separate charges of murdering the people on the M62 bus.
Who did it?
Michael Farrell, the Irish journalist-turned-lawyer and author of The Orange State, investigated the case for the magazine, Magill, in 1988 and spoke to an IRA woman who claimed to have planted the M62 bomb. "She gave convincing detail about it and said Judith Ward had no connection whatsoever with it," he said.
In 1992, Ward's conviction was quashed in 1992.
Photo: Judith Ward (centre left) walks arm in arm with Anne Maguire, of the Maguire Seven, a former cell mate at Durham jail before leaving the Court of Appeal after her conviction was quashed. Date: 04/06/1992