IN 1907, the Progressive Party campaigned for the London County Council Elections.
It was founded in 1888 by a group of Liberals and leaders of the labour movement. It was also supported by the Fabian Society, and Sidney Webb was one of its councillors. In the first elections of the London County Council (LCC) in January 1889 the Progressive Party won 70 of the 118 seats. It lost power in 1907 to the Municipal Reform Party (a Conservative organisation) under Richard Robinson.
The Westminster Gazette featured this advert from the Party. "Electors, beware of false names and Vote Progressive'," declared the message.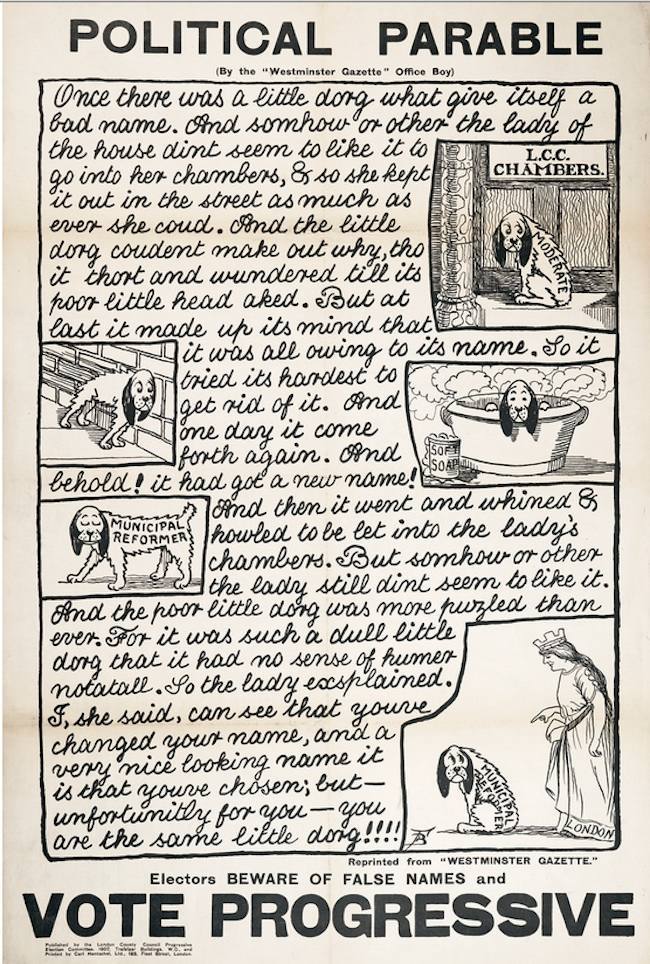 * In May 1914 the Labour Trades Council decided to cease supporting the Progressive Party, and instead formed a separate London Labour Party. Only one sitting member of the council, Susan Lawrence initially joined the party, but at the 1919 elections Labour made major advances at the expense of the Progressives, who formed an electoral pact with the Municipal Reformers. At the 1925 council elections the Progressives fell into third place, with just six councillors, a position from which they never recovered. The London Liberal Federation decided to cease using the "Progressive" title, and at the 1928 council elections former Progressives stood under the Liberal Party label for the first time.
* The London County Council (LCC) was the main local government unit for the London area from 1889 to 1965. The LCC was elected every three years and from 1889 to 1907 the majority group were the Progressives who were linked to the Liberal Party in national politics. The Moderate Party, which changed to the Municipal Reform Party in 1906, was allied to the Conservative Party and held overall control from 1907 until 1934. Labour held overall control of the LCC from 1934 until the LCC was replaced as the top-level of local government by the Greater London Council (GLC) in 1965.